Play This Not That: The Worst and Best Wrestling Games Ever
One of the best if not the best ways for wrestling promotions to keep their product fresh is by releasing video games based on their wrestlers. Not only do video games allow for the fans to live out their fantasies of stepping into the squared circle and making the matches they always wanted and deciding who gets to wear the titles. Not only that, the video games allow for the product to stay fresh in the fans' mind if they can't watch their favorite promotion on TV or don't want to shell out $50-60 for a PPV. Yet for every great game there are always one or two turds that are likely to end up in the bargain bin of your local used game store in a couple weeks. So in honor of the new Smackdown vs. Raw 2011 coming out next month, here is my list for the best and worst of this video game genre.
The Worst: Honorable Mention: TNA Impact!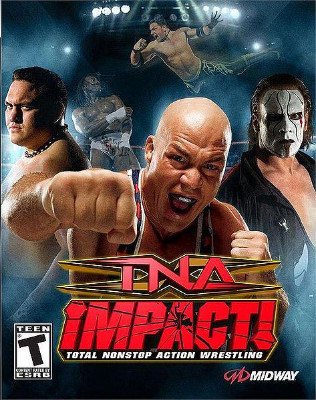 Release date: Sep. 9, 2008
Console(s): 360, PS2, PS3, Wii
Now let me start off by saying that TNA's first video game isn't all that bad. There were some bright spots with the game including the realistic look of wrestlers and its controls. But what hurt the game was the wonky AI which could be dead in some spots and then Kurt Angle in others and the lack of titles within the game. Another problem was that the player had to first go through the story mode to unlock everything. Now when I say everything I mean EVERYTHING. From match types to wrestlers were locked until you went through story mode, so if the fans wanted to have fantasy matches right when they opened the game case they were sorely mistaken. There is going to be a sequel for this game coming out since it sold fairly well so hopefully the issues from the first game are addressed. TNA really needed fans to get behind this product, but in the end there was no impact with the game *pun intended*.
Worst Number 5: WWF Wrestlemania The Arcade Game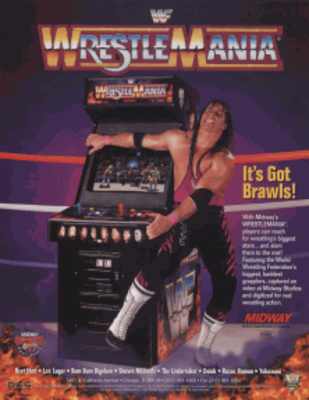 Date released: Aug. 10,1995
Console(s): Arcade, Mega Drive/Genesis, SNES, PlayStation, Saturn, DOS, Sega 32X
This was the WWE then WWF's attempt to cash in on the fame of Mortal Kombat. Here you had wrestlers not really using wrestling moves but rather cartoony moves like when Doink the Clown would shock his opponent with a hand buzzer or Undertaker would send ghosts after people, really he would. On the other hand it had pretty good graphics for when it was released and a roster of then current superstars.
Worst Number 4: ECW Hardcore Revolution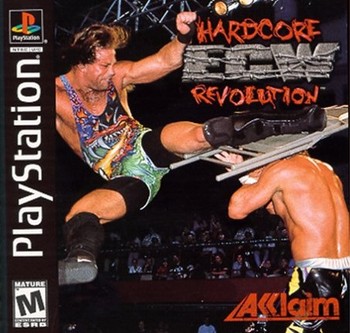 Date released: Jan. 31, 2000
Console(s): N64, PS1, Dreamcast, Game boy Color
The reason the first ECW game is making the list because it was basically a clone of a game making the best list. The game suffered from lacking the style that gave ECW its cult following as well as original gameplay. Also, the game was based on a company that many casual wrestling fans didn't know about which killed it's marketability. The game did well enough to where Acclaim was able to push the release of the sequel six months later that fixed a lot problems from this game.
Worst Number 3: WWF Royal Rumble (2000)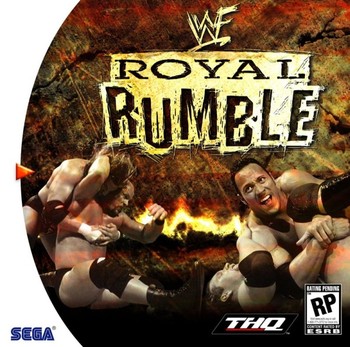 Date released: Aug. 15, 2000
Console(s): Arcade, Dreamcast
This was the WWE then WWF's attempt at testing the waters of Dreamcast exclusive games. The game had only two playing modes' exhibition and Royal Rumble and would allow access to backstage fighting. The real drawback to this was that the game only had a roster of 20-22 wrestlers depending on what system you were playing, let me remind those of you who may have forgotten but the Royal Rumble has THIRTY participants. So not only would you be facing guys that you already eliminated but even worse, you would sometimes end up fighting a clone of the wrestler that you were playing. FAIL.
Worst Number 2: WWE Crush Hour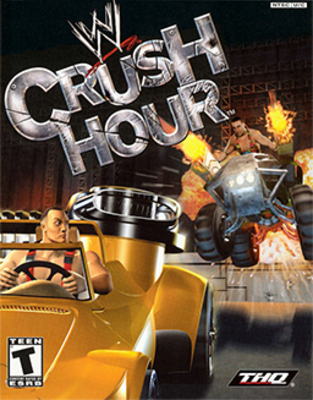 Date released: March 17, 2003
Console(s): PS2, Gamecube
Here was another attempt by the WWE to cash in on another successful game franchise, this time Twisted Metal. The wrestlers in the game would drive around trying to destroy one another due to Vince McMahon buying every TV channel and trying to come up with new programs based on the WWE product. The game ended up being so bad that a Xbox port of the game was canceled due to bad reviews and lack of sales.
Worst Number 1: WCW Backstage Assault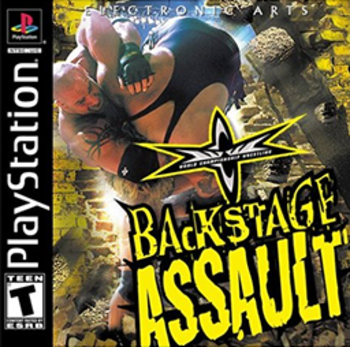 Release date: Dec. 1, 2000
Console(s): N64, PS1
This game seems like a Vince Russo wet dream. Listen to this idea and tell me what you think. Why have a wrestling game where guys wrestle in an actual wrestling ring, what a lame idea. Why not just have the wrestlers duke it out in just backstage areas?! Well that's what this crapsicle was. It's sad to think this was the last WCW game before the company was bought out, but when you consider the condition the actual company was in it does make some sense. No wonder this game has only sold around 200,000 copies.
The Best: Number 9: WCW Nitro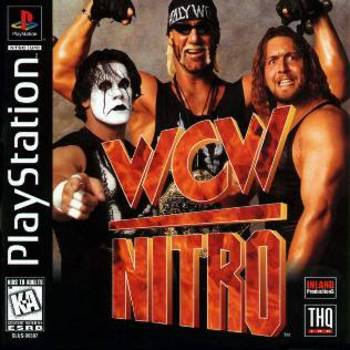 Date released: March 1997
Console(s): PS1, N64, PC
This was a fantastic display of what was really good about WCW. You started out with 16 wrestlers, who each came with their own intro video, but the roster would grow through gameplay and cheat codes. The graphics were good and the gameplay was great as far as an early PS1 wrestling game goes.
Best Number 8: WWF Raw
Date released: Nov. 1994
Console(s): SNES, Genesis, Game Boy, Game Gear
Now here was one of the first truly great home console games for the WWE. It offered multiple playing methods including Royal Rumble and Survivor Series matches. It had a roster of 12-13 wrestlers depending on console and was one of the first wrestling game to introduce stats for each wrestler and they had their own move sets. The player could also go outside the ring and hit their opponent with either a chair or a bucket that was ringside.
Best Number 7: WWF Attitude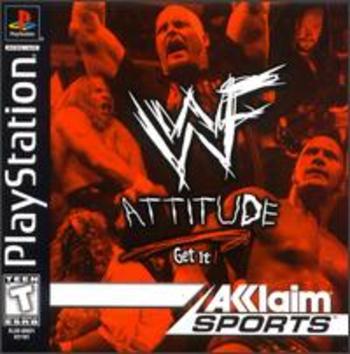 Date released: Aug. 6,1999
Console(s): PS1, N64, Dreamcast, Game Boy Color
This is what the ECW games were clones of. Where they failed in how they lacked ECW's style, Attitude excelled in because it played well into the Attitude era. It was the first game to include create a stable and create a PPV options to let the fans really live out their dreams. Not only that the player could play into the video crowd and get cheered or booed depending on the match quality. Another great quality of the game was during hardcore matches any number of weapons would be thrown in the ring by the fans and depending on how much you damaged your opponent they would bleed where they were hit. And not just a little bit either, one match I had with Al Snow saw the man's face completely covered in blood along with his arms and chest. Yet the most important thing about this game was its career mode. There is no more complete career mode than in Attitude as the created fighter you have has to rise up the ranks by starting in house shows and work your way up to Sunday Night Heat before moving on to Raw and eventually PPV title matches.
Best Number 6: WWE Legends Of Wrestlemania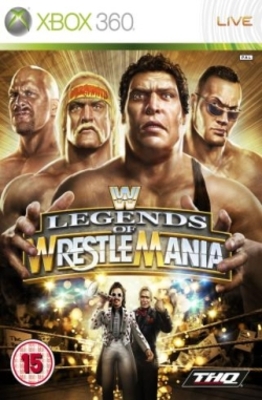 Date released: March 24, 2009
Console(s): PS3, 360, iphone
Here was the game that allowed fans to relieve all of their favorite Wrestlemania moments. The game had a robust roster of WWE legends and also allowed for you to import you roster from Smackdown vs. Raw 2009. The controls went back to simplistic arcade style though this did limit the number of moves wrestlers had. You could also recreate famous Wrestlemania matches like Hogan vs. Andre or Stone Cold vs. HBK and even decide to change the history of those matches to unlock more bonuses.
Best Number 5: Smackdwon Vs. Raw 2010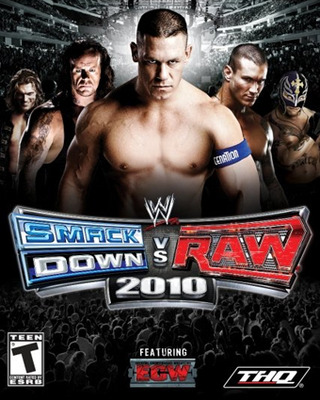 Date released: Oct. 20, 2009\
Console(s): PS3, 360, Wii, DS, PSP, iphone, PS2
This was the second best edition of the SvR series because of the freedom that it gave the people who played it. Not only were you able to download CAWs other people made, but you could download any storylines that they made as well. And there is where this game shined, story creator. You were the booker in this game and you could do most anything like you saw on TV. You made the stories, created the feuds, decided who was champ, even what camera angles were used during promos. The only real problem with this was having to type dialogue with either a USB keyboard or use you controller which was very cumbersome, and the lack of being able to use a CAW more than ten times during a created story. Hopefully at least that problem will be fixed in the next SvR game that comes out next month.
Best Number 4: WCW/NWO Revenge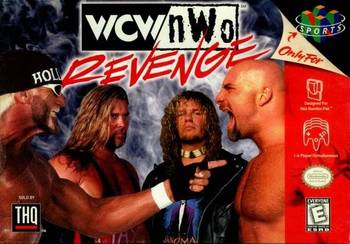 Date released: Oct. 1998
Console: N64
By far the best WCW game ever. Not only was it a huge leap from the previous WCW vs. NWO World Tour game, it was a huge leap for wrestling games in general. The roster expanded to included basically every wrestler on WCW's roster except for Ric Flair, who had been rehired too late into production to be put into the game, and many fake wrestlers that were based on real life wrestlers from the Japanese promotions. This was the first game to include a referee albeit a cartoon one, and allowed for the wrestlers' clothes to be altered depending on their alliances at the time. The game also had a title mode where you could have any wrestler go for any of the titles in WCW and expanded move sets to allow for each wrestler to have their own distinct moves.
Best Number 3: WWF Wrestlefest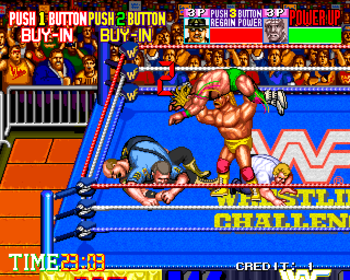 Date released: June 1991
Console(s): arcade
Who on this site doesn't remember going to the arcade and slamming in quarter after quarter into this awesome game? Wrestlefest was absolute fun in the most pure sense. You had a roster of 10 wrestlers and two bosses (Legion of Doom) and two playing modes, Royal Rumble and Saturday Night's Main Event where you try to win the tag titles. The graphics were great even looking back from today's standards. You also had to love the ability to put in more quarters to get more energy for your fighter as well as the diverse move sets of each of the fighters.
Best Number 2: Smackdown Here Comes The Pain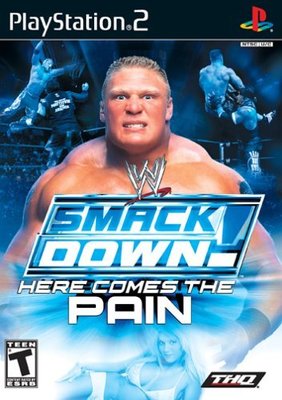 Date released: Oct. 27, 2003
Console(s): PS2
Easily the best game of the Smackdown series. It had a huge roster of then current WWE stars, great create a wrestler mode, and season mode. This game was the first Smackdown game to have the Elimination Chamber and first blood match as well as advanced controls to go into battle with. The season mode for the game was the first in the series to boast being written by actual WWE writers and even kept record of every wrestler's win-loss, title held, and number of times fighting a certain opponent, something that was only used in this game unfortunately. The season also was good at remembering who you fought and teamed up with and included those elements into the storylines.
Best Number 1: WWF No Mercy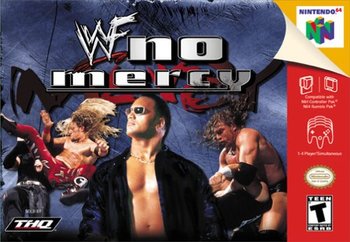 Date released: Nov. 17, 2000
Console(s): N64
Was there a doubt in anyone's mind that this wouldn't be number 1? This game improved on all of the small problems that plagued WCW/NWO Revenge. It was the first WWF game to have special referee and ladder matches along with the ability to use moves on the announce tables as well as the first WWF game that allowed backstage fighting. The create a wrestler mode was more developed with expanded categories for different clothes types and expanded movesets. Yet where No Mercy truly excelled was its story mode. All of the titles had there own stories but what separated No Mercy from the rest of the pack was that there wasn't just one story per title. Sometimes you would have to lose matches to open up new parts of the story or beat certain stipulations, something that was unfortunately never really carried over into following games.
Keep Reading