Moving Forward: 10 Takeaways From UFC's Debut in Boston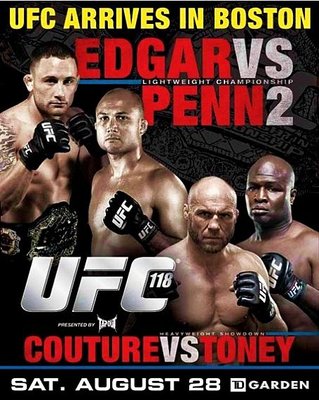 UFC 118 is in the books, and the event has seen mixed reactions from fans of the sport.
Some saw it as a total snoozefest while others saw the event as merely a night of surprises, but what do you take away from the UFC's debut in Boston?
Once again, let's have ourselves a look, shall we?
10. Marcus Davis Ain't a Contender Yet, But He's Got a Heart LLike GSP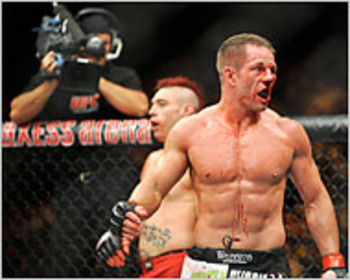 How many guys do you know have gone almost an entire fight with a right eye so disgustingly swollen that it's visible even from the back?
Other than Marcus Davis, I can't think of too many guys that have been so ballsy that they would fight almost the entire fight with an eye as swollen as his was against Nate Diaz.
Even more of a testament to who Davis is would be the fact that he was pinned up against the cage and locked in a Diaz guillotine but he never tapped.
The man passed out, possibly due to blood loss, but he never let himself quit even when Yves Lavigne advised him to cover up the eye.
What that says is that Marcus Davis has the heart of someone like a Georges St-Pierre—he's got a fighting spirit that you really can't seem to break.
Whether he gets the Welterweight belt is another story, but there's no denial when it comes to Davis' toughness and grit, which is right up there with the toughest of the tough in the UFC right now.
9. Nate Diaz Wants Gray Maynard, Title or No Title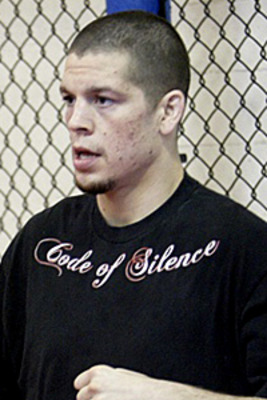 You'd think the jump up to Welterweight would make Nate Diaz hungry for GSP, but I guess someone forgot to tell Nate that the jump up was meant to get his mind off of Gray Maynard as well.
After submitting Marcus Davis—and before delivering the "Stockton, baby!" line—he mentioned a tidbit about wanting to drop back down and challenge Gray Maynard once again.
This tells me that either Diaz wants to make 155 work, or he just wants to beat the hell out of Maynard before he gets comfortable at 170.
Either way, Diaz may not get Maynard anytime soon.
8. Kenny Florian No Longer Gets Questioned For Only His Title Fights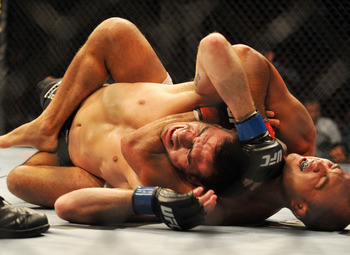 Seems you don't need the UFC Lightweight Championship around your waist to give Kenny Florian a bad night nowadays.
Gray Maynard became the first person since Roger Huerta to make people question where Kenny Florian really belongs in the UFC Lightweight Divisional Rankings when he took KenFlo to a decision at UFC 118.
While some pin it all on the style that Maynard used to neutralize Florian, others including Dana White are now saying that maybe Florian is now the type of fighter who can't seem to capitalize on a title opportunity.
Weird coming from anyone's mouth, considering the way Florian has handled his past two opponents and also considering how he handled Joe Stevenson en route to his UFC 101 title fight with BJ Penn.
Florian's definitely hit a snag with the loss to Maynard, but it's not hard to fathom the thought of him bouncing back from this loss.
Let's just hope that this snag is a one-time-only type deal for Florian.
7. Edgar-Maynard II Is Far From an Easy Fight For the Bully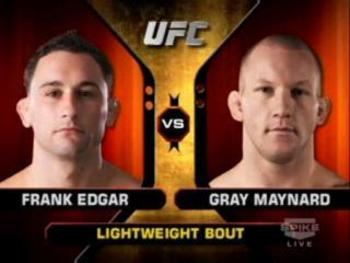 The Bully took Kenny Florian down and dominated him for three rounds, finally earning him that Lightweight Title shot he's been looking for.
Now the stage is set for the rematch against Frankie Edgar, but needless to say, it won't be easy to catch Edgar this time around.
Or maybe it will be, if Gray Maynard can find a way to catch him.
Maynard is a grinder as much as any wrestler in the sport, and he proved himself to be a powerful threat against Florian.
Don't forget, the last time Maynard and Edgar were in the cage, it was Edgar who was defeated.
We may not know exactly when, but we do know that sometime in the future, Edgar will face Maynard in a two-pronged fight.
He'll be defending his belt against a tough opponent, but he'll also be looking to avenge his only career loss.
6. Demian Maia's Not Quite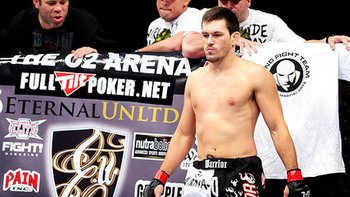 Abu Dhabi wasn't exactly the site of Demian Maia's favorite fight, to put it lightly.
He was supposed to face Alan Belcher in Austin at UFC Fight Night 22, but when Belcher had to pull out of the fight due to injury, Maia-Belcher in Austin became Maia vs. Mario Miranda in Boston.
A previously scheduled Nate Marquardt-Rousimar Palhares bout became the headliner of the Austin card.
As for Maia vs. Miranda, the fight went 15 minutes with Miranda showing some toughness throughout the fight.
The ending didn't change because of that toughness, but it did get Maia a win by Unanimous Decision where most expected a quick submission finish for Maia.
Maybe in Maia's next fight, he'll be back to his true form, but it didn't seem like Miranda was a good fight to set up another run back to title contention.
Hey, at least now no one can say it didn't happen.
5. Mario Miranda Is One Tough S.O.B.
While Mario Miranda wasn't the best opponent to line up for Demian Maia in Maia's first post-title-shot fight, Saturday proved something about the formerly unknown Mario Miranda.
He didn't outpoint Maia, but he did last until the end of the fight with him, which is more than most would have expected out of the AMC Pankration prospect.
I know I didn't expect Miranda to leave the first round with Maia, so the fact that he was able to last until the end of round three—and the fact that Miranda was actually able to get Maia in a position where Maia had to lay on his back and pull guard after Miranda had gotten off of him—proves that after losing to Gerald Harris, Mario Miranda is not going to be an easy opponent for anyone to face.
What that basically means is that anyone who faces off against Miranda nowadays will have to be able to go 15 minutes with Miranda just to give themselves a chance against this young man.
4. It's back to the Drawing Board For BJ Penn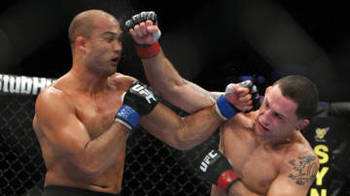 BJ Penn wanted to prove that the first fight he had with Frankie Edgar was a fluke, while Frankie wanted to prove that the win was legit in the first fight in Abu Dhabi.
Of course, the difference is that the first time saw a bit of controversy, since one judge saw all five rounds for Edgar.
This time, Edgar earned all five rounds on all three judges' scores.
What's this mean for BJ?
Reinvention.
He has to come into his next fight as a more dangerous, more lethal, and a totally new BJ Penn—he has to look like the hot prospect that beat Joey Gilbert in his debut back in the early UFC days.
If he does that, a second reign may be possible.
3 .Frankie May Have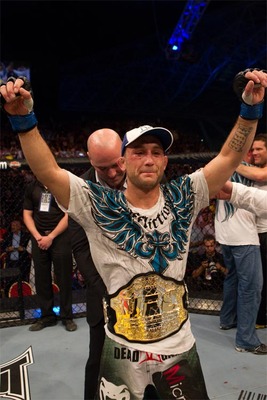 BJ Penn wanted to prove that the first fight he had with Frankie Edgar was a fluke, while Frankie wanted to prove that the win was legit in the first fight in Abu Dhabi.
Of course, the difference is that the first time saw a bit of controversy since one judge saw all five rounds for Edgar.
This time, Edgar earned all five rounds on all three judges' scores.
What's the next step for Frankie Edgar?
Gray Maynard, who is responsible for the only career loss in Edgar's career.
Maynard is still undefeated as a pro fighter, and he's been able to dominate every opponent he's faced so far, including Edgar.
That was a different time, though.
Edgar's not the same man who lost three rounds against The Bully a while back.
He's changed his style, he's changed his movements, and he can out grind some of the sport's best grinders.
The second go-round with Edgar may or may not be as exciting as the first, but at least it'll have people talking.
2. Captain America Is a Champion For MMA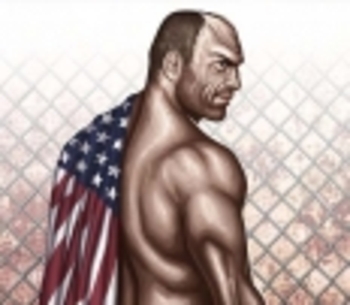 He's called "The Natural" for a reason, folks.
Even when he comes out on the losing end of a fight, he always has a strategy to neutralize an opponent's strengths.
That, plus he's proof that a Mixed Martial Artist can beat a one-dimensional fighter in MMA with just the right moves.
One round of ground-and-pound and two Arm Triangle attempts later, Couture shut James Toney's mouth and ended the debate of MMA vs. Boxing.
Randy was right—this has been one hell of month for him, and with the year he's had so far, who knows how he's going to close it?
1. Go For the Klitchskos, Toney. You've Proven Your Point.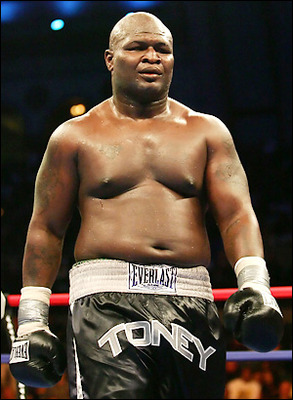 Give James Toney an "A" for effort, and we'll leave it at that to avoid the risk of slandering.
At least Toney stepped up to the plate and made it clear that he wanted to fight in MMA, but that didn't make it any more meant to be.
Against any other fighter, maybe Toney could have had a shot to KO and get a win, but against a guy that clearly wanted to take the fight to the ground, Toney was at a disadvantage.
Will Toney be back, or will he stick to expanding his Boxing legacy?
Now that you mention it, a fight with one of the Klitchsko Brothers may not be too bad for Toney.
Easier to make happen than Pacquiao-Mayweather.
Keep Reading