Top 10 Brunettes from the WWE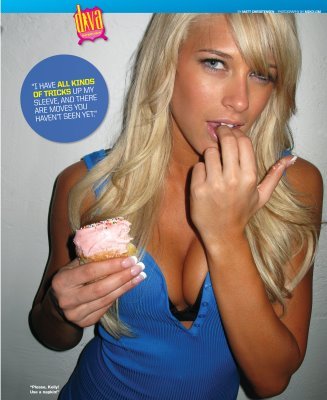 The WWE has been full of beautiful women for many many years, and while some might say blondes have more fun, the brunettes in the WWE mean business.
Things have a been a bit serious here on B/R with debates on Nexus, best tag teams, EV2, and the sadness of losing lives lost.
Lets take a moment to celebrate the beauty in the industry.
And while some might say that these are not true 'wrestlers' and are nothing but glorified bikini models, who cares lets just enjoy!
#10 Katie Lea Burchill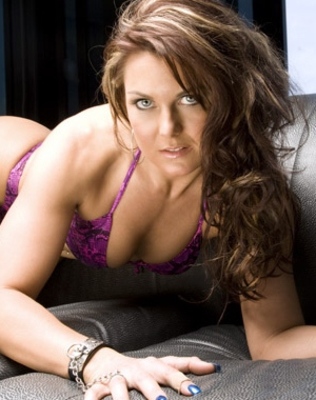 Billed from Chelsea England, born in Luneburg Germany, and raised in London England, and residing in Louisville Kentucky. Miss Burchill has gotten around.
Sadly while she was a two time OVW Womens champion she never held the belt in the WWE before she left.
Leaving the WWE in April of 2010 she headed back to the independent circuit and has done a dark match try out for TNA.
Seeing as how the knockout division pretty much consists of four women right now, it might be a good idea to infuse some new blood into the works.
#9 Victoria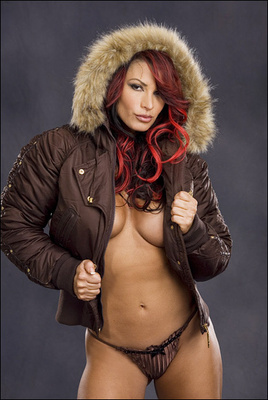 Lisa Marie Varon is 39 years old and is still one of the hottest Divas in the industry.
A two time WWE womans championship and a three time TNA divas knockout champion she is currently back in TNA as is rumored to be the helmeted motorcycle rider who's been interfering in matches.
Making her debut in WWE back in 2000 she played the role of the crazy woman pulling at her hair and delivering the devastating widows peak as her finisher.
In my opinion WWE missed the boat with Victoria in bringing her back being 39, a mom she would have been a champion to all the moms at home watching. The could have even played up the mom angle and had her be a MILF champion.
#8 Ariel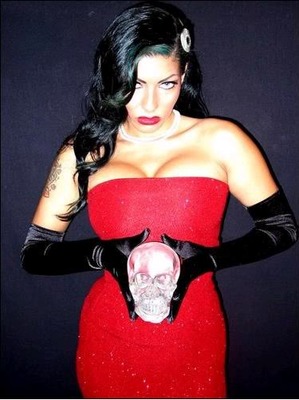 Shelly Martinez, aka Ariel of the WWE is no little mermaid.
A Mexican American Actress, professional wrestler and valet had her highest popularity while working as a valet with Kevin Thorn in a Vampire gimmick in WWE.
Another beauty only with the WWE for one year, she moved over to TNA and lasted one year there as well.
Ariel brought a gothic, vamped up Betty Page look to the scene being the dark beauty who had the vampire seduction look and the sexy tattoed vixen all rolled into one.
You can see more of her, at www.shellymarinez.com
#7 Melina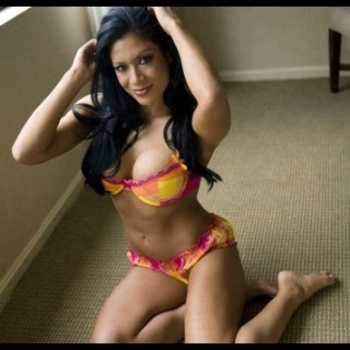 The former Miss California, debuted in 2002 in the WWE and has one of the most succesful careers of any current active WWE female superstar.
She's held the womens championship three times and the Diva's championship twice.
While she may be the current champion, and posses the greatest entrance in the business my personal favorite thing about Melina has always been the scream.
Her time with MNM led the team to numerous tag team championships, and her time with John Morrison led him to several intercontinental championships.
Her latest finisher which capitalizes on her unique ring entrance, The Sunset Split is dominating the womans scene and I think Miss Perez will be holding the belt for some time to come.
#6 Stephanie McMahon Helmsley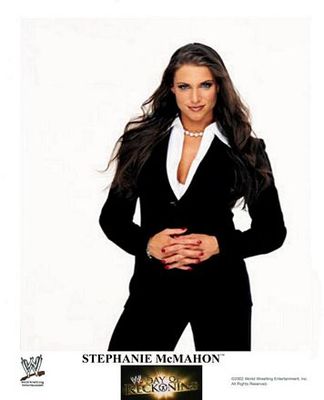 Power is sexy, and Daddy's girl has shown her chops in the ring on numerous occasions.
While we haven't seen her on screen in over 2 years, as she has been busy being a mom and executive vice president, Stephanie made quite the impact on the WWE.
1999 we had the relationship with Test and the abduction by the Undertaker.
The next year we had the 'drugged' marriage of Stephanie and HHH which later turned out to be legitimate and began the Helmsley-McMahon era. This led to a whole lot of onscreen family fun including Linda McMahon in a 'comatose' state. WWE is big on the comatose state it seems.
This of course was followed by the invasion storyline which ended in 2002 and carried Stephanie into her role as GM of Smackdown that same year.
She now plays the role of mommy to three children with HHH, the most recent just this August 25th when their third daughter was born.
And if she still looks as good as the last time we've seen her she is indeed one hot mom.
#5 Layla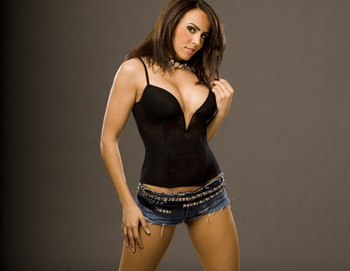 Layla El came to the WWE via the Diva Search winning the competition in 2006.
A former dancer on cruise lines, for the Miami Heat, and Kanye West, Miss El showed us all during the competition that she knew how to move.
She is currently the Womans Champion, sharing the title with her bff Michelle McCool and mentoring the NXT contestant Kaval.
She's been seen representing the WWE on other shows such as The Family Feud, Project Runway and Celebrity Fit Club Boot Camp.
Her current work as a heel with McCool is some of the best the Diva's division has ever seen, its dare I say.... flawless.
#4 Mickie James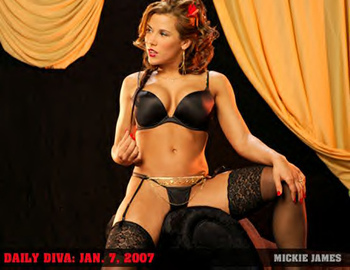 The former psycho Trish Stratus stalker turned Womans champion and Trish Stratus replacement unfortunately is no longer with the WWE apparently due to tardieness.
Mickie's final run in the WWE had her in a feud with team Lay-Cool where they commented on her size not being that which is the same as most of the other Divas, refering to her as Piggy James.
Mickie's championship record is quite impressive, she's held a womans championship in 7 different leagues.
She held the WWE woman's championship 5 times and the Diva's champion 1 time.
She's credited as being a manager to 11 different wrestlers including the likes of AJ Styles, CM Punk, Raven, Tommy Dreamer, Victoria and Trish Stratus.
Mickie in an interview recently has said she is currently NOT seeking out another wrestling promotion to work for, instead she is working on a musical career as a country western singer.
#3 Maria Kanellis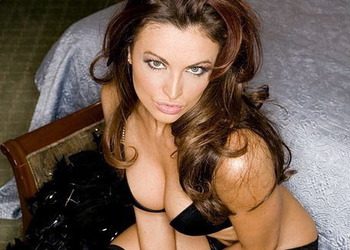 Why did we loose Maria? What happened? She was a great backstage interviewer, she was ditzy yet smart, sexy yet professional she had it all.
While never claiming belt gold she did win a slammy for Diva of the year in 2009.
Probably the biggest loss to the PG era was the loss of Diva matches such as pillow fights and squirt gun wars where someone like Maria shined.
She may not have been great to watch in a match, but she was one Diva you didn't fast forward through when she came on screen.
#2 Candice Michelle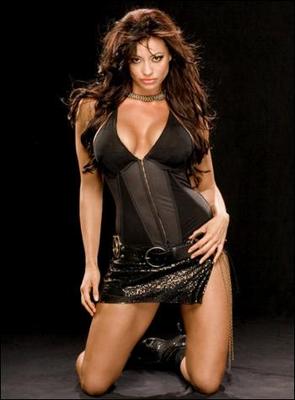 Probably most famous for her superbowl Go Daddy.com commercial Candice Michelle also obtained WWE popularity as well.
A one reign Woman's champion and former playboy cover model Candice Michelle had a brief but very effective run in the WWE.
She's been in such films as Dodgeball, Anger Management and Tomcats and television shows in the past like Party of Five, 7th Heaven, and Hotel Erotica. (one of those seems to be different than the others)
Candice recieved some serious injuries including shattering her clavicle in the ring which put her out of action for a quite a long period of time.
With her injuries and concerns for her future health she was released from the company in 2009 and since retiring from the WWE she too has gone the route of being a mother and in May of this year she gave birth to her first daughter AkiAnne Rose.
#1 Amy Dumas aka Lita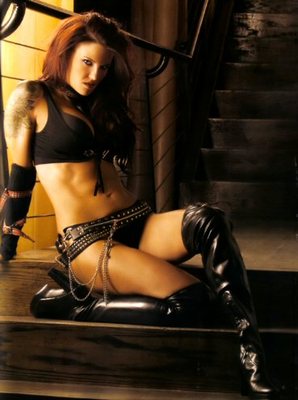 In my personal opinion there has never been a sexier and more talented woman in wrestling than Amy Dumas.
When she first appeared in WWE along side Esa Rios in her red tube top outfit you just knew there was something special about her. Then when she hit that moonsault off the top rope you saw it.
Eventually joining Team Xtreme with Matt and Jeff Hardy Lita became a woman of prominence in the WWE.
A night that stands out for me is the one in which Stone Cold Steve Austin went on a rampage taking out Team Xtreme with a steel chair, including Lita. One of the few times we ever saw a female wrestler attacked with a chair by a male wrestler. The spot was actually blacked out on Canadian programming when the episode of Raw aired.
In 2002 her popularity got her a spot on the tv show Dark Angel and unfortunately while filming the show she suffered an injury to her neck which not only took her out of action for a period of time, but when she returned she was never quite the same.
Following her return she then became the woman who got around in the WWE first a romance with Matt Hardy, then Kane, and then finally Edge.
Her team up with Edge had her assisiting him in many matches and the two of them truly had great chemistry on TV.
In 2006 Lita decided to retire and escape the judging eyes of the WWE universe. No longer wanting to put up with the heckling about her personal issues with Matt she let her contract expire and moved on to other venues.
Dumas after leaving the WWE started a punk rock band and acted as lead singer. Life then actually began to resemble the WWE as she ended up in a relationship with one of her band mates.
After there break up it was rumored that Lita was actually dating WWE superstar CM Punk. But in an interview with Matt Hardy he stated that she is no longer seeing Punk.
It seems Matt has yet to get over Lita, and probably still misses her to this day, as do all of us in the WWE universe
Keep Reading