UEFA: Five Favorites To Win the Champions League 2010-2011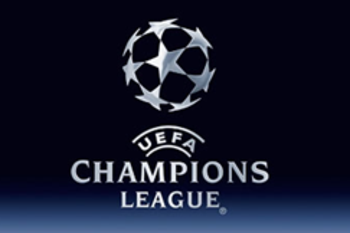 The biggest club competition is ready to begin. The 32 clubs were drawn into eight groups of four.
I will present you five favorites to win this year Champions League.
The final will be held in at Wembley Stadium in London on 28 May 2011.
This year in Champions League we won't see two giants: Juventus and Liverpool, who both failed to qualify through their domestic leagues. They will participate in Europa League this year.
5. A.C. Milan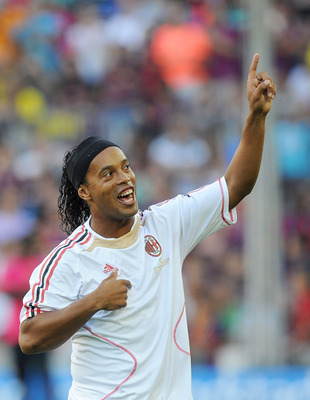 Ronaldinho
Denis Doyle/Getty Images
AC Milan got a new coach who is ready to show his great skills to the world. I know a lot of people wouldn't say that Milan is one of the favorites because their team is "old" and "finished." Seriously, you can't write off AC Milan because this team can surprise everybody this season.
Key Players: Ronaldinho, Alessandro Nesta, Alexandre Pato
Champions League titles: 7
AC Milan is about to sign Ibrahimovic, which will improve their chances greatly. Also, they added Yepes and Papastathopoulos while Boateng was brought to strengthen Milan's midfield.
Milan's new manager, Massimiliano Allegri, will have a big challenge this year and the only thing that is important for Milan this season is that their key players don't get injured and success will be here. If injuries occur, Milan is not going to do so well.
4. Manchester United F.C.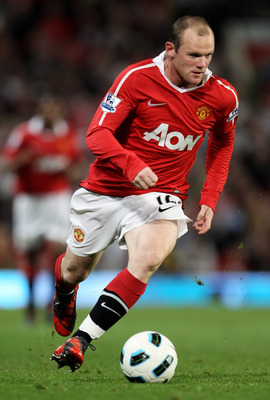 Wayne Rooney in action
Alex Livesey/Getty Images
Alex Ferguson, the greatest manager in the world, is the reason why Man.Utd is always a favorite in Champions League. After two amazing matches against AC Milan, they were knocked out against Bayern Munich. They failed to stay in the tournament because Bayern scored one more goal on their field. Anyway, Rooney and company can go very far this season.
Key Players: Wayne Rooney, Paul Scholes, Rio Ferdinand
Champions League titles: 3
Alex Ferguson didn't change a lot of things. The main transfer man was young Mexican talent Javier Hernandez who showed amazing skills. They also made an amazing transfer when they bought Portuguese forward Bebe, who spent part of his childhood living on the streets. Just imagine him doing great things in Manchester Untied. What a story!
3. FC Barcelona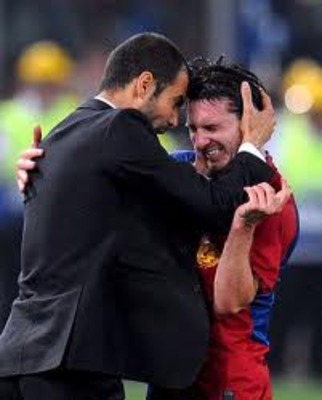 Guardiola & Messi
Barcelona, along with Arsenal, plays the most entertaining football today. But that doesn't mean they will win everything. We all saw them trying, trying to score against Inter Milan. They failed against One's most "ultra" defensive tactics ever. In 20 meters it looked like Inter parked one huge bus. Guardiola has a great squad full of amazing players with great potential.
Key Players: Lionel Messi, Xavi, Andreas Iniesta
Champions League titles: 3
Barcelona signed two great players in David Villa and Javier Mascherano. People are asking what will Barcelona do if they play a team like Inter last year, a team that plays "ultra" defensively.
Barcelona should go far this season.
2. Real Madrid C.F.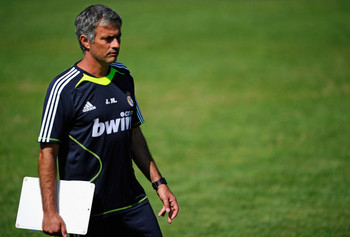 Can Jose Mourinho bring happiness to Galacticos?
Early this summer, Real Madrid appointed one of the greatest managers today. His name is Jose Mourinho and he is a born winner. Jose came to Real Madrid to bring a lot of trophies. La Liga title is for sure but everybody expects him to win Champions League for Real. That would be their 10th title in history. This amazing Portuguese coach won Champions League two times. First, in 2003 he managed to win it with Porto. It was a big surprise. In 2010, he finally brought Champions League title to "cursed" Inter after almost 50 years.
Key Players: Cristiano Ronaldo, Iker Casillas, Gonzalo Higuain
Champions League titles: 9
Real Madrid is for sure a favorite not just because they got Mourinho as a coach, also because they got some very good newcomers to their team like Di Maria, Sami Khedira, Mesut Ozil.
Jose is very careful in his talking abut season expectations. He knows that there will be a lot of work to do before they can make Real Madrid a championship team. It would be really a surprise if Real Madrid doesn't win the Champions League in three years from now.
Also, one big positive thing for Real is that they have big financial power. They can afford any player they want. We saw that in 2009 when they spent their money on Cristiano Ronaldo and Kaka.
1. Chelsea F.C.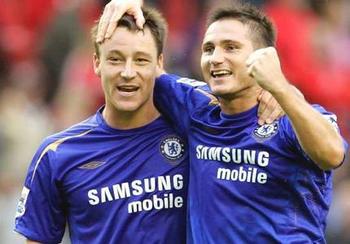 John Terry and Frank Lampard - key players for Chelsea
The main reason Carlo Ancelotti was brought to Chelsea is because he knows how to play in Europe. This great Italian tactician had amazing success with AC Milan. He came to Milan in 2001 and was there until 2009. During that time Ancelotti manage to win two Champions Leagues and made the final and two times the semis. He definitely knows how to win this competition.
Key Players: Franck Lampard, Didier Drogba, John Terry
Champions League titles: none
Today, Chelsea is a great team and it's going to take only matter of time when they win their first Champions League title. They are for sure one of the strongest teams in Europe. Hopefully, they will not end up like last season when Inter kicked them out of the competition in the first knockout round.
Also, we all remember the final in Moscow in 2008 when John Terry missed the key penalty. That was a heartbreaking moment for all Chelsea fans.
Chelsea have great future under Ancelotti's command! Roman Abramovich just needs to be patient and the Champions League title will come.
Others: Arsenal, Bayern Munich and Inter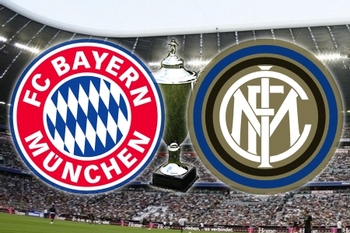 2010 Champions League final
Arsenal
Wenger should take his job more seriously and start building his team with great proven players, not young, upcoming players. No doubts about Arsenal's style, it's the best along with Barcelona's style! But Arsenal is a perfect example in that you can't win if just play beautiful football.
Key Players: Cesc Fabregas, Robin van Persie, Samir Nasri
Champions League tiles: none
Bayern Munich
Bayern has a great team lead by great duo, Robben and Ribery. They surely can repeat last season's results, which was a final. Louis van Gaal is a very strict coach but a very good one. He can get what he wants from his players.
Key Players: Arjen Robben, Franck Ribery, Ivica Olić
Champions League titles: 4
Inter
Inter didn't change that much from last season. Only Rafael Benitez came. He came from the sleeping giant, Liverpool. Inter is defending their last season Champions League title and it's not going to be an easy job. Benitez is not Mourinho, that is all I got to say.
Key Players: Wesley Sneijder, Maicon, Samuel Eto'o
Champions League titles: 3
Keep Reading

AC Milan: Like this team?