NL Triple Crown Race: Handicapping Gonzalez, Votto, and Pujols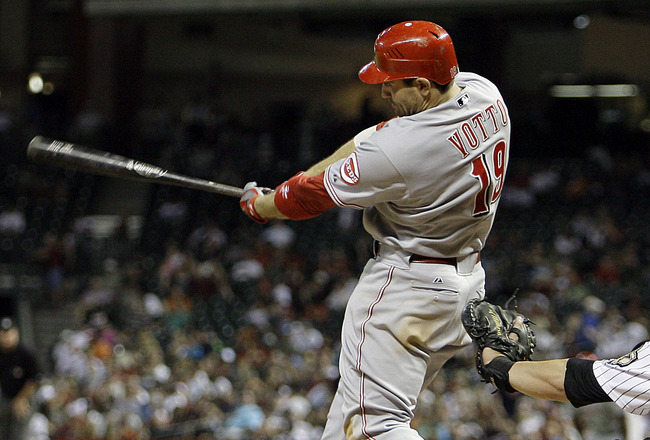 Bob Levey/Getty Images
Winning a Triple Crown is one of the rarest feats in all of baseball. Very rarely do we even see one player contending for the average, home run, and RBI titles.
And you're telling me that there are three contenders in the National League this year?
Colorado's Carlos Gonzalez, Cincinnati's Joey Votto, and St. Louis's Albert Pujols are all in the hunt for the Triple Crown. And if none of them wins the honor, it will be one of them that keeps another from winning.
All season long, these three have been hitting absurdly for average and power.
Do they even have a chance? Can it really happen for the first time since 1967?
Here is a look at each contender's chances at the Crown.
A Look at Each Category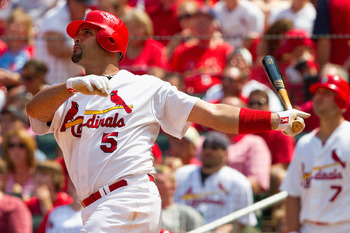 Dilip Vishwanat/Getty Images
Here is a look at how, as of Monday morning, each category is shaping out.
Home Runs- Pujols (32), Votto (29), Gonzalez (25)
RBI- Pujols (89), Votto (86), Gonzalez (79)
Batting average- Votto (.323), Pujols (.316), Gonzalez (.315)
Carlos Gonzalez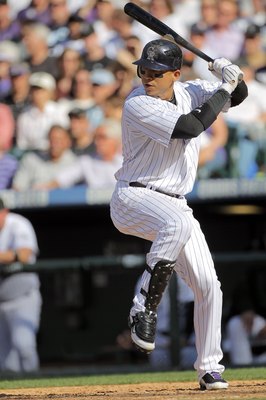 Doug Pensinger/Getty Images
While I'm no odds-maker, I can tell that speedy outfielder Carlos Gonzalez's chances at the NL Triple Crown are slowly diminishing.
Just recently he was close to Pujols, Votto, and Adam Dunn in home runs, but is now seven back of the pace. He has not gone yard since August 8 vs. Pittsburgh, and has only hit four this month.
Gonzalez may end up spoiling it for Pujols or Votto by taking the RBI or average crown, which he very much is in contention for.
As of now, CarGo's outlook is bleak, but a home run surge would bring with it RBI and an average jump. You never know.
Odds: 25:1
Joey Votto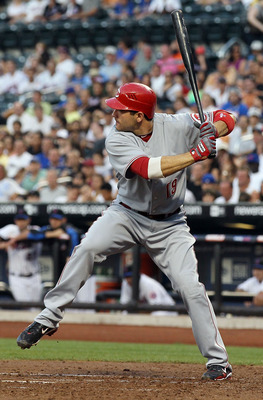 Jim McIsaac/Getty Images
As a Brewers fan, I have seen Votto tear the cover off the ball for three years now, and he is becoming one of my most feared hitters. I just hate seeing him at the plate.
Votto's sweet left-handed approach has put him into a good position for the NL Triple Crown. He will take southpaws to left field with power, something very few left-handed batters can do. If he is looking fastball, he'll turn on it and rip it down the right field line. He seems impossible to strike out, always dumping two-strike pitches into left-center.
Do we now see how the Canadian is hitting out of this world?
Only trailing Pujols by three in both RBI and homers, Votto is in a great spot to win the Triple Crown. He finally broke out of home run spell on Sunday with a blast against the Dodgers. This may be just what he needs.
Playing in "Great American Smallpark" favors Votto more than the spacious Busch Stadium, Albert Pujols' home park.
Odds: 6:1
Albert Pujols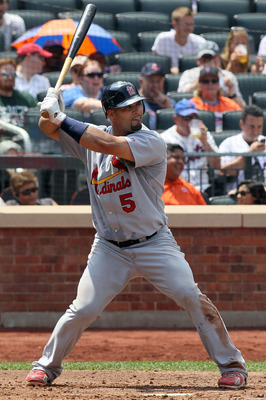 Jim McIsaac/Getty Images
While this year isn't even close to a career-best, Pujols is the front-runner for the Triple Crown, which is, along with All-Star Game MVP, the only major award to have eluded him thus far in his career.
His track record is there, and he always heats it up when the temperature drops in September.
"The Machine" has never ended a season leading even two of three categories needed for the Crown, but now is sitting atop the leaderboard for dingers and RBI. He is only .07 behind Votto in batting average and in fourth place in that category.
He is the closest person to the Triple Crown this late in the season in recent memory.
One problem, however, may come in the form of intentional walks. For years teams have put Pujols on first to avoid the possible damage he may cause. The key to this problem will be All-Star left fielder Matt Holliday. If he can convince teams to pitch to Pujols, it will result in all-around better stats for Pujols. Numerous hits and RBI have been taken away from Pujols, who currently leads the league in IBB.
The chance is there for Albert Pujols. Will he take it?
Odds: 2:1
Keep Reading

St Louis Cardinals: Like this team?