Chicago Bears Preseason: Five Things to Watch for Versus Oakland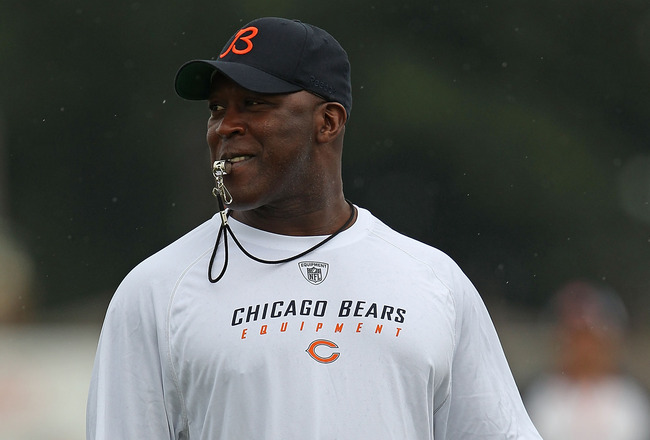 Jonathan Daniel/Getty Images
The rust now hopefully off of them, the Chicago Bears open their home campaign this Saturday against the Oakland Raiders.
It's not the type of preseason action that will be must-see TV, but there is progress to be made nonetheless—for both teams.
For the Chicago Bears, it's a chance to get the bad taste out of their mouth after suffering a 15-point loss to the San Diego Chargers in their preseason opener.
It's an opportunity to show the home fans that there is a glimmer of hope for this team.
With the news of Brett Favre's return to the Minnesota Vikings this week, many will be counting on the Bears to finish third in the NFC North behind both the Vikings and Green Bay Packers.
It's hard not to argue with that belief, but the games are played on the field—not in the papers.
With tomorrow's action, there are some things the Bears can establish and strengthen, while some other things that might need more weeks of grooming and preparation.
Here are five things to look for tomorrow night when the Raiders come to town.
Cutler and Creativity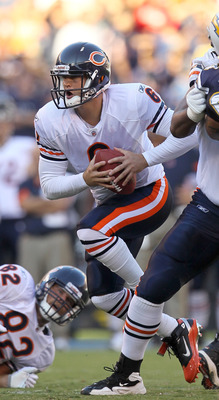 Stephen Dunn/Getty Images
By no means would I suggest the Bears open up the playbook and unveil all of Mike Martz's tricks of the trade, but it might be nice to show a little razzle-dazzle for some of the home fans.
We've heard about Martz and his well-regarded offensive schemes.
We've heard how he made guys like Kurt Warner and Jon Kitna into very good NFL quarterbacks.
The high praise must eventually lead to something concrete on the field, however.
The Bears' first team offense likely won't play more than a handful of series, but in that brief time they should open the playbook a couple of extra pages and air it out a bit.
Cutler is prone to succeed in this offense, if he can trust his receivers and throw well-timed, accurate balls, so let's see some of those.
While it won't threaten anyone in the NFC if the Bears' first team offense runs amok tomorrow night, it will at least inspire hope in Chicago that the Bears can put a potent offense on the field.
For tomorrow night, Martz should let Cutler be a player and help lead a dynamic attack, if only for a quarter or two.
Devin Hester as a No. 1 Wide Receiver?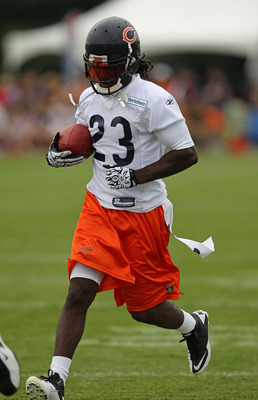 Jonathan Daniel/Getty Images
The story of the 2010 Chicago Bears could very well be the emergence of a true No. 1 wide receiver.
If there is to be a player that steps up and takes that role, there is a good chance it would be Devin Hester, an all-world athlete who is, at best, an above average wide receiver at this stage of his career.
Hester's smarts have been called into question in recent weeks, as some have wondered if he was sharp enough to learn Mike Martz's complex playbook.
When Hester was lighting up the league as a kick returner, he merely had to follow his blockers and bolt through a seam—once he saw daylight, you could take it to the bank.
The receiver position is obviously more challenging, as Hester has had to learn how to be an effective route runner before anything else.
You have to learn how to crawl before you learn how to walk, and that is the situation Hester is in now.
With Martz's passing schemes based so heavily on precision and timing, Hester has had to abandon his care-free, reckless return game tactics, and focus on a more disciplined style of play—not an easy thing to do for a freak athlete in his mid-20s.
Again, tomorrow night's preseason matchup with Oakland won't do much for Hester's credibility in the league, but a strong performance will show that he and Cutler are on the same page and that he can be a weapon in a Martz offense.
If Hester draws Raiders' all-world cornerback Nnamdi Asomugha at all, it'll be a great challenge for him to shake free against one of the best cover men in the NFL.
The Play of Matt Toeaina
Jonathan Daniel/Getty Images
One of camp's intriguing stories has been the play of Matt Toeaina, a third-year defensive tackle out of Oregon.
Toeaina has had a cup of coffee with the Bears, but hasn't seen extensive playing time in his young career, yet.
If you believe the praise handed to him by the Bears' coaching staff so far in training camp, that could all change this year.
Toeaina currently sits on the two-deep at tackle on the depth chart, and he has a legitimate chance to be the first tackle off the bench for Chicago's defense this season.
Tommie Harris and Anthony Adams are entrenched as starters, but Harris' injury-plagued career could mean extra snaps for Toeaina in an effort to keep Harris fresh for 16 games.
Marcus Harrison could be Toeaina's top challenger for playing time, but Harrison has not lived up to the hype that has surrounded him.
He is certainly still learning, but appears to be in the same boat as Toeaina as far as experience goes.
Defensive line coach Rod Marinelli will be evaluating the entire defense on Saturday, but Toeaina will certainly catch the eye of Marinelli and head coach Lovie Smith.
Safety in Numbers?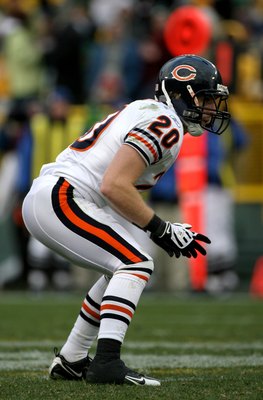 Doug Pensinger/Getty Images
Before camp started, the battle at safety was seen as the top priority for the Bears on defense.
There has been some movement in the position, with veteran Chris Harris making a strong push to start at strong safety, but the free safety position is more open now than it was three weeks ago.
Injuries to Craig Steltz (ankle), Major Wright (finger), and Josh Bullocks (quad) have ham-stringed the secondary and made it unclear as to who might take the field Week One as a starter.
With tomorrow's banged-up secondary missing Steltz, Wright, and Bullocks (all three will sit out), the Bears will do all they can just to field enough bodies.
It's a chance for sleepers like Quentin Scott and Al Afalava to make their presence felt, but this could be a very uncomfortable time for the Bears' coaches.
They need to establish a starting duo soon to build camaraderie and recognition for the entire unit—the loss of Wright and Steltz for a game is a significant blow.
Wright had been very impressive in the early going of camp and looked like a starter, but his injury could now keep him out for the rest of the preseason.
Steltz is also questionable for the start of the regular season.
The secondary could be an area of vulnerability for the Bears if they can't find a clean bill of health.
Look for someone to step up tomorrow night in a makeshift defensive backfield.
Don't Get Hurt, Boys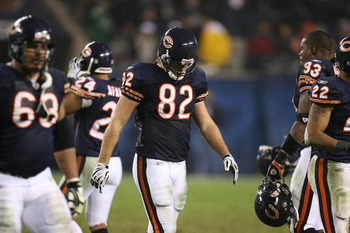 Jonathan Daniel/Getty Images
The first few slides won't really mean anything if the Bears suffer catastrophic injuries tomorrow night.
The preseason in many ways is just a dress rehearsal for many of the established players in the league.
The Bears will walk away winners tomorrow night if they can walk away on their own two legs unaided.
September 12 is the key date for all Bears fans to remember. That is the regular season opener against the Detroit Lions.
They'll need their best 53 men on the field that day—and every day—if they are to make 2010 a memorable season.
Tomorrow's game against the Raiders can not get in the way of the big picture and the team's health.
Here's hoping all is quiet on the injury front after tomorrow's game.
Keep Reading

Chicago Bears: Like this team?