The Dumbest Sports Injuries...Ever
Francisco Rodriguez, of the New York Metropolitans, recently ended his season by getting into a heated altercation with his girlfriend's father after a Mets loss the other night. What an idiot! Mets fans around the country just shaking their heads.
K-Rod not only tore a ligament in his thumb throwing and older gentleman around Citi Field last week, he embarrassed the Mets organization and the Wilpons.
Got me thinking - theres been a lot of stupid injuries over the years by these athletes that we call role models and heroes. Why not list them for everyone to enjoy?!
Begin Slideshow

»
Ah Kendry. So probably one of the most recent of dumb injuries hands down goes to Kendry Morales.
Kendry hit a nice walk off grand slam for the Angels in late May and was absolutely mobbed by his teammates. Kendry took a giant leap into the pile of men and when he landed he just happened to fracture and break his leg. Bummer Angels fans!
Kendry at the time was leading the Angels in batting, homeruns and runs batted in. He is still working his way back....for next season.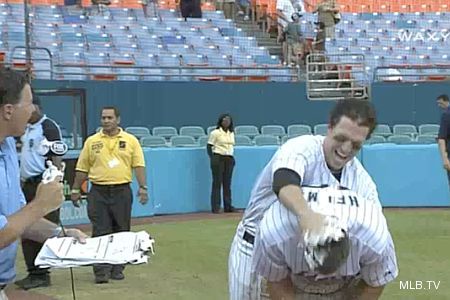 You would think that after seeing how Kendry got injured earlier in the season, teammates would be a little softer about these game winning celebration situations. Chris Coghlan obviously did not get the memo.
Coghlan tore his meniscus in his left knee after pieing his teammate Wes Helms after a game winning hit against the Braves in July. The reigning rookie of the year had surgery and is missing the remainder of the season.
Plax most famously caught the game winning touchdown to finishing the imfamous 18-1 season in Superbowl XLII. Well, maybe i can't say "most famously" now.
In 2008, Plax and teamate Atonio Pierce were out on the night when he was let into a club that knew about the firearm. The gun supposedly fell down his pants and as he tried to grab it BANG. Nailed Plax right in the thigh.
Plax's season and possibly career was over as he was indicted on weapons charges and is still serving a 2 year sentence.
Damn shame too, the Giants had a good season in '08 and could have used him in the playoffs.
Tony Allen, now of the Memphis Grizzlies, formerly with the Boston C's, had a breakout year in 2006 where he averaged 11.5 points per game in 25 minute per game before the Big 3 arrived in Beantown a year later.
In January of 2007, Allen drove to the hoop after a foul had already been called away from the basket, but Tony didn't care for that KG wasn't at the hoop to deny him of a free dunk. Unfortunately Tony landed awkwardly on his knee blowing out both his MCL and ACL.
Tony missed the remainder of that season obviously, and he really hasn't come back to that 2006 season potential, playing less than 55 games in each of the last two seasons. Hopefully a change of scenery will do Tony good.
Big Ben has been in the news for injuring other people's feelings this Summer, but back in 2006 Ben seriously injured himself in a motorcycle accident. Ben was not wearing a helmet.
The injury was not career threatening and it didn't cost him many games in the following season but it did effect the Steelers record as they missed the playoffs after winning the Super Bowl the previous season.
Ron Gant, Kellen Winslow Jr and Jay Williams all had similar injuries from motorcyle accidents.
Ever think spiders would keep a Major League player out for a couple of games? Well if you said yes, then you are correct!
Glenallen Hill once had to go on the Disabled List because he had cuts all over his body. How you say? Hill suffers from arachnophobia and once had a violent nightmare about spiders that he fell over went through a glass table and fell down some stairs all in his sleep!
In 1997 Gus was coming off a nice season prior where he managed to make the Pro Bowl. Starting for the Redskins past and present has never been a fun job.
Gus got all excited here after a one yard rushing touchdown in the first half against the Giants. How Excited? Gus felt so hardcore that he smashed his head into a cement wall. We're hoping he knew it wasn't cement, but who was he kidding he was hardcore!
Gus was taken out of the game with a concussion or neck strains...something painful to the head area.
Gus has bounced around the league since with 6 different teams, but I'm pretty sure if I'm the General Manager for a team thinking about signing Gus the first question I'm asking is, "What the hell were you thinking....?"
Redskins fans still shaking their heads
Last Summer Adrian Beltre, now of the Boston Red Sox, got a line drive to the area usually protected by a protective cup to guard baby maker. Problem is, Adrian chooses not wear a protective cup, even though he plays the hot corner at Third Base.
Adrian severely injured his testicles and missed a few weeks after a Disabled List stint.
Adrian was quoted saying, "I might be lying if I said (I would) I tried it before, it's uncomfortable, I hate it and if it happens every 11 years of my career I'll probably take my chances."
Who's Alex Stepney? Probably never heard of the guy but he's got a nice injury story. Stepney is an English "football" player from the 60s and 70s.
Stepney broke his jaw in a game for Manchester United. No big deal right? Well, kind of. He didn't break it from a collision with another player or even blocking a shot. He dislocated the jaw when he started yelling so hard at fans behind the net.
It was then, when soccer was proved not to be a sport!
Everybody remembers this guy. Yes, the idiot kicker for the Arizona Cardinals who got too excited after hitting a 43 yard field goal he celebrated and jumped around like he just won the 150 million dollar jackpot.
That field goal had to be the game winner in the last few seconds of the game right? Oh. It was only the first quarter? How bad did he hurt himself? Guy tore his ACL out for the rest of his rookie year.
I feel for you Bill.