Overachievers? Chicago Bulls Will Be "Big Four" Team in the East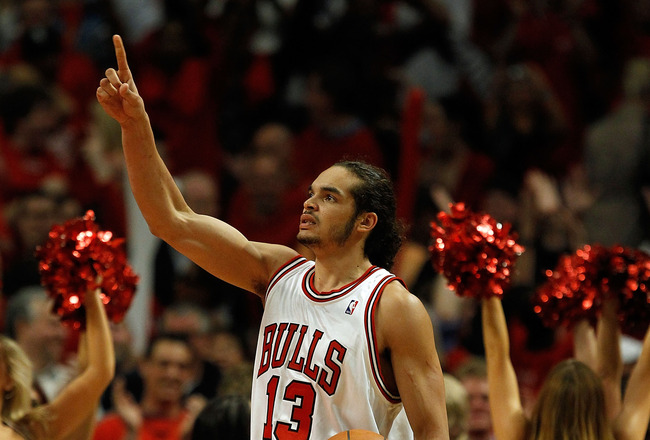 Jonathan Daniel/Getty Images
Now that free agency has lulled some fans into a snooze, it is time to start looking speculatively at what teams can do this upcoming season.
Clearly, the Eastern Conference has taken major strides in becoming a more well-rounded group, and one of those teams prepared to make a jump are the Chicago Bulls.
Yes, the Miami "Thrice," Boson Celtics, and Orlando Magic stick out on a level of their own, but it appears Chicago is ready to break down the door and enter among the East's beasts.
Despite not having the hopes of teams like Miami (72 wins, really?), there are clearly higher expectations in the Windy City.
To realize these expectations, there will be areas where the Bulls will perform, and some where they may have to "overachieve" to get to the promised land.
Here are four areas that Chicago will need to perform to be apart of the "Big Four," and whether it will take more than just 100 percent to surpass and take down some of the best teams in the Eastern Conference and NBA.
I'm Taking My Talents To Chicago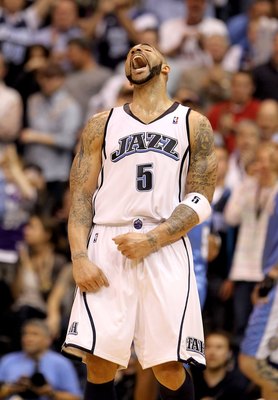 Ezra Shaw/Getty Images
One tangible Chicago lacked last season was obvious talent. Outside of the performances of Derrick Rose and Joakim Noah, you could pretty much say everyone else was, well, eh.
Only the two mentioned above showed obvious talent in all areas, or signs that improvement was without doubt.
Derrick Rose has made strides in his shooting game, and new Bulls coach Tom Thibodeau has the ability to take Rose's defense to another level.
Noah needs to develop his offensive game, and having new teammate Carlos Boozer should help in that respect.
The Bulls, outside of Boozer, added legit talent in a handful of specialty roles, as well.
Ronnie Brewer has a defensive game that rivals and surpasses that of former guard Kirk Hinrich at a much cheaper price tag.
Kyle Korver is the lethal threat that Chicago lacked after letting Ben Gordon walk in free agency. C.J. Watson, Keith Bogans, and Kurt Thomas all had quality talent or leadership that this team sorely needed.
It is clear that the 2010-11 Bulls are light years ahead of the team that scraped out 41 wins last season, and should play at an exceptional level without having to overachieve.
It Starts At The Top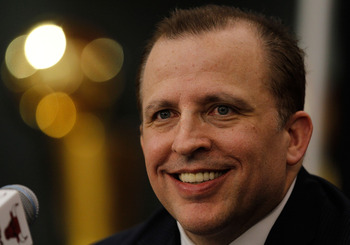 Jonathan Daniel/Getty Images
The Bulls let go of Vinny Del Negro with the hopes of getting a better X's and O's guy who can change the culture of the team.
Enter Tom Thibodeau.
Originally sought after two seasons ago, Thibs was finally brought in to help develop the young talents like Rose, Noah, and Taj Gibson, and instill the attitude that an airtight defensive game will generate more offensive chances.
The solution is the problem for the new guy. If Thibodeau can get his system in place, you can expect a top 10 defense that scores at a clip of close to 100 points per game.
In Boston, he helped lead a team to a championship with the same idea, and ran it with an older team to perfection.
The Bulls do not necessarily have the leadership that Boston had in 2008, but having youth that is willing to learn can be equally valuable.
Boston had guys to lead the team and buy into the system, and Chicago has young talent that are looking to break out and show the NBA why Chicago is back.
Thibodeau's system will either work or fail with the players Chicago has. If it fails and the Bulls finish fourth or better in the east, then overachieving is the answer.
If the system works, the Bulls will achieve a lot without reaching too far into the tank to get results.
Youth Will Serve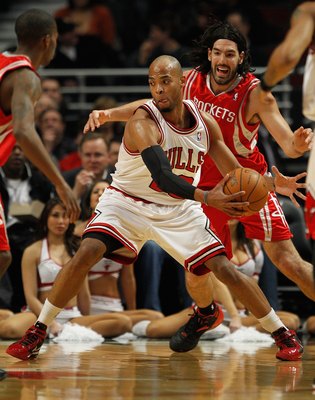 Jonathan Daniel/Getty Images
Chicago's young talent rivals most teams in the NBA. D-Rose, Noah, Gibson, C.J. Watson, Ronnie Brewer, and sometimes James Johnson have shown why they legitimately belong in the league.
Rose continues his ascent to the elite level, Noah is a ballhawk and energy freak, and Gibson has the maturity and of a seasoned veteran.
Those three alone could make or break the season. It will also be interesting to see how (more or less) effective Taj is off the bench.
Watson and Brewer will provide defense that can take most guys a career to attain. Brewer's wingspan is larger than you would expect for his position, and has been expected to guard some of the best guards in the Western Conference.
Watson is a step behind Brewer, but he also played in a no-defense system with Golden State. It will be a treat to see C.J. break out in a real system.
James Johnson could be the team's new enigma. Obvious talent in college, willingness to show it right away, and then not showing what he has learned in actual games.
To say fans and media are not a fan of J.J. is being nice, but if he can get his attitude and game back on track, he will add needed depth at small forward, especially with Luol Deng's knack for being injured.
If Johnson continues on his slope to the end of the bench, he could become Tyrus Thomas 2.0.
The veterans are in place to help this young corps, and overachieving would put the Bulls in the top group easily, and above at least one of Boston, Orlando, or Miami.
Playing as they are expected to still puts the Bulls in that class above the rest.
Defense Wins Chamionships, But Scoring Never Hurts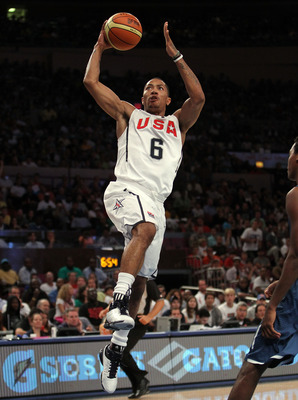 Nick Laham/Getty Images
Chicago could have opened a brick factory with their offense last season. Often, it looked as if Rose was expected to take the ball and hope his teammates could get open.
Well, that was the case 95 percent of the time, and the results were awful.
With a new slash-and-crash forward in Boozer, and shooting options like Korver, and Deng (yes, he is not that bad on the perimeter), and above average rebounding in the paint, Chicago has a chance to score, or get second and third options to tickle the twine.
If Rose's outside game is as improved as he has said it is, then that is just one more facet that teams have to be wary of when facing him.
The issue is that Chicago did not take huge strides in the offensive game.
You can argue that only Boozer and Korver have improved offensive game for the role that they are filling, and that can neither be proven true or false.
All you can take from it is that better offensive talent leads to a better offensive team effort.
Having some upgrades in better than none, and if a handful of players who normally are not depended on for scoring (Noah, Brewer, Gibson) produce, then the team offense is bound to improve.
Chicago will more than likely have to play a better offensive game than what people see listed on paper. A little overachieving never hurts.
Looking at the big picture, it appears as if Chicago will win in the neighborhood of 48-54 games. 48 on pure talent and proven production, and 54 (or more) with some above average play.
It depends on what the players do in the coming months, and whether the four intangibles listed previously come to fruition.
Keep Reading

Chicago Bulls: Like this team?