Virginia Football: Power Ranking the Cavalier Position Groups
Streeter Lecka/Getty Images
It's a new era in Charlottesville, but most of the talent remains the same.
With new schemes, new coordinators, a new coach, and a new attitude, can the Cavaliers find a different result in 2010?
Virginia football is being completely overlooked again this season, even by many of the fans who had their hearts torn out by a three-win season last year. It is little question that there will be plenty of doubters and plenty of room for improvement.
However, the Cavaliers have been working hard this off-season, desperately trying to exceed the low expectations and start the Mike London era off on the right note.
Although there are still more questions than answers, some of the units have really proven their worth towards the program and will look to carry the load.
Which position groups can Virginia rely upon in 2010?
Which still have the most question marks and which will improve the most in coach London's first year?
Here is a ranking of all the units on the Virginia Cavalier squad for this fall.
Let the debate begin.
8. Quarterbacks
In truth, Virginia has had serious trouble finding a reliable quarterback since 2005.
Consider this little tidbit—from 2002-2005, Virginia had two starters at quarterback.
From 2006-2009, Virginia has had six different quarterbacks rotate in and out with various degrees of disappointment.
Marc Verica appeared to be the answer at one point. His back-to-back performances against North Carolina and Georgia Tech in 2008 made him appear to be the next Matt Schaub.
However, his costly interceptions and his subsequent demotion seem to have taken a mental toll on the young man.
Verica is the only experienced quarterback on the roster, but they were not necessarily good experiences. He looked terrified when thrust into the role in 2009 after sitting third on the depth chart.
In 63 pass attempts, Verica averaged a paltry 2.48 yards per attempt. Yet, despite the conservative approach, he still had more interceptions than touchdowns.
That deer in the headlights look has not gone away. As Verica has done well in camp, he still struggled in the spring game.
Although he will begin 2010 as the starter, I highly doubt he will end this season in that same position.
Besides, even with all his shortcomings, he is also a senior and Virginia must look towards the future. The heir to the thorny crown includes grayshirt Michael Strauss, Ross Metheny, and Michael Rocco (son of former UVA assistant and current Liberty head coach Danny Rocco).
Any of the three could get the opportunity, but it's safe to say that quarterback concerns are legitimate in Charlottesville.
7. Running Backs
Streeter Lecka/Getty Images
If you look up the term, running back by committee, you'll probably see a picture of the Virginia Cavaliers backfield.
London certainly has a plethora of options for tailback, however what he has in depth he lacks in experience.
The front-runner, Perry Jones, had nine carries for nine yards last season.
Ouch.
The leading returning rusher is Torrey Mack, his 23 carries for 73 yards was serviceable, but London has barely mentioned his name in media interviews. Mack had a hard time reading defenses and ended up taking some big hits.
It looks like he will have to fight if he wants playing time in 2010.
The wild cards include the bruiser Keith Payne, who finally cleared academically to play, and Dominique Wallace, who was taken out early last season in the Southern Mississippi game with an injury.
Kevin "K.P." Parks looks like he could be the future at running back, but London will probably try to redshirt him if he can.
In total, London will have plenty of fresh bodies to throw at defenses. He also has a variety of rushers with different styles to change the pace of the offense.
However, all of these guys have question marks and none of them have proven an ability to sustain success or stay particularly healthy.
Virginia will not be successful if they can't run the ball, they have plenty of options, but no sure things.
6. Wide Receivers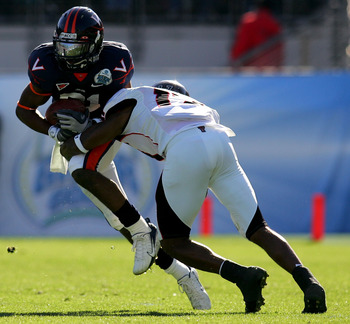 Sam Greenwood/Getty Images
The Virginia Cavaliers only had eight touchdowns via the air last season.
Now one could certainly blame that on the wide receivers responsible for catching those passes, but someone needs to be competent enough to get the ball to them.
As the Cavaliers struggle mightily to find a quarterback of the future, the biggest victims have been the receivers.
Now the depth chart has taken a hit with the departures of Javaris Brown, Riko Smalls, and Quintin Hunter. In fact, three of the top four in terms of receptions are gone from the team.
However, Virginia still has some talented options that can help spread the field.
Tim Smith is a star in the making, with speed second to none on the team. His big plays early in the season gave the Cavaliers hope.
Tight end Joe Torchia looks to uphold the legacy of Heath Miller, John Phillips, Jonathan Stupar, and Tom Santi.
Despite an injury that cost him most of spring training, Torchia should get more opportunities to catch the ball. With young and relatively inexperienced quarterbacks, the tight end should get plenty of looks.
Kris Burd and Dontrelle Inman are the two most experienced options and both possess good size to get up and snag some errant passes. However, if you combined all the career receptions by every receiver on the roster, the number is a paltry 108.
Virginia may be maligned for its wide receivers, but the situation is not nearly as bleak as it may appear at first take. The numbers are dependent on a competent quarterback. With the departure of Jameel Sewell, Virginia will be forced to throw the ball more and those numbers should improve.
The problem is not talent, it's consistency. Hopefully a more balanced playbook will help develop some good relationships between quarterback and receiver.
5. Special Teams

Remember this kick?

The field goal kicker may be the punchline of everyone's jokes, but his role on the team is undeniable.
In the words of Virginia's own coaching staff, special teams make the difference between a bowl game and staying at home. They will influence the outcome of at least three games.
Virginia had two great kickers in Connor Hughes and Chris Gould the past few years, as well as a great kickoff specialist in Kurt Smith.
Hughes and Gould combined to go 84 of 97 on field goals attempts in their respective careers.
Two years ago, Virginia struggled with field goal precision going 9 of 15, but rebounded with a solid 17 of 19 last season.
Nevertheless, there will still be an open competition between Robert Randolph and Chris Hinkebein for the position.
Punter has been a position that cost Virginia dearly during its glory days with coach Al Groh.
Jimmy Howell has helped exorcise some of those demons, averaging over 40 yards per punt last season. He certainly has experience, probably too much considering the anemic state of Virginia's offense.
Boston College was the only ACC school to punt the ball more than Virginia did last season.
With Virginia's offense consistently ranked near the bottom of the FBS, the Cavaliers will need some big plays from special teams to ignite the team.
While punts can change field position, they rarely provide the same lift as a big return can. The pressure will be on Perry Jones to light up the field on kickoffs.
Until he can prove to do that though, Virginia's special teams will remain above average.
4. Offensive Line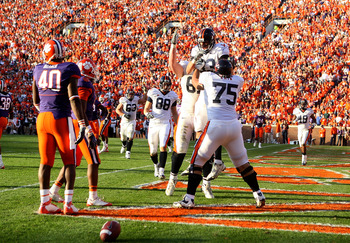 Streeter Lecka/Getty Images
Offensive line may not be a glorified position, but it will undoubtedly determine the success or failure of the Virginia Cavaliers in 2010.
The o-line has unquestionably been an area of strength for years. For proof, look no further than your NFL rosters, which feature Branden Albert, D'Brickashaw Ferguson, Brad Butler, Elton Brown, and Eugene Monroe.
However, the transition to the spread offense, albeit briefly, really hurt the line in 2009.
Virginia loses lineman Will Barker, but that may end up being addition by subtraction. Barker struggled mightily his senior season and never developed the way many had hoped. The Cavaliers went from a team that gave up the fewest sacks in 2008 in the ACC (16) , to the most in 2009 (41).
Fortunately, the Cavaliers still have experienced, veteran players to carry the load starting with Austin Pasztor. At 6'7'', 320 lbs, Pasztor has started 20 games as a rising junior and will have to become a vocal leader for the unit.
He, alongside B.J. Cabbell, will look to carry the load.
Even with some new faces and some inexperience at certain positions, the offensive line is still full of talent.
Every player is at least 6'4'' and 280 lbs. That bulk is important, for Virginia must be able to control the line of scrimmage if they have any chance of getting things done in 2010.
If Virginia can establish the run, the team can keep itself in games and pull off an upset or two.
If the line falls apart, teams will constantly blitz inexperienced quarterbacks and the results will be disastrous.
Offensive line may not be the biggest question mark, but it's the biggest key to success this season.
3. Defensive Line
Any time you switch defensive schemes, the line is going to be affected.
For nine seasons, Virginia has been built around a 3-4 defense and the pressure has been on guys like Chris Long, Chris Canty, Jeffrey Fitzgerald, and Nate Collins to bring the heat.
Now, with an extra man on the defensive line, Virginia should be able to improve upon a rushing defense that ranked next to last in the ACC.
The biggest benefactor in this change on the line will be Nate Jenkins. The big man was often asked to take up space as a defender last season. Tthis year London is allowing him to be more aggressive and push up field.
Jenkins at nose tackle will work alongside Matt Conrath, a rising star, who is being asked to switch positions as well. Conrath is a tough guy who has a good motor and can make some big plays.
Three times last year Conrath was named Defensive Player of the Week by the coaching staff. He blocked an extra point attempt, deflected three passes in one game, and was a second-team freshman All-American.
His experience and his energy level make him a player to watch out for.
The defensive line may experience some growing pains, but they will undoubtedly improve in 2010. While practice has been ugly at times, the coaching staff remains optimistic that this group will be ready to play once the season starts.
Given Virginia's track record at cultivating great defensive linemen, I am inclined to agree.
2. Linebackers
Former coach Al Groh built his defense around the linebackers.
In a 3-4 scheme, these men are expected to be the playmakers, the leaders, and the scapegoats if the defense fails to live up to expectations.
Now that the switch is on to the 4-3, the linebackers have a different, but equally important task.
The linebackers will now be given more freedom to roam the field and not to blitz on each and every down. That means the pressure will be on to force turnovers and read plays quickly and effectively.
The biggest winner in this shift has been Laroy Reynolds.
The former safety worked solely on special teams last season, but his speed and his knowledge have made him a perfect fit at linebacker.
Reynolds has a simple task, go to the ball and get it. Fortunately, he also has the talent to pull it off. The former high school All-District wide receiver has great hands an ability to lay out offensive players.
It's just the kind of toughness London wants to instill in his players for 2010.
Steve Greer is the only real experienced option at linebacker for the Cavaliers next season, his 92 tackles not only leads the team among returning players, but was the fifth highest total by a freshman in the country.
With 6.5 tackles for loss, Greer can get down field quickly and he appears to be on his way towards a great career.
Outside of Reynolds and Greer, the linebackers may have some question marks, but when you have those two, you may have already found the answer.
1. Secondary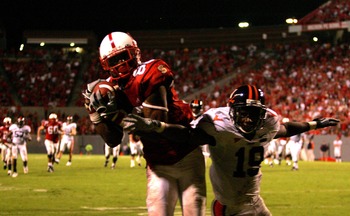 Streeter Lecka/Getty Images
Last year, Virginia had one of the best secondaries in over a decade.
The talent, the experience, and the camaraderie made the Cavaliers have the fourth best pass defense in the ACC.
It also resulted in 12 interceptions, two of which were returned for touchdowns.
However, Chris Cook and Brandon Woods are two losses in the secondary. Cook, in particular, led the team in picks and was second in passes broken up.
Fortunately for Virginia fans, the secondary is probably the most experienced and talented unit on the Cavalier team.
It all starts with Ras-I Dowling, a consensus NFL Draft pick and one frustrating player.
He frustrates wide receivers with his talent and speed, he frustrates Virginia fans with his inconsistent play.
Dowling has yet to live up to the hype that surrounds him, but he knows this is his moment to shine. With NFL scouts critiquing his every move this season, expect a much stronger performance from the 6'2'' cornerback.
While most offenses will try to work around Dowling, expect big plays to come for Chase Minnifield. An experienced junior, he has already made some big plays in his collegiate career, including a big interception in the end zone against Duke to keep Cavalier hopes alive.
People should expect big things in 2010.
At the safety position Corey Mosley and Rodney McLeod are two of the biggest hitters around. The two are second and fourth on the team in tackles and both have a great safety in Anthony Poindexter coaching them up on the sidelines.
These players are not only the most talented on the Virginia roster, they are some of the hardest working. The secondary has stuck together these past few seasons, experiencing the growing pains together and that persistence may finally pay off.
Even if the Cavaliers disappoint in 2010, don't expect the secondary to be the culprit.
Keep Reading