EPL: What Fans Learned From The Opening Weekend of 2010-2011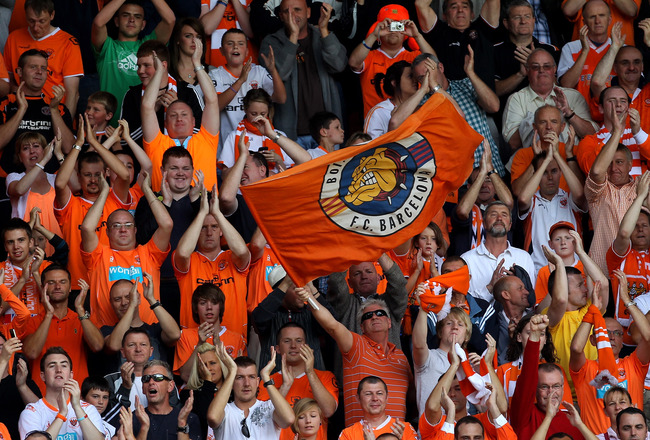 Alex Livesey/Getty Images
What an opening day to the season! Did you really expect anything less?
Blackpool triumphed, Chelsea sizzled, Man City disenchanted.
What else did we learn from yesterday's eight Premier League games, which yielded 21 goals, one red card and one real upset?
We learnt first of all that you can't learn much from the opening day of the season: Blackpool aren't going to score four every match, Joe Hart can't keep up his impression of Superman for nine months, West Ham will eventually learn how to pass a football.
We also learnt that the Ivory Coast would surely have been a different prospect in South Africa with a fit and menacing Drogba, whose hat-trick yesterday was nothing more than a formality.
Blackpool Rock Our World!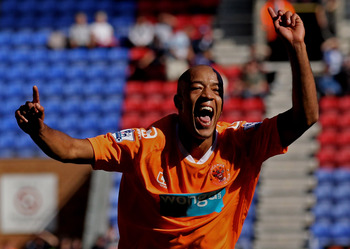 Wassssupppp!
Alex Livesey/Getty Images
Veni, Vidi, Vici!
It is unlikely the Romans knew anything about a little town in the North West of England they call Blackpool.
That didn't stop The Tangerines from coming to the DW Stadium in Wigan, seeing everyone play their chance of staying up this year and then proceeding to conquer The Latics with a dazzling 4-0 away victory.
The unlikely lads had Alex Baptiste (pictured) and Marlon Harewwod in particular to thank, although all eleven starting players were excellent throughout.
Top of the league for a few hours, top of the world for a few days, neutrals couldn't help but smile, Wigan fans will have that sinking feeling!
What we learnt: money doesn't always talk; teamwork, spirit and ambition can reap dividends.
Mancini Has Work Ahead To Gel His Man City Superstars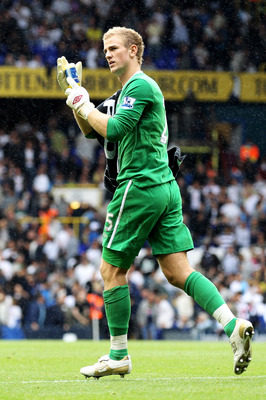 Phil Cole/Getty Images
Fabio Capello was wrong. Officially.
England's Italian manager will have been wondering if he had been using the right glasses last year, after he saw Man City's Joe Hart excel at White Hart Lane during Man City's fortuitous opening day draw against Champions League rivals Tottenham Hotspur.
Because over at Villa Park Rob Green, Capello's Number One for the World Cup, carried on from where he left off with shaky goalkeeping display during his side West Ham's 3-0 hammering by Aston Villa.
While Hart was busy pulling off a string of acrobatic saves and showing off his incredible reflexes, Green was clutching thin air, tormented by Villa widemen Marc Albrighton and Ashley Young's dangerous passes into the box.
Such was Hart's brilliance, it now seems previous City goalkeeper has seen enough and is on his way to Arsenal!
Professional Football Is Slowly Becoming a Non-Contact Sport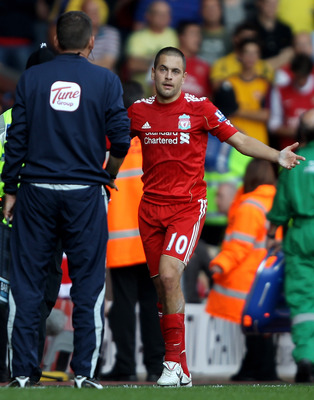 Clive Brunskill/Getty Images
Two big-money signings. Two red cards.
It ended all square at Anfield on Sunday, as Pepe Reina's late calamity gifted Arsenal a 1-1 against Roy Hodgson's Liverpool.
But the result was overshadowed by two sending-offs.
Firstly, Joe Cole made a late, slightly high tackle which was deemed to be violent conduct and, therefore, to merit a red card. Unbelievably, most onlookers seemed to agree. Yet, the intent bore no malice. It was just a slightly clumsy, slightly late challenge.
Secondly, Laurent Koscielny saw red in stoppage time with two bookings in quick succession. While the first challenge was a blatant attempt by Arsenal's new centre to castrate Liverpool winger Dirk Kuyt, the second offence was an accidental handball which could not have been avoided.
Fortunately, two poor refereeing decisions did not ruin a game which, instead, seemed to improve after Cole's first-half dismissal.
Didier Drogba Is Quite Good When ''Injured'', Unplayable When Not!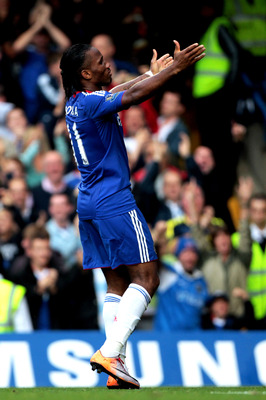 O Sole Mio!
Phil Cole/Getty Images
Sven Goran Eriksson must be tearing out what little silver hair remains on his old wrinkly head.
For with Didier Drogba as an offensive spearhead, the Ivory Coast would have been so much more potent in South Africa this summer than they were. With Drogba fit, the Swede may still find himself in a job.
After scoring 37 goals last season in all competitions, it seems that the 32 year-old striker is finally ''fit'' and ready to surpass that feat this campaign.
Against West Brom on Saturday evening, he was clinical. Nothing more. He scored a hat-trick. He could have scored more!
With Drogba and Chelsea in such goalscoring form, it may be a long season for the other 19 clubs in the league...
The Veterans Still Rule The Roost at Old Trafford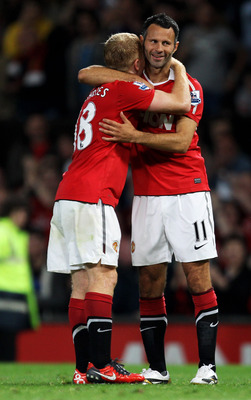 Alex Livesey/Getty Images
Combined age: 72. Combined league appearances: more than 1,000. Contribution: priceless.
Man Utd veteran midfielders Ryan Giggs and Paul Scholes put on another footballing masterclass this evening, helping their team to a comfortable 3-0 win over league newcomers Newcastle United.
Scholes sprayed the ball all over the park with intelligence and precision. Giggs dropped deep, found space and ran at defenders. Newcastle's kids couldn't cope!
Many have hastily written off the chances of The Red Devils this season, but with the experience and know-how of manager Ferguson and veterans such as Giggs, Scholes and Van Der Saar and the youthful passion and vibrancy of Fletcher, Hernandez, Rooney and Valencia, they will push Chelsea all the way. Especially if Dimitar Berbatov can continue his goalscoring form and Rooney can rediscover his.
Not many teams will get a point at Old Trafford and Newcastle United knew this before they even got on their coach to Manchester this afternoon. Sometimes football is just not fair!
Results and Team Of The Week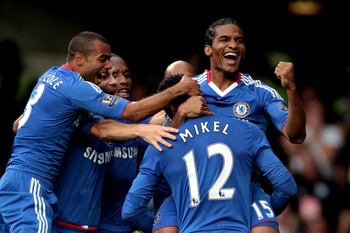 Phil Cole/Getty Images
Team of The Week:
Joe Hart (Man City)
Craig Cathcart (Blackpool)
Martin Olsson (Blackburn)
Vincent Kompany (Man City)
Gareth Bale (Tottenham)
Marc Albrighton (Aston Villa)
Frank Lampard (Chelsea)
Tom Huddlestone (Tottenham)
Florent Malouda (Chelsea)
Marlon Harewood (Blackpool)
Didier Drogba (Chelsea)
Results:
Tottenham 0-0 Man City
Aston Villa 3-0 West Ham
Blackburn 1-0 Fulham
Bolton 0-0 Fulham
Chelsea 6-0 West Brom
Sunderland 2-2 Birmingham
Wigan 0-4 Blackpool
Wolves 2-1 Stoke
Liverpool 1-1 Arsenal
Man Utd 3-0 Newcastle
Keep Reading