Chelsea's All-Time Greatest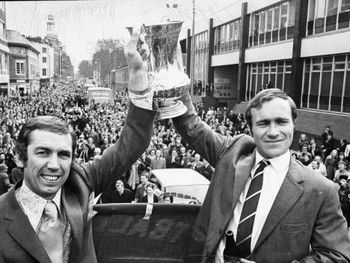 Chelsea have been through a lots of ups and downs in their 109-year history. But each time the club has been down they have returned stronger and tougher.
The club faced numerous financial crisis and relegation before becoming a European superpower in the last decade. The previous owner, Ken Bates, had bought the club for a mere £1m when the club was in its worst financial crisis with uncertainty over its future. But the club eventually revived and when in 2003 it was bought by Russian businessman Roman Abramovich for £140m it was the biggest-ever sale of an English football club.
During these past 109 years, numerous players have plied their trade in Chelsea colours. While many have failed to make an impression, some have become legendary figures in Stamford Bridge for their contribution to the club's success.
This slideshow is a show of respect for those players who brought success to the club. The one's who have been missed are also equally respected.
Charlie Cook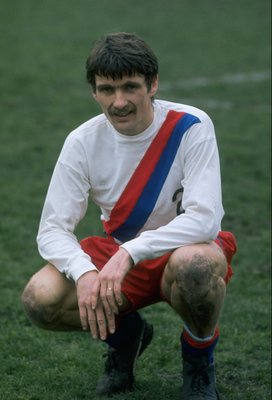 The Scottish footballer was one of the most skilled and best-loved footballers ever to ply their trade for Chelsea.
He arrived at Stamford Bridge in April 1966 from Scottish club Dundee United as part of then manager Tommy Docherty's squad revamping plans. He made an immediate impact with some brilliant performances and quickly became a first-team regular.
He was a crucial member of the trophy-winning teams of the 1970s and enthralled the Chelsea fans over his six year career with his brilliant skills and performances.
His dribble and cross that created the winner for Peter Osgood to score in the FA Cup final has become a popular Chelsea folklore. His waltzing past the legendary Bobby Moore before scoring the goal is also one of the most memorable moments of his Chelsea career.
In 1972 he was sold to Crystal Palace much to the dismay and surprise of Chelsea fans. He returned to the Bridge after one season but failed to prevent the squad from going to relegation. His huge experience proved valuable for Eddie McCreadie's young Chelsea team as they won back promotion into the top flight of English football.
He made 373 appearances for the club, scoring 30 goals before leaving the West Londoner's and moving to the United States in 1978. There he played for several clubs before eventually retiring.
He presently runs a soccer academy in Ohio.
Kerry Dixon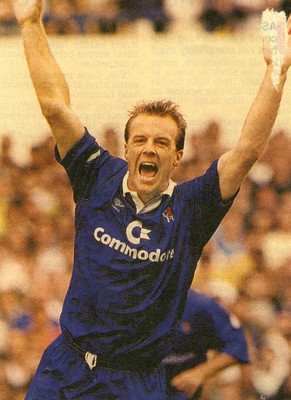 The six-foot striker was one of the most loved players ever to play for the West Londoner's.
He arrived at Stamford Bridge in 1986 from Reading as Chelsea were revamping their squad after a poor season that almost saw them relegated to the third division.
He made an immediate impact on his arrival as he scored 34 goals in his first season as a Chelsea player and helped the Blues win the Second Division title and clinch promotion.
In his first season in England's top flight, Dixon continued his brilliant form from the previous season and scored 36 goals to win the Golden Boot. His superb form helped him take his goal tally to 70 in a mere 101 appearances.
However, his superb rising to the top was hampered severely when a torn stomach muscle forced him off the field for most of the season. The injury robbed Dixon of his pace and affected his performance severely. He failed to get his old form back.
The next season he was close to joining the club's London rivals, Arsenal, but the deal did not finalise because of Chelsea owner Bate's intervention. The squad was slowly broken up and Chelsea were relegated the next season.
The relegation served as a boon for him as he rekindled some of his old form as he scored 25 goals to help Chelsea back to England's top flight.
Back in the first division he scored 26 goals as Chelsea finished in fifth position, their best since 1970.
After two disappointing seasons he left the West London outfit and joined Southampton in 1992.
Dixon is Chelsea's second-highest goalscorer of all-time with 193 goals to his name. He also ranks seventh in their all-time appearances list.
Marcel "Le Rock" Desailly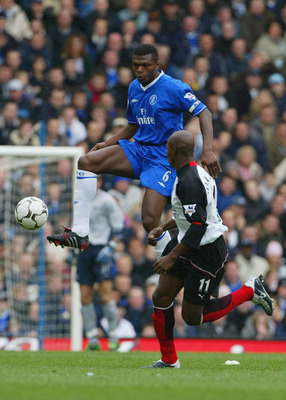 Considered as one of the most accomplished players of the game and one of the best players of the past two decades, Marcel Desailly joined Chelsea in 1998 from AC Milan for £4.6m.
He is one of the few players that Chelsea have signed at the peak of their careers. Over the next three seasons he formed a formidable partnership with Frank Leboeuf and won the UEFA Super Cup and the FA Cup.
Although he did not win much silverware at Chelsea that was expected from a player of his calibre and quality he became a fan favourite at Stamford Bridge. He scored seven goals in his 222 appearances for the club. He also created a club record of winning 74 international caps while at Chelsea, a feat that was only recently broken by Frank Lampard.
His greatest contribution was in the development of another Chelsea legend John Terry who learned a great deal from him, specifically his calmness and confidence in pressure conditions.
He left the West London outfit in 2004 for Qatar club Al-Gharafa, leaving behind a memory of some memorable performances.
Peter " The Cat" Bonetti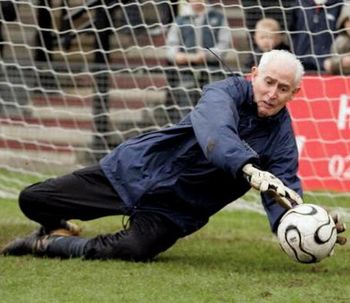 Nicknamed "The Cat" for his superb reflexes, safe handling and graceful agility Peter Bonetti is unanimously Chelsea's goalkeeping legend.
With 729 appearances for the club, he is the Blues' second-highest appearance maker and the highest as goalkeeper.
He debuted for the West London outfit as an 18-year-old in March1960, and helped Chelsea to win the FA Youth Cup. Thereafter he developed into a key-figure for the club during the 60s and 70s.
He was a "China Wall" under the bar. His superb saves helped Chelsea to overcome numerous opponents in that period. His simply superb world-class save helped the Blues' win against Sunderland in 1963. His inspired performances against Leiciester helped Chelsea win the 1965 League Cup.
But his most memorable performance was against Leeds United in the 1970 FA Cup final. Even after being badly injured in the first half, he defied immense pain to play through the match, delivering a superb performance helping the Blues' defeat Leeds and win the Cup.
Another of his memorable performances was against Real Madrid in the UEFA Cup Winners Cup replay where he helped Chelsea become champions by delivering some brilliant saves.
He left Stamford Bridge for North American Soccer League club St. Louis Stars in 1975 but returned to the West London outfit the next season. His vast experience helped the young Chelsea squad win back promotion to England's top flight.
He retired two years later in 1979 and played his last game for his childhood club against Arsenal. He made a total of 729 appearances for Chelsea, making him the club's second highest appearance maker only after Ron Harris.
In his 19 long years with the club he kept more than 200 clean-sheets and conceded one goal or less in two-thirds of his games for Chelsea.
John Terry :: Most Successful Captain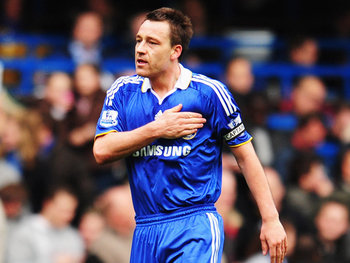 Perhaps another of Chelsea's defending legends, John Terry has already become a club legend for his exploits on the field.
Signed from West Ham as a 14-year-old in 1998, John Terry slowly and steadily climbed up the ranks with his determination and good defensive skills. After a loan spell in Nottingham Forest he slowly established his place in Chelsea's defense alongside the then-famous Frenchman Marcel Desailly during the 2000-01 season. He won the club's player of the year award for his performances.
After Desailly left for Al-Gharab, new manager Jose Mourinho handed over the captain's band to Terry and he has been Chelsea's captain ever since. As Chelsea marched forward in style under new-owner and manager Terry was voted the PFA Player of the Year for the 2004-05 season as well the best defender in the UEFA Champion's League that season.
Over the years he has established himself as a no-nonsense, tough-tackling defender and has earned numerous fans by his on-field displays. His undaunted attitude and fearless nature has had its toll as he was severely injured in few occasions and in one situation just survived death.
He has become a Chelsea fan favourite already and has his name in the Chelsea F.C. Centenary squad. He has been involved in a major controversy in recent past, but the club has stood by their captain and will always support their squad leader just as Terry had refused to leave the club to join a different club.
He is Chelsea's only captain to lift the Double as well as win back-to-back first division league. He already has three Premier League titles, four FA Cup, two League Cup, and two Community Shields under his name and looks determined to lead his team to a few more silverware.
Ron "Chopper" Harris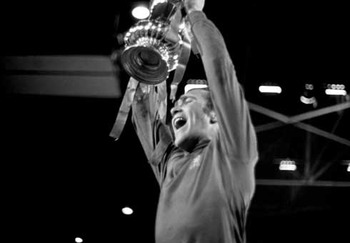 Perhaps one of Chelsea's all-time greatest defenders, Ronald Edward Harris, known as Ron "Chopper" Harris, was a product of Chelsea's youth system.
Regarded as one of the toughest defenders of his era , Ron Harris is also Chelsea's all-time highest appearance maker with a total of 795 appearances in his more than nineteen long years with the club.
He helped the club win the FA Youth Cup in 1961 as a junior. He made his first-team debut in 1962 at only 17. Soon after he sealed his place in the squad and made it his for the next eighteen years.
He established himself as an uncompromising and talented defender with some tough performances for the club. He won his first silverware with the club as the West Londoner's defeated Leicester City to lift the 1965 League Cup.
The next season he became captain of Chelsea and the following year he became the youngest-ever captain to lead out a side in an FA Cup final at just 22.
HIs most memorable moment was in becoming the first Chelsea captain to win the FA Cup in 1970. He emerged as an inspirational leader as he led the Stamford Bridge outfit win the UEFA Cup Winner's Cup in 1971.
Though most of his colleagues left Chelsea for various reasons during the 1970s Harris remained a Blues' faithful. Even after losing his captaincy to an 18-year-old Ray Wilkins and the club suffering relegations twice over a decade he remained loyal with the club.
He finally left Stamford Bridge and joined Brentford as a player-coach in 1980 bringing the curtains down to his impressive 19-year career with the Blues'.
A suite has been named after this Chelsea legend in Stamford Bridge as an honour to Ron Harris.
Frank Lampard :: Dear Frankie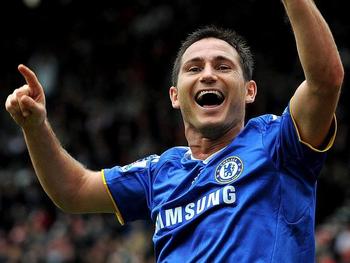 Rated as one of the best midfielders in modern world football Frank Lampard is one of the backbones of the present Chelsea squad as well as the English team.
He proved his critics wrong by scoring 21 goals in the 2009/10 season which showed that he is getting better with age. He has already won the Chelsea Player of the Year award thrice and is their third highest goalscorer with 157 goals. He also is Chelsea's top scoring midfield player ever.
He arrived at Stamford Bridge form rival club West Ham in 2001. After a slow start he developed into top-quality midfielder and is presently regarded as one of the best midfielders in modern day football.He become the backbone of Chelsea's squad and is comfortable playing as a box-to-box midfielder as well as in an attacking role.He has already entered Chelsea fans' Hall of Fame and is already a club legend.
With numerous top class performances over the nine years he spent at the club he has created a place for himself in Chelsea as well as World footballs history. He has entertained Chelsea faithful with his classy displays with the ball. He has extreme mental strength and determination to succeed which has helped him become the football superstar he has become.
Frank Lampard is destined for greatness and has already achieved it. A few more good seasons and he could well end up as Chelsea's all-time top goalscorer breaking Bobby Tambling's long-standing record of 202 goals.
| | |
| --- | --- |
| Name: | Frank Lampard |
| Nationality: | English |
| Date of Birth: | 20/06/1978 |
| Height: | 6' 0" (184cm) |
| Weight: | 13st 12lbs (88.0kg) |
| Previous | |
| Clubs: | West Ham Utd, Swansea City (loan) |
| Position: | Midfielder |
With 27 goals from central midfield in 2009/10 and countless assists, it seems Frank Lampard is getting better with age.
If you factor in the England man's extraordinary resistance to injury and his ability not to earn one booking in the entire campaign it is easy to see why many think it is he that makes the Blues tick.
His season began as it would continue against Manchester United at Wembley, where he contributed a goal, helped set up the other, and then buried a penalty in the shootout.
Questions were raised over his impact in games, but having returned to a deeper position from the top of the diamond, where he had been restricted, his influence grew once more.
He netted another at Sunderland as we turned around a half-time deficit, and helped create seven in as many league games that followed, despite not scoring himself.
The 31-year-old actually went 10 without a goal before four in three arrived in October, helping send Atletico back to Madrid empty-handed as we began to score freely.
It was Frank's free-kick that John Terry nodded in against United at Stamford Bridge in November before a thigh injury on England duty while jogging ruled him out of two games. He returned to contribute in a big 3-0 win away at Arsenal before a rare dead-ball error - his late penalty at Manchester City saved by Shay Given.
In a difficult Christmas period it was two successful spot kicks that dug us out of trouble against Portsmouth and West Ham, the latter having to be taken three times at his old home ground, requiring nerves of steel.
Doubles against Sunderland and Birmingham were followed by six quieter games, including disappointment at Inter, which would be compounded in the second leg when for once the game passed him by.
Lampard's goal, and cross for Terry, helped us into the FA Cup semis, and he bounced back from European disappointment by banging in four against Aston Villa.
The feat, the second time he had achieved it, took him over the 150-goal mark for Chelsea, over 100 in the Premier League, and beyond Roy Bentley to become our third-highest scorer of all time.
After converting another against Villa at Wembley to book a place in the Cup Final, the focus shifted to league football for the next five games, and it was here where Frank really delivered.
After scraping past Bolton it was he who pulled a late goal back at Spurs before scoring a beauty against Stoke, diverting Sam Hutchinson's deep cross back across goal and in, his second of the game.
A week later at Anfield there were major celebrations as he swept home Nicolas Anelka's square ball to confirm a massive victory.
A win over Wigan would provide his third Premier League medal, and he would not be denied.
Winning and taking a penalty (after a lengthy debate with Didier Drogba) he put us two to the good as we ran riot, setting up an historic Double should we beat Portsmouth in the FA Cup Final.
Having scored the winner there against Everton a year before, he clearly fancied it again, launching a 30-yard drive against the post inside the first 10 minutes as we laid siege to the Pompey goal.
It was a Drogba free-kick that broke the deadlock though, and even though Frank's final contribution was to drag a penalty wide at the death, he was there in the Royal Box to lift the trophy alongside John Terry.
He had stepped up once again, a remarkable feat considering that in the previous campaign had had added another 20 in Chelsea colours.
He quickly got into goalscoring form, netting twice in September before two more followed in October, the latter being an audacious chip from the edge of the area at Hull, an automatic Goal of the Season contender, though eventually edged out by Michael Essien's volley against Barcelona.
As the performances of those around him began to wane, Frank's form remained consistent under Luiz Felipe Scolari, scoring key goals over Christmas against West Brom and Fulham to keep us in touch with the league leaders.
An overturned red card at Liverpool in February earned rare sympathy from outside Stamford Bridge, and the arrival of Guus Hiddink brought extended freedom for the former West Ham man, who repaid his coach with vital goals in a late win over Wigan and a 4-4 Champions League thriller against Liverpool, before we eventually bowed out in controversial circumstances against Barcelona.
Months before committing to a new five-year deal in the summer of 2008, Frank had scored a dramatic equaliser in the Champions League Final in Moscow, while also converting a penalty in the shootout.
It remains the one club medal that has eluded him since eyebrows were raised over an original £11 million transfer fee paid eight years ago.
Since then Lamps has become Chelsea's top scoring midfield player ever; and is the player to win the most international caps while a Chelsea player.
In 2006/07, his 62 games was the highest total by any Chelsea player in a single campaign and although the next year was affected by two rare injuries and bereavement, Frank continued to drive Chelsea on from midfield game after game after game.
When in December 2005, he finally missed a game due to a virus, it brought to an end a new Premier League record of 164 consecutive appearances.
Ironically, Frank's ever-present habit was one of the reasons why he was under-appreciated by some at the club that nurtured him.
With Frank's father the West Ham first team coach, sections of the support at Upton Park cried nepotism over the young player's regular place in their side. He was ever-present in the Hammers team that finished fifth in '98/'99 and was capped for England the next season.
When manager Harry Redknapp and Frank senior were sacked from Upton Park, it was time for our Frank to move on.
After a quiet start at the Bridge, he bloomed into one of Europe's finest and in 2003/04, Frank's phenomenal form was only beaten by Thierry Henry when English football's individual awards were handed out.
He was well worth his place in the Euro 2004 team and was voted the England team's Player of the Year.
The top performances continued to come, as did the goals, Frank's powerful shooting firing Chelsea to the 2004/05 Championship as he top-scored from midfield with 13 in the League and 19 overall - there was no one more appropriate to score those magical goals at Bolton.
The Sportswriters' Footballer of the Year that year (only the second Chelsea winner in over 50 years) and runner-up in the European and World Player of the Year voting for 2005, Frank continued to prove as close to indispensable as can be found in modern squad-based football as his team duplicated the Premiership success in 2005/06.
Again the vice-captain was top scorer, this time with 20 goals. His 16 in the League was the highest total ever by a Premiership midfielder.
That made it all the more surprising when Frank failed to register on the score sheet in the 2006 World Cup in Germany, despite shooting more frequently than anyone.
It drew outside criticism, his years of incredibly consistent achievement seemingly forgotten overnight.
He needed prove himself to nobody at Chelsea, and Frank also continued to create goals at a rate unrivalled at Chelsea, leading former boss José Mourinho to simply describe him as unique.
In 2007/08, having missed September with a thigh injury, his return to the side in early October coincided with a gradual climb up the league table. He contributed 11 goals before his other thigh was strained on Boxing Day. Another six weeks were missed.
That was unfortunate but genuine tragedy struck in April with the death of Frank's mother. His courage and nerve in scoring a vital Champions League semi-final penalty against Liverpool on his return from compassionate leave, followed by his Moscow goal, were among that season's strongest images.
Even Frank's harshest critics began to re-evaluate their opinions and he was finally being appreciated in an England shirt too.
Unlike in 2006 when he didn't find the net in five World Cup games, Frank went into the 2010 World Cup in red-hot scoring form, even by his own extraordinary standards.
However as Fabio Capello played with the jigsaw of England's midfield, Frank's goal threat again appeared diminished although he was one of the best players against Slovenia in the third group game, and was infamously denied his first World Cup goal by a ludicrous linesman's decision as England exited versus Germany.
Career History:
Club
Season
Comp.
Apps
(as sub)
Goals
Chelsea
2009 - 10
League
36 (0)
22
FA Cup
6 (0)
3
League Cup
0 (1)
0
Euro Cups
6 (1)
1
Chelsea
2008 - 09
League
37 (0)
12
FA Cup
7 (0)
3
League Cup
1 (1)
2
Euro Cups
11 (0)
3
Chelsea
2007 - 08
League
23 (1)
10
FA Cup
1 (0)
2
League Cup
3 (0)
4
Euro Cups
10 (1)
4
Chelsea
2006 - 07
League
36 (1)
11
FA Cup
7 (0)
6
League Cup
3 (3)
3
Euro Cups
11 (0)
1
Chelsea
2005 - 06
League
35 (0)
16
FA Cup
4 (1)
2
League Cup
0 (1)
0
Euro Cups
8 (0)
2
Chelsea
2004 - 05
League
38 (0)
13
FA Cup
0 (2)
0
League Cup
3 (3)
2
Euro Cups
12 (0)
4
Chelsea
2003 - 04
League
38 (0)
10
FA Cup
4 (0)
1
League Cup
1 (1)
0
Euro Cups
13 (1)
4
Chelsea
2002 - 03
League
37 (1)
6
FA Cup
5 (0)
1
League Cup
3 (0)
0
Euro Cups
1 (1)
1
Chelsea
2001 - 02
League
34 (3)
5
FA Cup
7 (1)
1
League Cup
4 (0)
0
Euro Cups
4 (0)
1
West Ham Utd
2000 - 01
League
30 (0)
7
FA Cup
4 (0)
1
League Cup
3 (0)
1
West Ham Utd
1999 - 00
League
34 (0)
7
FA Cup
1 (0)
0
League Cup
3 (0)
2
Euro Cups
10 (0)
4
West Ham Utd
1998 - 99
League
38 (0)
5
FA Cup
1 (0)
0
League Cup
2 (0)
1
West Ham Utd
1997 - 98
League
27 (4)
5
FA Cup
6 (0)
1
League Cup
5 (0)
4
West Ham Utd
1996 - 97
League
3 (10)
0
FA Cup
1 (0)
0
League Cup
1 (1)
0
Swansea City
1995 - 96
League
8 (1)
1
West Ham Utd
1995 - 96
League
0 (1)
0
Bobby Tambling :: Goal Machine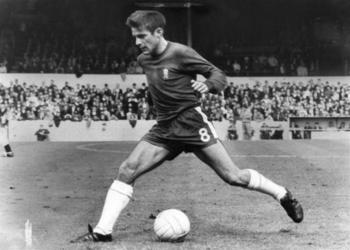 Chelsea's all-time highest goalscorer was signed by the West London outfit as a 15-year-old.
He debuted for the Blues' on February 1959 in style as he scored the winner to help Chelsea defeat West Ham United 3-2. Over the next two seasons he played mostly as a winger and his career did not flourish until 1961, when Chelsea's prime goalscorer Jimmy Greaves left Stamford Bridge for AC Milan.
Over the next season Tambling scored 22 goals for Chelsea but was unable to prevent relegation. The next season he became the youngest captain to lead a side to promotion. He scored 37 goals in that season for the Blues. He maintained his prolific form in front of the goal over the next season scoring 25 goals as Chelsea challenged for the treble.
He only won the FA Cup as a Chelsea player, and is the only Blues' player to have scored five goals in a single league game. His record remains as of date.
He maintained his prolific form over the next few seasons but found his chances limited with emergence of talented and gifted youngsters and made only seven appearances in the 1969/70 season. He left for Crystal Palace in 1970 after failing to regain his place in the squad bringing an end to his decade old relation with the club.
He scored a club-record of 202 goals in 370 games he played for the Stamford Bridge outfit.
Peter Osgood:: The King of Stamford Bridge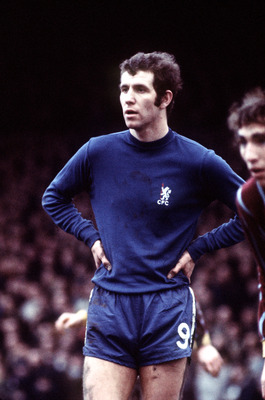 Perhaps Chelsea's most beloved player, Peter Osgood, or "Ossie" as he was lovingly known by Chelsea faithfuls, was signed by the Blues as a teenager.
He made his debut for the West Londoner's in the 1964 League Cup match against Workington FC aged only 17 years. After having impressed with his performances for the Blues' reserve squad he debuted in style scoring twice as his club won the match convincingly.
He quickly became a regular starter for the Blues until a broken leg disrupted his progress. He spent a year on the sidelines due to his injury and it was widely thought that his career was over.
But he proved his doubters wrong and returned from injury graceful as ever and tougher than before. For the next decade he was a first-team choice and earned a huge fan following for his on-field performances as well as his personality and status. He became known as the "King of Stamford Bridge" and still is regarded as one of the best players ever to have plied his trade in Blues' colours.
He was the last player to achieve the feat of scoring goals in every round of the FA Cup and that record is still survives. His volley against Arsenal was voted the goal of the season in 1972-73.
He was part of the glamorous squad of the 1960s and 70s and won 1970 FA Cupas well as the 1971 European Cup Winners' Cup. He made a total of 380 appearances in his 10-year career with the club scoring over 150 goals.
Even when Chelsea was on the decline he maintained his goal-scoring form. He eventually fell out with the management and was sold off to Southampton in 1974 much to the chagrin of Blues' fans.
He returned to Stamford Bridge in December 1978 and eventually brought down the curtains to his career a year later.
The most beloved Chelsea player tragically suffered a heart attack and died in March 2006 at just 59.
Gianfranco Zola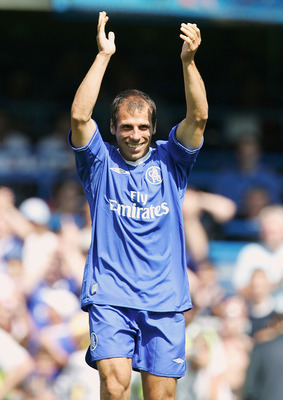 Officially voted Chelsea's greatest-ever player, the 5'5" Italian was twice voted Player of the Year in 1997 and 2003.
Regarded by many as one of the most talented players of his time, Zola arrived at Stamford Bridge from Italian club Parma in the winter of 1996. He had an impressive debut season for the Blues, wherein he delivered several top-class performances and helped Chelsea win the FA Cup.
Goals that left a long lasting memory will be his mid-air back flick against Norwich City, a brilliant effort past Manchester United's defense that left United's goalie spellbound, and most famously his "twisted blood" effort against Wimbledon FC in the FA Cup semifinal.
He seemed a player who loved his game and was unanimously the favourite player among all opposition fans. He was the first Chelsea player to win the FWA Player of the Year award in 1997.
His form dipped during the 2001-02 season but he revived his old form the next season and went on to score 16 goals that season, his highest goal-scoring tally for Chelsea in a single season.
He helped Chelsea win two FA Cups, 1998 UEFA Cup Winners' Cup and UEFA Super Cup as well as the 1998 Football League Cup.
The highly-talented Italian made his final appearance for the club in the Blues' match against Liverpool where he scored after coming on for the last 20 minutes. His last classy act in Chelsea colours was an amazing dribble past four bemused Liverpool players.
He left Stamford Bridge for Italian club Cagliari in the summer of 2003. Zola was voted in Chelsea F.C. Centenary Eleven. After his departure no one has been allotted the number 25 shirt.
Keep Reading

Chelsea: Like this team?