Jimmie Johnson and Chad Knaus Could Be Indicted for Speed Racketeering (Satire)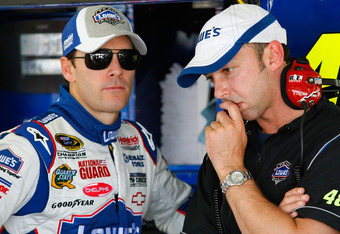 Geoff Burke/Getty Images
The National Association of Superspeedway Drivers has requested that an injunction be brought against Hendrick Motorsports driver Jimmie Johnson, as well as his crew chief Chad Knaus after the No. 48 team qualified second for Sundays Brickyard 400.
The association is hoping to begin an inquiry as soon as Thursday morning, with the intent of finding out how the team has been able to qualify no lower than third on the superspeedways so far during the 2010 season.
Johnson has qualified his Lowes sponsored Hendrick Motorsports Chevrolet Impala third for the season opening Daytona 500 at Daytona International Speedway, first for the Aaron's 499 at Talladega Superspeedway, second for the Coke Zero sponsored by Coca-Cola at Daytona International Speedway, and second for the Brickyard 400 this weekend at Indianapolis Motor Speedway.
With one more superspeedway race left on the schedule, the original intent of the association was to thoroughly inspect one car from each of the Chevrolet Sprint cup teams, who happened to qualify nine cars in the top-10 for last weekend's race at Indianapolis Motor Speedway.
Johnson along with his teammates Mark Martin and Jeff Gordon, and three cars driven by Richard Childress Racing, which included Kevin Harvick, Clint Bowyer, and Jeff Burton's car, came under scrutiny after one of the Ford teams complained about the Chevrolet's taking nine of the 10 spots.
Rounding out the top-10 were the only two drivers who race for Earnhardt Ganassi Racing, Juan Montoya and Jamie McMurray, along with Ryan Newman, who races for Stewart Haas racing.
Johnson, who has come under scrutiny since his championship run first began in 2006, has also found success at other tracks the NASCAR touring series runs, which included the team adding victories at two tracks that he has never won at.
Even though Johnson only finished 22nd while having his share of problems, and of all things one of them being speed, the association is still going forward with their investigation.
It was also leaked that somehow the Earnhardt Ganassi team has in their possession, copies of the formula that Johnson and Knaus have been using since the 2006 season first began.
The formula which Knaus and Johnson have in their sole possession, contains the secret on how to win championships in the chase era.
It also contains ways to get extra speed out of a race car, which no other team has yet to figure out.
Earnhardt Ganassi driver Jamie McMurray won the season opening Daytona 500, along with the Aarons 499 which was run at Talladega Superspeedway and the Brickyard 400 just this past weekend at Indianapolis Motor Speedway.
The success that McMurray has found this season on the superspeedways, came under scrutiny because of his inconsistent finishes in the past.
McMurray and Johnson are not the only drivers who are being watched, and in the future there are a few more that will be made public once the investigations are completed.
The association which is run by a panel of ex-NASCAR fans, has requested that all findings be kept confidential until the drivers who are found at fault have been inducted into NASCAR's Hall of Fame.
Neither team or their drivers were available for comment at this time.
This article is
What is the duplicate article?
Why is this article offensive?
Where is this article plagiarized from?
Why is this article poorly edited?