Does WWE Roster of 2010 Look Similar to Their Roster of 2001?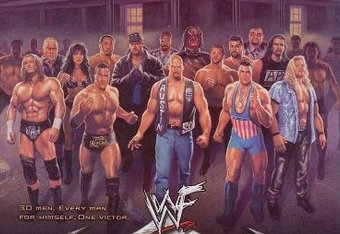 WWE
- Randy Orton (Stone Cold)
- John Cena (The Rock)
The Undertaker
Triple H
- Jack Swagger (Kurt Angle)
Chris Jericho
Edge
- Daniel Bryan (Chris Benoit) (Returns to WWE in September)
Kane
The Big Show
- Alberto Del Rio (Eddie Guerrero)
Rey Mysterio
CM Punk
- Sheamus (Test)
- John Morrison (Shawn Micheals)
- The Miz (Chris Jericho)
- Drew McIntyre (Triple H)
- Dolph Ziggler (Mr. Perfect)
Kofi Kingston
Evan Bourne
Ted DiBiase
- Cody Rhodes (Rick Rude)
Shelton Benjamin (If he returns to WWE in August)
- R-Truth (Booker T)
Kaval
Christian
Matt Hardy
M.V.P.
Carlito (If he returns to WWE)
- Justin Gabriel (Jeff Hardy)
- Heath Slater (Edge)
Wade Barrett
Alex Riley
William Regal
- Ezekial Jackson (Ahmed Johnson)
- Yoshi Tatsu (Tajiri)
Zack Ryder
Chavo Guerrero
WWE Diva Similarities
Beth Phoenix (Chyna)
Mickie James (Trish Stratus) (If she returns to WWE)
Melina (Lita)
Serena (Ivory)
Tag Teams and Stables
Edge and Christian (with Maryse)
Two Man Power Trip (Randy Orton & Drew McIntyre with Tiffany and Vince McMahon)
The Brother's of Destruction (The Undertaker & Kane) (w/Michelle McCool)
Jeri-Miz (Chris Jericho & The Miz)
The Radicalz (Rey Mysterio, Daniel Bryan, Alberto Del Rio & Kaval)
S.E.S. (CM Punk, Luke Gallows, Joey Mercury with Serena) = Right to Censor
American Gold Standards (Jack Swagger & Shelton Benjamin)
Team Perfect (Dolph Ziggler & Joe Hennig)
The Fortunate Son's (Ted & Brett DiBiase)
Evan Bourne and Justin Gabriel = The Hardy Boyz
The Hart Dynasty (David Hart Smith & Tyson Kidd with Natalya)
The Uso's (Jimmy & Jey Uso with Tamina)
Los Aviadores (Epico & Hunico): From FCW
The Colons (Carlito & Primo)
Black Domination (Ezekial Jackson & Shad Gaspard)
305 Brooklyn Connection (M.V.P. & JTG)
William Regal & Wade Barrett
The Dudebusters (Caylen Croft & Trent Barreta)
The Gatecrashers (Curt Hawkins & Vance Archer)
This article is
What is the duplicate article?
Why is this article offensive?
Where is this article plagiarized from?
Why is this article poorly edited?