Coming Season Looks Promising For BGSU Mens Rugby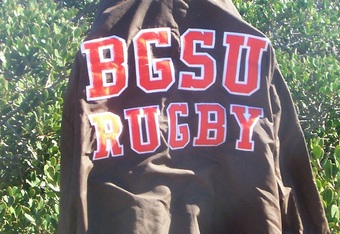 Anyone paying any sort of attention to collegiate rugby this summer has seen that a lot has been happening, shaking up things quite a bit.

First, Utah took the 7s Collegiate Championship Invitational tournament - with BGSU running the Challenge bracket. Then came the announcement of the conference set-ups for the Premier League - followed shortly by BGSU bowing out of theirs for financial reasons. Finally, came the announcement of a divisional format.

Since BGSU is out of the Premier League, many might think the chance for glory is gone for the Falcons. That is not the case, though. Looking at who they will be facing as they try to make another consecutive Nationals appearance, it appears that glory is well within reach; but it's foolish to write off any team based purely on opinion - that's a real good way to get embarrassed.

With Ohio State and Notre Dame no longer in the "Midwest," the Falcons will have to contend with Miami, Davenport, Purdue and Indiana. All these teams are talented and have great players among them. All of them at one point or another had representatives on the Midwest Thunderbirds team, with all teams having players representing them on this year's squad. With that being said, all things seem to be equal but that simply is not the case.

The Falcons cannot be matched by any other team in the backs or the pack, both of which can dominate on either side of the ball. The backs have 7s stand-out Rocco Mauer on the wing, with his brother, Dominic, taking one of the center positions. While both brothers had a good showing this past 15s season, Dominic has made an impressive run with the 1823 7s team, with Rocco playing with the Chicago Lions. The skills that made them so powerful on the 7s pitch, their speed agility and tackling, translate seamlessly to 15s.
Nick Viviani and Nick Brandenstein will also be valuable assets to the Falcons' arsenal. Brandenstein, who is versatile enough to play anywhere from fullback to scrumhalf, has the skills to shut down players on defense as well as create plays on offense. Nick Viviani, who will most likely helm the offense from the flyhalf position, is a major threat no matter what he's doing. His kicking ability is only surpassed by his ability to move the ball, and his quickness is enough to confound any defense. The element of Viviani's game that makes him the biggest threat, though, is his ability to communicate with his teammates and make them play that much better.
Even before these men were put together, teams in the Midwest had problems hanging with the Falcon offense; and since they have been joined together, there has yet to be a lineup put together by any team in the Midwest that could, backline-to-backline, hold a candle to the one the Falcons have right now.

The Falcons' pack has been the work horse of the offense and defense in recent years. With a number of people graduating and becoming ineligible, this is the biggest mystery for BGSU. Positions need to be filled. The only question is: Who will fill them? There are a number of players who could fill a number of them; but no matter where you shift one player, another hole in the pack opens up.
What is certain about the pack is that the potential pack players can get the job done no matter where they play. Two stand-outs are newcomers to the game Tyler Bender and Dan Grime. Though they may not specialize in the subtler nuances of the game just yet, what they lack in knowledge they make up for in spades with effort. The pack may be where new players will get the chance to step up and represent their team in a big way.
The job this year's pack will have to do will not be an easy one, though. Indiana has had a smash-mouth, strong pack, something that could be difficult to handle. If BGSU's pack isn't prepared for them, Indiana could pose big problems. While the other three teams have strong and impressive packs with stand-out members, as a whole the Falcons have overcome them with ease in past encounters.

All things being said, it seems as though the Falcons' are poised to run their quaint corner of the Midwest again; but nothing is certain and time will tell who will be left standing once the dust settles.
This article is
What is the duplicate article?
Why is this article offensive?
Where is this article plagiarized from?
Why is this article poorly edited?