Parks Race Reactions: LifeLock.com 400 at Chicagoland Speedway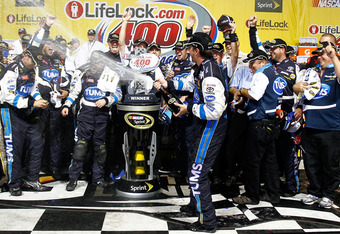 Jason Smith/Getty Images
There are times in NASCAR when controversy surrounds a win, an action, or the results of an action.
On Saturday night, one driver vindicated all the controversy that was talked about him since 2009. At the same time, other drivers had rough nights that ended on a low note.
Not one to waste any time, here are my race reactions from the LifeLock.com 400.
First off, it was a surprisingly rough night for the points leader. I cannot imagine seeing a driver that is normally so good at this track struggle like Kevin Harvick did on this night. It reminded me a lot of when Dale Earnhardt Jr. struggled at Las Vegas a while back to the point where the crew actually changed shocks.
A horrible night for the points leader closed the gap between he and Jeff Gordon (who finished third) to 103 points.
Luckily, there is a much needed week off so the No. 29 team will be refreshed and set for the Brickyard.
Meanwhile, just when you think the horseshoe returned, Jimmie Johnson has two rough weeks in a row. His race started out great, leading the first 92 laps.
But, missing pit road just set forth the events of the night.
It just goes to show even the champ has times where things go wrong. It does however prove that he is not immune to the bad luck that some teams experience throughout a season.
But, with Indy on the horizon, everyone is on their toes. He's the defending two-time champion of this race. The driver that has won the Brickyard has gone on to win the title eight different times, with Johnson holding three of those.
Wouldn't bet against this team come two weeks from now.
But, the man of the night was David Reutimann. For more than a year, we've heard the talk about how his first win was just a good call by the team.
Sure, they played the rain game and hit the jackpot. It wasn't the only time that it happened last year, and it certainly wasn't the first time it happened in NASCAR. But, because of the luck that Michael Waltrip Racing had in their first three years of competition, it's understandable that people would talk.
Even we as fan writers felt the win was not exactly the best way to get it. But, the same thing could be said when Joey Logano won at New Hampshire.
Now, all that talk can come to an end. Reutimann legitimately won that race. His car was extremely good all night, and the team made awesome calls when it counted. Passing a driver like Gordon, then holding on with Carl Edwards charging to the front showed that he is not a one-hit wonder.
That No. 00 has been the most improved car and team since last year. I said that the entire Michael Waltrip Racing organization was the most improved from 2009.
With Waltrip himself now on a limited schedule, all the team resources go to that team. It has certainly showed as he's running consistent and the team has given him much better cars.
It was a very deserving win, as even Mike Helton came down to congratulate the team and Reutimann on what they accomplished.
The "Dream Machine" made Reutimann's dream come true on this night, concluding a very exciting weekend at Chicago.
This off weekend is much needed as the run to the Chase heats up. What is going to happen next?
This article is
What is the duplicate article?
Why is this article offensive?
Where is this article plagiarized from?
Why is this article poorly edited?