Why the Pittsburgh Steelers Will Make the Playoffs: Secondary (Part Two of Four)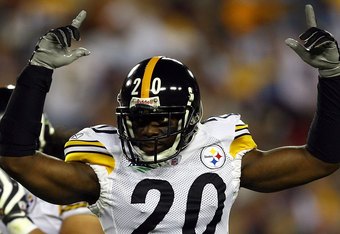 Jamie Squire/Getty Images
Pittsburgh sports personality Gene Collier has claimed the Pittsburgh Steelers will only win six games this upcoming season. He sites the absence of traded WR Santonio Holmes and injured guard Willie Colon as reasons but for everything that is lost, there is always something gained.
For the 2010 Steelers that counterbalanced gain lies in the secondary.
For all the problems Pittsburgh had last season their pass defense had to be the most abysmal part of the team. Ranked 16th in the NFL (seems like they should be much lower) the unit brought what is normally one of the NFL's top defenses down to a very average level.
They allowed 215.4 passing yards per game, their interceptions leader was Troy Polamalu who only played in five games, and their cornerbacks combined for a grandiose total of two interceptions. Jeff Reed had more tackles last season than all of the Steelers cornerbacks combined had interceptions.
Part of the poor play by the secondary as a whole was due to Polamalu's injury but the statistics from the cornerbacks are unacceptable regardless.
If you have the means, go back and watch the fourth quarter of the Raider and Kansas City games, as well as the entire game against the Packers and notice that the only cornerback who can actually cover a WR is Ike Taylor and even he blew a lot of plays.

The play of Gay in the Packers game alone should be enough to make head coach Mike Tomlin and defensive coordinator Dick Lebeau, both secondary coaches at the start of their careers, want to quite coaching all together.
Enough of the ranting, time for why it should be better this year.
The first reason is obvious; Polamalu is back. It has become pretty clear that Pittsburgh's defense just isn't the same without the crazy Polynesian on the field. Based on the way he plays, it's pretty unlikely that Polamalu stays healthy for an entire season, but if he can avoid missing more than two or three games the defense should be top five just on his return alone.
Just in case Polamalu's impact isn't as obvious as it should be here are a few numbers from the 2009 season to back up his importance:
- With Polamalu Pittsburgh allowed 10 fewer points-per-game than they did without him.
- They allowed 50 less yards-per-game when he was on the field.
- In five games with Polamalu they forced 11 turnovers. In 11 games without him they also forced 11 turnovers.
The Pro Bowl safety isn't the only player returning to the Steelers secondary, however. After a one-year stint in Arizona, cornerback Bryant McFadden was traded, in a steal might I add, back to Pittsburgh for a fifth round pick.
McFadden has won two Super Bowls with the Steelers and was the starting cornerback opposite Ike Taylor when Pittsburgh won it all in 2008. His replacement last season, William Gay, was so bad that he was benched toward the end of the season for rookie Joe Burnett. Burnett played so poorly that Gay was given the starting spot back.
Plain and simple, Steelers fans should be thanking God and Kevin Colbert that McFadden is back in the starting lineup. Is he a shut down corner? No, but he is a solid NFL starter who plays well in run support, doesn't make many mistakes in coverage, and is tall and physical enough to line up against some of the league's better No. 2 receivers.
Neither Gay nor Burnett can say any of those things, excluding Gay's ability to play run support rather well (excluding this ).
Some of the Steeler's problem's defending the pass last season can be attributed to an underachieving pass rush. While 47 sacks is a solid total, the front seven never seemed to be able to put on the pressure with the game on the line.
There are certainly enough quality players on Lebeau's defense to regain their form and with Polamalu's presence allowing for more confusing defensive looks and more creative play calling from Lebeau expect the pass rush to regain its form.
Also the personnel in the Steelers defense really hasn't changed since 2008 when you put McFadden and Polamalu back in the lineup and in 2008 the unit led the league in pass defense. Add in another year of improvement for second year corner's Joe Burnett and Keenan Lewis and Gay being back at the nickel-corner spot where he was great in 2008 and the pass defense might be a strength instead of a weakness.
If the defense can lead the league in defense like it did two years ago the Steelers will win the AFC North even if Roethlisberger is suspended for the whole season.
Remember defense wins championships, and the Steelers were making the playoffs with quarterbacks like Mike Tomczak, Neal O'Donnell, and Tommy Maddox thanks to a top defense.
Keep Your Eyes Open for the other three parts to the story series:
Part One: Quarterbacks
Part Three: Linebackers (still to come)
Part Four: Run Game (still to come)
This article is
What is the duplicate article?
Why is this article offensive?
Where is this article plagiarized from?
Why is this article poorly edited?

Pittsburgh Steelers: Like this team?