Chase's Lists: Five Reasons Why You Should Watch the CFL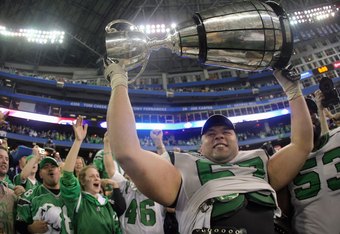 Harry How/Getty Images
Well, it is that time of year again.
The NBA and NHL seasons are over and free agency is winding down, the NFL is still in the minicamp stage, and the only thing to watch on the tube is baseball, right?
Wrong, there is one shining beacon of hope—and that is the CFL. As a Canadian, I must introduce you to the savior of summer sports boredom.
The Canadian Football League is the only pro football league in North America that plays its games in summer. With the Arena League being on hiatus, it is your only chance to get your football fix during the NFL offseason.
The game may be different than the NFL—three downs instead of four, twelve players a side, and a bigger, wider field are some of the fundamental differences. The league is exciting and fast, allows group celebrations, and is an entertaining product off and on the field.
Here are five reasons why you should watch the CFL:
5. The Saskatchewan Roughrider Fans
The fans of the Saskatchewan Roughriders may just be the most eccentric fans in pro football. From wearing watermelons on their heads, to making cowboy hats out of beer boxes (I have worn both), the Rider fans always have a great idea. They travel to every game no matter where it is in Canada, and when they have a home game, they always bring the thunder.
They didn't host a home playoff game for nearly twenty years till their Grey Cup run in 2007. And believe me Taylor Field was rocking from Week One.
After their heartbreaking loss in the 2009 Grey Cup due to a too many men on the field call, the Rider fans are looking for redemption.
If you want to see how football can succeed in small markets, look at the Saskatchewan Roughriders.
4. The Wide Recievers
The CFL always has great wide receivers.
From Rocket Ismail during his days in Toronto to Milt Stegall, the all-time leader in CFL touchdown receptions, to present day all stars like Andy Fantuz, and Arland Bruce III, the CFL's Chad Johnson who infamously honored Michael Jackson by taking off his uniform and pretending to be buried.
The CFL has great receivers who always want to entertain. Combine that with quarterbacks who love to let it fly, and you have the league that puts the points on the board.
3. Former College Stars
If your favorite college player didn't make the NFL, don't worry. Chances are he will be in the CFL.
We have many former BCS college starters in the league. If you want to take a trip down memory lane and watch your favourite players on Saturday as pros, the CFL has it covered.
2. Games Spread Out Across The Weekend
Unlike the NCAA or NFL, which mainly have their games on Saturdays and Sundays respectively, the CFL has games on Wednesdays through to Saturdays, with the staple being Friday Night Football.
And trust me, high school kids have nothing on us.
If you want to get your football fix all week and have memorized every single play of NFL Replay, it might be time to check out the CFL.
1. It's easy to find.
With the internet, it is easier than ever to watch the CFL.
Plus, CFL games are now on NFL Network and possibly ESPN3. Go to www.cfl.ca to check out the American TV schedule. If you are tech savvy, www.channelsurfing.net streams the games.
It's a fast and convenient way to watch some summer football.
I hope you check out North America's "Other Pro Football League"
Chase Ruttig is on Twitter. Check in to see more of my random thoughts about sports and media in general www.twitter.com/chaseruttig
This article is
What is the duplicate article?
Why is this article offensive?
Where is this article plagiarized from?
Why is this article poorly edited?