UFC Middleweight Division Will Soon Have a New Face To Challenge Anderson Silva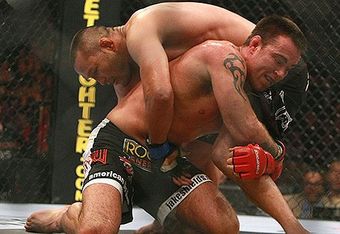 Undoubtedly, one of the most refreshing things about covering a mixed martial arts event is the accessibility of the fighters.
It's clear that MMA will be an enormous presence on the professional athletics' landscape and the combat sport is already casting a pretty long shadow. True domination is in the future, though.
At present, even its strongest gorilla—the Ultimate Fighting Championship—hasn't quite softened up any of America's Big Three enough to take one down.
Most of the participants have sort of a cult-celebrity status, but only the most prolific of the superstars get the Tom Brady/Derek Jeter/Kobe Bryant treatment.
In fact, that's probably an exaggeration of the public stir caused by guys like Brock Lesnar, Randy Couture, Chuck Liddell, etc. But you get the point—MMA doesn't yet occupy the same portion of the public's consciousness as pro football, baseball, and basketball.
Consequently, it doesn't erect the same barriers between the scrappers and the audience. It simply can't afford to because it needs/wants all hands on deck for promotional purposes.
Additionally, the compensation hasn't yet become such insanity that a natural divide separates fighter from fan.
For example, I stepped out of the elevator on Saturday and about 100 yards to the right there were Roy Nelson, Dan Hardy, Jake Shields, and the Tapout Twins (Punkass and SkySkrape) signing autographs while chopping it up with the audience.
Rich Franklin and his broken left arm were mingling with the crowd immediately outside the arena after The Ultimate Fighter: Team Liddell vs. Team Ortiz/Franklin finale had ended.
As I was finishing the airport dance at McCarran International, I ran into Court McGee on the way to my gate and, since season 11's winner wasn't besieged by well-wishers, I had a chance to talk to him for a bit (in person, he comes across exactly like he did on the show—humble, sincere, intense, and likable in every sense of the word).
Finally, Shields popped up again on my Southwest flight. In boarding group C with an entourage consisting of one buddy and one bag i.e. there were no frills attached.
This last encounter was the most fortuitous because it gave me a chance to ask the question begged by his appearance at the Palms Casino Resort while it was hosting a UFC event—is the current Strikeforce Middleweight Champion hopping into its rival's deeper waters?
Since the California-native is a member of the Tapout stable, the obvious answer (yes, dummy) wasn't the only possibility. He could've been there solely as part of his promotional obligation to the apparel company.
However, Jake's resounding win over Dan Henderson, the dearth of elite contenders offered by MMA's second fiddle, his recent appearance with UFC President Dana White at WEC 48 (the "he's mine" moment), and common sense all dictate that the 31-year-old would make the jump to the sport's premiere franchise.
Nevertheless, I've not seen anything that has turned "logical assumption" into "inevitable reality." So I put the inquiry to the man, himself.
He replied that no papers had been signed quite yet, but only because there were a few details left to be finalized. "I'm comin'," he added.
When I mentioned that was good news because the UFC's middleweight division could use a shake up, he splashed a smile with a bit of a sneer in it and said, "That's the idea."
So nothing's official, but the situation sounds everything-but.
Most people think the notion of anyone challenging Anderson Silva at 185 pounds is ludicrous. They'll tell you the Spider is the greatest pound-for-pound fighter in the world and several classes above every contemporary middleweight.
They'll promise Gloria Allred will work pro bono and out of the spotlight before Shields will beat the middleweight king, whose reign is in its fourth year.
All of that may be true, but what even the Brazilian's staunchest supports cannot say is that the 35-year-old is invincible. Nobody is.
Enter Mr. Shields with his history of being underrated and overlooked.
A closer examination of his resume reveals the Brazilian jiu-jitsu black belt (from Cesar Gracie) has the profile to be a potential problem for the Spider.
For one thing, my man hasn't lost since 2004 and has only dropped four contests in 30 trips to the ring/cage. Ironically, he's become more dominant since graduating to a higher caliber of opponent.
His four defeats came at the hands of an immortal quartet—Marty Amendarez, Phillip Miller, Ray Cooper (since avenged), and Akira Kikuchi (the best of the bunch and it was a rematch).
Meanwhile, he's vanquished the likes of Hyato Sakurai, Toby Imada, Dave Menne (the UFC's first Middleweight Champion), Yushin Okami and Carlos Condit in the same day, UFC exile Paul Daley at welterweight, Mike Pyle, Robbie Lawler, Jason Miller, and the aforementioned Henderson.
Plus, Jake gets bonus points for stopping TUF alumnus Jeremy Jackson; anytime you choke out an alleged rapist, you're gold in my book.
True, the pelts on his wall don't all glitter with international sex appeal, but he's got more than a few outstanding victories.
More importantly, he has what many of the so-called contenders at 185 lack—a balanced attack with a champion's mentality.
The man raised high in the Sierra Nevadas will always be most dangerous on the ground as his wrestling and jiu-jitsu pedigrees suggest, but he stood toe-to-toe with Ruthless Robbie Lawler and impressed the notorious striker in the process. Furthermore, he came out on top after a combined 11 rounds and 57 seconds with Okami, Daley, and Hendo.
Thunder, Semtex, and Dangerous Dan are all known to knock the tar out of their adversaries so you know some leather was flying in those engagements.
Granted, none of the above would prevent Shields from being a huge underdog in a pairing with the Spider. Unless I'm mistaken, though, the single father played that role to some acclaim in his last trip to the cage.
Would Jake Shields be able to repeat the feat against Anderson Silva?
Barring something unforeseen, it looks like we're gonna find out.
This article is
What is the duplicate article?
Why is this article offensive?
Where is this article plagiarized from?
Why is this article poorly edited?