Timinator Tebow: Doing It All for the Florida Gators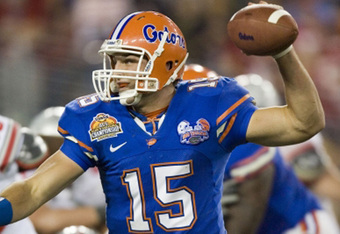 The Gator offense has had a great year: 66 total TDs (50 coming in the red-zone) on 5,544 total yards.

Tim Tebow has put together an impressive year as well. Tebow is the team's leading passer AND rusher.

He has missed on only 100 of his 317 passes, and of those 217 completions he has gotten 3,132 yards as well as 29 TDs.

He has run the ball 194 times for 838 yards and 22 touchdowns, without fumbling.

Tebow, throwing and rushing, has accumulated 51 of the 66 offensive TDs for the Gators.

In Tebow's shadow is freshman Cameron Newton. Newton has thrown the ball 10 times, completing 5 passes for 40 yards. Newton is also a threat on the ground, with 16 rushes for 103 yards and 3 TDs.

Aside from Tebow the Gators have a great receiving core. The most impressive of them is Percy Harvin, a sophomore like Tebow. Harvin has caught 50 of Tebow's passes for 781 yards and 3 TDs. On top of being a great receiver he is also a great runner, having carried the ball 70 times for 599 yards and 5 TDs.

Complementing Harvin, the Gators have outstanding senior Andre "Bubba" Caldwell. He has caught 52 of Tebow's passes for 721 yards and 5 TDs. Caldwell has also carried the ball 12 times for 58 yards and one TD.

Behind Caldwell the Gators have Louis Murphy with 36 receptions for 544 yards and 5 TDs and Cornelius Ingram – a WR/TE hybrid and quite possibly Tebow's favorite target over the middle – who has 33 receptions for 491 yards and 7 TDs.

Taking away Tebow, Newton, and Harvin, Kestahn Moore is the man actually listed as Florida's running back. He has carried the ball 102 times for 571 yards and 6 TDs. In addition to Moore, 7 other Gators have rushed the ball for 229 yards and one TD.

The Gator defense, mainly the pass defense, has been less than stellar this year. This led to the Gators only three losses, but they were in conference play.

The first loss was to Auburn, who gained 227 yards through the air. The passing attack also led to two rushing TDs, one by Kodi Burns from sixyards out and one by Ben Tate from three yards out. The Gators struck back in the second half tying it at 17, but Wes Byrum – who made a 30-yard field goal in the third quarter – hit the game winner twice. Urban Meyer called a time-out right before the snap the first time, but Byrum hit it again from 43 yards.

The second loss came to LSU a week later. This time it was the rush defense that had trouble. LSU rushed for over 200 yards and threw for over 100 yards. Florida had the lead until the fourth quarter when the Tigers took control. The Tigers scored 14 unanswered points as Matt Flynn threw a 4-yard pass to Demetrius Byrd and Jacob Hester had a 2-yard touchdown run. After the first LSU touchdown, the Gators were still pumped as Brandon James took the kick-off for about 40 yards but had it called back because he stepped out of bounds. There is still controversy about it as the replay looked as if he never touched the white line, but nonetheless after the call the LSU defense got a 3-and-out and scored on their next drive with 1:09 left to seal the victory.

The third loss was to Georgia, in "The Florida-Georgia Game" aka "The World's Largest Outdoor Cocktail Party." Here both the pass and rush defense was skeptical. When Georgia scored their first touchdown, the entire UGA sideline rushed the end-zone. Coach Mark Richt told his players before the game if they didn't get a celebration penalty after their first score, all of them would be doing early morning runs. The Bulldogs rushed for 196 yards and threw for 217 yards. The Bulldogs went on to sack Tebow 6 times, due to Tebow's bruised shoulder from the game against Kentucky.

The Gators have had an up and down season. They may have lost to rival Georgia but they destroyed rival Florida State 45-12, where Tebow tied the record for the most rushing touchdowns by a major college quarterback (Chance Harridge, Air Force). The Gators won't be playing for the SEC Title, but they still have a chance for a BCS bowl. It is a long shot, but hey who knows, Pittsburgh could beat West Virginia and Oklahoma could beat Missouri.
This article is
What is the duplicate article?
Why is this article offensive?
Where is this article plagiarized from?
Why is this article poorly edited?

Florida Gators Football: Like this team?