NHL Eastern Conference Final: Canadiens Vs Flyers Preview & Prediction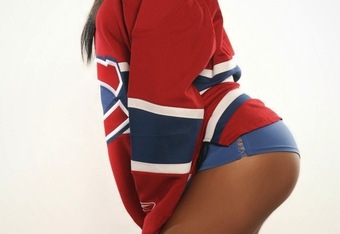 vs
Season Series: Tied 2-2 Flyers
*** Click here to see a preview and prediction for the Western Conference Final between the San Jose Sharks and Chicago Blackhawks ***
When the Montreal Canadiens knocked off the Washington Capitals in seven games, it completely opened up the Eastern Conference leaving the three best teams (Caps, Sabres and Devils) heading for their local golf course.
Many thought with all teams above the defending Stanley Cup Champions gone, that the Penguins would be able to coast through the Canadiens since Pittsburgh has more depth and better goaltending than the Capitals.
Too bad the Canadiens had a little something to say about that and they weren't about to throw in their cards after knocking off the best team in the NHL, and knew if they could beat Washington with gritty, hard-nosed hockey and superb work between the pipes, they could beat the Penguins the exact same way.
Playing that style of hockey is something a team can guarantee night-in-night-out if they put their mind to it but having your goalie stand on his head through-out a one-month, fourteen game span would be asking a little too much, wouldn't you think? Nope, Jaroslav Halak did exactly that. I know that Montreal beat both teams with the ability to contain the opposing teams superstars but it's not as if players like Ovechkin and Crosby never got shots off.
When they did, Halak stopped them. If Halak continues his dominant play against Boston, you can expect to see the Canadiens in the Stanley Cup Finals against the winner of the Western Conference and after everything they've done, anything is possible.
Montreal has had a story-book playoffs with both series going the distance and against Washington they stole games five, six and seven after losing three straight.After being down in the series three-two against Pittsburgh, they rallied yet again and won back-to-back games shocking everyone in North America. Heck, even Montreal fans are somewhat shocked.
They have always known what their team is capable of, but by the way the Bell Centre has exploded from excitement, and riots are breaking out in the streets, it goes to show that Montreal is doing something no one, and I mean no one expected of them.
The playoffs started and the Canadiens were paired up against Washington and I'll tell you, I heard many Habs fans cursing the fact they had to play the Capitals. I even heard people saying they'd be swept but after winning game one, everyone knew that was out of the question.
Than they lost three straight and the bickering started again. Well, I think we all have learnt our lesson, haven't we? The Montreal Canadiens have a ton of heart. They play at one hundred and ten percent for a full 60 minutes and at the end of it, leave the other teams wondering who they just played.
After the Oilers and Gretzky got swept by the Islanders way back in the 80's, when 'the Great One' walked by New York's dressing room he said they were almost too exhausted to celebrate and Gretzky knew right there his team didn't play hard enough. Every team playing the Montreal Canadiens (ie. Philadelpia) should take note. You've got to out-smart, out-muscle, and out-work this gritty Habs squad and to make a long story short, team's can't do it.
Sometimes, it's not about having the most talent or the best record, but having the most amount of determination and heart. You either have it, or you don't. When the Canadiens front office picked up Cammalleri, Gionta and Gomez, fans complained they gave up to much size and what they got in return wouldn't get the job done.
Yet again Montreal fans, your team has proven you wrong. Cammalleri has been the most important player for the Habs thus far, while Gomez and Gionta are right at the top of the team in points as well. The young talented players that Montreal did keep (Plekanec and Kostitsyn) have done their job as well. The defence has looked good and considering the Flyers have Leighton, who was injured and then sat on the bench until Boucher went down, Halak will be the difference.
If they stopped the team who scored the most goals in the regular season, and stopped the defending Stanley Cup Champions, they can certainly knock out the Flyers and their offence that is not nearly as fast passed or have as much fire-power as either opponent they've already beaten.
The Philadelphia Flyers pulled off one of the biggest comebacks in NHL history by winning four straight games against the Bruins after dropping the first three (it's only been done twice and the last time was 1975).
Not only did everyone think the Flyers were done, but when Brian Boucher went down in game five and Leighton came in (who hadn't played since March 16th), many considered it a sure thing... especially Bruins fans.
Well, don't they feel pretty stupid right now after Boston just had the worst collapses in Bruins history.
After fighting their way into the playoffs by having to beat the New York Rangers to earn a berth (in went to a shoot-out), they rallied and knocked off the New Jersey Devils in five games and in the process, did so faster than any other team in the first round.
The quick series certainly helped key players get healthy from prior injuries and gave them some much needed rest. As they moved on to the series against Boston, they rest actually hurt them more than it helped them early in the series as they dropped the first three games. Even though games one and two were close (5-4 OT win and 3-2 late in the game), the Bruins smacked around the Flyers in game three on their home ice 4-1 and the Flyers looked done.
This was before they somehow rallied themselves together, and narrowly won game four with a 5-4 overtime victory. Back in Boston, they seemed to have finished got their way back as they dominated the Bruins in a 4-0 victory.
When the score was 1-0 early in the game though, Brian Boucher suffered a sprained MCL which could sideline him for up to a month but Leighton came in a played shut out hockey for almost five periods.
Not only did he shut out Boston in the rest of game five, but he did not allow Boston to score a goal until the dying seconds of the third period in game six pushing the Flyers to a 2-1 win and knotting up the series forcing game seven. Every year in the playoffs goaltending proves to be the biggest aspect of a team success and Leighton has come in a held his own and helped Philadelphia do the unthinkable, setting up a match with the Montreal Canadiens.
How did the Flyers manage to win four straight games and come back? Well, other than the fore-mentioned goaltending of Boucher and Leighton, there have been many other Flyers who have stepped up in pivotal times but the question will be can they step up and put Philadelphia in the Stanley Cup (finally).
They got to the Eastern Conference Final in 1999-2000 and lost to the New Jersey Devils, they got their again in 2003-04' and lost to the Lightning and yet again in 2007-08' and lost to Pittsburgh. The Philadelphia Flyers haven't won the Stanley Cup since 1974 and 1975, doing so in back to back years with their team being dubbed the Broadstreet Bullies.
Since, they have lost five Stanley Cup Finals and five Eastern Conference Finals... yikes.
Well, the good news is the Flyers are back in the conference finals. The bad news, they are facing the fast paced, heroic squad of Montreal. Wait though Flyers fans, there's more good news as Philadelphia is in many ways like the Flyers that won the Stanley Cup back in the 70's (and have home ice-advantage).
Stated above, players have stepped up, and one of them has been Daniel Carcillo who helped get points in round one, while being a pest in round two (and he's never afraid to drop the gloves). Philadelphia also picked up Chris Pronger, who we all know is big and slow but regardless of what anyone thinks, its undeniable that he is a presence in his own end as well as his opponents.
Not only are the Flyers known as the rough team who can lay out a pounding, but they have a vast amount of skilled players behind the muscle. Mike Richards, Danny Briere and Claude Giroux have been phenomenal, and even with injuries to Simon Gagne and Jeff Carter, the Flyers have found a way to win.
No one expect the Eastern Conference Finals to be the Montreal Canadiens vs the Philadelphia Flyers... two teams who struggled to make the playoffs. Here we are in mid-may though, and yet again the NHL proves to be as unpredictable as it is enjoyable to watch.
Both teams are riding hot streaks as they've won consecutive games to close the seven and win game seven but Leighton might eventually show signs of not playing for almost two months and there's no reason why Halak won't continue to play the best hockey of his career... helping his team proves everyone wrong.
TheCoach's Pick: MONTREAL in SIX
This article is
What is the duplicate article?
Why is this article offensive?
Where is this article plagiarized from?
Why is this article poorly edited?

Montreal Canadiens: Like this team?