Rafa and Roger: The Ancients Weigh In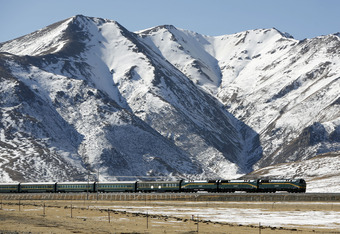 China Photos/Getty Images
He was up to the challenge.
It seemed there was always more mountain above him but his stubbornness pushed to him further.
The blizzards, the wind and the cold temperature could not deter him. He continuously stabbed the mountain with his gear to give him continuous traction to head upwards.
It had been a gruelling week and his dwindling food supplies meant he felt lighter as he climbed.
Finally, he looked up and saw a small but distinctive spot furrowed in the mountain.
He let out a sigh for his destination was now in sight. As he struggled with his foothold and climbed, he could see his sought after place get larger.
Finally, it was before him.
A larger towering Buddhist shrine seemingly waited his arrival.
He tried to pry open the large wooden door which appeared to be locked. He banged furiously for five minutes and then collapsed.
As he lay exhausted in the snow, he heard creaking and stirring from the door.
Finally, it opened and on the other side were at least five bald oriental men adorned in orange robes.
They came out and carried him in giving him the shelter that his body so urgently needed.
Inside, the multitude of candles brought immediate warmth to his bone chilled body.
Straight ahead was an old wise monk who sat on an elevated ground from the rest of the monks. He seemed like the wise man in the lot.
The traveller approached.
"You speak English?" he asked.
The monk king nodded and said, "You have come a great distance, what is it you seek here?"
The traveller pondered for a minute.
"Well, I have come seeking answers that maybe only you could answer."
"Ask and I shall try to answer," came the reply.
The traveller looked at the monk and began to formulate his question.
"Well you see, there is this man who dominates in tennis. He has been going strong for five or six years—but there is this other man—younger and really competitive—but he gets injured—and there is this big upcoming competition—how does the older man beat the younger man—especially when the younger man has beat him so many times and how does the younger man stay injury-free?"
The monk thought for a minute.
"Are you this younger or older man?"
The traveller look perplexed.
"No, neither men is me."
The monk closed his eyes and meditated. What seemed like forever passed and he rose to spoke.
"At first glance, what you seek seems selfless. However, upon closer meditation, there can only be one answer you seek. It is a wise old phrase that has been brought down the ages. It is forever treasured but rarely used expression that truly applies in your case."
The traveller stood up and danced with glee. He could take this saintly advice back with him to help his idol Roger Federer or at least post it to his favourite website to show all that he had acquired newly found and ancient wisdom.
"What is it?" the traveller inquired urgently.
The monk summoned his assistant. "I need proper translation."
After conferring with his assistant, the great monk turned and spoke with the confidence and authority that made him the figure he was.
"The phrase that applies to you, is, GET A LIFE!!!
The traveller who was smiling from ear to ear suddenly deflated to a depressing frown.
"Now you must go, we have an ancient traditional meditation that we must do."
The traveller despondent, left the monastery and slowly made his way back to civilization.
As the monks closed the door, the grand leader asked, "Is he gone, far out of sight?" Answering in the affirmative, the monks all kneeled before him in a square.
"Let the games begin," he said with a clap.
The wall in the back of the shrine opened up and a huge 200 inch flat screen tv rolled out.
The French Open tennis filled the screen as some monks chanted, "Vamos, Rafa!!" While other sang out "Roger!"
The assistant came up to his leader.
"If Roger or Rafa win again, can we go and use the ski-doos again?"
The leader smiled. "Ah yes, and maybe we hit that traveller. Last year, we took out that Soderling fan who never saw us coming and who never knew what hit him."
The shrine erupted in laughter which echoed outside for miles. The echo reached the depressed traveller who frowned and continued on his journey downwards.
This article is
What is the duplicate article?
Why is this article offensive?
Where is this article plagiarized from?
Why is this article poorly edited?