* Bookshelf Review: The Underground Baseball Encyclopedia
May 6, 2010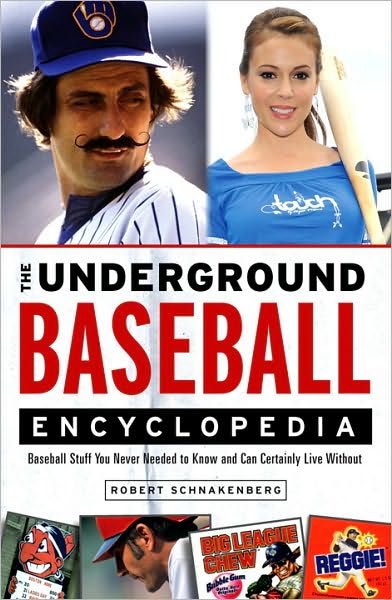 Baseball Stuff You Never Needed to Know and Can Certainly Live Without, by Robert Schnakenberg. Triumph, 2010.
Schnakenberg takes his love for pop culture (anti-culture?) and puts a national pastime spin on it in this little faux-reference volume.
The connection between PC and baseball has been handled in more serious veins by Jonathan Fraser Light in The Cultural Encyclopedia of Baseball (McFarland, 1997), and  Edward S. Reilley's Baseball: An Encyclopedia of Pop Culture (ABC-CLIO, 2000).
But Schnakenberg — author of such titles as The Encyclopedia Shatnerica and Distory: A Treasury of Historical Insults — brings his energy and wit to bear on baseball in a most irreverent manner.
As he writes in the introduction, "This is an attempt to create a baseball encyclopedia out of all the stuff that's typically not covered in baseball encyclopedias."Mission accomplished. I especially enjoyed the inclusion of some of the key book, movie, and TV connections (You go, Bugs Bunny! Give 'em that "pachydermous percussion pitch"!) as well as less-than-household names such as notorious racists Jake Powell and Ben Chapman, and "dinosaur-denier" Carl Everett and Steve Carlton, a Hall-of-Famer who turned out to be a general loon. The author also did some serious digging to find a way link Jack Kerouac (he invented his own fantasy game), actor Michael Clarke Duncan, and cookie mogul Mrs. Fields to the game. I could have used a few more like this and a lot less mascot/vendor tributes.
Book/
writers referenced
Movies/
TV shows referenced
Ball Four
The Babe Ruth Story
The Bronx Zoo
The Baseball Bunch
Game of Shadows
The Brady Bunch
Juiced
Bull Durham
Moneyball
Fear Strikes Out
Bill James
The George Michael Sports Machine
Buzz Bissinger
Happy Felton's Knothole Gang
Peter Gammons
Home Run Derby
George F. Will
Kiner's Korner
Jim Bouton
Major League
Mr. Ed
The Natural
Pride of the Yankees
Seinfeld
The Simpsons
This Week in Baseball
Who knows, maybe in a revised edition there might be an entry for Ron Kaplan's Baseball Bookshelf?
But then again, I believe in dinosaurs.
As you can see from the table, there are several references for baseball on regular TV shows. Here are a couple for the next edition: