The Top 50 Basketball Players in Arizona Wildcat History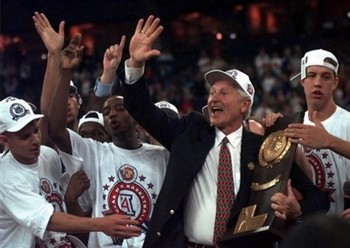 The University of Arizona is a school rich in basketball tradition.
Sure, they haven't been a power in college basketball since the 50's like Kentucky but they went from being Pac-10 afterthoughts to perennial national contenders seemingly overnight thanks to Lute Olson.
Olson started a tradition that Sean Miller will to try to match and exceed. The tradition of not only crafting competitive basketball teams year after year but also student-athletes that will earn their diplomas.
With the Lute Olson era and The Streak finally at an an end, there is no better time to look back on the past of the Arizona Wildcats.
(Putting this list together was a huge endeavor, and I would like to thank Alan Rubenstein for his contributions)
50. Ivan Radenovic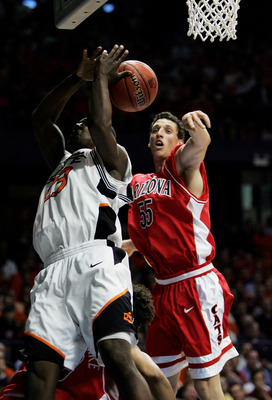 Ivan Radenovic may not have been one of the smoothest players to ever put on a Wildcat uniform, but his story is one of the more interesting in Arizona history.
He showed up halfway through the season in his freshman year and was integrated into the team almost immediately after showing up.
The sweet-shooting Serbian eventually improved enough to average 15 points per game and 7.6 rebounds per game his senior season. He finished his career averaging 10.7 ppg and 5.8 rpg
Radenovic went on to play professionally in Europe after finishing his career at Arizona.
49. Wayne Womack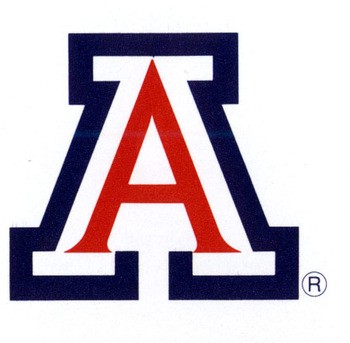 Wayne Womack epitomized what Lute Olson players represented in earlier years. He was a hard worker who would do the little things in order for the Cats to win.
Womack wasn't a star and was never looking to be one either. His stats won't blow anyone away (5.7 ppg, 3.7 rpg) but his intangibles are what got him on this list.
He wasn't afraid to get on the floor and get dirty for the team to be successful.
Womack was drafted in the fourth round of the 1992 CBA draft.
48. Coniel Norman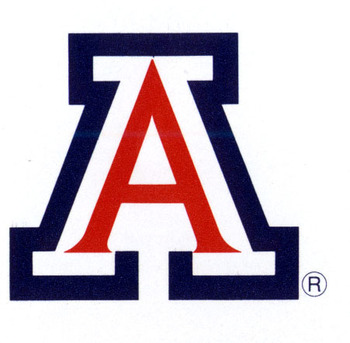 Coniel "Connie" Norman was a player who made an impact almost as soon as he stepped on campus.
Norman scored the second most points as a freshman (576)in Arizona history. He held the record for 34 years before Jerryd Bayless broke it.
He also is one of only six freshman to lead the Wildcats in scoring as a freshman. He left Arizona after his sophomore season.
Norman was drafted by both NBA and ABA teams. He elected to play with the Philadelphia 76ers who selected him in the third round (37th overall) of the 1974 NBA Draft.
47. Mo Udall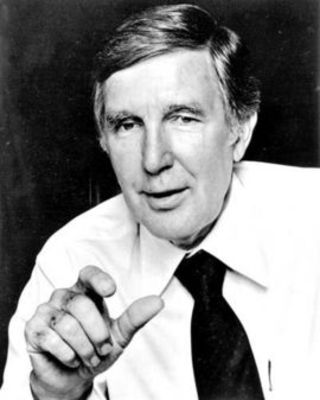 Name the only former Arizona player to be a US Congressman:
Well, if you haven't figured it out by now, it's Mo Udall. While Udall is mostly known for being in the US House of Representatives, representing Arizona for 30 years, he did play a little ball in his day.
As a senior, Udall lead the Cats and scoring and was selected to the All-Border Conference team.
Udall, along with Lincoln Richmond, were the first Arizona players to be selected in a professional basketball draft. Udall was selected in 1948 by the Denver Nuggets of the National Basketball League.
46. Ben Davis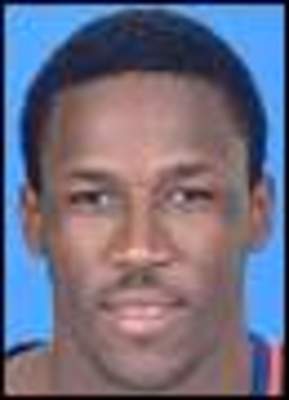 Ben Davis came to Arizona as sort of a nomad. He had attended three colleges in two seasons, including a stint at a community college.
Once he came to Arizona, he played well enough to get himself drafted. He was a guy who would hit the boards.
As a senior he nearly averaged a double-double, posting 14.2 points per game and 9.5 rebounds per game.
Davis was drafted by the Phoenix Suns in the second round (43rd overall) of the 1996 NBA Draft.
45. Matt Muehlbach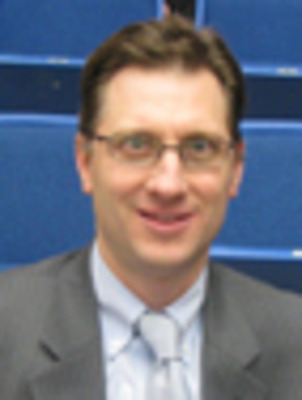 Matt Muehlbach wasn't a scorer or a star but he was one of the most intelligent players to ever put on an Arizona uniform.
Muehlbach started out as a Gumby (Arizona's nickname for the bench in the 80's) but eventually became one of the most consistent three-point shooters in Arizona history (43% from beyond the arc).
As a senior he was named an academic All-American. The Wildcats being named Pac-10 champions all four years he was on the team, which is solid evidence to his contribution to the team.
44. Kenny Lofton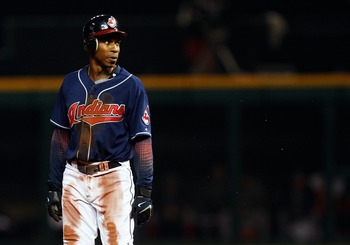 Lofton was a basketball player who ended up making a name for himself on a different field of play.
Lofton played point guard alongside Steve Kerr and Sean Elliott but was known for being a defensive stopper.
He set the season and career record for steals at Arizona. Lofton is also only of two players to play in both a Final Four and a Major League Baseball World Series.
While this former Cat never played in the NBA, he did go on to have a very successful career in Major League Baseball.
43. Mustafa Shakur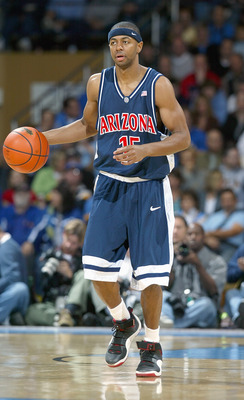 Although he was one of the most-hyped point guards in Arizona history, Shakur never really lived up to the praise he received. However, he was still a very solid point guard.
Shakur stats never jumped off the page; he only averaged 12 points his senior season, which was his highest total. He was always looking to pass and get his teammates involved in the game. This was where Arizona fans became disappointed, as he was never a dominant player because he was always trying to facilitate.
Shakur was apart of a team that went to the Elite Eight before losing in the now infamous Illinois game.
42.Ed Stokes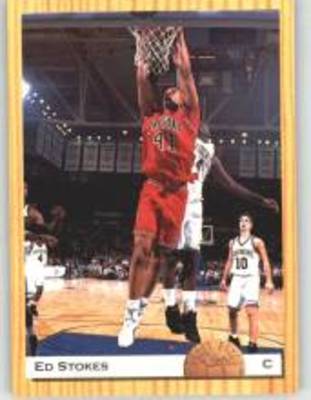 Stokes was not an all-conference player but played a solid role for the Cats.
Stokes played a pivotal role for a team that won three Pac-10 championships.
His senior season he averaged 11.5 points and 7.7 rebounds per game.
Stokes was drafted in the second round (35th overall) of the 1993 NBA Draft by the Miami Heat.
41. Joseph Blair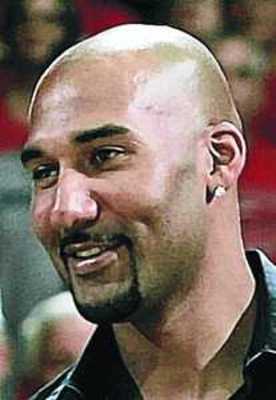 Joseph Blair was one of the best centers to ever come through Arizona.
His stats aren't as spectacular as others but as an all-around center he brought a lot to the table. He was a big presence inside and proved his worth.
His numbers steadily improved every season until he averaged 14.7 points and 8.9 rebounds his senior season, just shy of a double-double.
Blair was drafted by the Seattle Supersonics in the second round (35th overall) the 1996 NBA Draft.
40. Jud Buechler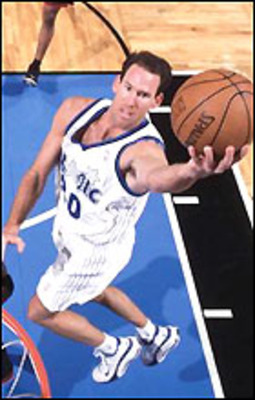 Jud Buechler was known as a three-point specialist in the NBA but was known for his solid play and outside shooting at Arizona.
Buechler was a sophomore on the 1988 Final Four team where he played a role coming off the bench.
Once becoming a starter he excelled. His junior season he shot over 60% from the field and by his senior season was averaging 14 points a game.
Buechler was drafted by the Seattle Sonics in the second round (38th overall pick) of the 1990 NBA Draft.
39. AJ Bramlett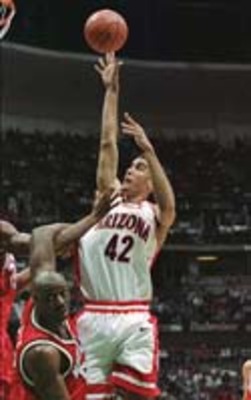 AJ Bramlett was one of those guys who begins his college career on the bench learning and then once he gets his shot, explodes onto the scene.
He played scarce minutes his freshman season. As a sophomore he was one of the first guys off the bench for the national champions.
He averaged double digits in points as a junior and by his senior season he nearly average a double-double for the year (14 points and 9.4 rebounds).
Bramlett was drafted in the second round (39th overall) by the Cleveland Cavaliers in the 1999 NBA Draft.
38. Matt Othick
Matt Othick was a pitbull on the court. He went 110 percent all the time.
He also had a great sense of where people were on the court, dishing out assists at an alarming rate.
Othick is among only five players to record 1,000 points and 500 assists in their career. Luke Walton, Damon Stoudamire, Mustafa Shakur, and Jason Gardner are the others.
He played one season with the San Antonio Spurs in 1992 following his career at Arizona.
37. Hassan Adams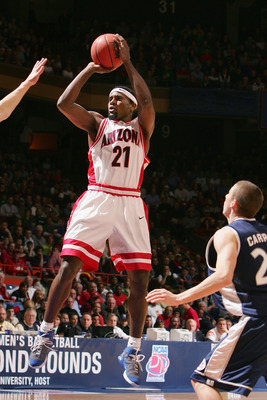 Hassan Adams was a solid player for the Cats.
Although he played power forward at just 6'4" playing power forward, Adams got by on athleticism and quickness.
"Hot Sauce" had a knack for skying to the rim and throwing down some of the best dunks that McKale Center has ever seen.
His jumpshot was suspect at best but he made up for that by always going hard for rebounds.
Twice in his Arizona career he averaged over 17 points a game. His junior year he cooled off slightly, only averaging 12 points a game. Regardless of his numbers, he was instrumental in Arizona's Elite Eight tournament bid.
Adams was taken by the New Jersey Nets in the second round (54th overall) 2006 NBA Draft.
36.Ray Owes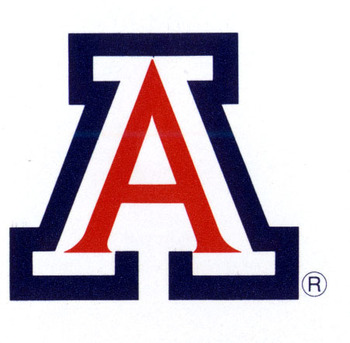 Ray Owes took two seasons to find his role at Arizona but ended up becoming one of the more productive forwards at Arizona.
Owes was a starter on the 1994 Final Four team as a junior, averaging 12.9 points and eight rebounds a game.
His senior season was by far his best. He raised his point average to 15.1 points and matching his eight rebounds from the previous season.
35. Larry Demic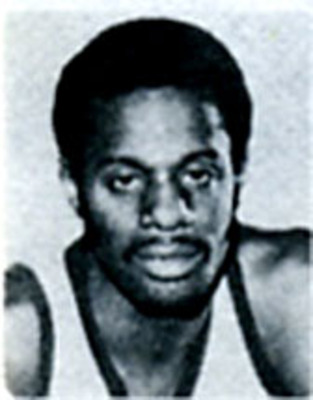 Larry Demic didn't get his big break with Arizona until he was a senior, but he sure made the most of it.
His senior season he averaged 19 points and 10 rebounds a game, despite never scoring more than 8 points in a game the previous season.
Demic was the first first-round pick to come out of Arizona. He was selected ninth overall by the New York Knicks in the 1979 NBA Draft.
34. Derrick Williams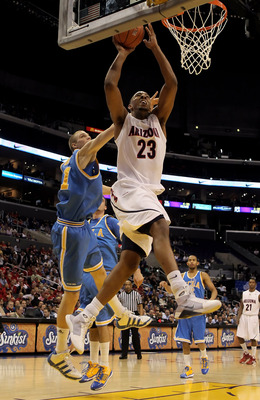 Williams is the only current Cat on the list, and may be ranked higher when his college career is over and in the books.
Williams played on a team that featured five freshman getting serious minutes. He was the leading scorer and the only one that other teams had to game plan for.
The interesting thing is, he wasn't even supposed to be a Wildcat.
Williams had signed to play for USC before Tim Floyd resigned. That is when Sean Miller swooped in and grabbed Williams after he was released from his letter of intent.
The rest, as they say, is history.
Williams was named Pac-10 Freshman of the Year and was an All Pac-10 first teamer. He averaged 15.7 points and seven rebounds a game and will look to improve upon those numbers next season.
33. Marcus Williams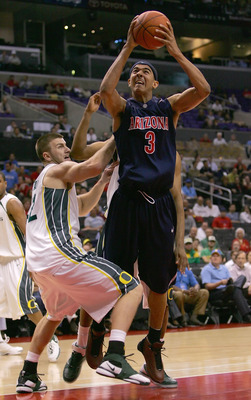 Marcus Williams had a good, yet controversial career at Arizona.
Williams shined as a freshman at Arizona, shooting 43% from beyond the arc. At one point in the season, he was the only Arizona player that Lute Olson gave the green light to shoot threes.
He made an immediate impact and fans were hoping that he would not jump to the NBA despite likely being a top-10 pick.
However, his next season was contemptuous. Many fans saw his selfish play as a sign of him only caring about his own stats. While his points per game went up, his three-point shooting went down to 29%.
He was selected by the San Antonio Spurs in the second round (33rd overall) of the 2007 Draft.
32. Tom Tolbert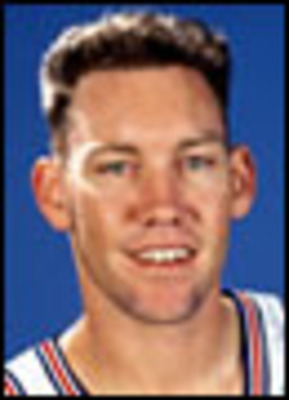 Tom Tolbert was another transfer player who succeeded once he got to Arizona.
Tolbert played at UC Irvine and Cerritos College before coming to Arizona. At Irvine he was a little used bench player. At Arizona he was a big man who could score.
Despite only being 6'7", Tolbert used his quickness to average 14 points and 6 rebounds a game in his two seasons at Arizona, playing a big part in the team's 1988 Final Four run.
Tolbert was selected in the second round (34th overall) by the Charlotte Hornets in the 1988 NBA Draft.
31. Eric Money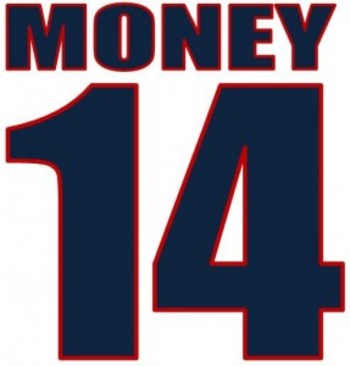 If you were born before the Lute Olson Era, you are probably saying "who?".
Eric Money only played two seasons for Arizona in the early 70's but had an immediate impact on the Wildcats.
In his first game he scored 37 points, a record for a player in his first game as a Wildcat. He also pulled off this feat later in the season against ASU.
He also holds the record for scoring average by a point guard with 18.6 points per game.
Money is among a select few Wildcats who were drafted by two basketball leagues. He was drafted in the second round in the 1974 NBA Draft by the Detroit Pistons and the seventh round of the 1974 ABA Draft by the Denver Rockets. He elected to play with the Detroit Pistons.
30. Nic Wise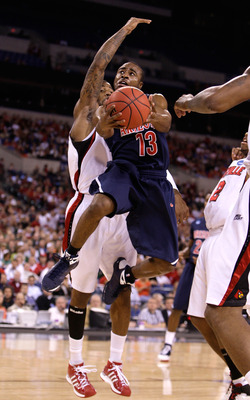 The diminutive point guard went through something that no other college player would ever want to deal with: four head coaches in four years.
That kind of turmoil would cause any player to consider leaving for greener pastures. Wise never did. Sure there were rumors but, Wise was loyal to Arizona through and through.
Every year he improved, going from the doghouse his freshman year, to one of the Big Three his junior year, to the unquestioned leader his final season. Wise had been through it all.
He was named All-Pac 10 First Team his senior season after leading a Wildcat team that featured seven underclassman as major contributors, including five freshman.
Wise is preparing for the NBA Draft right now and could be a second round this summer.
29. Sean Rooks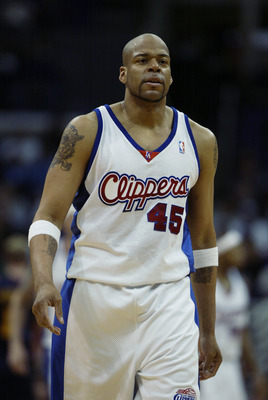 Sean Rooks came to Arizona and redshirted the season they went to the Final Four. He followed that up with four more productive seasons.
While his numbers didn't blow anyone away (11.6 points and 5 rebounds a game), he was the big man that Arizona needed at that time, as they lacked size and were heavy on guards and wings.
Rooks went on to have a very successful 12 year NBA career after being drafted in the second round (30th overall) by the Dallas Mavericks in the 1992 NBA Draft.
28. Pete Williams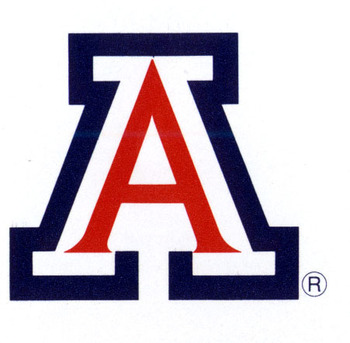 Pete Williams was one of the first recruits that Lute Olson went after when he took over as Arizona's Head Coach.
After spending two season at Mount San Antonio Junior College, Williams came to Arizona and was a major boon in helping turn around the program.
Williams averaged 14.5 points and 9.9 rebounds a game his first season at Arizona. His senior numbers weren't as good (12.5 and 8.5) but were enough to help Arizona make an impact in the Pac-10 and start The Streak.
He was selected in the fourth round (89th overall) of the 1985 NBA Draft.
27. Joe Nehls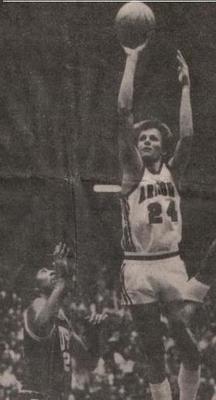 To find Joe Nehls in the Arizona timeline you have to go back to the late 70's. To find him in the Arizona record book, you only need to look at the top of the scoring averages.
Nehls leads Arizona in career scoring average (20.2 points a game) and all of this before the three-point line was instituted .
Nehls was drafted in the seventh round of the 1980 NBA Draft by the Houston Rockets.
26. Al Fleming
Al Fleming is one of those guys who is unknown to most fans, but when you see his accomplishments you are surprised you'd never heard of him.
Fleming is the all-time career leader in rebounds for the Cats (1,190) and is the only player to have 20 rebounds in three different games.
In his senior season he helped Arizona come up one game short of the 1976 Final Four. That season he was named the WAC Player of the Year.
He once scored 41 points, 33 in the second half, against Detroit University, who was coached by the legendary Dick Vitale. Fleming ended his career as Arizona's all-time leading scorer, only to give up the title to Sean Elliot the following year.
Fleming was selected by the Phoenix Suns in the second round (30th overall) of the 1976 NBA Draft.
He passed away in 2003 from kidney cancer at the age of 49.
25. Jerryd Bayless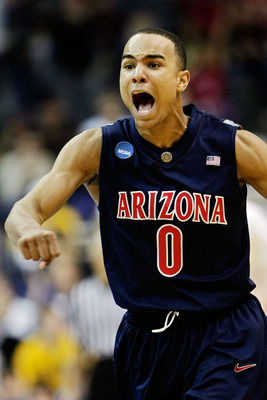 Jerryd Bayless came into Arizona drawing comparisons to Mike Bibby as a point guard who could pass and score.
In his one season at Arizona he lived up to the hype. He was dominant and wanted the ball at all costs. His passion was unmatched.
It was so unmatched that following his only home game against ASU he called out his teammates, wondering if basketball was their main focus. He also butted heads with interim coach Kevin O'Neill.
Bayless averaged 19 points a game in his only season and would have likely seen an improvement on those numbers had he stayed another season.
Bayless was selected 11th overall by the Indiana Pacers in the 2008 NBA Draft before being traded to Portland on draft night.
24. Luke Walton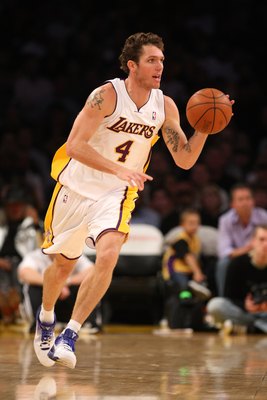 The son of basketball legend Bill Walton, Luke came to Arizona in the 1998 recruiting class but was forced to redshirt his freshman season.
The following season he became the first guy off the bench for the Wildcats and played the sixth man role for the Cats when they fell just short in the 2001 championship game.
The next season, Luke was forced into the leadership role alongside Jason Gardner as the two had lost four starters from the previous season's team.
Walton thrived, tripling his points per game and doubling his rebounds and assists per game. The small forward had great vision and ball-handling skills.
He is fourth all time in assists with 582 and is one of three players in Pac-10 history to tally 1,000 points, 500 rebounds and 500 assists in a career.
In his his final season Walton was hampered with a leg injury and was unable to practice, only playing in games. The Cats were a number one seed but fell just short of glory, losing in the Elite Eight that season.
Walton was drafted in the second round (32nd overall) of the 2003 NBA Draft by the Los Angeles Lakers.
23. Bison Dele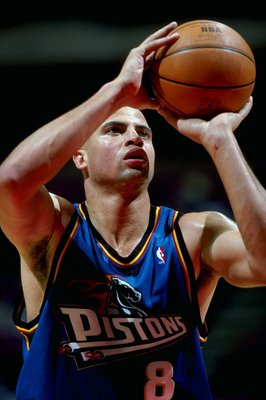 Bison Dele (he played at Arizona as Brian Williams) came to Arizona as a transfer student from Maryland.
He played out his next two seasons with the Cats before putting together a solid NBA career. Dele averaged 12.5 points and 6.5 rebounds per game over his two seasons.
Despite having another season of eligibility, Dele opted to go pro. He was selected 10th overall by the Orlando Magic in the 1991 NBA Draft.
Tragically, Dele passed away and was believed to have been murdered in 2002 by his brother.
22. Loren Woods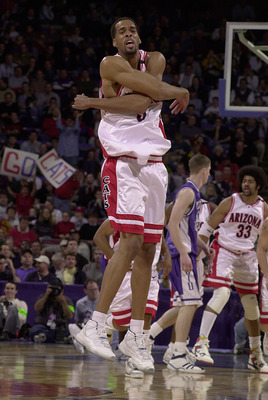 Loren Woods was transfered to the U of A after two seasons at Wake Forest, where he was expected to be the next Tim Duncan.
He tore the roof off of McKale in his first season as a Wildcat. He averaged 15.6 points, 7.5 rebounds and four blocks a game. A reported back injury hurt his draft stock and he decided to come back for his senior season.
With the injury nagging him all season and competing with loaded lineup, Woods numbers went down. The team went to the National Championship game before coming up short. Woods led the way for the Cats, scoring 22 points and grabbing 11 rebounds in the loss.
Woods was drafted in the second round (45th overall) of the 2001 NBA Draft by the Minnesota Timberwolves.
21. Channing Frye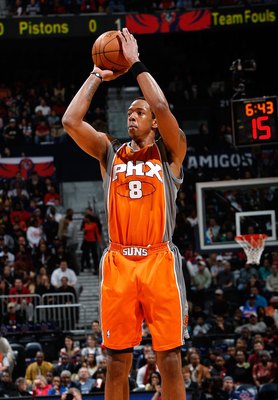 Frye came into Arizona as an under-recruited big man out of Phoenix. He left as one of the best big men in Wildcat history.
Arizona had just lost four starters from a team that lost in the national championship, so playing time was available. Frye seized the opportunity.
Frye is the second all-time in blocks in Arizona history with 253.
Frye was drafted eighth overall in the 2005 NBA Draft by the New York Knicks.
20. Andre Iguodala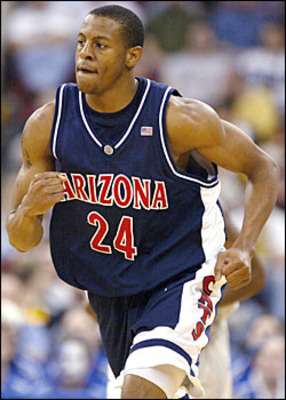 Andre Iguodala was known as a high flying pure athlete and not much else when he first came to Arizona.
By his sophomore season he was able to develop a solid jump shot. His scoring had more than doubled (6.4 to 12.9) and his rebounds nearly did the same (4.9 to 8.4).
Some fans complained that Iguodala was only looking out for himself, although others will point to the team losing three senior starters as the reason for his increase in production. Either way, the improvement was enough to convince Iggy to go pro after just two seasons.
Iguodala was drafted 9th overall in the first round by the Philadelphia 76ers in the 2004 NBA Draft, and has emerged as a solid scorer and shut-down perimeter defender.
19. Michael Wright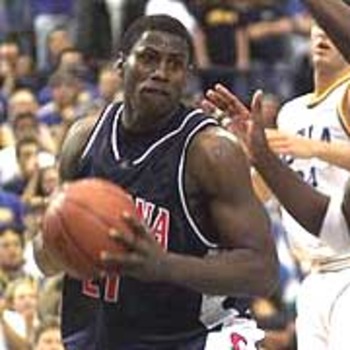 Michael Wright was the low post threat that coaches dream about and if he had been two inches taller would most likely have made an impact in the NBA.
Despite being on a team that was loaded with star players his junior year, Wright was always the go-to guy. He was the go-to guy that the team turned to in critical situations.
Wright averaged 15.1 ppg and 8.4 rpg over his three-year career. He also earned Pac-10 Freshman of the Year and All-American honors his sophomore and junior years.
Wright was selected in the second round (38th overall) by the New York Knicks in the 2001 NBA Draft.
18. Jordan Hill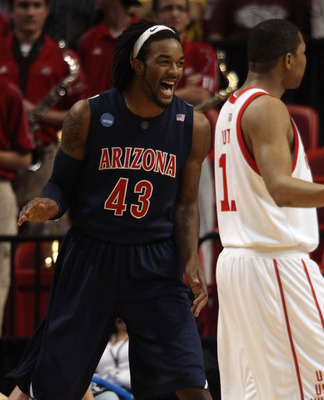 Here is the story of another underrecruited big man who thrived once he came to the desert.
Hill barely played his freshman year until earning a starting spot against ASU halfway through the season. Hill turned the rivalry game into a coming out party.
The big man would go on to become the centerpiece for the Wildcats during two of the most tumultuous seasons in college basketball history.
Hill's scoring averages jumped from 4.7 to 13.2 to 18.2 by his junior year. He averaged a double double his junior year, grabbing 11 boards a game to go compliment his healthy 18.2 ppg average.
Hill was drafted eighth overall by the New York Knicks in the 2009 NBA Draft.
17. Anthony Cook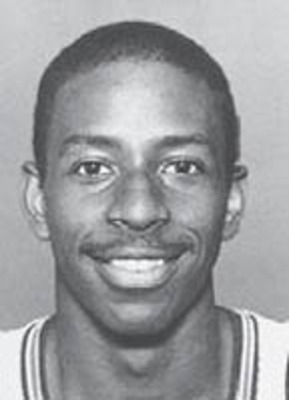 Anthony Cook wasn't a guy who needed the ball. In fact he would have rather grabbed the rebound to get the ball out to those who wanted to score than put up points himself.
Cook put up some impressive numbers while at Arizona, grabbing at least seven rebounds and two blocks in three of his four seasons with the Wildcats.
His senior season he averaged 17.5 points a game. Not bad for a guy who didn't need to score in order to be happy.
His solid work ethic led him to become still Arizona's record holder for blocked shots (278) and single season field goal percentage holder (62.9 percent). He still holds both records today.
Cook was drafted by the Phoenix Suns in the first round (24th overall) of 1989 NBA Draft.
16. Richard Jefferson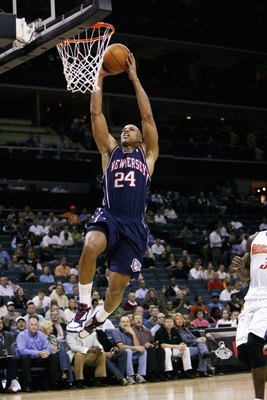 Richard Jefferson may have been one of the most physically gifted athletes to come to Arizona.
A Phoenix product, Jefferson never blew anyone out of the water with his stats, but he nevertheless a feared player. RJ averaged 11 points a game all three seasons he was a Wildcat.
Despite productive offensive numbers, it was on the defensive end that Jefferson made his mark. Jefferson was the teams best defender and always drew the assignment of guarding the other teams best guards and forwards.
He became a fan favorite for his dunks as well. During one Midnight Madness event, Jefferson brought a fan down from the stands and, legend has it, used their head as a foot stool on his way to a thunderous dunk.
Jefferson was selected 13th overall by the Houston Rockets in the 2001 NBA Draft before being traded to the New Jersey Nets on draft night.
This is one of my all-time favorite plays in Arizona basketball: Jefferson goes up for the dunk and on the way down jumps over the Stanford player. (Sorry about the video quality)
15. Reggie Geary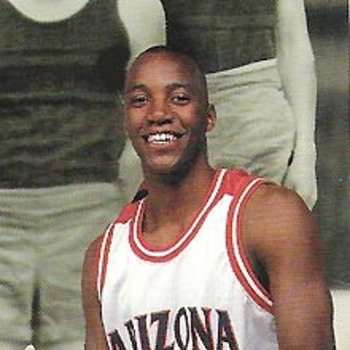 There may be no one player who is more loyal to the Arizona program than Reggie Geary.
Geary had to play behind some of the best point guards in Arizona's history (Damon Stoudamire and Khalid Reeves).
Geary never averaged double digits in points, often playing second or third fiddle in the backcourt. His final season was his best once he got his chance to start, averaging 9.8 points and seven assists a game.
He showed his true loyalty when he accepted an assistant coaching position on Lute Olson's staff, only to have the opportunity turn out to be controversial. Miles Simon ended up taking over Geary's spot on the bench while Geary was moved to an administrative position.
Geary was drafted by the Cleveland Cavaliers in the 2nd round (56th overall) of the 1996 NBA Draft.
14. Chase Budinger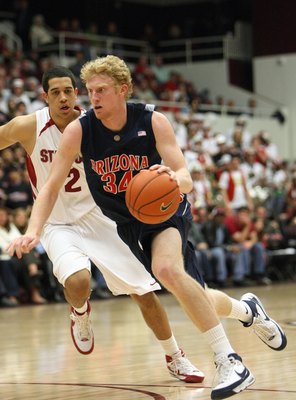 Chase Budinger put up impressive numbers while at Arizona but never lived up to his hype, at least to some fans.
He averaged 17 points a game and shot over 48 percent from the field two of his three seasons.
Budinger came in as one of the most hyped players in Arizona history. he was even compared to Sean Elliot by Lute Olson. Those are high standards for anyone to live up to.
While Chase always put up impressive numbers, fans wanted to see more passion and leadership from the forward. They finally got it after the now infamous Face Stomping incident. (video below)
This lit a fire underneath Budinger. He went on a tear the rest of the season, a tear that helped lead Arizona to its 25th consecutive tournament.
Chase was drafted in the second round (44th overall) of the 2009 NBA Draft by the Detroit Pistons before being traded to the Houston Rockets on draft night.
13. Bob Elliott
When Bob Elliott came in as a freshman he made quite possibly the biggest impact of any frosh in Wildcat history, averaging a double-double.
He would repeat the feat his junior season when the Wildcats came within one game of the Final Four.
He ended his career the all-time leading scorer in Arizona history (2,131), which was eventually broken. He averaged 18.7 points and 9.5 rebounds a game.
Elliott was drafted in the second round (42nd overall) in the 1977 NBA Draft.
12. Michael Dickerson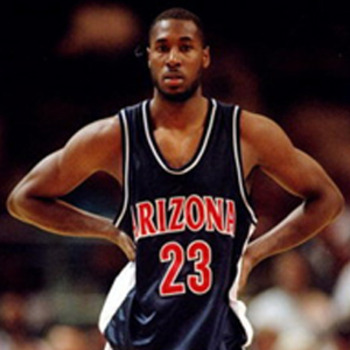 Michael Dickerson played a vital role on Arizona's national championship but Dickerson brought much more than that to Arizona.
Dickerson was used sparingly in his freshman season but by his junior season he was the leading scorer for the national champions. While he didn't earn the glitz and glamor of a Miles Simon or Mike Bibby, he was a key part of that team.
He is among some elite company, leading the Cats in scoring for two consecutive seasons (96-97 and 97-98).
Dickerson was selected in the first round (14th overall) by the Houston Rockets in the 1998 NBA Draft.
11. Gilbert Arenas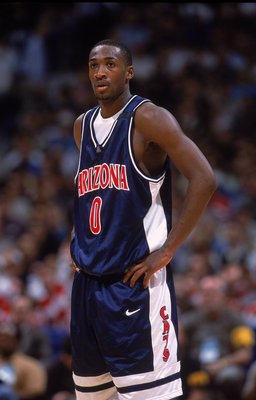 Gilbert Arenas is one of the most flamboyant personalities to come through Arizona's locker room. He was also one of the best players to go through it too.
Arenas was one of the best teams in Arizona's history, one that had a loaded starting five and ended up in the national championship game. He led the team in scoring that year averaging 16.2 ppg.
He is one of only six players to score 1,000 points in only two seasons (1,105). He was earned All-Pac 10 honors both seasons he was a Wildcat and All-American honors his sophomore season.

Arenas was selected in the second round (31st overall) by the Golden State Warriors in the 2001 NBA Draft.
10. Chris Mills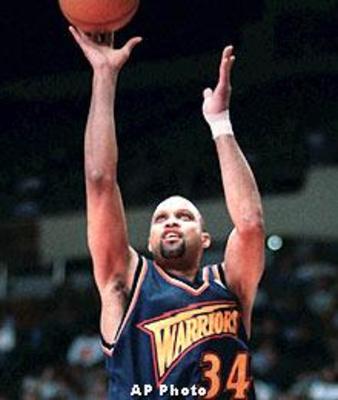 Chris Mills came to Arizona as a sophomore after transferring from Kentucky.
He hit the McKale court running. Over the next three seasons he averaged 17.4 points and shot over 50% from the field in all three seasons.
His final season was what really set him apart, recording 20 points and eight rebounds a game, shooting a phenomenal 48 percent from the three-point line.
Mills was drafted 22nd overall in the first round of the 1993 NBA Draft by the Cleveland Cavaliers.
9. Khalid Reeves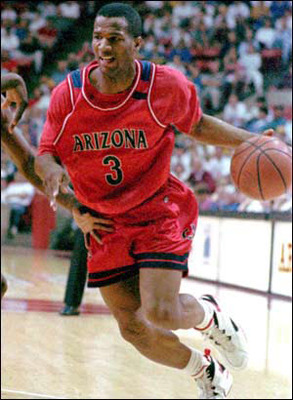 Khalid Reeves may be one of the more underrated players in Arizona basketball history.
Coming from Queens, NY, he played an important role on the team that led to Arizona's second Final Four run. That season, he averaged 24.2 points while in the same back court as Damon Stoudamire.
He also had one of the biggest single season scoring average jumps in Arizona history, going from 12.2 to 24.2. Before his senior season he had been an excellent role player, but was not the premier player on the team. He showed that he could excel in both roles for Arizona, as the ultimate team player.
Reeves was drafted in the first round (12th overall) by the Miami Heat in the 1994 NBA Draft.
8. Salim Stoudamire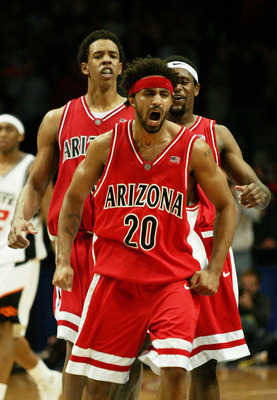 When the name Salim Stoudamire is said in Tucson there is only word that comes to mind: clutch.
Stoudamire had a killer instinct that allowed him to take over late in the game. He wanted the ball and he was going to score and he wouldn't let any defender stop him.
Sure, he wasn't without his own troubles, which nearly got him kicked off the team.
Regardless, when the game was on the line, Wildcat fans didn't want the ball in anyone else's hands.
He was a 3-point specialist, throwing up shots from the cactus logo that used to be on the court (easily 25 feet from the rim).
His senior season he set the Arizona mark for 3-point FG percentage for a season, 50.4%.
That season he led Arizona to the Elite Eight and earned second-team All-American honors.
He was drafted in the second round (31st overall) by the Atlanta Hawks in the 2005 Draft.
7. Jason Terry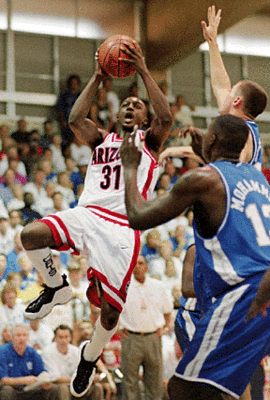 Terry may be one of the more underappreciated Wildcats for the role he took with the Wildcats.
He came to Arizona in the year before another point guard came to Arizona. That was Mike Bibby. He was asked to take a bench role with the team for two seasons while Bibby flourished.
He never complained about the role. In fact. he enjoyed it because the Wildcats were winning. His sophomore season was the year they won the championship.
His sophomore and junior seasons he averaged 10 points off the bench,
When Bibby left, Terry stepped right in to his shoes as the team leader. His senior season he averaged 22 points a game while earning All-American honors from every major sporting publication.
Terry was drafted tenth overall by the Atlanta Hawks in the 1999 Draft
6. Jason Gardner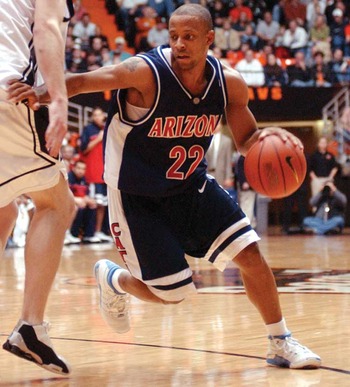 Jason Gardner is what every coach wants his point guard to be; an intelligent player with court sense who knows exactly what the team needs to win.
Gardner may hold the most records of an Wildcat on this list. He is the career leader in games played (136), games started (135), minutes played (4,825), and 3-point field goals made (318, 2nd in Pac-10 history).
He also earned the Frances Pomeroy Naismith Player of the Year in 2003, 12 All-American accolades and was named National Freshman of the Year in 2000.
On top of all of that, he was a vital part of the team that fell one game short of the national championship in 2001.
He is one of only four Wildcats to have his number retired. Gardner has gone on to have a successful career overseas after being seen as too small (5' 10") by the pros.
5. Steve Kerr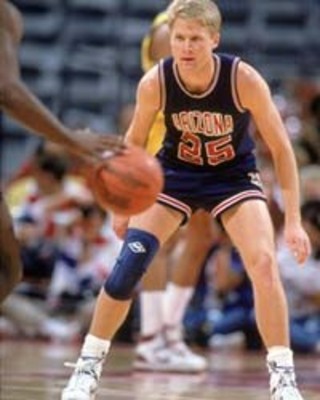 Sometimes a player's stats don't show what kind of impact a player really had on a team.
Although Kerr was a nothing more than a skinny white guy when he came to Arizona, he came to embody what Arizona basketball would be for the next quarter of a century.
Kerr became a fan favorite. Fans chanted his name after every three he made. STEEEEEVVVVE KEEEERRRRRR.
After a stellar junior season, Kerr played for the USA Basketball team. He suffered a knee injury that forced him to redshirt while he recovered. This may have been the best thing to happen to Arizona basketball.
The next season the Cats made it to their first Final Four with the help of Sean Elliott's spectacular play and Kerr's leadership. Kerr also set the NCAA record for the best 3-point field goal percentage for a single season, hitting 57.4% behind the three-point line his final season.
He is one of only four Wildcats to have his number retired.
Kerr was drafted in the second round (50th overall) of the 1988 NBA Draft by the Phoenix Suns. He would go on to win five NBA titles.
4. Miles Simon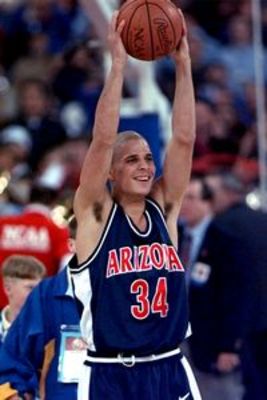 No three words better sum up Miles Simon's career than Billy Packer's "Simon Say Championship".
Simon did it all for the Cats and was the reason the Cats won the National Championship. He scored 30 points and was named the Most Outstanding Player of the Tournament. He also made 14 of 17 free throws in the game, attempting as many as Kentucky did in the entire game.
Simon returned for his senior season after seriously considering an early departure for the NBA. While Arizona didn't repeat, Simon was named to the First Team All-American team.
He was drafted by the Orlando Magic in the second round (42nd overall) of the 1998 NBA Draft.
3. Damon Stoudamire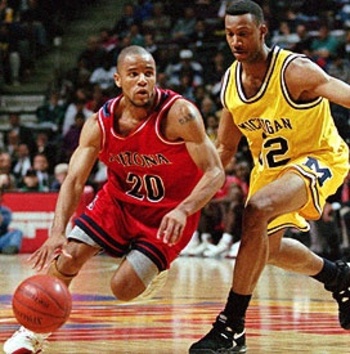 Damon Stoudamire is one of the most decorated players in Arizona history.
Stoudamire was a solid role player in his first two seasons before becoming a star his junior year. The 5'10" point guard played alongside Khalid Reeves, and the two combined to average 42 points a game (Stoudamire averaged 18 of those).
After teaming up with Reeves to lead Arizona to the 1994 Final Four, Stoudamire had one of the best seasons in Arizona history. He averaged 22.8 points and 7.3 assists a game.
He was named Co-Pac 10 Player of the Year and was a consensus All-American. Stoudamire is also the only player in Arizona history to score 40 points in a game twice
Stoudamire was drafted in the first round (seventh overall) by the Toronto Raptors in the 1995 NBA Draft.
2. Mike Bibby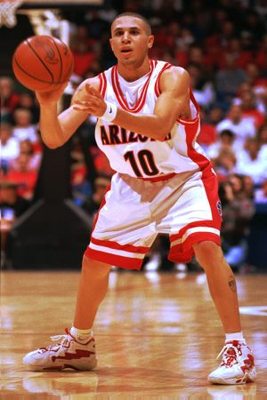 Mike Bibby was a Phoenix product who came in with about as much hype as anyone. Unlike many prospects entering with high expectations, Bibby lived up to his.
As a freshman he achieved a feat no other Wildcat can claim, leading his team to a National Championship. He scored 19 points and nine rebounds in the championship game.
Following the national championship season, Bibby returned and was named a consensus All-America, Pac-10 Player of the Year, all-Pac-10, and team MVP in 1997-98. The Wildcats fell just short in their bid to repeat, getting upset in the Elite Eight by Utah.
Bibby would average 15.4 ppg and 5.7 apg over his next two seasons at Arizona. He ranks in the top ten in school history in 3-point field goals made, 3-point field goals attempted, steals, and single-season assists.
He is one of only four Wildcats to have his number retired.
Bibby entered the draft following his sophomore season and became the highest drafted Wildcat in history. He was drafted second overall by the Vancouver Grizzlies in the 1998 NBA Draft.
1. Sean Elliott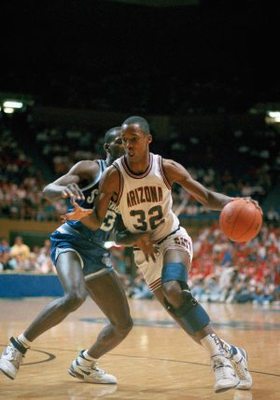 Sean Elliott goes without question as the top player in Arizona history.
The Tucson native has accolades that no one else can from Arizona can boast. 1989 national Player of the Year, Consensus All-American in 1988 and 1989, two-time Pac-10 Player of the Year and the school's all-time leading scorer (2,555 points).
On top of all of that he is also the player to lead Arizona to its first Final Four. So the importance of Elliott to the Arizona program can not be overstated.
Elliott was the player that put Arizona on the map. Would they have been as good, sure maybe eventually but they would have not been nearly the powerhouse they became had it not been for Elliott.
He was the first player in Arizona history to have his number retired.
Elliott was selected third overall by the San Antonio Spurs in the 1989 NBA Draft.
Keep Reading

Arizona Wildcats Basketball: Like this team?