Why New York Yankees' Road to World Series Will Go Through Trainer's Room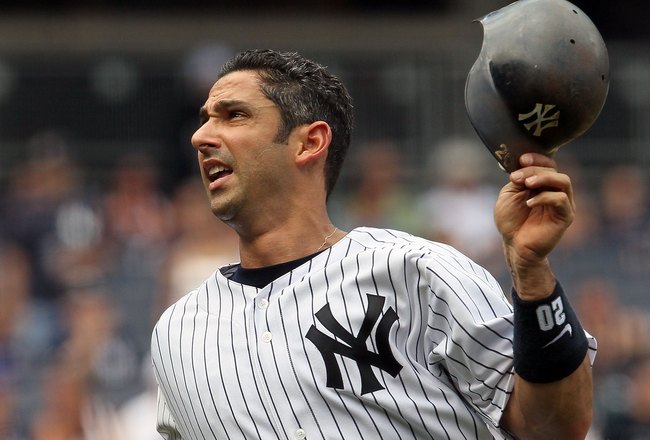 Jim McIsaac/Getty Images
In the simplest of terms, things continue to move along exceedingly well for the New York Yankees.
They won again on Monday, as CC Sabathia cruised through an Orioles lineup that seemed perfectly content with its three-game sweep of the Red Sox.
But if you listened close enough at Yankee Stadium, you could the distressing wail of Father Time trying to throw cold water on New York's 17-8 start.
Jorge Posada missed time last week after being hit by a pitch, and the 38-year-old was forced out of the lineup again yesterday by a strained calf. Mariano Rivera, meanwhile, was nowhere to be found in the ninth inning, a tight left side keeping the 40-year-old closer on the shelf for the night and perhaps longer.
Such is life for the Core Four, where no matter how great you continue to be at baseball, you will also continue to be, well, an old dude.
As the Yankees have exhibited in their first 25 games, the sky is pretty much the limit for this group. They're on pace for a 100-plus-win season, and that's been without much help from Mark Teixeira, Nick Johnson, Javier Vazquez, or Curtis Granderson.
But ultimately, it may be how well the Old Guard holds up that will decide if the Yankees repeat in 2010. Just as they were in last year's championship season, Derek Jeter, Andy Pettitte, Posada, and Rivera form the heart and soul of the team.
Beyond the obvious respect and leadership factors, they remain four of the most productive players in the league at their respective positions. Their presence in the lineup remains mandatory.
The injuries to Rivera and Posada illustrate how delicate the situation is, regardless of how wonderful things may appear to be in Yankee Universe. Thankfully, Rivera's issue doesn't appear to be a serious one, but with 40-year-old professional athletes, every ding and dent carries a certain element of the unknown.
Posada's calf ailment is more worrisome. The MRI result indicated that it is a mild strain, but of any of the Core Four, it is the veteran catcher who remains most susceptible to a lightning-fast decline.
The Yankees are fortunate enough to have a strong young backup in Francisco Cervelli, but Posada's bat is the glue that holds the middle of the Yankees lineup together. If you remember the 2008 largely Georgie-free season, you know exactly what I'm talking about.
The good news is that today the Yankees called up outfielder Greg Golson and sent down right-hander Mark Melancon, an indication that the team doesn't feel Posada's injury is serious enough to warrant bringing up Jesus Montero for insurance.
But with the Core Four, you always have to be on guard. Every grimace must be met with apprehension. It's simply the price you pay for putting your future in the hands of your past.
Dan Hanzus writes the Yankees blog River & Sunset and can be reached via e-mail at dhanzus@gmail.com. Follow Dan on Twitter at danhanzus .
This article is
What is the duplicate article?
Why is this article offensive?
Where is this article plagiarized from?
Why is this article poorly edited?

New York Yankees: Like this team?