Saint Louis Rams' Team Goal #3: Play the WCO Right or Don't Play It at All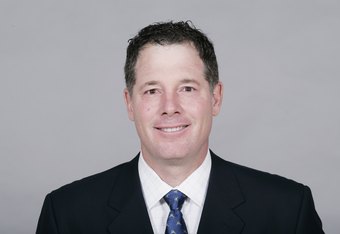 NFL Photos/Getty Images
I would like to offer a motion on the Senate floor: The next sports writer who says the Rams run the "West Coast offense" should be crucified upside down, castrated, doused in gasoline, and ignited with a military flame thrower. Perish the thought! Nothing could be further from the truth.
When a sports writer declares that the Rams run the West Coast, one of the following has to be true:
He is deferring to the current administration's deepest delusions so as not to lose his media access pass.
He is grossly disoriented, and in need of medical attention.
The guy never watched a single Ram game in 2009.
He doesn't know what the West Coast Offense actually is or what it looks like.
I am sure Bill Walsh is spinning in his grave—at 15,000 RPMs no less—over the declaration that the 2009 Rams ran his offense. Let me set the record straight: What Pat Shurmur did last season had absolutely nothing to do with the offense Bill Walsh created in Cincinnati and perfected in San Francisco. With that justice done, perhaps Bill can now rest in peace.
I suffered a strange and recurring nightmare throughout the 2009 season. I dreamt that we were time-warped back to the 1970s and Ground Chuck Knox was calling the plays. Then we warped forward to the mid-1980s and John Robinson was running student Body Left and Student Body Right. The strange thing was that the dude carrying the ball for John Robinson was wearing 39 not 29. Also, the guy calling the plays did not look like John Robinson. He looked like Pat Shurmur.
The pattern was clear: Run on 1st down, run on 2nd down, pass on 3rd down only if necessary. Run, run, run 'till our daddy takes our T-Bird away. You run first. You run second. You pass as a matter of last resort. You run even in must-pass situations…sometimes. You establish the running game and then think about passing. This was Pat Shurmur in 2009.
Does this scheme have anything at all to do with the offense Bill Walsh invented? Hell no! For those who did not live through the long-running nightmare that was the epoch between 1981 and 1994, allow me to explain the West Coast Offensive (WCO) system to you.
1. The WCO is pass-first system. You do not run to set up the pass. You pass to set up the run.
2. In a true WCO system, you pass early and often in the game to take the lead. You run later in the game to kill the clock and protect that lead.
3. Although WCO teams pass early in the game, which is considered aggressive by old-school standards, the WCO is a conservative ball-control passing attack.
4. The WCO is all about short passing routes. The majority of passing plays involve a catch not more than 15 yards away from the line of scrimmage. In the numbered route tree system, the one, two, and three routes are the dominant routes. Most plays terminate within 15 yards of scrimmage.
5. The three most characteristic plays in the WCO are the quick slant, the shallow cross, and the check-down to a running back. Statistically, these plays gain most of your passing yardage in the WCO.
6. The WCO teams constantly send two receivers on eight and nine routes to stretch the defense. It's usually trickeration. True WCO teams rarely throw the football deep. The objective here is to simply run off the coverage.
7. Probably the most difficult and trouble-prone aspect of the WCO for both the quarterback and the receivers is Walsh's system of adaptive option routes. Both the quarterback and the receivers are expected to read and identify coverage correctly, and adjust route depth and pattern depending upon what the defense confronts you with. They have to read defenses the same way. They have to choose the same adaptive routes. Otherwise 'miscommunications' occur, and quarterback either throws an interception, an incompletion, takes a sack, or throws the ball away.
8. Walsh frequently ran combinations of three routes to one side of the field. He called this combo a triangle. The objective was to overload a zone with too many receivers and create motion that would make it impossible to cover at least one. When the routes were run precisely one receiver would always pop wide open.
9. The West Coast substitutes a series of short throws to running backs for the normal system of hand-offs and pitch-sweeps. You throw the football to running backs, you don't hand it to them, and you use the short pass just like the run. Ideally, you line a running back up in the flat, throw it to him, and create an isolation one-on-one tackle between a back and corner. In this way, you force corners to run back in coverage and then run forward to make a tackle against a more physical running back,
10. The mottos of the WCO are nickel and dime, dink and dunk, a four yard pass is as good as a run, use the short pass to setup the long pass, etc. It is a slow, methodical passing attack in which you pick apart the defense with a series of short passes.
11. When it works well there is usually one running back who accounts for most of the team's yardage. Rodger Craig, Tom Rathman, Rickie Waters, Dorsey Levans, Edgar Bennatt, Brian Westbrook, Shawn Alexander, and Terrel Davis are a few of the names associated as WCO backs.
12. When the WCO is working correctly, the WCO produces sustained drives, running nine to 12 plays per score.
13. Accordingly, time of possession stats are usually good for true WCO teams, they usually finish plus-two to plus-three in terms of TOP.
14. When a strong running attack is present, which is not typical or common, it is usually predicated on a zone-blocking scheme in which offensive linemen slant-block the defenders in their zone right or left. The back takes a pitch and begins to run in the direction of the flow. He then sharply cuts back against the grain and goes to the backside. This is the infamous one-cut-and-go system Mike Shanahan invented and made famous.
Now I ask you the following question: Does this list of descriptions evoke pictures of the Rams' 2009 offense in your mind? It does not in my mind.
During 2009, I frequently watched our offense in an intense state of horror, shaking my head in disbelief. I frequently asked myself the following question: Does Pat Shurmur understand even the first precept of the WCO? If he does, you can't prove it based on what he did last season.
I heard an assortment of excuses for Shurmur's performance, none of which were particularly compelling. Here are some of the lines I heard thrown out in Shurmur's defense:
1. It's our first year in the West Coast system.
2. Shurmur doesn't have much to work with.
3. Steven Jackson is our only good player on offense.
4. Bulger just isn't WCO quarterback.
5. Our pass-protection sucks, that's why we can't throw.
6. We're intentionally throwing the entire 2009 season so we can get the No. 1 pick in the draft.
7. Devaney told Shurmur to be stubborn with the run in 2009. We'll get him some players in 2010.
I don't find any of those apologies for Shurmur's offense satisfactory. He completely failed to organize anything even vaguely resembled a WCO in 2009. This is the surest reason to doubt this man's qualifications for his job. It also affords us the best reason for firing him: Failure to even attempt the assignment he was contracted to accomplish. Clearly, he was not prepared for this assignment.
Off with his head!
Certainly the WCO has been run in an authentic fashion with personnel as poor as ours was in 2009. That doesn't mean it produced good results, but it has been run accurately with personnel as bad as ours.
Devaney and Spagnuolo seem stuck on this guy for some reason. There is no sign that he is on the hot seat just yet. Now that he has been given Bradford, Saffold, and Gilyard to play with we'll see whether or not Pat Shurmur takes a stab at running the WCO in 2010.
In a future article, we'll discuss whether the WCO was a good choice for the Rams, whether it still works, and whether this decision was a great mistake which may cost us our future.
This article is
What is the duplicate article?
Why is this article offensive?
Where is this article plagiarized from?
Why is this article poorly edited?

St. Louis Rams: Like this team?