2010 NBA Mock Draft: Kentucky Wildcats Will Have Three Players in Top Five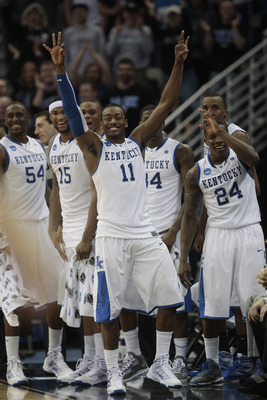 A deep 2010 NBA Draft field is highlighted by three Kentucky Wildcats: John Wall, DeMarcus Cousins, and Patrick Patterson. Many believe all three may go in the top 10 of the draft. I think all three will go in the top five, while five Wildcats in all will go in the first round.
The draft is June 24, and it's time for my first mock draft. There are a few surprises here, but come draft time, they won't be surprises anymore.
1. New Jersey Nets: John Wall, PG, Kentucky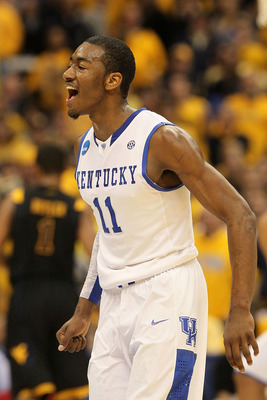 Wall will be the first pick in the draft. He has been compared to Rajon Rondo. I think he's more in the Magic Johnson mold.
6'4", 195 pound point guard; he can do it all. As a freshman he scored 16.5 points per game, 6.5 assists, and 4.3 rebounds. Like Rondo he likes to go to the glass and get some rebounds.
A great piece to build around, especially for a team like New Jersey.
2. Minnesota Timberwolves: Evan Turner, SG, Ohio State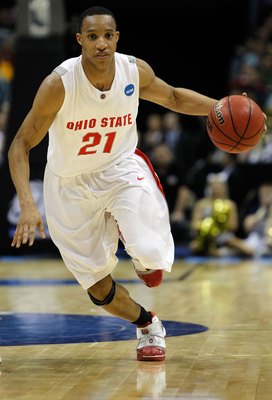 The most NBA-ready player in the draft. Turner can play the one, the two, or the three position.
As a junior at Ohio State, he averaged 20.4 points per game with 9.2 rebounds and six assists. He is a triple-double waiting to happen.
Minnesota would love this addition. The T-Wolves are gathering quite a collection of young talent, and this year they have three picks in the top 23. More than any other team, this draft is vitally important for this franchise, and they can't go wrong with Turner.
3. Sacramento Kings: DeMarcus Cousins, PF/C, Kentucky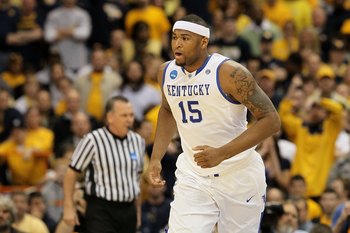 The second Wildcat to go, Cousins is a big, talented, and versatile player. He could play power forward, or center, and do either one well.
At 6'11" and 280 pounds, he is a load. As a freshman, he averaged 15.5 points per game, and 9.9 rebounds. He also shot over 55 percent from the field, and reminds many of Derrick Coleman.
This will be a tough choice for the Kings, but I think they want a big man, and they will take Cousins over Derrick Favors.
4. Golden State Warriors: Wesley Johnson, SF, Syracuse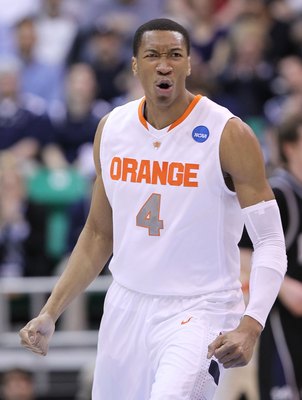 NBA ready, the Syracuse junior is a talented small forward.
6'7" and 205 pounds, he has been compared to Shawn Marion.
Johnson scored 16.5 as a junior and pulled down 8.5 boards per game for the Orangeman.
Would fit in nicely with the Warriors, who need some help.
5. Washington Wizards: Patrick Patterson, PF, Kentucky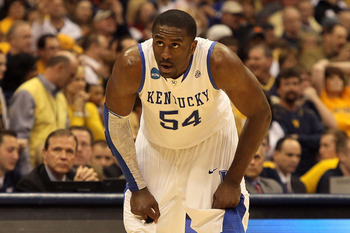 Patterson will be the third Kentucky Wildcat selected in the top five. Many think Patterson will go around the No. 10 spot, but I see him slowly moving up as the draft gets closer, and I think he would be a logical pick for the Wizards at No. 5.
At 6'8" and 235 pounds, he reminds some folks of Buck Williams. I think Patterson will be selected ahead of Greg Monroe of Georgetown. Has a good low post game, and a really nice baby hook.
Patterson averaged 14.3 points per game, and pulled down 7.4 rebounds as a junior for the Wildcats.
6. Philidelphia 76ers: Derrick Favors, PF, Georgia Tech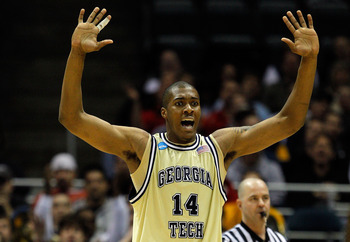 Favors is 6'9" and almost 250 pounds. Thanks to his strong, compact body, he is explosive with great leaping ability, and an unusually large wingspan.
As a freshman at Georgia Tech, he scored 12.4 points per game, and pulled down 8.4 boards.
Philly would love if he were still on the board at No. 6, as some analysts have him going No. 3 to Sacramento.
7. Detroit Pistons: Al-Faroug Aminu, SF, Wake Forest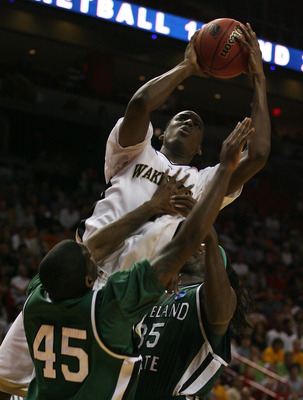 Aminu is one of the top athletes in the draft.
As a sophomore with Wake Forest, Aminu netted 15.8 points and 10.7 boards a game. This makes him a double-double waiting to happen in the NBA.
He does not possess much of an outside shot yet, and he will need to develop this, but he's insanely explosive around the basket.
Pistons would love to see him on the board for this pick. Huge upside.
8. Los Angeles Clippers: Ed Davis, PF, North Carolina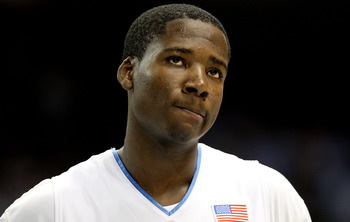 With a long body at 6'9", Davis reminds some of PJ Brown. As a sophomore at North Carolina, Davis scored 12.9 points per game, and pulled down 9.2 rebounds.
Good post-up game and nice moves around the basket; a mini Kevin McHale?
Clippers need help, but they seem to always need help. Davis couldn't hurt.
9. Utah Jazz: Greg Monroe, PF, Georgetown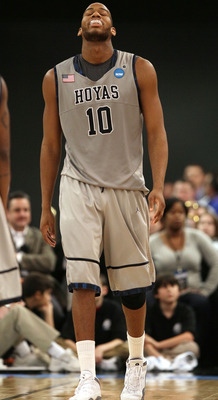 This was originally the New York Knicks' pick.
Monroe is a big man who can, and loves to, pass; reminds me of Kevin Garnett in that regard, but is much less athletic.
As a sophomore at Georgetown, Monroe scored 16.1 points per game to go along with 9.6 boards and nearly four assists.
At 6'10" and 250 pounds, some have him going higher. The Jazz would love to see him fall to No. 9.
10. Indiana Pacers: Donatas Motiejunas, C, Lithuania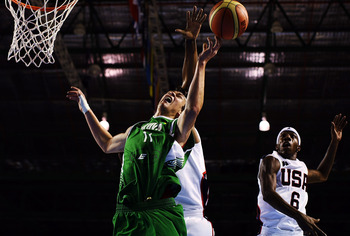 The top international player in the draft, Motiejunas is a 19-year-old with a ton of potential.
He is a true seven-footer, and weighs 224 pounds. Even still, he needs to beef-up slightly. The comparisons to Andrea Bargnani will be inevitable.
Would fit in nicely with Pacers, and it looks like he'll have the body to be a solid NBA rebounder.
11. New Orleans Hornets: Xavier Henry, SG, Kansas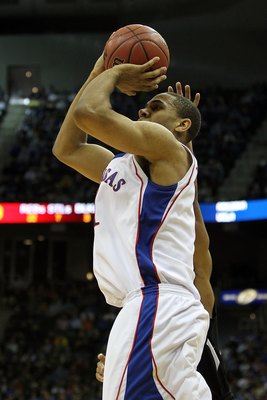 Great shooter with a great NBA body, Henry will score points in the NBA.
As a freshman at Kansas, Henry scored 13.4 points per game, and shot over 40 percent from downtown.
At 6'6" and 220 pounds, he will be tough to defend for many shooting guards in the league.
12. Memphis Grizzlies: Cole Aldrich, C, Kansas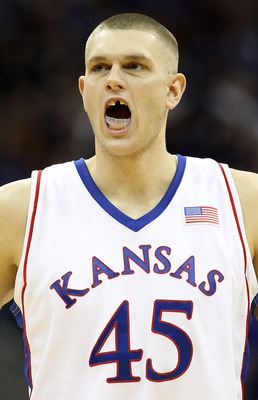 This could be the second of back-to-back Kansas players selected, and Aldrich will be a true center in the NBA.
At 6'11" and 245, as a junior he scored 11.3 points and rebounded 9.8 balls per game.
Runs the floor well for a big man, and is a good shot blocker and solid defensive presence.
13. Toronto Raptors: Daniel Orton, PF, Kentucky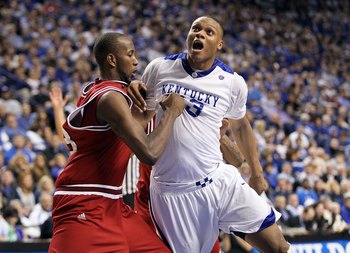 The fourth Kentucky player in the top 13, Orton is a bit of a gamble at this pick, but he might be worth the chance.
At 6'10" and 225 pounds, as a freshman Orton scored only three points plus, and rebounded three-plus per game. A project, for sure.
14. Houston Rockets: James Anderson, SG, Oklahoma State
Anderson shot 46 percent for his college career. He's a good swingman, with very good offensive skills.
Anderson is 6'6" and 195 pounds with a long wingspan. He averaged 22 points per game as a junior with 5.8 boards.
He would be a great pick for the Rockets at No. 14.
15. Milwaukee Bucks: Ekpe Udoh, PF, Baylor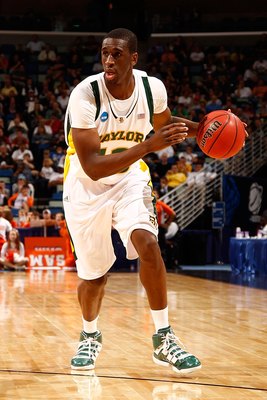 Originally the Chicago Bulls' pick, the Bucks will like the "The Nightmare" because of his ability to block shots. Has a long wingspan, and moves well on the floor for a big man.
At 6'10", 235 pounds, as a junior he blocked 3.7 shots a game, and scored 13.9 points and collected 9.8 rebounds.
He's also an underrated passer for his size, and sees the court well.
16. Minnesota Timberwolves: Gordon Hayward, SF, Butler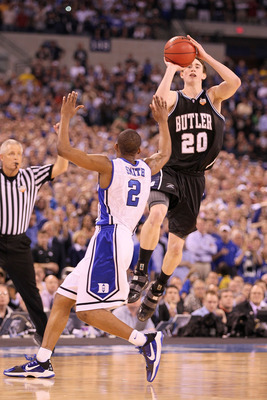 This was originally the Bobcats' pick, but will be the Timberwolves' second pick.
Hayward is a great shooter, although he's not the quickest player in the draft, to be sure.
He is 6'8" and a thin 210 pounds.
Hayward shot 84 percent from the free throw line in college, and his sophomore year he averaged 15.5 points and 8.2 rebounds per game.
Hayward must become more aggressive in the NBA.
17. Chicago Bulls: Kevin Seraphin, PF, France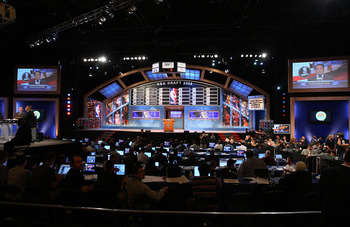 Originally the Bucks' pick, Seraphin will be the second international player taken in the draft.
The Frenchman stands 6'10" and weighs 255 pounds. The Bulls could use his size and presence down low.
He is just 20 years old, so he will be a project. The Bulls figure to stay a playoff team for a few years, so they may not have time to develop him like a team at the bottom of the standings would.
18. Miami Heat: Quincy Pondexter, SF, Washington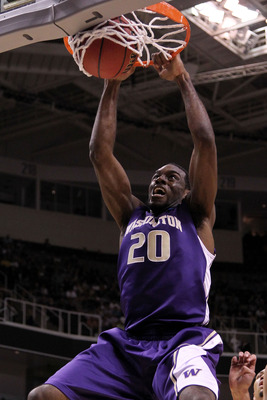 Sometimes it does pay to stay in school, as Pondexter emerged as a star his senior year
Most experts seem to think he'll last into the second round, but I'm here to tell you he won't. If Miami doesn't grab him here, Boston will with the next pick.
Many look at the success of Brandon Roy, another Washington Husky, and think the gamble may be worth it on Pondexter.
He's 6'7" and 215 pounds, and they aren't too many 22-year-olds in the draft. He is polished, and jumped from 12-plus points a game his junior year, to better than 19-plus his senior year. He does, however, need to work on his perimeter game.
19. Boston Celtics: Larry Sanders, PF/C, VCU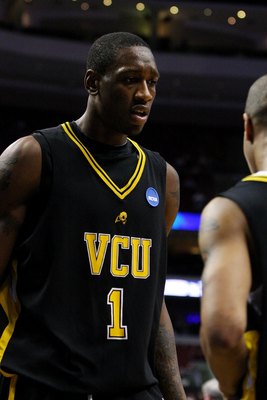 Post player with a lot of length. Could learn a lot under the guidance of Kevin Garnett and Rasheed Wallace.
6'10" and 235. Can play center as well as power forward.
Three blocks per game as a senior. Potential to be a great defender in NBA, something Celts love. Also scored 14.4 per game as a junior and rebounded 9.1.
20. San Antonio Spurs: Paul George, SF, Fresno State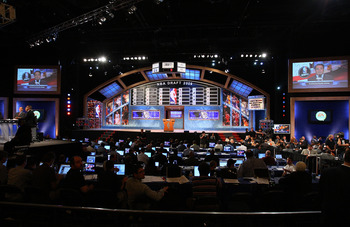 George could learn a lot on a veteran team like the Spurs. Not yet 20, but will be by draft day.
At 6'8" and 210 pounds, he's a good passer, a great three-point shooter, and he sees the court well.
He must put on some weight to play with the big boys at the next level. He averaged 16.8 points per game, and seven-plus rebounds as a sophomore.
21. Oklahoma City Thunder: Hassan Whiteside, C, Marshall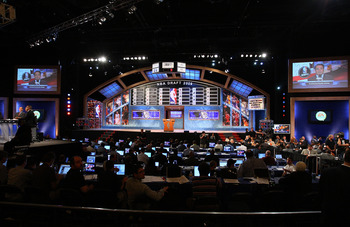 A project. Whiteside only played one year in college, and needs to develop some offensive skills. He is a true seven-footer and weighs 235 pounds.
As a freshman, he averaged 13 points and nine boards per game.
22. Portland Trailblazers: Avery Bradley, SG, Texas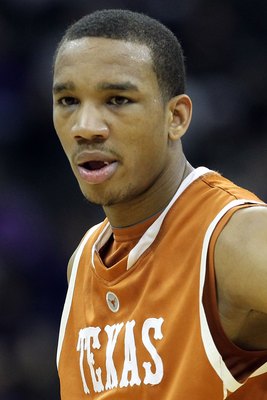 He's considered small at 6'2", and Bradley may be out-sized in the NBA. However, he knows how to score, and he's only 19.
Bradley possesses an absolutely pure jump shot, maybe the best in the draft, and as a freshman at Texas averaged 11.6 points per game on a deep and balanced team.
He should fit in nicely with the Blazers, who could use a great shooter.
23. Minnesota Timberwolves: Solomon Alabi, C, Florida State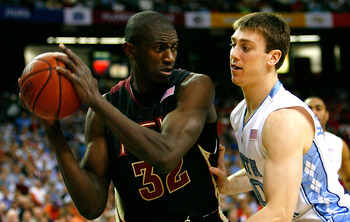 Originally the Jazz's pick, Alabi's 7'1" height tells you what you need to know.
The Nigerian standout is also a bit of a project, but certainly more polished than some—perhaps the extra year in school helped.
He has come a long way from his freshman year, and possesses a pretty decent touch on his shot, as well as some agility.
He averaged 11.7 points per game and 6.2 rebounds, at FSU, and is the kind of short-term project that should work out in Minny.
24. Atlanta Hawks: Elliot Williams, SG, Memphis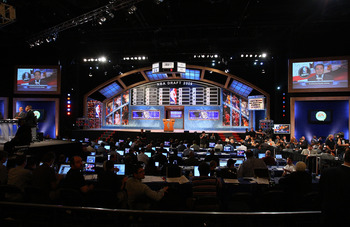 A left-handed shooting guard, Williams is long and quick. He's also very smart and wants to get better, thus making him a good choice for anyone.
He averaged 18 points per game as a sophomore.
25. Memphis Grizzlies: Damion James, SF, Texas
Projected higher by some, I think James might slip a bit, and the Grizzlies would love it if he does.
James stands 6'7", and weighs 227. He's very athletic, and consistently shot 48 percent through his four years as a Longhorn.
Polished, and should do well right away.
He can rebound as good as anyone in the draft, and had 18 points per game as a senior, and over 10 boards.
Great value this low in the first round.
26. Oklahoma City Thunder: Armon Johnson, PG/SG, Nevada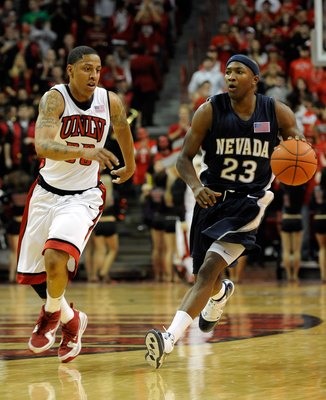 Originally the Suns' pick, Johnson has good size for a point guard at 6'3", making him a poor man's John Wall.
Johnson has good ball-handling skills, and likes to drive inside and take on bigger fellas around the hoop. However, he needs to improve his offensive game.
Averaging 15.7 points a game and over five assists, he would be a nice fit in OK City.
27. New Jersey Nets: Luke Babbitt, SF/PF, Nevada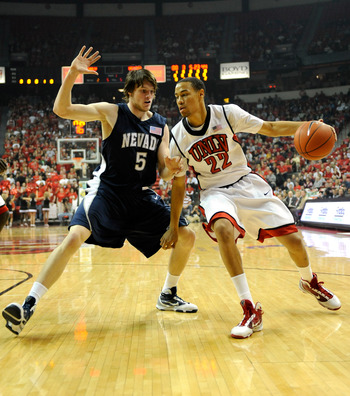 Back-to-back Nevada players? Bet that's never happened before in the draft.
Originally the Mavericks' pick, Babbitt is 6'8" and weighs in at 220 pounds.
He has NBA-range, and will be a great three-point shooter. Babbitt is a well-rounded player coming off a great sophomore year.
If he lasts this long in the draft, New Jersey would be ecstatic, and will have completed one of the best drafts in getting him and Wall.
Babbitt had 22 points and nine rebounds per game as a sophomore.
28. Memphis Grizzlies: Eric Bledsoe, PG, Kentucky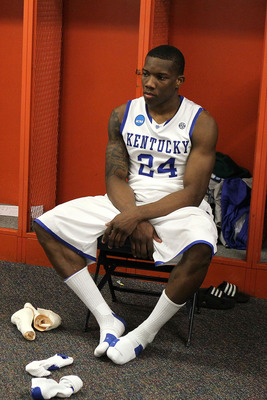 Here is your fifth Kentucky Wildcat taken in the first round. Bledsoe is a 6'1", 195-pound point guard.
Bledsoe has incredible explosiveness not often seen in point guards, but he does turn the ball over. He can hit acrobatic shots on a regular basis.
He netted 11 points a game as a freshman, but not a lot of assists. Did have a steal-and-a-half per game, however.
29. Orlando Magic: Matt Bouldin, PG/SG, Gonzaga
Bouldin's 6'5" and plays the point, however, shooting guard may be his ultimate position at the next level.
Not a great athlete, but plays hard and gives it his all. He's a good passer, but a bit inconsistent with his shooting.
His rebounds and points went up as a senior, and he averaged 15 points, four rebounds, and four assists a game.
30. Washington Wizards: Devin Ebanks, SF, West Virginia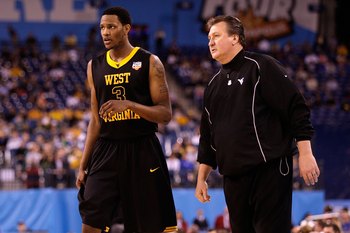 Long wingspan and great rebounder, Ebanks looks and plays a lot like Corey Brewer of the Timberwolves.
He's 6'7" and 204 pounds, and runs the floor well. Ebanks netted 12 points per game as a sophomore to go along with nine boards.
He would fit in well with the Wizards.
Keep Reading