Pocono Raceway Hosts First Annual Mother's Day Charity Bike Ride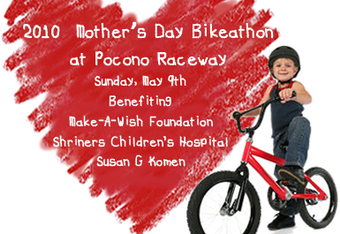 With Mother's Day on the horizon this weekend, Pocono Raceway will be honoring mothers in a very unique way this year.
The Raceway will be hosting the 1st Annual Mother's Day Bike-a-thon on Sunday, May 9th, all to raise money for charities close to any mother's heart.
Riders of all ages are invited to come, honor their mothers, and ride their hearts out around the 2.5 mile "Tricky Triangle".
Anyone who participates in the bike-a-thon will receive 2 for 1 coupons for Friday and Saturday grandstand admissions for the June 6th Pocono weekend, complements of Pepsi and Weis Super Markets.
The special Mother's Day bike event is the brainchild of Phil Cable, an event planner who attended a similar type of an event 25 years ago at the race track. Last summer, Cable approached the Mattioli family, who own Pocono Raceway, and with ARCA and aspiring NASCAR driver Chase Mattioli as one of the champions of the idea, the event was born.
"I have fond memories of that ride, pedaling out on the massivve speedway with its banked corners and long straightaways," Cable said of the event 25 years ago. "Working together with different groups of riders, drafting and taking turns on the front and doing it all for a purpose."
"For over a year, I have been trying to make this event happen," Cable continued. "With the help of Chase Mattioli and countless others, the event was finally able to come together."
The Bike-a-thon will benefit several of the charities that are close to the Mattioli family's hearts. The Make-A-Wish Foundation, as well as the Shriner's Children Hospitals and the Susan G. Komen Foundation will all share in the proceeds of this unique ride.
Chase Mattioli is especially pleased that Make-A-Wish will be a part of the event. He hosted a Make-A-Wish youngster at Pocono and has also waited tables at a local eatery wearing his driver's uniform in order to raise money for the charity.
"We are so thrilled to be a part of this event," Lynn Hill, the Northeast Regional Manager of the Make-A-Wish Foundation of Greater PA & Southern WV, said. "Without events like this, our mission - granting wishes to children with life-threatening medical conditions - would not be possible."
"Giving back has alwasy been something very important to me," Mattioli said. "I am honored to have the opportunity to be associated with this event and all the participating charities."
Unfortunately, Mattioli will not be able to participate in the bike ride. He has final exams at Fordham University, where he will be completing his sophomore year.
Mattioli will, however, host the person who raises the most money for charity through the Bike-a-thon as an honorary Pit Crew member. The winner will serve on Mattioli's team at the ARCA race at Pocono on June 5th.
The Mother's Day Bike-a-thon will begin with registration on Sunday, May 9th at 6:30 AM. Opening ceremonies and the start of the biking around the speedway will begin at 8:00 AM and run until 2:00 PM.
Closing ceremonies will take place from 2:00 - 3:00 PM, culminating with the Elite Pro-Am Race Finale.
The only requirements for the Bike-a-thon are a safe bike, with good breaks to make it around the three distinct Pocono turns, as well as an approved bike helmet.
For more information or to register for the Mother's Day event, visitwww.bikepocono.com.
This article is
What is the duplicate article?
Why is this article offensive?
Where is this article plagiarized from?
Why is this article poorly edited?