From NCAA Heroes To NBA Enemies: A Lakers Fan's Dilemma in the NBA Playoffs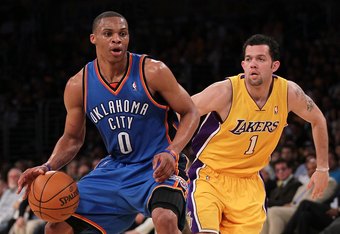 Stephen Dunn/Getty Images
While I was growing up in Los Angeles in the '80s and '90s I pledged my allegiance to four professional sports teams and a college team—the Lakers, Dodgers, Kings, Raiders, and UCLA Bruins.
I chose the Lakers over the Clippers, the Dodgers over the Angels, and the Raiders over the Rams—mostly because the Clippers moved to L.A. from San Diego and the Angels and Rams played their games in Orange County.
Those were easy choices.
I picked the Bruins over the Trojans mostly because I grew up less than two miles from the UCLA campus in Westwood. As a kid, I spent many afternoons bowling and playing video games or shooting pool at Ackerman Union.
My friends and I would take the No. 2 Bus along Sunset to Hilgard Ave. where we'd watch the football team practicing at Spaulding Field or see the NBA pros playing pickup hoops at the Wooden Center during the summer.
Through the '80s and most of the '90s my allegiances rarely crossed paths. My worst nightmare was that my favorite Bruins would go on to play for the rivals of my favorite professional teams.
I dreaded that I would have to root against my college heroes one day. There's no handbook for how to deal with a situation like that. In a perfect world, you can root for the success of those guys as they enter the pros but never have to face them in a playoff game. If your team is knocked out then it's totally acceptable to root for those guys, except if they play for your team's biggest rival.
UCLA has produced a number of great football and basketball players over the last 20-plus years. The most successful football player to come out of UCLA during that time frame was probably Troy Aikman.
I was lucky to avoid a Raiders-Cowboys Super Bowl, and that wasn't because Aikman wasn't good enough to get there.
I always rooted for Aikman in those Super Bowls because I was sick and tired of USC fans talking about the success of guys like Ronnie Lott and Lynn Swann.
Some of the other UCLA football players who went on to play in the NFL were guys like Steve Bono, Jay Schroeder, Donnie Edwards, Carnell Lake, Jamir Miller, Jonathan Ogden, Ken Norton, Jr., and Roman Phifer.
Edwards played professionally for the Chiefs and Chargers—both rivals of the Raiders—but he was such a great guy during the times we'd crossed paths that it was tough to root against him.
Same goes for Phifer, who was a member of the tuck-rule Patriots who beat my Raiders. I'd actually watched the Rams win the Super Bowl the year before with Phifer at a party one year after he'd left the Rams to join the Jets.
As a UCLA basketball fan, it wasn't much different.
Reggie Miller was my favorite college player as a kid. But when he got drafted by the Pacers, I knew I wouldn't have to worry about him. It's not like he got drafted by the Suns or the Blazers, or (heaven forbid) the Boston Celtics.
After Reggie it wasn't much different. Most of the guys that went to the NBA before 1995 were guys like Tracy Murray, Don MacLean, Pooh Richardson, and Trevor Miller. They were never good enough to stand in the way of the Lakers' championship aspirations.
The 1995 championship team had seven guys who would end up getting drafted—Ed and Charles O'Bannon, Tyus Edney, Toby Bailey, J.R. Henderson, George Zidek, and Richard Petruska.
None of them had good NBA careers, though, so again I dodged the nightmare scenario.
There are 14 UCLA Bruins currently in the NBA—second only to Duke with 15 (but that's only if you include Shavlik Randolph).
There's also Jrue Holiday, Ryan Hollins, Jason Kapono, Baron Davis, Earl Watson, Kevin Love, Trevor Ariza, and Darren Collison. All of whom are on teams that missed the playoffs.
Luc Richard Mbah a Moute and Dan Gadzuric of the Bucks made the playoffs, but I think it's safe to say the Lakers and Bucks won't be playing for an NBA title any time soon.
Jordan Farmar has the distinction of being one of the few guys to play high school ball in Los Angeles before going to UCLA and then getting drafted by the Lakers.
But it's the rest of the list that scares me. There are three other Bruins who are not only in the NBA but could potentially stand in the way of the Lakers winning another championship—Oklahoma City's Russell Westbrook, the Denver Nuggets' Arron Afflalo, and the Orlando Magic's Matt Barnes.
There's a chance that the Lakers will have to get through the Thunder, the Nuggets, and the Magic on their way to back-to-back titles, and those three guys all play pivotal roles for their respective teams.
Westbrook has already played major role in the Lakers' first-round series with the Thunder. It was Westbrook's dunk on Lamar Odom that swung momentum in the Thunder's favor in Game Three.
But it was Kobe Bryant's defense on Westbrook that might have swung the momentum back to the Lakers' side in Game Five.
Afflalo had as much success defending Bryant this season as anyone in the NBA, with the Nuggets winning two of the three games in which Bryant played—including this incredible block on Kobe in a game in which the Lakers won but Afflalo held Kobe to 3-for-17 shooting.
Barnes and Bryant almost came to blows in a game between the Magic and Lakers back in March. I wanted to jump through the TV and intervene.
Barnes might have been my favorite Bruin of all time.
I have a special place in my heart for Barnes and Watson—two guys who were the least-heralded members of important recruiting classes and stayed for four years, getting better every year.
And suddenly Barnes was the most hated guy in Lakers Nation.
I guess the safest thing to do when those paths cross is to put all allegiances to the college guys aside during the games and go back to rooting for them once the game or series is over.
After all, it's not like they have any allegiance to me.
---
Andrew Ungvari is a Senior Writer for Bleacher Report and co-lead blogger for basketball Web site SirCharlesInCharge.com.
Follow him on Twitter.
This article is
What is the duplicate article?
Why is this article offensive?
Where is this article plagiarized from?
Why is this article poorly edited?

Los Angeles Lakers: Like this team?