Haden Allows Browns To Unleash The Dawgs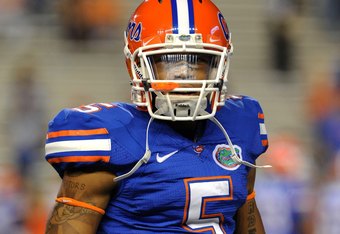 Al Messerschmidt/Getty Images
Why would the Browns not address the front seven (7) of one of the poorest pass rushes in the league? What would be going through Holmgren and Heckert's minds that they would not think to grab an elite pass rusher early in the draft. It can only be one reason…they are smart and know how to build a franchise.
Gerald McCoy and Ndamukong Suh have the potential to be explosive dynamic pass rushers, but history has shown an investment that high for a defensive lineman rarely pays dividends. Don't forget the hype machine around Glen Dorsey, Dewayne Robertson, Gerard Warren, Darrell Russell, Russell Maryland and Dan Wilkerson?All high draft picks, but none played at the level deserving of being picked so high in a draft.
In a 3-4 scheme the defensive line is supposed to eat up blockers allowing the linebackers free access to the backfield. The strength of a 3-4 defense is being able to attack from anywhere on the field with blitzing linebackers, corners or safeties. Blitzing leaves the defensive backfield exposed for big plays through the air. This fact does not permit the Cleveland Browns to utilize the 3-4 scheme to its fullest.
When the Browns played the Steelers in their second go-round Ryan trusted his defensive backs to cover which allowed him to Pressure the quarterback. Ben Roethlisberger has never been hounded like that from any Browns defense in recent memory. Ben was assaulted from all angles from the Brown back up players. What did that lesson teach the Cleveland Browns? If the defensive backfield is shored up the rest of the defense can employ a more complex blitz package.
The Browns went after physical run stopping defensive backs. When the safety they coveted (Eric Berry) came off the board to the Chiefs, there was little doubt Haden would be the pick. Haden is a good open field tackler as well as an improving cover man. His long arms and range can make him effective in single coverage. He is physical at the line of scrimmage and will have to be in the AFC North.
Mangini and Ryan had enough tape of their defensive backs missing open field tackles turning six (6) yard plays into twenty yard (20) plays or touchdowns. Haden allows the Browns to press receivers while sending pressure from the other areas on the defense.
TJ Ward is known as a hard hitting safety who has overcome injuries and hardship. He is a high character player that should instantly upgrade the safety spot. The injury concerns followed Adrian Peterson into the pros too, so TJ is in good company.
Larry Asante is a physical carbon copy of TJ Ward a physical hard hitting defensive back that adds depth as well as instant help on special teams. There has been a clear message sent to the rest of the AFC North that they are ready to play more aggressively
Rome was not built in a day, and the Cleveland Browns will take a few years to return to their glory days of old. It is clear that there is now a "type" of player that fits this new version of the Cleveland Browns: Smart, high character, Athletic, and physical.
There is a clear direction for the first time for not only the team in Cleveland, but the fans who have served as a punch line for so many years. With outstretched arm Holmgren has pointed in a direction and for now all seem to be following. There is nothing left to do but wait and see if the combination of Heckert, Holmgren, and Mangini can break the spell of mediocrity that has plagued this franchise since its return.
This article is
What is the duplicate article?
Why is this article offensive?
Where is this article plagiarized from?
Why is this article poorly edited?

Cleveland Browns: Like this team?