2011 NFL Mock Draft: Quarterback Class Reminiscent of 2004's Trio?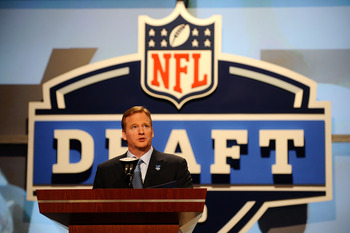 Although it may seem a bit early to speculate about next year's NFL Draft, rest assured that general managers and scouting personnel are already working on next year's draft boards.
Next year's draft class simultaneously possesses a lot of depth and elite talent at key playmaking positions. The quarterback and wide receiver positions are loaded—in particular—with college stars Jake Locker and Julio Jones leading the pack.
This in mind, it's all fun and games as I give my very rough takes on how next year's draft will play out; note that most of my projections are based on a blend of team need and relative talent, so take it for what it's worth.
1) Kansas City Chiefs: JAKE LOCKER, QB, Washington
Kansas City will struggle mightily next year, and I think that they will tally enough losses to find themselves in top draft position next year.
Should the Chiefs find themselves in this unflattering position, they will definitely need to draft a centerpiece player—that player will be a quarterback. While the cupboard in Kansas City is quite bare in many positions, teams that possess the top draft pick need franchise quarterbacks and the Chiefs are no exception.
While I believe that Matt Cassel is more than serviceable as a quarterback, his ceiling isn't mouth-watering. Considering he is due a $7.5 million option bonus before the 2011 season, he will be released should the Chiefs struggle.
This will clear the way for Kansas City to draft the franchise quarterback they should have drafted last year—Jake Locker. Under the guidance of Steve Sarkisian and his pro-style offense last season, Locker refined his accuracy and catapulted himself into first-round consideration. Already freakishly athletic, strong-armed, and mobile, another year with Sarkisian should develop Locker into a refined, NFL-ready quarterback.
2) Tampa Bay Buccaneers: A.J. GREEN, WR, Georgia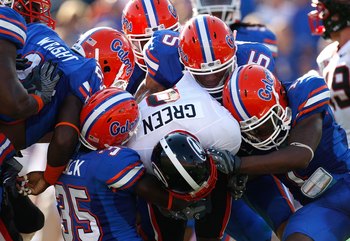 The cupboard in Tampa Bay isn't that much better than it is in Kansas City. The Buccaneers, however, have a potential franchise quarterback in Josh Freeman. At the very least, the Bucs have a young quarterback they are willing to invest in.
That said, Tampa Bay has done a poor job surrounding Freeman with offensive weapons—they are relying on washed-up goods at running back, wide receiver, and tight end. Even though the Bucs' offensive line is poor as well, the Buccaneers are rightfully still in the "draft-the-best-player-available" mentality.
The player will be 6'4" freak A.J. Green from Georgia., who will draw natural comparisons to fellow Georgia-school alum Calvin Johnson. He can run, catch, break tackles, and do everything else. Green has been spotted as a star from the beginning—he was a heralded five-star recruit—and will not disappoint in the NFL.
3) St. Louis Rams: GREG ROMEUS, DE, Pittsburgh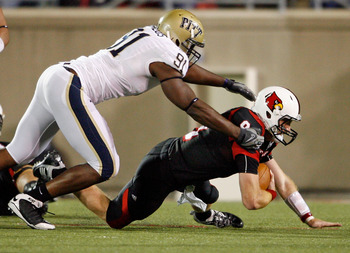 St. Louis Rams general manager Billy Devaney drafted his franchise quarterback in this year's draft, and will look to add pieces to a Rams puzzle in the 2011 Draft.
Considering Steve Spagnolo's defensive philosophy, I expect St. Louis to draft sack (and tackle-for-loss) machine Greg Romeus. While the Rams have many positions of need, Romeus would form an extremely intimidating and promising tandem with Virginia alum Chris Long and give the Rams a good defensive pair that could anchor an emerging defense.
Romeus would also naturally be appointed the heir to Leonard Little. Although he isn't the speediest guy around, he has power and good hands. Reminds me of Mario Williams, which is a pretty good comparison...
4) Cleveland Browns: JULIO JONES, WR, Alabama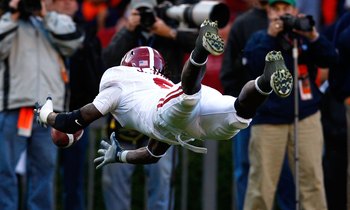 If A.J. Green is a physical specimen, Julio Jones is pretty much the same. Crisp as a route-runner and dynamic after the catch, Jones will make plays in the NFL.
He should be making plays for Cleveland Browns should things play out properly. Mohamed Massoquoi isn't fit to be a top receiver, and is indicative of the Browns' WR corp—extremely poor. Cleveland has no offensive playmakers (Cribbs is not a playmaker on offense), but drafting Julio Jones would change that.
5) Detroit Lions: PATRICK PETERSON, CB, LSU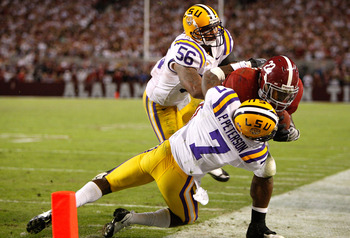 Jim Schwartz is building what could be a pretty good on-field product, and I think the Lions could move past the stage where they have to draft the best player on the board and fill team needs (within reason).
Detroit needs any sort of cornerback, and Peterson (formerly known as Johnson) could fill that shutdown void. He can cover and can measure with the quickest and biggest that the NFL has to offer. The Lions will want to take all 6'1" of Peterson and develop him into a superstar.
6) Denver Broncos: ADRIAN CLAYBORN, DE, Iowa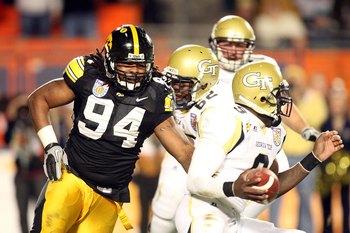 Josh McDaniels and company threw this draft's biggest curveball with the selection of Tim Tebow. With the quarterback void figuratively covered and offensive corp boosted with youth, Denver should shift their attention to filling defensive needs.
Denver possessed one of the worst defenses only a few years ago, and many of those pieces still linger in the Broncos' current roster. Furthermore, the Broncos are still trying to figure out how to fit their personnel to their 3-4 scheme.
Clayborn is an impressive DE who is sound enough to play in the 4-3 and strong enough to have an impact as a 3-4 end as well. Clayborn has all of the fundamentals and talent to boot, and could be a cornerstone piece of the Broncos defense.
7) Buffalo Bills: ANDREW LUCK, QB, Stanford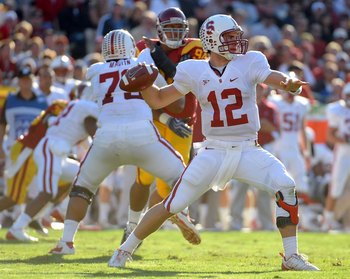 The Bills need a quarterback, and they'll finally get a franchise quarterback. Plus the Bills will have two quarterbacks from the bastion of higher learning on the West Coast.
Luck can make all of the throws, has good mental makeup, and is mobile. He'll be a good pro passer.
8) New England Patriots (from Oakland): MICHAEL FLOYD, WR, Notre Dame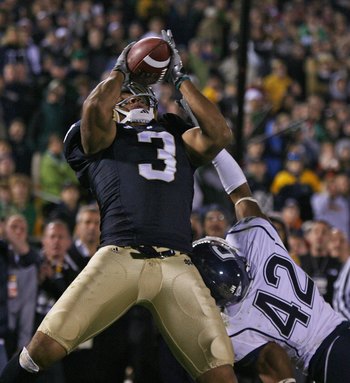 The Patriots acquired this pick from Oakland for Richard Seymour, and good thing they did. New England has a few needs on both offense and defense, and a top-10 pick should net them an impact player that could help them become serious contenders for the championship again.
While I think New England's most obvious weakness is in their linebacker corp, there are no linebackers that I think currently project as top-10 picks. New England thus takes the best player on the board in Floyd, who also happens to fill a position of future need in WR.
With Moss aging and Welker questionable after his latest injury, Floyd with his speed and size (a recurring theme in this draft) will add some spunk back into the Patriots offense.
9) Seattle Seahawks: ALLEN BAILEY, DT, Miami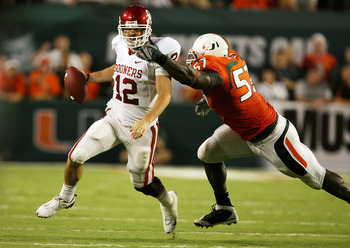 Pete Carroll continues his rebuilding project by filling a huge hole in the middle of the defensive line. Bailey is a quick interior player that can get to the quarterback, and he hold ups against the run. Should he add a few more pounds, he could very well be an impact DT that anchors an otherwise young and solid Seahawks defense.
10) Jacksonville Jaguars: TRAVIS LEWIS, OLB, Oklahoma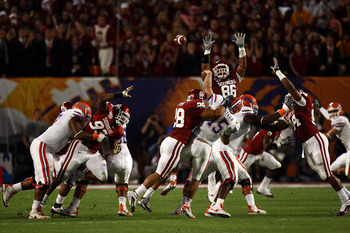 Jacksonville proved that the mantra "only one team needs to like you" is true, and they'll apply the same principle in next year's draft. Jacksonville needs to improve its linebacker corp, and they'll reach a small bit to grab the stud from Oklahoma.
Lewis is a complete linebacker that excels at rushing the passer, and he could bring the spark another DE/DT (positions of need the Jaguars could also draft) might not provide.
11) Carolina Panthers: ROBERT QUINN, DE, North Carolina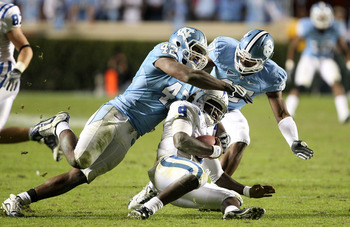 The Panthers, fresh off being handed their franchise quarterback in the second round of the 2010 Draft, fill another need in the 2011 Draft with the selection of defensive Robert Quinn.
Quinn, who perhaps would be anointed as Julius Peppers' heir in Charlotte, sacks, tackles for losses, forces fumbles, and does everything a defensive end should do.
12) Chicago Bears: JONATHAN BALDWIN, WR, Pittsburgh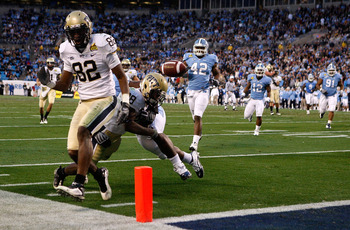 Jay Cutler finally gets a target to throw to in Jonathan Baldwin, and a big and fast one at that. Baldwin is perhaps the biggest specimen out of the trio of elite receivers in the 2011 draft, and should provide be able to mask Cutler's mediocrity pretty well.
13) Pittsburgh Steelers: MARCEL DAREUS, DE, North Carolina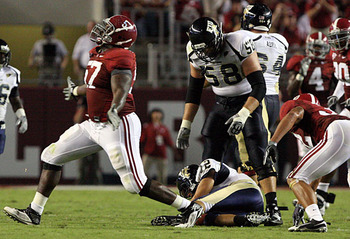 The Steelers fill an aging position with the mercurial talent from Alabama. He's quick against both the pass and the run, and has room to grow.
14) Arizona Cardinals: RYAN MALLETT, QB, Arkansas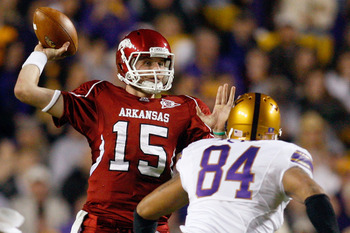 The Cardinals get their franchise quarterback and gunslinger that will maximize targets Fitzgerald and Breaston.
15) Tennessee Titans: CAMERON HEYWARD, DE/DT, Ohio State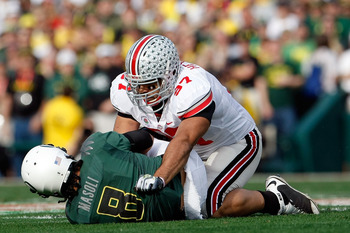 The Titans fill a position of need with this pick, and Heyward's probably the best on the board. He can play both DE and DT, although he'd be a bit undersized as a 4-3 DT. Still solid on all fronts as a football player.
16) Atlanta Falcons: CLINT BOLING, LT, Georgia
The Falcons fill a position of need with the quick-footed, NFL-ready tackle from home-state Georgia.
17) Miami Dolphins: RAHIM MOORE, FS, UCLA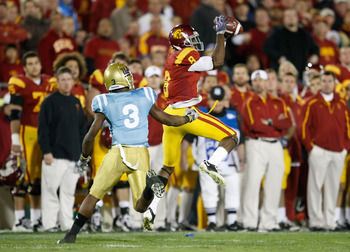 The Dolphins fill a position of need they couldn't fill in free agency by picking the ball-hawk Moore, who had 10 interceptions as a sophomore at UCLA.
18) Washington Redskins: GABE CARIMI, OT, Wisconsin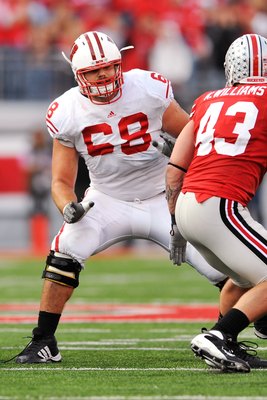 Washington select one of the best players on the board and further solidifies their offensive line by selecting Carimi and moving him to RT. A solid pass blocker and really good run blocker will give the Redskins a pair of young stud tackles.
19) Cincinnati Bengals: MARVIN AUSTIN, DT, North Carolina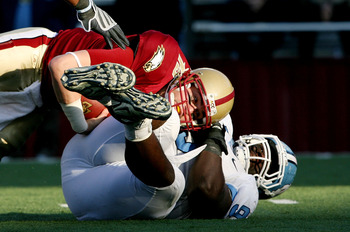 The Bengals, who started Tank Johnson last year at DT, fill a position of need by taking Austin from North Carolina. Austin is solid against the run and can rush the passer on occasion, but he possesses immense athleticism and potential. That alone will have Cincinnati take him.
20) San Francisco 49ers, JOSEPH BARKSDALE, OT, LSU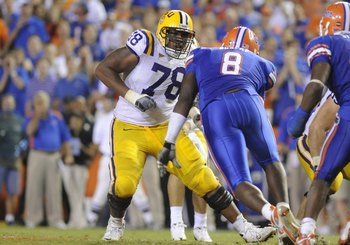 The 49ers draft a cornerstone left tackle in Joseph Barksdale, a huge and athletic tackle from LSU. Barksdale can block and firmly plant himself as a starter on the San Francisco offensive line for the next decade, end of story.
21) New York Giants: MARK INGRAM, RB, Alabama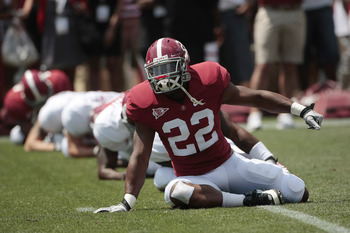 Rest assure that Mark Ingram won't fall this far in the real rendition of the 2011 NFL Draft, he falls to the Giants' lap in this mock version. Giants again take the best player available (that finally isn't a defensive end) and draft themselves a franchise runner that could reinvigorate their sub-par run game.
22) New England Patriots: JARED CRICK, DT, Nebraska
The Patriots give Maroney a second chance and fill a need by drafting Crick (who seemingly would be Wilfork's successor), who was instrumental to fellow Husker Suh's success last college season. Crick is a force in the middle and swallows up the run game.
23) Philadelphia Eagles: MARK BARRON, S, Alabama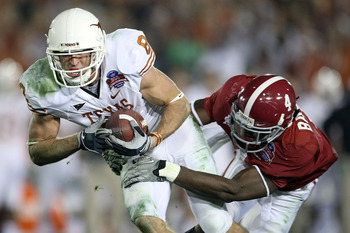 The Eagles find a playmaking safety that could fill Dawkins' shoes with Barron from Alabama, who is skilled as both a ball-hawk and tackler in the box.
24) Baltimore Ravens: MATT REYNOLDS, OT, BYU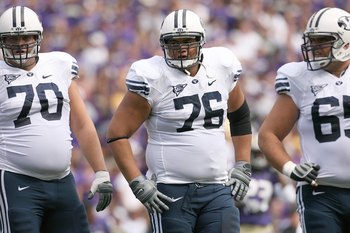 The Ravens fill their LT hole with Reynolds, who will upgrade any offensive line from the get-go. Reynolds is solid and agile and the Ravens will be glad to have his savvy. Some analysts question his ability to play left tackle in the NFL because he isn't impressively athletic, but Oher's versatility should make this a no-issue.
25) New York Jets: MIKE POUNCEY, OG, Florida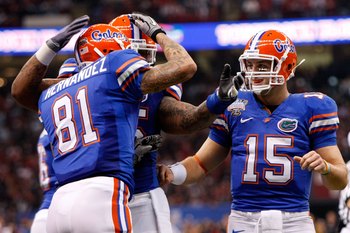 The Jets, after acquiring loads of playmaking talent this off-season, solidify their offensive line with Mike Pouncey, twin brother of Steeler's first-round selection Maurkice Pouncey. Solid and versatile guard who can really run-block.
26) Houston Texans: RYAN WILLIAMS, HB, Virginia Tech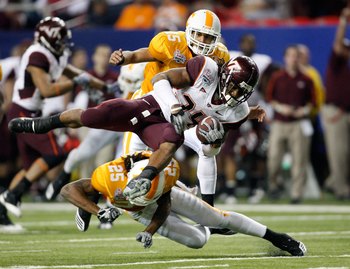 The Texans have bigger needs to fill in the secondary, but are in the position to take the best player available and do so. Ryan Williams is an extremely dynamic and complete runner who just makes plays—Slaton would compliment well as a change-of-pace back. Williams could be the feature back that makes a Virginia alum Schaub-led Houston's offense not just scary good, but dangerously elite.
27) Minnesota Vikings: PAT DEVLIN, QB, Delaware
I really can't see Brett Favre returning for another season, no matter if Minnesota wins or does not win the Super Bowl. At the very least, I can't really envision the Vikings front office tolerating another off-season of on-the-cliff tension and drama contingent on the whims of Favre.
I truly do think that Minnesota will try and move up to grab one of the trio of elite QB's in this draft class, although they will probably grab Devlin should they stay put—Devlin's not a bad option either.
Devlin, formerly a quarterback at Penn State, is a talented, big-armed quarterback who transferred out of a Pennsylvania college and into Delaware, like another NFL star we all know and love. If Devlin has a big senior year, he could be a late first-round prospect like fellow Hen Joe Flacco.
28) Dallas Cowboys: RAS-I DOWLING, CB, Virginia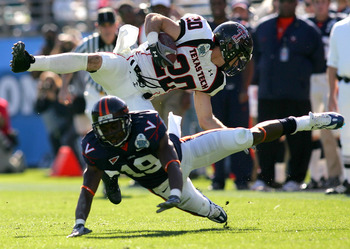 The Cowboys take Wahoo Ras-I Dowling, a big and fast corner that is one of the best players left on the board. Dowling returns to the Virginia football wasteland this season hoping to improve his tackling and overall awareness, and could prove to be a great steal for the Cowboys should they take him, and a successor to Terrance Newman as Newman ages.
29) New Orleans Saints: BRANDON HARRIS, CB, Miami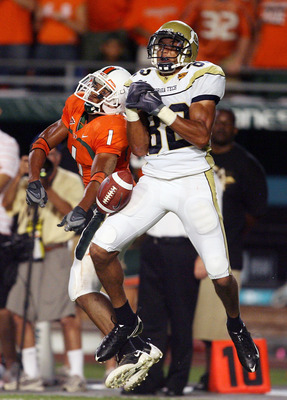 The Saints continue to improve their secondary with Brandon Harris, who is an exceptional on-ball defender and plays the game very intelligently. Harris has a knack for making plays, and fits the defensive mentality that brought the Saints much success last season.
30) Indianapolis Colts: STEFEN WISNIEWSKI, C, Penn State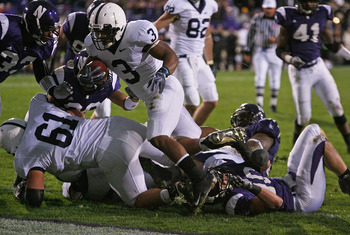 The Colts eventually need to find successors to some of their older players on the offensive line, and Stefen Wisniewski could easily and successfully step into the shoes of Jeff Saturday at the center position. A smart Big 10-type of lineman, Wisniewski is physical, productive and instinctive.
Hopefully his 3.8-some GPA doesn't frighten teams, because I hear he could compete for some major academic honors as well.
31) Green Bay Packers: KYLE RUDOLPH, TE, Notre Dame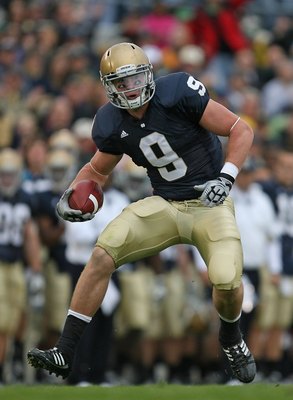 The Packers, who are generally solid in all positions, take the best player off the board and give Aaron Rodgers yet another threat in the passing game. Rudolph can block and catch balls vertically and down the middle.
32) San Diego Chargers: CURTIS BROWN, CB, Texas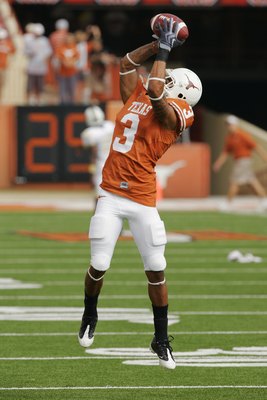 The Chargers draft in a position of seemingly perpetual need and find a physical clone of Antonio Cromartie (who isn't as mentally stupid). Tall, physical, and fast, he pairs with fellow Longhorn Jammer to rekindle what was a good secondary a few years back for the Bolts.
Keep Reading