Should The Big 12 Conference Expand and Add Utah and BYU . . . Now?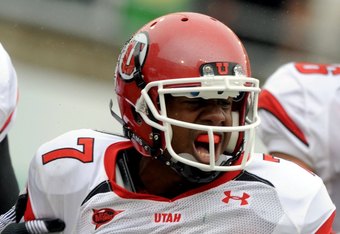 Steve Dykes/Getty Images
For all intents and purposes, since last December the Big 10 has held the college sports world by its cojones. Fans, conference commissioners and university presidents around the country are both sweating and nervously awaiting the Big 10's next move. The tension has only increased as rumors fly that that the Big 10 may be seeking to create a 16 team super conference by either carving up the Big East, Big 12 or both. Schools to be targeted in this new conference from the Big 12 possibly include Nebraska, Kansas and Missouri and the unlikely longshot Texas. On the left coast of the country as well, the Pac-10 is thought to be seriously considering stealing away Colorado and expanding itself.
However you break it down, at least, 4-6 Big 12 schools right now are being linked to other conference's expansion plans.
Around the Big 12 Conference the spectre of Big 10 and Pac-10 expansion has been met with relative disbelief as it is widely believed that 1) the Big 10 will look East, 2) even if the Big 10 wanted a Big 12 school, like Missouri or Nebraska, they would be spurned by athletic directors and fans loyal to the Big 12 and 3) even if the Big 12 would lose 1-2 teams, like Missouri and Colorado, they could easily be replaced by old SWC schools like TCU, SMU or Houston.
While I admit the thought of Colorado leaving the Big 12 does not threaten the Big 12 conference's existence or relative strength, the notion that the Big 10 may add 5 schools is another matter entirely. While originally the media focus for Big 10 expansion was on Missouri, Pittsburgh and then later Rutgers, the discussion has shifted in recent weeks to the possible grouping of Big 12 schools Nebraska, Missouri and Kansas with a New York media market team and Pittsburgh. This idea has arguably more appeal across the entire Big 10 landscape because it is known that the westernmost Big 10 schools, like Iowa and Wisconsin, would value new conference members and rivals on their borders more than New Jersey and western New York. And humorously enough too, it is only recently that the Chicago media reports have uncovered the cashcow that is Nebraska Cornhuskers athletics (second only to Texas in the Big 12).
The question then, in my opinon, is what steps should the Big 12 take if any to counter the threat of Big 10 and Pac-10 conference expansion? As of now, Dan Beebe the Big 12 commissioner has chosen to be a passive observer to this drama as it unfolds.
In contrast, the Big East has hired former NFL Commissioner Paul Tagliabue to throw bombs at the Big 10 Conference criticizing their method and timeframe for expansion while the SEC commissioner Mike Slive, who arguably has the least to fear from the prospect of Big 10 expansion, has let it be known that the SEC will not stand idly by if a super football conference emerges in the Midwest. In short, Slive seems to be suggesting that if the Big Ten appears to be on the verge of becoming a 16-team super conference the SEC will follow suit.
Where does this leave the Big 12? I don't know, however, I would like to see Dan Beebe become more aggressive consider Big 12 conference expansion even before the Big 10 and Pac-10 show their hands.
One way to do this I feel, would be to immediately begin looking into the possibility of adding Utah and BYU to the Big 12 for the 2011 season. If the Pac-10 expands it will likely want to add Utah and Colorado, but definitely not BYU because of its religious affiliation and conservative politics which are an anathema to Berkeley and Los Angeles.
The Big 12 could one up the Pac-10 and invite Utah with BYU, a proposition that would no doubt greatly appeal to the two in-state rivals. BYU's religious affiliation and conservative politics would be less of a problem in the Big 12 too, where already one private, religious and deeply conservative school is a member (Baylor).
The addition of Utah and BYU to the Big 12 would make the conference stronger and possibly more appealing to schools thinking about bolting for greener pastures. Utah and BYU would add a sizable media market in Salt Lake City, a large devoted Mormon following around the country (think TV ratings) and two excellent perennial Top 25 football and basketball programs.
To conclude, its just an idea but it is one worth considering I think. It is well know that the Big 12 already owns the trademark for the "Big 14," so why isn't Beebe more actively pursuing this possibility?
It certainly makes more sense to me for the Big 12 to be the aggressor now and make a play for quality universities like BYU and Utah before they are snatched away by other major BCS conferences.
This article is
What is the duplicate article?
Why is this article offensive?
Where is this article plagiarized from?
Why is this article poorly edited?

Nebraska Huskers Football: Like this team?