The 2010 NFL Mock Draft for NHL Fans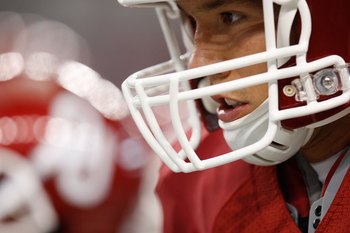 As a featured columnist for the NHL here on Bleacher Report and an avid hockey fan, you have a better chance at catching Tiger Woods in sex therapy than me writing about a sport other than the NHL. But seeing as the 2010 NFL Draft is such a big deal, I figured I'd throw my two cents in here.
The only difference between this mock draft and the others you've probably read is that there are going to be a lot of NHL references in this one—I wouldn't be doing my job if I didn't at least once reference Barry Melrose's infamous mullet.
Seeing as I've written about the NFL fewer times than Joe Namath has been drunk on live television, don't expect a ton of expert advice here. There will be some insight, but probably more hockey than anything.
1. Sam Bradford (QB—St. Louis Rams)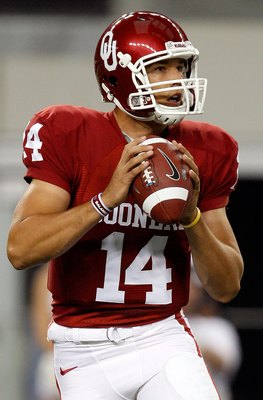 Duh, like Sidney Crosby in 2005, even I know Bradford is going first overall.
2. Ndamukong Suh (DT—Detroit Lions)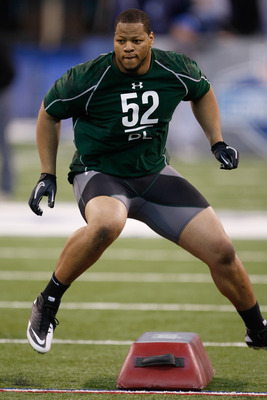 Like most players in the NHL, Suh has an aggravatingly tough name to spell—reminds me of Viacheslov Fetisov.
3. Gerald McCoy (DT—Tampa Bay Buccaneers)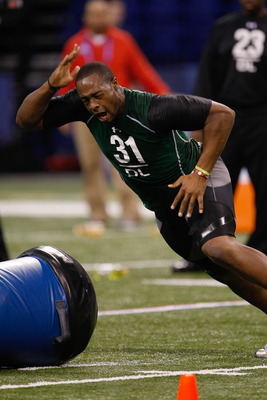 Any idiot who knows very little about the NFL draft and cares more about hockey could tell you that McCoy is going third...so I am.
4. Russell Okung (OT—Washington Redskins)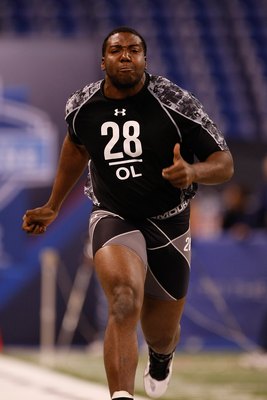 Okung is pretty big at 6'5", 305 pounds, but Zdeno Chara is slightly more intimidating at 6'9", 260 pounds.
5. Bryan Bulaga (OT—Kansas City Chiefs)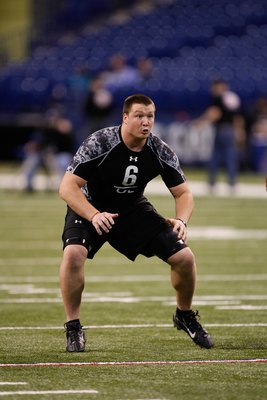 The Chiefs will be looking to improve their atrocious offensive line, and Bulaga will be a perfect fit. Kansas City doesn't have a hockey team, but it might one day.
6. Trent Williams (OT—Seattle Seahawks)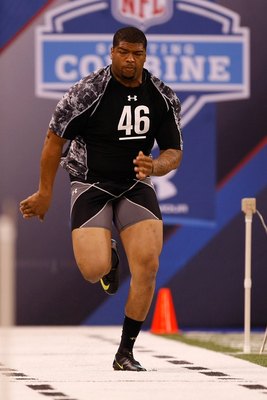 Seattle is close to Canada—why doesn't it have a hockey team?
7. Eric Berry (S—Cleveland Browns)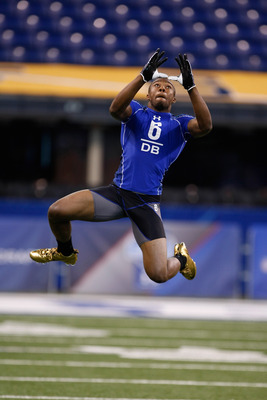 Assuming the Chiefs don't take him at with the No. 5 pick, Berry will definitely be playing for the Browns next season. Cleveland doesn't have a hockey team, and it probably never will.
8. Bruce Campbell (OT—Oakland Raiders)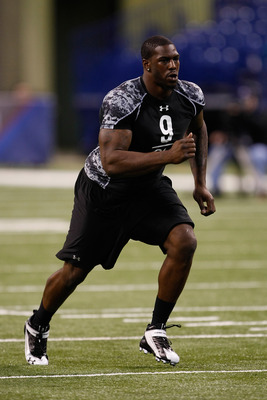 This pick would make the most sense, but I know Al Davis is a worse GM than Glen Sather is with the New York Rangers, so he probably won't take Campbell.
9. Jimmy Clausen (QB—Buffalo Bills)
He's no Ryan Miller, but Clausen will more than likely be a fan-favorite in Buffalo.
10. C.J. Spiller (RB—Jacksonville Jaguars)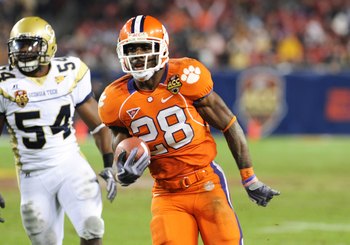 Spiller is as fast as Pavel Bure used to be. Too old of a reference, football fans?
11. Dez Bryant (WR—Denver Broncos)
With Brandon Marshall gone, Bryant will do just fine in Mile-High City. Another rookie in Colorado—Bryant would fit in perfectly with the Avalanche.
12. Dan Williams (DT—Miami Dolphins)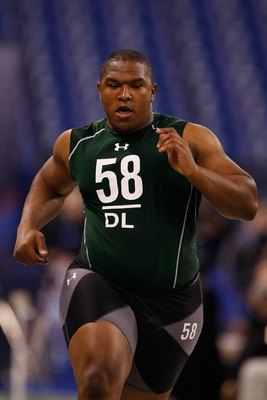 A 40-yard dash time of 5.19 makes Williams slower than 48-year-old defenseman Chris Chelios.
13. Joe Haden (CB—San Francisco 49ers)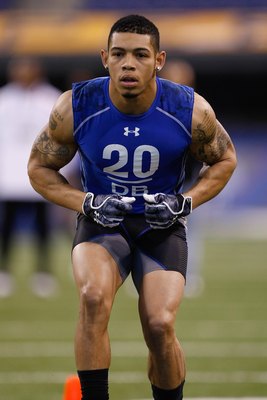 Some people have Haden ranked higher than this, some have him lower, but he will go at No. 13. Nate Clements is out in San Fran, and Haden is in. No witty hockey remark available.
14. Earl Thomas (CB—Seattle Seahawks)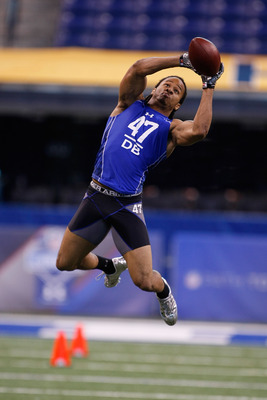 He stole his hair from Anson Carter—formally of the Boston Bruins, Edmonton Oilers, New York Rangers, Washington Capitals, Los Angeles Kings, Vancouver Canucks, Columbus Blue Jackets, and Carolina Hurricanes.
15. Rolando McClain (ILB—New York Giants)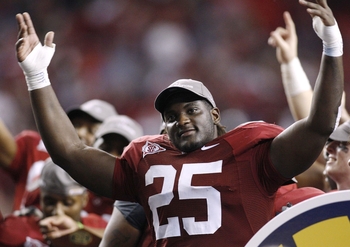 McClain will be the first linebacker to go in this year's draft but not until No. 15—similar to Jonathan Bernier being the first goalie drafted at No. 11 in the 2006 NHL Draft.
16. Derrick Morgan (DE—Tennessee Titans)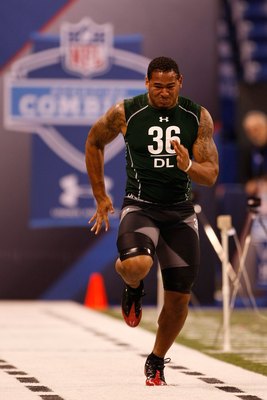 Morgan will be the best draft choice a Tennessee team has made since taking Shea Weber 49th overall in the 2003 NHL Draft.
17. Anthony Davis (OT—San Francisco 49ers)
Davis' size will be the biggest thing to hit the Bay Area since the San Jose Sharks became an expansion team in 1991.
18. Maurkice Pouncey (C—Pittsburgh Steelers)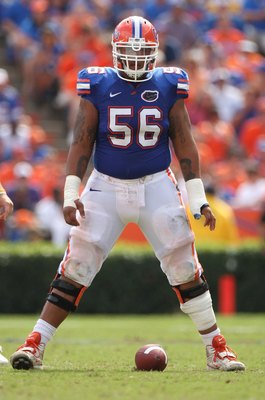 Pouncey is going to be the next big face in Pittsburgh behind Sidney Crosby. OK, that's a lie, but he'll be a great fit for the Steelers.
19. Jason Pierre-Paul (DE—Atlanta Falcons)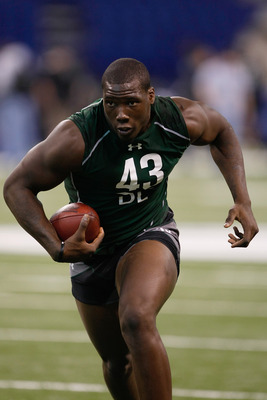 At least his name sounds like it could be French Canadian.
20. Ryan Matthews (RB—Houston Texans)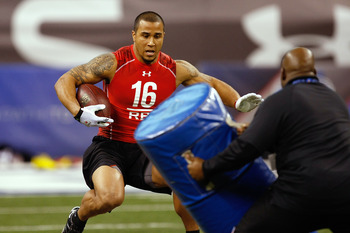 The Texans could use a cornerback like Earl Thomas, but since he's going at No. 14, Matthews will be the likely choice. He should fit right in with Houston's running game. How's that for an NHL analyst?
21. Jermaine Gresham (TE—Cincinnati Bengals)
Bengals fans aren't too happy that they have to travel all the way to Columbus to get their hockey fix, but Gresham should make things easier for their football season.
22. Jared Odrick (DT—New England Patriots)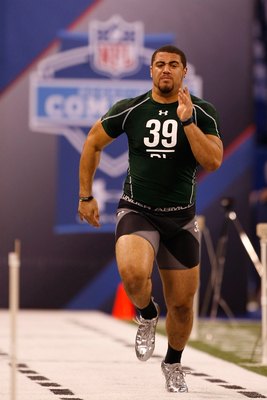 Kind of has hair like Barry Melrose...not.
23. Kyle Wilson (CB—Green Bay Packers)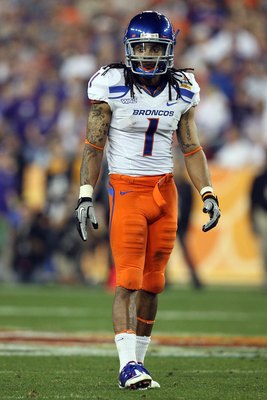 After last season's wild-card game, it's obvious that the Packers have a worse defense than the Florida Panthers.
24. Mike Iupati (G—Philadelphia Eagles)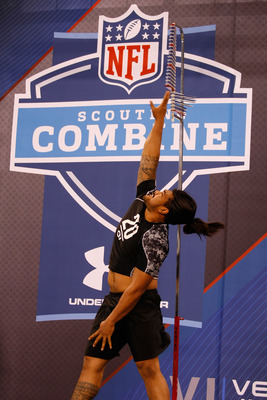 There has never been a hockey player from American Samoa—doubt there will be anytime soon.
25. Brandon Graham (OLB—Baltimore Ravens)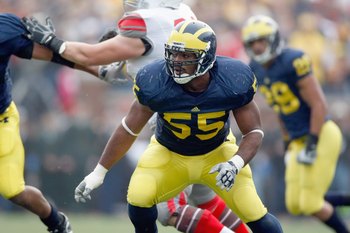 What do Graham and NHL superstar Alexander Ovechkin have in common? That's right, they both have an "A" in the their first name.
26. Sergio Kindle (OLB—Arizona Cardinals)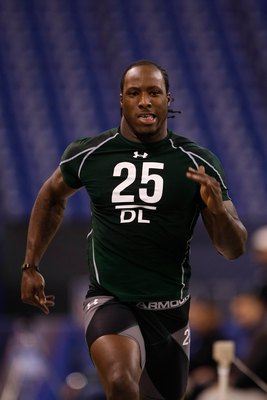 The Cardinals have some serious competition now that hockey is red-hot out in the desert.
27. Rodger Saffold (OT—Dallas Cowboys)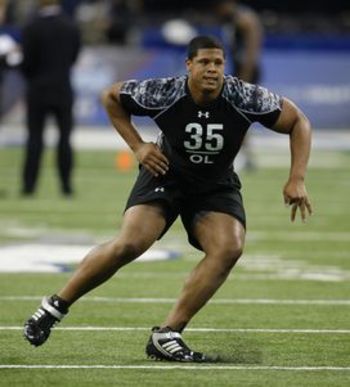 Mike Modano will probably be retiring with the Dallas Stars this season; Saffold will become the new sports icon in Dallas...obviously kidding.
28. Terrence Cody (DT—San Diego Chargers)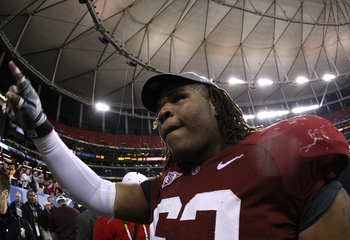 Like Anthony Davis in San Francisco, Cody's size will be the biggest thing to hit the San Diego since the Los Angeles Kings last made the playoffs...which was this season.
29. Everson Griffen (DE—New York Jets)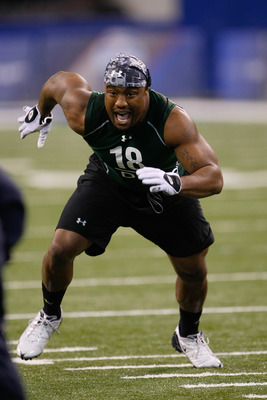 Despite his massive size—6'4" and 273 pounds—Griffen has an amazing Pro Day, running a 4.59 in the 40-yard-dash. See? Told you I knew a little football.
30. Devin McCourty (CB—Minnesota Vikings)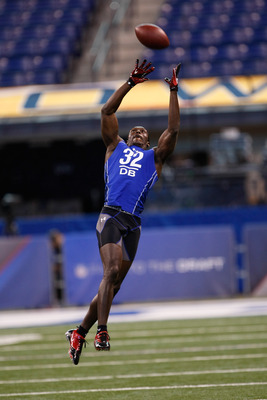 Quick hands is something this "Devin" has in common with Devin Setoguchi of the San Jose Sharks.
31. Charles Brown (OT—Indianapolis Colts)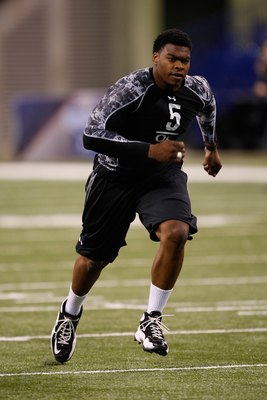 Peyton Manning can never have enough protection—similar to the Pittsburgh Penguins getting George Laraque to protect Sidney Crosby two seasons ago.
32. Sean Weatherspoon (OLB—New Orleans Saints)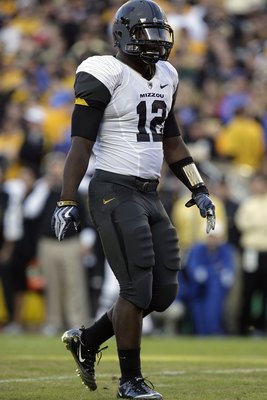 Duh, just like Vladimir Mihalik in 2005, even I know Weatherspoon is going last in the first round.
Keep Reading