Oakland Raiders 2010 NFL Mock Draft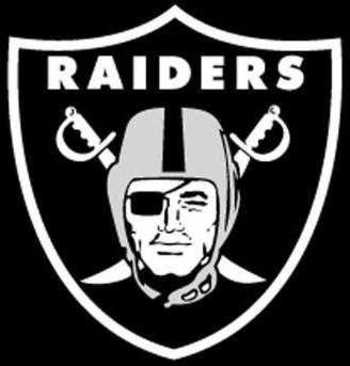 Heading into the 2010 NFL draft there are numerous possibilities, especially when it comes to the Raiders.
Going into the draft a few things should be considered:
1. Teams are allowed to have 30 players in for private workouts. Last year out of the 30 players the Raiders had in they drafted at least three; Louis Murphy, Michael Mitchell and Darius Hayward-Bey
2. Out of the last 11 first round draft picks the Raiders have taken, 10 were invited to the Raiders facility.
Draft Prospects Who Have Visited the Raiders This Year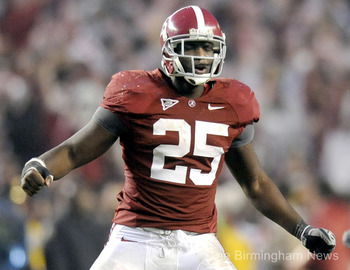 QB:
-Sean Canfield, Oregon State
-Jonathan Crompton, Tennesses
-Mike Kafka, QB Northwestern
HB
-Curtis Steele, Memphis
OL:
-Bruce Campbell, OT Maryland
-Nick Richmond, OT TCU.
-Jared Veldheer, OT Hillsdale
-Matt Tennant, C Boston College
-Marshall Newhouse. OT TCU
-Kevin Haslem, OT Rutgers
-Trent Williams, OT Oklahoma
-Ramon Harewood, OT/OG Morehouse
-J'marcus Webb, OT West Texas A&M
WR:
-Golden Tate, Notre Dame
-Trent Guy, Louisville
DB
-Stevie Brown, S Michigan State
-Andrew Sandejo, S Rice
-Kareem Jackson, CB Alabama
-Chad Jones, S LSU
LB:
-Donald Butler, ILB Washington
-Jamar Chaney, ILB Mississippi State
-Vincent Rey, ILB Duke
-Rolando McClain, ILB Alabama
-Alex Joseph, Temple
DL
-Daniel Te'o-Nesheim, DE Washington
Likely the Raiders will draft a few of these players. Also the list only has 23 players and is likely incomplete as teams are allowed to have 30 players in for visits.
First Round—Trent Williams, OT Oklahoma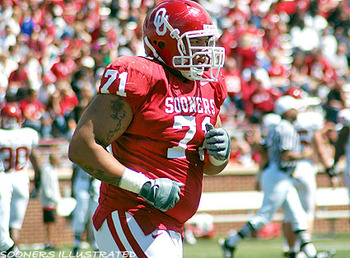 The Raiders pick an offensive tackle to shore up their porous o-line.
It is a real possibility Trent Williams will not be available when the Raiders pick. In that case they will pick the other first round prospect they had in for a visit Rolando McClain.
Second Round—Donald Butler, ILB Washington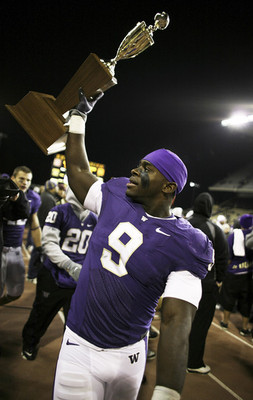 Third Round—Cam Thomas, DT North Carolina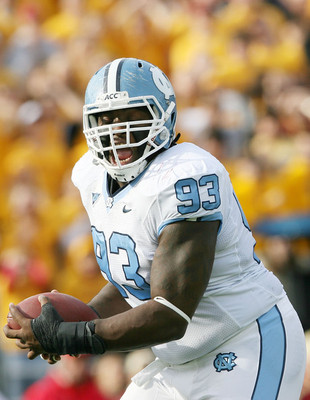 In the third round the Raiders pick up a big run stuffing Defensive tackle in Cam Thomas in order shore up the run defense. If Thomas is not available here, which is very possible, they go with Geno Atkins DT Georgia.
Fourth Round—Marshall Newhouse, OL TCU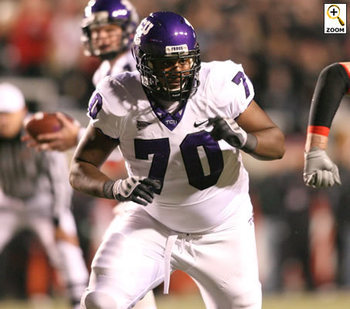 The Raiders draft Marshall Newhouse in the fourth to replace an aging Cooper Carlisle.
Fifth Round—Sean Canfield, QB Oregon State
Despite the large number of QBs already on the roster the Raiders select a QB who can be groomed on the sideline for the future.
Fifth Round—Kareem Jackson, CB Alabama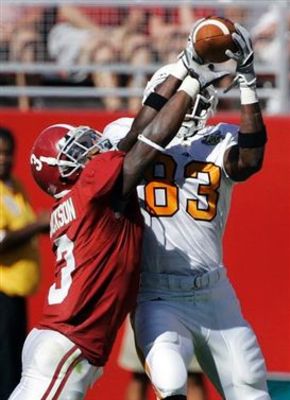 The Raiders need depth at corner, so they look to the Crimson Tide to shore up their defensive back-field.
Seventh Round—Trent Guy, WR Louisville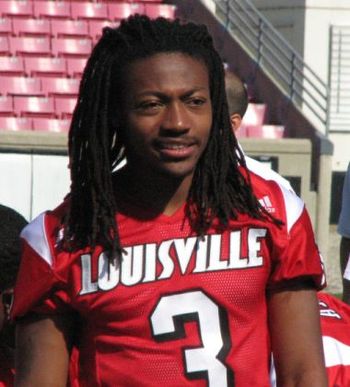 As a receiver Trent Guy has a slim chance of making the roster and likely will end up on the practice squad.
Seventh Round, Stafon Johnson RB USC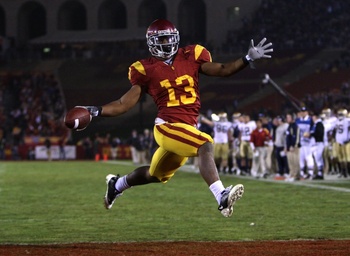 The Raiders have two good running backs already in Michael Bush and Darren McFadden.
Stafon missed his final year due to a weight lifting injury and was denied an additional year of eligibility. This won't be the first injured running back the Raiders have selected; The Raiders took Michael Bush in the 2007 draft and he spent the whole year on the PUP list recovering from a broken leg.
Keep Reading

Oakland Raiders: Like this team?