2010 NFL Mock Draft: Round 2—Final Edition
Here's my final second-round mock draft. This mock does not include trades, and is my best predictions on who the various teams will pick.
Look for my picks for the San Francisco 49ers coming either later today or tomorrow.
Comments are always appreciated, and hopefully your team picks up who you want them to.
33. St. Louis Rams—Jermaine Gresham, TE, Oklahoma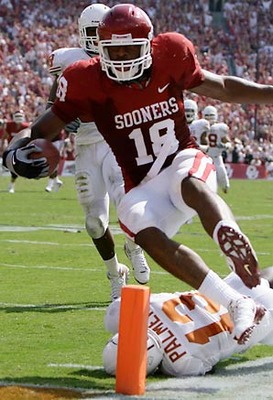 The Rams will be looking for weapons to surround Sam Bradford. The Rams could reunite Bradford with Gresham if he lasts this long.
34. Detroit Lions—Jahvid Best, RB, California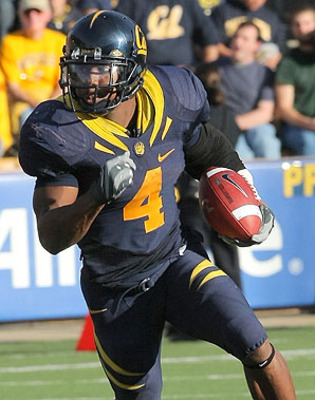 Kevin Smith had a nasty ACL tear. Best has big-play ability and gives the Lions a playmaker.
35. Tampa Bay Buccaneers—Kareem Jackson, CB, Alabama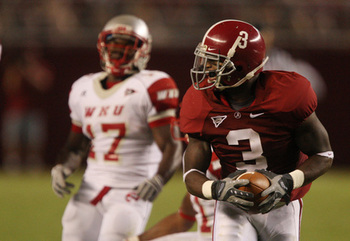 The Buccaneers find a cornerback to start across from Aqib Talib. They will look for a wide receiver later in the second round.
36. Kansas City Chiefs—Mike Iupati, G, Idaho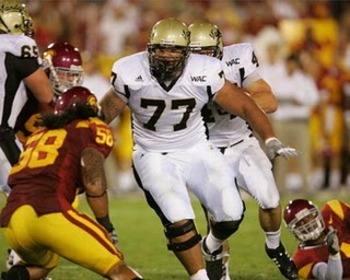 The Chiefs stay with the line. The Chiefs pick up Iupati to start at left guard on opening day.
37. Philadelphia Eagles-Taylor Mays, SS, USC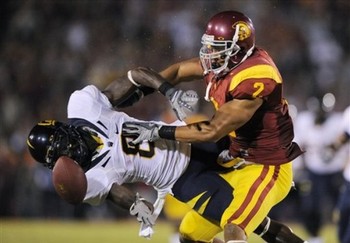 The Eagles add additional safety help by drafting Taylor Mays.
38. Cleveland Browns—Colt McCoy, QB, Texas
The Browns pick up their quarterback of the future in McCoy.
39. Oakland Raiders—Bruce Campbell, OT, Maryland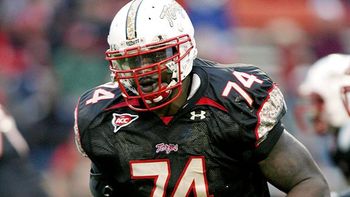 Al doesn't need to pick up Campbell with the No. 8 pick because Campbell is available at the Raiders' second pick.
40. San Diego Chargers—Linval Joseph, NT, East Carolina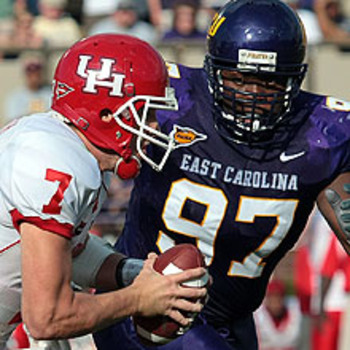 The Chargers pick up their new nose tackle.
41. Buffalo Bills—Cam Thomas, NT, North Carolina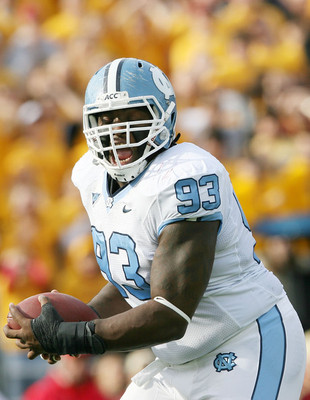 The Bills are switching to a 3-4. They will be looking for a nose tackle early in the draft.
42. Tampa Bay Buccaneers—Arrelious Benn, WR, Illinois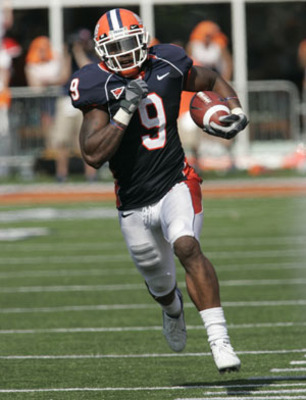 The Bucs require a No. 1 receiver for Josh Freeman to throw to. Arrelious could fit this role.
43. Denver Broncos—Damian Williams, WR, USC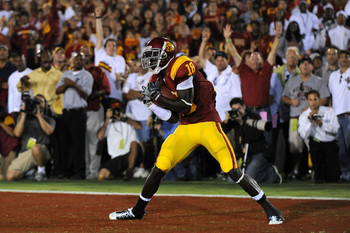 Damian Williams is one of the best route runners in the draft. Josh McDaniels will look for a receiver early in the draft to replace Marshall.
44. New England Patriots—Demaryius Thomas, WR, Georgia Tech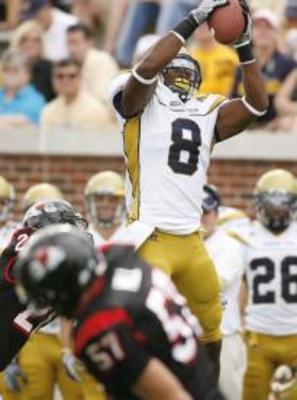 The Patriots will be looking for a big fast receiver to replace Randy Moss. Thomas played in a funky offense, but his physical talents are not to be denied.
45. Denver Broncos—J.D. Walton, C, Baylor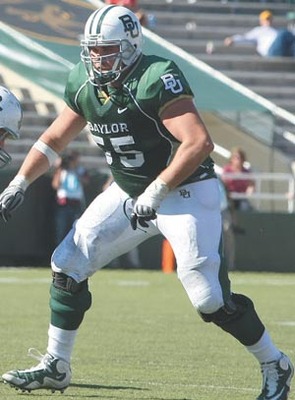 The Broncos find their starting center.
46. New York Giants—Brian Price, DT, UCLA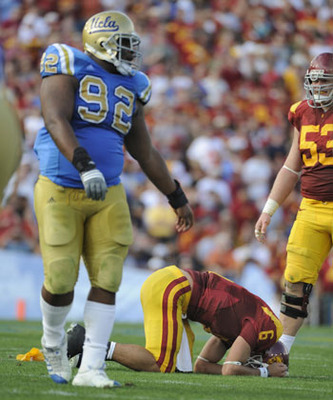 The Giants need to upgrade at defensive tackle.
47. New England Patriots—Tyson Alualu, DE, California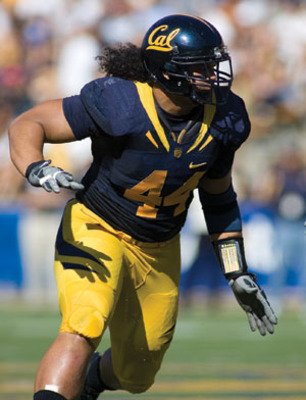 The Patriots draft Tyson Alualu to replace Richard Seymour.
48. Carolina Panthers—Brandon LaFell, WR, LSU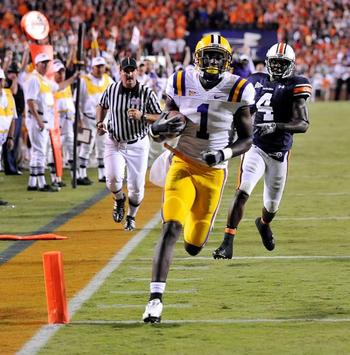 The Panthers add LaFell to play opposite Steve Smith.
49. San Francisco 49ers—Brandon Spikes, ILB, Florida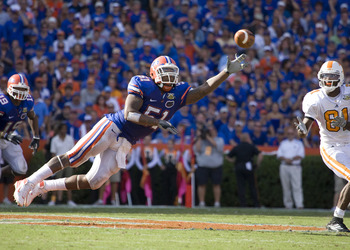 Brandon Spikes has had awful workouts before the draft; however, his production in college can't be denied. The 49ers have been looking for another young inside linebacker to pair up with Patrick Willis for the last couple of years. Spikes would learn behind his cousin Takeo and eventually replace him as soon as next year.
50. Kansas City Chiefs—Koa Misi, DE/OLB, Utah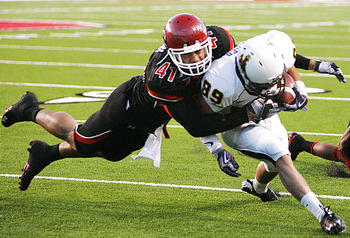 The Cheifs add Koa Misi to help pressure the quarterback.
51. Houston Texans—Ben Tate, RB, Auburn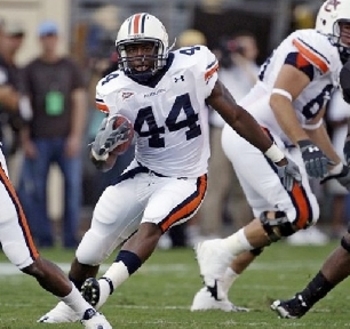 The Texans draft their every-down running back.
52. Pittsburgh Steelers—Devin McCourty, CB, Rutgers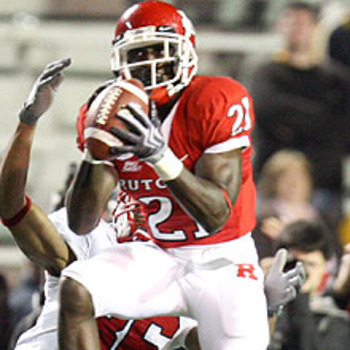 The Steelers drafted wide receiver help in the first round. Devin McCourty can help the Steelers' secondary.
53. New England Patriots—Dexter McCluster, RB, Ole Miss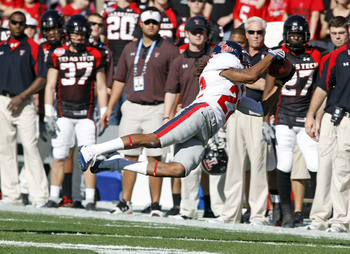 The Patriots have the luxury of three picks. They'll probably trade one or two or them, but if they don't, McCluster would add a home-run-threat element to the Patriot's offense.
54. Cincinnati Bengals—Geno Atkins, DT, Georgia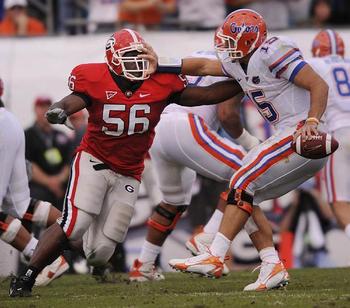 The Bengels add depth and a potential starter to their defensive line.
55. Philadelphia Eagles—Daryl Washington, LB, TCU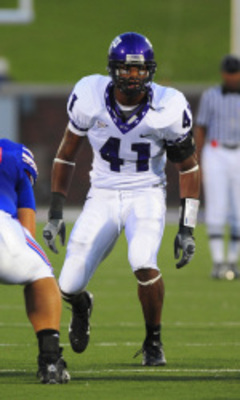 The Eagles had problems keeping their linebacking corps healthy last year. Washington is an excellent player and would have a chance to start right away.
56. Green Bay Packers—Patrick Robinson, CB, Florida State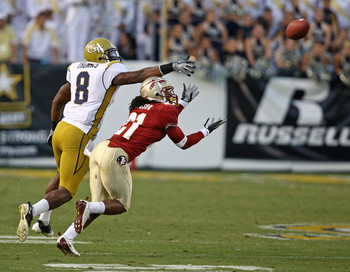 The Packers add Patrick Robinson to help improve an aging secondary.
57. Baltimore Ravens—Chris Cook, CB, Virginia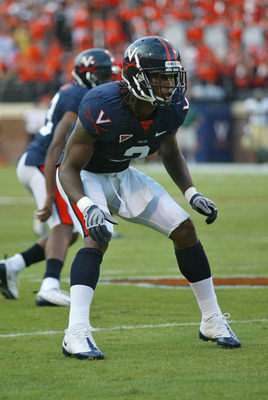 The Ravens add Cook to help their secondary.
58. Arizona Cardinals—Vladimir Ducasse,G/OT, UMass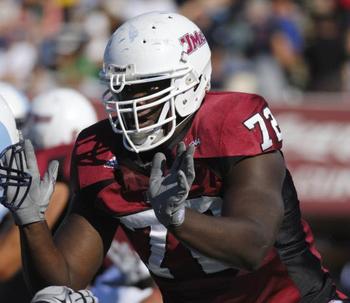 The Cardinals need help along the offensive line. Ducasse is raw and can start right away at guard.
59. Dallas Cowboys—John Jerry, G/OT, Ole Miss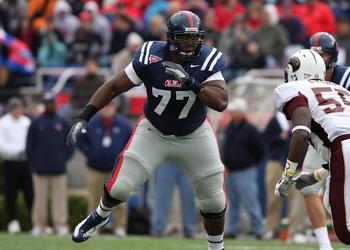 The Cowboys add the massive Jerry to start right away at guard and possibly work his way to right tackle.
60. Seattle Seahawks—Nate Allen, FS, South Flordia
The Seahwaks require the safety help they need badly.
61. New York Jets—Reshad Jones, S, Georgia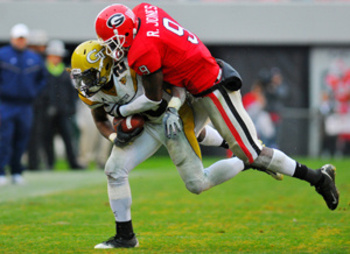 The Jets require some safety help after they traded away Kerry Rhodes. Reshad Jones should be a good fit.
62. Minnesota Vikings—Lamarr Houston, DT, Texas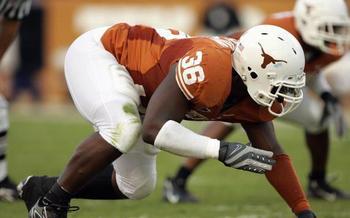 The Vikings add the eventual replacement for Pat Williams.
63. Indianapolis Colts—Jermaine Cunningham, DE, Florida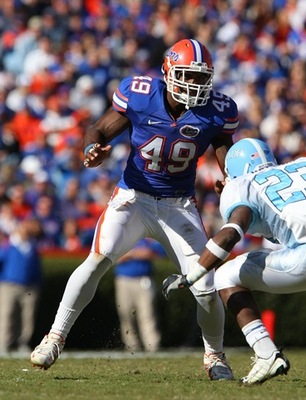 The Colts need additional depth at defensive end behind Dwight Freeney.
64. New Orleans Saints—Chad Jones, S, LSU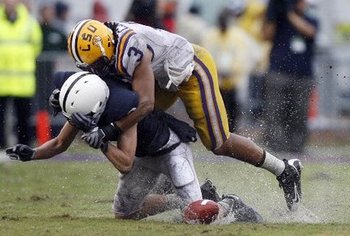 Even if the Saints re-sign Darren Sharper he won't be around forever. The Saints will look for his replacement.
Keep Reading