2010 NFL Mock Draft: Why Buffalo Bills Will Grab Jimmy Clausen at No. 9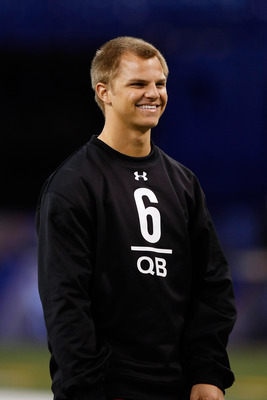 With the 2010 NFL Draft only a few days away, many people are making guesses at who they think their team will draft.
So what better way to make your day better than by checking out a mock draft by me? There is no better way, I know.
My predictions the past few weeks have been close to spot on. If you have checked out my 25 predictions for the playoffs, I even predicted that Kevin Garnett would get ejected. So there has to be something to my guessing, (or just 99 percent luck) right?
A lot of people have Jimmy Clausen falling all the day to San Francisco's second first round choice. That's almost insulting, and I don't even like him. Even though I'm not a 'Jimmy Fan', he does have a lot of talent and can definitely help out any team that needs a QB.
So get your popcorn ready, here is my 2010 NFL mock draft.
------------------
Follow me on Twitter: www.twitter.com/caseywomack
1. St. Louis Rams - Sam Bradford, QB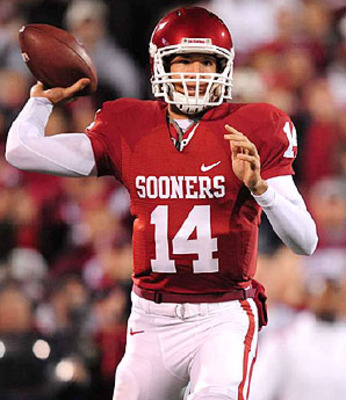 Don't really need to explain much. The Rams need a QB and Sam Bradford will be a franchise QB for them for a long time. Lock it.
2. Detriot Lions - Gerald McCoy, DT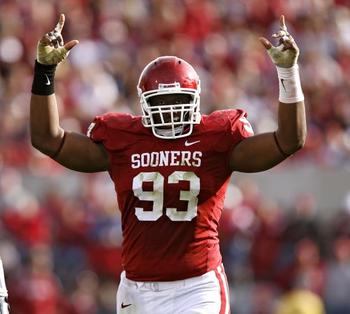 The Lions will take the best skill player with the most potential. And that has to be Gerald McCoy. Ndamukong Suh might be better right now, but how close is he to his talent ceiling?
3. Tampa Bay Buccaneers - Ndamukong Suh, DT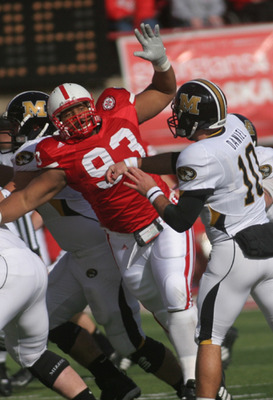 Ndamakong Suh will make his home in Tampa Bay and will soon be the face of the franchise. He is a mean monster and will steal any offensive lineman's lunch money and will not care at all.
4. Washington Redkins - Russell Okung, OT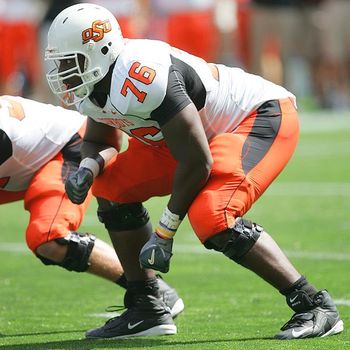 Washington needs some help at offensive line and Russell Okung is the best available for this spot. He could be a pretty solid blind side tackle for McNabb this upcoming season.
5. Kansas City Chiefs - Bryan Bulaga, OT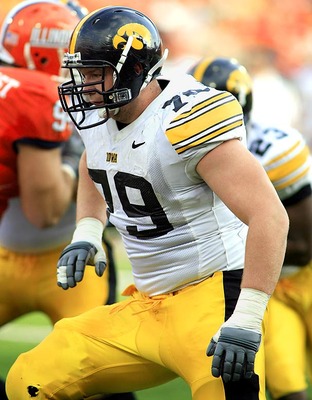 Kansas City also needs some help up front and Bryan Baluga will help fill that void. He's a solid blocker with great footwork. Possibly the best footwork out of all the offensive lineman.
6. Seattle Seahawks - C.J. Spiller, RB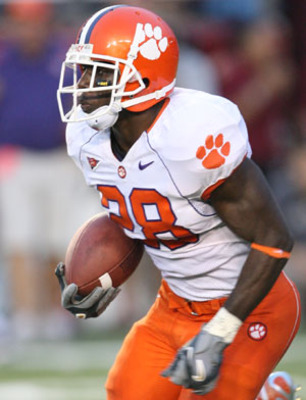 Pete Carrol could definitely use a Reggie Bush type running back in his system and C.J. Spiller could definitely be the best comparative to Reggie in this draft. I think Spiller would thrive in Carrol's style.
7. Cleveland Browns - Eric Berry, FS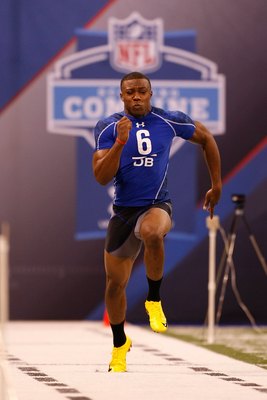 If you play Madden, Eric Berry would definitely help out any Cleveland Browns users on the game, and in real life too. He's a future star in the league and will be the best in the league when Ed Reed and Ole Troy starts to lose a step, which is still a ways away.
8. Oakland Raiders - Trent Williams, OT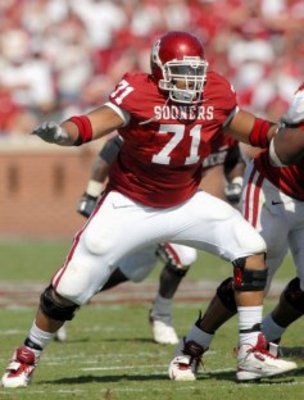 Raiders need any help that they can get to help out their extremely below average quarterback. Although I really think they should pick Jimmy Clausen, they of course won't and will stick with Russell.
However, Trent Williams will be great at protecting whatever QB is in the game.
9. Buffalo Bills - Jimmy Clausen, QB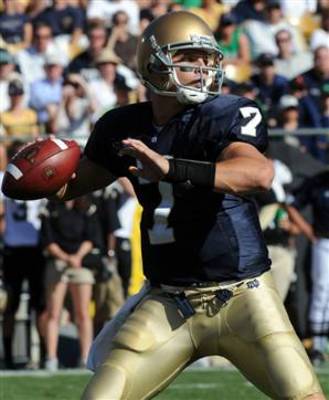 Buffalo Bills fans will probably all night for days when the Bills select Clausen, who is an extremely polished QB and could start for the Bills right out of the gate.
10. Jacksonville Jaguars - Earl Thomas, FS
Earl Thomas is no where near as talented as Eric Berry, but he could still easily be a Pro-Bowler. He is great at cover two coverage and isn't afraid to lay out anyone.
11. Denver Broncos - Ronaldo McClain, LB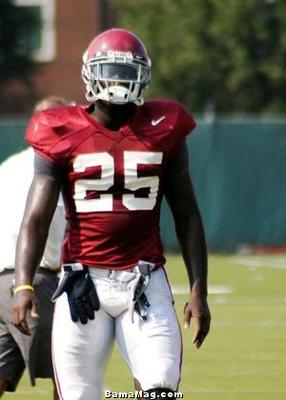 Denver needs help at LB and Ronaldo McClain will help them out immediately. He has a very bright future and has great coaches to help him reach his full potential.
12. Miami Dolphins - Dan Williams, NT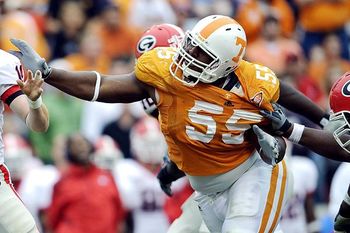 Miami needs some help defensively and I think Dan Williams could help them clog up the middle for a long time. An extremely underrated player.
13. San Francisco 49ers - Anthony Davis, OT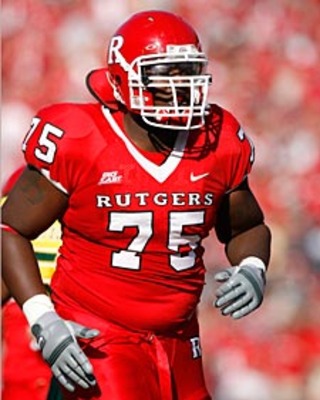 San Fran is another team that needs help up front and Anthony Davis is another player that could use help out a team with his great footwork and blocking ability.
14. Seattle Seahawks - Jason Pierre-Paul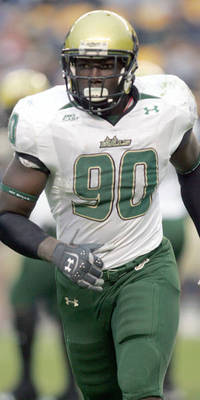 Seattle could also use some help with their pass rush and Jason Pierre-Paul is easily the best pass rusher in the draft. He'll even tell you he is. He's confident, he's talented, look out.
15. New York Giants - Sergio Kindle, DE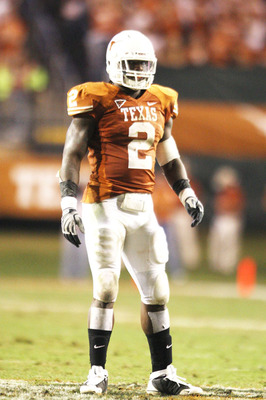 Even though I believe he's a bit overrated, he can still be a key pass rusher for New York. With polishing, he could turn into one of the great pass rushers in the game with his speed.
16. Tennesee Titans - Derrick Morgan, DE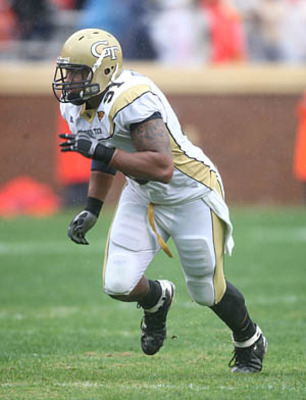 Tennessee is another team that could use a pass rush and Derrick Morgan is great fit for them. Look for Tennessee to pick Morgan up and consider this a steal.
17. San Francisco 49ers (from Carolina) - Joe Haden, CB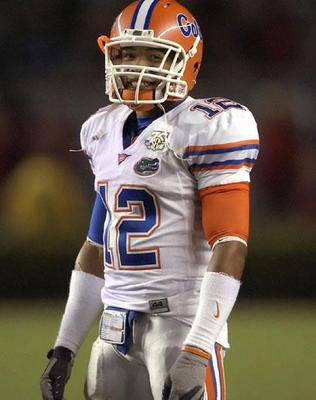 Possibly the biggest steal in the draft. I know he didn't do as well as he'd like in the combine, but the combine isn't a football game. And football games just so happens to be Haden's strength.
18. Pittsburgh Steelers - Dez Bryant, WR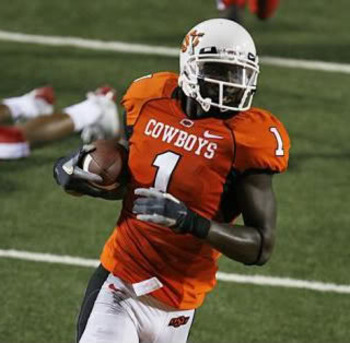 Pittsburgh needs somebody to replace trouble-prone Santonio Holmes. What better way to replace him with character-prone Dez Bryant? Even though he's had some issues, he's still the best WR in the draft and will straighten up once he's chosen.
19. Atlanta Falcons - Kareem Jackson, CB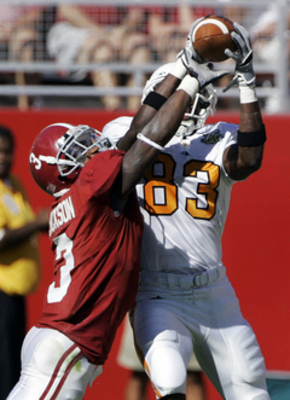 Another easy one, Falcons need all the help they can get defensively, especially in the secondary. Kareem Jackson is a great fit for them and should get playing time immediately.
20. Houston Texans - Taylor Mays, S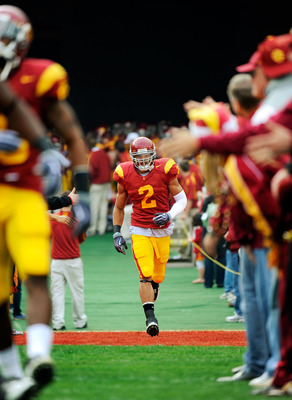 Lost some of his draft stock for his performance his senior season but he still had a stellar year. Look for him to help out the Texans immediately and will knock out a few players during his rookie year.
21. Cincinnati Bengals - Jermaine Gresham, TE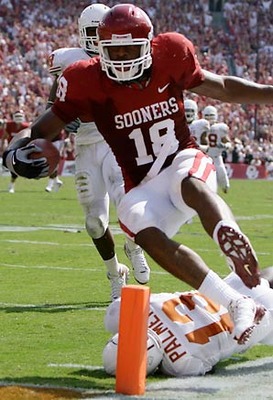 Another steal in the draft. Jermaine is a fantastic receiver and blocker. He will help the Bengals greatly in the red zone and will be a Pro Bowler by his third year. Mark it down.
22. New England Patriots - Brandon Graham, OLB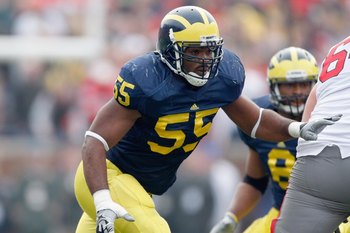 The Patriots need some help at stopping the outside rush and Brandon Graham will help. He's got solid speed and is a solid hitter.
23. Green Bay Packers - Bruce Campbell, OT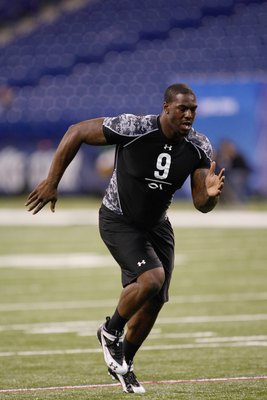 Green Bay will start going for the best talent available by the 23rd pick and will probably select Bruce Campbell to help out on the offensive line. Another solid steal.
24. Philadelphia Eagles - Nate Allen, S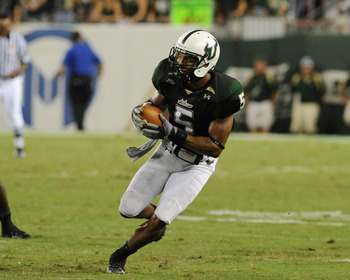 The Eagles could use some help at safety and Nate Allen would love to give that help. He's a great coverage safety and should help contribute immediately.
25. Baltimore Ravens - Kyle Wilson, CB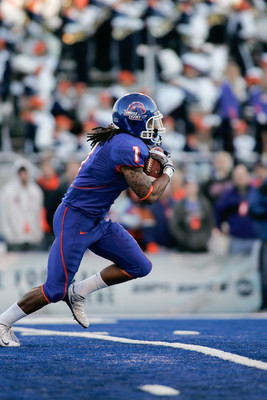 Baltimore loves to stack up on defense and drafting Kyle Wilson makes a lot of sense. They could use a little help at corner and could be a lock down guy on the opposing team's second or third option.
26. Arizona Cardinals - Arrelious Benn, WR
With the Cardinals giving away Boldin ,the Cardlnals will look to replace him with a great receiver in Dez Bryant. A lot of teams will pass on him because of character issues but I would think Larry Fitzgerald will straighten him out.
27. Dallas Cowboys - Rodger Saffold, OT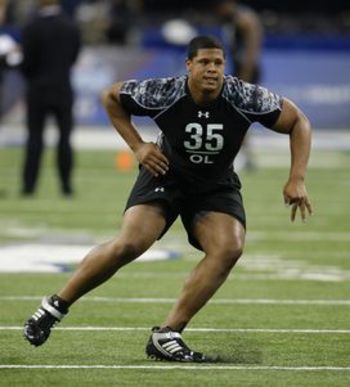 Dallas could use some extra help at protecting their pretty boy in Tony Romo. Rodger Saffold is yet another solid OT in this OT stacked round. He has solid footwork and great speed horizontally.
28. San Diego Chargers - Ryan Matthews, RB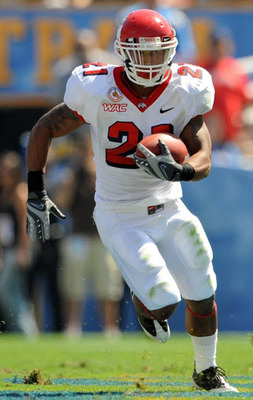 Ryan Matthews is the most underrated player in the draft. He will shock a lot of people his rookie season and will help San Diego in the rushing game. He will be a solid candidate for Rookie of the Year.
29. New York Jets - Daryl Washington, OLB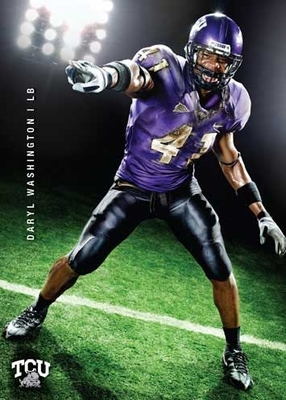 Daryl Washington will go to the Jets and will help continue to stack the Jets defensive lineup and will look to contribute against speedy backs trying to get to the outside.
30. Minnesota Vikings - Jared Odrick, DT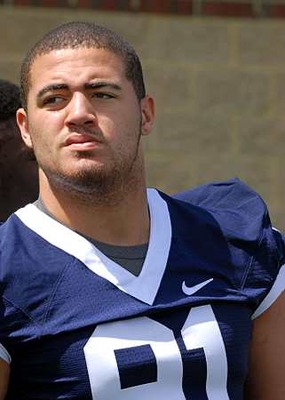 Jared Odrick makes a lot of sense in Minnesota. He could use some polishing and will prepare for the role of replacing aging the older Williams at DT in the near future.
31. Indianapolis Colts - Maurkice Pouncey, OL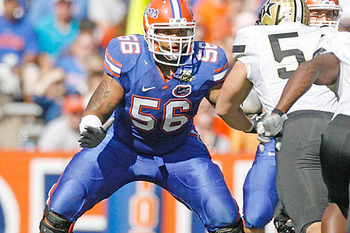 The Colts could use some extra help at protecting Peyton this upcoming season and Maurkice Pouncey is another solid lineman that could show his great footwork ability to help out the Colts pretty early in his career.
32. New Orleans Saints - Sean Weatherspoon, OLB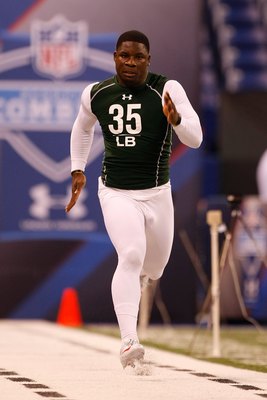 Saints could still use a little help defensively so they don't always have to beat their opponents in a shootout. Sean Weatherspoon will be a solid choice for them on the outside looking to stop anything on the outside. He's also pretty solid at dropping into coverage.
Keep Reading