Tampa Bay Rays: Let's See How Far We've Come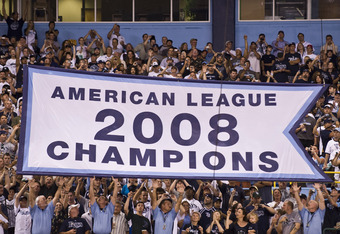 Sitting in a doctor's office waiting room in mid-2007, I grabbed a magazine whose headline article read:
2010: The Devil Rays Are the Best Team in Baseball
I read the article, and the only thing I could think of was "yea, right, like that'll ever happen." Three years later, here we are, April 19, 2010, and the Rays (10-3) have the best record in the majors. Sure, only 13 games have been played in this very young season but it has been very clear to anyone who has watched a Rays game that these guys are on a mission to be the best team in the league.
Had the past two seasons never happened, critics and the talking heads of ESPN would write off this fast start off as a fluke, and say the Rays would soon return to their true form of bottom-dwellers in the American League East. But after compiling records of 95-67 and 84-78 in 2008 and 2009, respectively, it is almost safe to say that this baseball team may very well be one of the best.
I still have that magazine article at home, and it serves as a reminder every time I look at it just how far this young program has come in only a few short years. The team in 2010 looks a lot different than the team in 2007 did, and the team in 2011 appears like it will also look much different, but we won't get into that now.
This season is barely two weeks old, and the Red Sox will almost certainly bounce back from a slow start and be in contention this summer. But the fast start of the Rays cannot be ignored; the team now has 10 wins (it had nine wins for the entire month of April in 2009) and is off to the best start in franchise history.
Over the off-season, the topics of discussion about the Rays included how their pitching, starting and relieving, must improve drastically in order to compete. The offense had only a few question marks (Pat Burrell being the biggest one, and still is) and was thought to again be one of the best in baseball.
The largest topic of concern for the Rays, however, was how would they do in April? In 2009, they faced one of the toughest opening schedules, stumbled out of the gates and never truly seemed to catch form like they did in 2008. This years' squad looks more like the team did during their World Series run two years ago and exactly like the team we all expected to see in 2009 defending their American League title.
With a four game sweep of the Red Sox already under their belt, this 2010 version of the Rays seems focused and determined. Evan Longoria, already the face of the franchise, was quoted as saying, "My only goal is to still be playing in October." It shows how far this organization has come in such a short time. Longoria is already the cover boy for 2K Sports' MLB2K10 and appears in a lengthy New Era Cap commercial. Name another (Devil) Ray who has ever done that?
There are 149 games left for the Rays. They won't always be on seven-game winning streaks like they are right now. But when the times get tough, remember the title of that Sports Illustrated magazine and know that the Rays truly are one of the best teams in our great American sport.
This article is
What is the duplicate article?
Why is this article offensive?
Where is this article plagiarized from?
Why is this article poorly edited?

Tampa Bay Rays: Like this team?