Thunder-Lakers: Run, Kevin, Run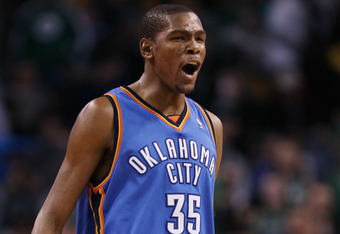 Elsa/Getty Images
Now, I don't think the Lakers will go down to the Thunder because I'm not sure Durant is ready to take over in his first ever playoff series. If they met in the second round, once Durant has his playoff sea legs, I think it would be rough waters for the Lakers. (See 2004 D-Wade playing much better in his second round series).
As it is, the main issue will be whether Russell Westbrook can dominate his match up with Derrick Fisher to the point where it outweighs what Pau Gasol is about to do to poor Serge Ibaka.
You're a nice young player Serge, with some serious length and energy, but Gasol's oily post moves were way too much for Dwight Howard last year. Gasol is simply an elite scorer.
Whether or not you think he looks like the "a bit too old foreign guys" hanging out in the club with preposterously hot/expensive looking girls, he's going to get his on Serge and Nick Collison.
The Thunder do have a chance to win this series though, if they force the right tempo. They'll rebound well, play scrappy, intelligent half court defense, and be way too much for the Lakers in transition.
If you haven't seen Durant run the floor this season because the NBA decided to broadcast the Boston Assisted Living Tenants 20 times this season, it's the most surprising part of his game.
In the half court, he is devastating coming off picks and shooting, or going through his triple threat series. But in the full court, you realize he is 6'10'', running the break like a 2002 Randy Moss + six inches, has guard passing skills, and willing to go hard to the basket on the inevitably smaller players who make it back on D in time to see Westbrook, Harden, and Durant barreling down on them.
Getting out and running will also solve the Lakers' physical (if they want to be) half court defense. Jackson will want to control tempo and put RonRon on Durant to beat him up over the course of seven games, which will definitely take its toll.
Durant has never been in a seven game series and he is about to enter a world of clinical insanity with the two most intense wing defenders in the Western Conference Playoffs in Artest and Kobe.
The Thunder's biggest advantage in this series will be their ability to run off of Laker's misses.
They are faster at every single position in the starting five, and it's not even close. The quicker the tempo, the better their chances will be to win (maybe four) games. The only way that Fisher is keeping up with Westbrook, is if he threatens to screw four-year players in the upcoming CBA negotiations (Fisher is the head of the Players Union, Westbrook will be about to enter his fourth year in 2011).
I hope that the Lakers don't play like a team with an aging superstar and no chemistry, as they have in the last month of the regular season. I hope that they hit their stride, Bynum returns in the second round and is playing well by the conference finals. I hope these things because I want the best possible Finals match up between the two teams with the highest ceilings in the NBA: the Lakers and Cavs.
But if the Thunder can force a breakneck pace on the LA Graybeards, they might find themselves rolling right into the second round.
Read more opinion and analysis at www.HoopSpeak.com!
This article is
What is the duplicate article?
Why is this article offensive?
Where is this article plagiarized from?
Why is this article poorly edited?

Oklahoma City Thunder: Like this team?