Come on, Man: Black Wrestlers and the Creative Teams Who Kill Them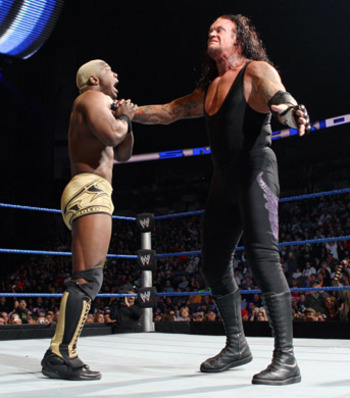 Making it to the very top of a major pro wrestling outfit is among the toughest achievements one can pursue in life.
The definition of 'lightning in a bottle' is one of the many characteristics one must possess in order to make it in pro wrestling.
Nobody seemed to tell John Cena about the one in a billion chance he actually had in becoming a WWE Champion.
Nobody seemed to tell Cena that, despite his all-American look, for every Bruno Sammartino there was a Chris Masters.
And for every Jack Brisco there was a Scott Putski.
Nobody told him about the many hurdles one has to jump through in order to to make a nice living exclusively as a pro wrestler, and even if anybody did tell him, they were proven wrong.
As difficult of a path it is to become a superstar in an industry that still seems to be suffering from the residual effects of The Old Boys Network, it might as well be impossible to make it to the top if you are black.
That's right.
Nobody told Shelton Benjamin that despite his abundance of talent and rare affinity to get in the ring and make the proverbial broomstick look like a million bucks, he would get cut off at some point.
Nobody told Kofi Kingston that despite a hot program with a top star that saw him literally soar in the world's most famous arena of Madison Square Garden, he would get cut off.
Nobody told R-Truth that no matter what he could do in the ring, he would be given a mic, some music, and a gimmick and after his catchy rap tune was cut off, he too would get cut off.
Nobody told any black wrestler what seems to be so obvious from trial and error. That unless you wanted to fulfill a negative stereotype on television and find a nice comfortable spot in the mid-card or lower, you really have no business in pro wrestling.
Nobody told them. Until now. This is a list of black wrestlers and the creative teams who kill them.
I have a feeling that I just might get heat for this.
Shelton Benjamin
Perhaps the poster boy for a wasted opportunity.
After an improbable win over then-WWE Champion HHH on Monday Night Raw one night in Cincinnati, Ohio, the sky seemed to be the limit for the man that WWE now almost patronizingly refers to as "The Greatest 'PURE' Athlete in WWE."
So goes the sad story with wrestlers who share Shelton's skin tone. What was supposed to be a defining moment in the career of Shelton Benjamin is now just a reminder of what could have been.
Shelton has stolen the show at multiple Money in the Bank matches on the grandest stage of them all in years past.
However, his swan song may have been at this past year's Wrestlemania where his biggest spot was a safe, over-the-top-rope hurancanrana on fellow black wrestler MVP (who has also 'surprisingly' been lost in the shuffle, but we'll get to him later) before being lost in the 10-man shuffle in a sad microcosm of his career.
And enough with all this "pure athlete," "God-given talent" garbage. For those of you not paying attention, this is just the WWE's subtle way of reminding the subconsciousness of you, the viewer, that Shelton Benjamin didn't work hard for what "God gave him."
As if standing out from a countless field of aspiring wrestlers to be featured prominently in the end-all be-all establishment of the entire industry takes natural ability and nothing else.
MVP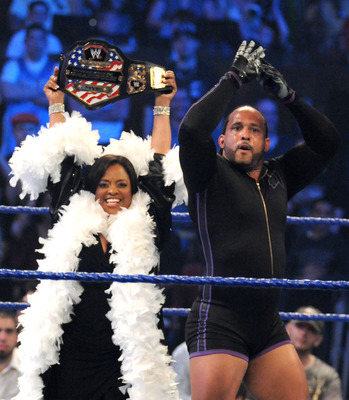 If there's one thing Vince McMahon will push to the moon, it's a wrestler with a big body.
If there's two things Vince McMahon will push to the moon, it's a wrestler who has mainstream, crossover appeal.
So why is the big-bodied MVP, who was romantically linked to mainstream star and host of The View Sherri Shepherd (that's her in the picture), still stuck in limbo?
Good question. You tell me. That's why I'm writing this article.
MVP was given a great introduction to the WWE fans. With a gimmick that, on paper looked simple yet effective if performed by the right character, MVP was one of the first ever wrestlers to (kayfabe) hold out of in-ring contact until he received a lucrative offer from Smackdown! GM Teddy Long.
"No Contract, No Contact." A quintessential heel move. Brilliant.
Yet after being pushed as one of the top heels on Smackdown! and a dual champion, competing in a lengthy feud with perennial baby face veteran Matt Hardy, and being one of the select few wrestlers who received a pay per view match with Ric Flair on his farewell (for now) tour, MVP was to be booked to lose every one of his matches indefinitely after he got in some hot water backstage.
Now I understand when the WWE makes somebody pay their dues or has certain superstars buried when they get too big for their britches. But Randy Orton is a walking advertisement for backstage trouble and he's set to become the face of the company.
As for MVP? He's still in the doghouse. At least I hope that's the excuse. Otherwise they've just given up on him, which isn't too far fetched either.
R-Truth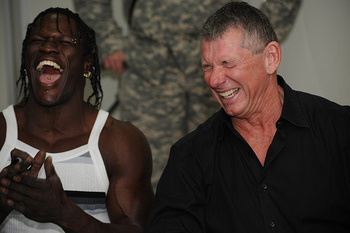 In 2008, Ron Killings was a free agent after a nice run in TNA. He was subsequently signed by WWE. I'm guessing the creative meetings regarding his booking went a little something like this:
Creative Team Member: Ron Killings is a free agent.
Vince McMahon: Black guy? With piercings? Used to be K-Kwik?
Creative Team Member: Uh, yes...Him. He's got a great look, and...
Vince McMahon: So what?!
Creative Team Member: Well, he's very athletic with a unique...
Vince McMahon: AND?! I'm bored already.
Creative Team Member:...
Vince McMahon:...
Creative Team Member: He can rap.
Vince: Give him a call.
Kofi Kingston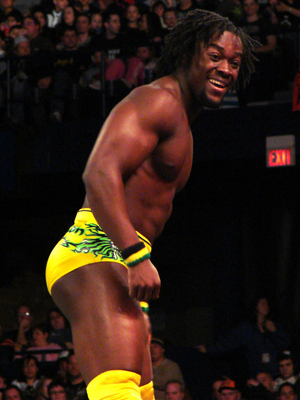 In true baffling start n' stop fashion that has become all to familiar with wrestlers who seem ready for the next step, Kofi Kingston pinned Randy Orton and CM Punk in less than 10 seconds (start).
Then he became an Intercontinental Champion (start), became a United States Champion (start), and had a Madison Square Garden Moment when he flew off of the barricade and came crashing down on Randy Orton through a table as the fans in the world's most famous arena chanted his name (start).
Then he jobbed to Randy Orton in December 2009 and has not recovered since (stop).
Why?
You tell me.
Cryme Tyme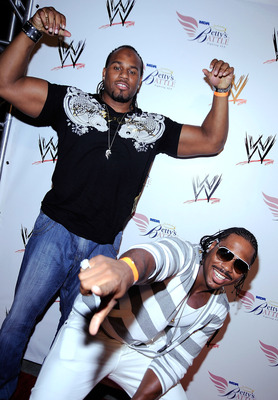 Negative stereotypes have been part of pro wrestling both then and now, but where does one draw the line?
Like The R-Truth ordeal, I wish I would have been a fly on the wall of a creative meeting where the idea pitched was to use two black guys who personified every ugly black stereotype with the volume turned way up.
Nobody seemed to have a problem with Cryme Tyme enough for this angle to get shot down. They should have gone all out with that thinking, and advertised them for what they truly were:
Cryme Time: The WWE's Minstrel Show has come to take your wallets.
This angle has since been shot down as of two weeks ago, however if history tells us anything (and it does), this only means that both Shad Gaspard and JTG will become the next breed of Shelton Benjamins and Kofi Kingstons who are cut off at the legs the moment they seem ready to explode.
Jay Lethal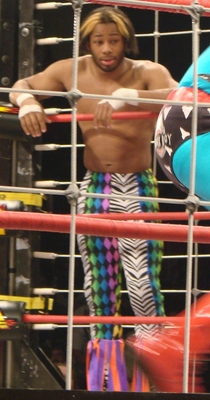 TNA isn't exempt from questionable booking of black wrestlers, and what was their best idea for a promising young black talent who was fine as is?
Turn him into a discount version of The Macho Man for some cheap yucks. To quote Jamie Foxxx in the utmost form of sarcasm "Yeeeeeeah, THAT'LL get 'em on my side!"
"The Pope" DeAngelo Dinero
Believe it or not, many will point to The Pope as the exception to the rule that black wrestlers are booked questionably in their respective promotions.
Really?!
If I am arguing that black wrestlers are not treated favorably in the pro wrestling industry and your first line of defense is, "That's erroneous! Why, just look at The Pope!", well then you've made my point for me.
After being booked to the moon with a marathon night of victories at TNA's Against All Odds pay per view earlier this year, The Pope was set to face A.J. Styles at one of TNA's biggest pay per views of the year, Lockdown.
We were given two months notice of this encounter. TNA hasn't done shit with this match.
After a nice encounter with Ric Flair, A.J.'s manager, the 'buildup' to this match has since featured The Pope doing a clean job to Desmond Wolfe and then getting his payback the very next week only to get beat up by A.J. Styles in an uninspired post-match beatdown two weeks from Lockdown.
NOW we're supposed to care about Pope/Styles at Lockdown? I shudder to think what's going to happen to Pope after he does that job.
Don't get me wrong, I love me some Pope. I like how he's taken the ball and run with a character that is actually his creation.
But let's look at the big picture here: The face of the black wrestler in TNA, and the most pushed black wrestler in TNA is...A street pimp who is billed from the streets of Harlem? Come on, man!
In Conclusion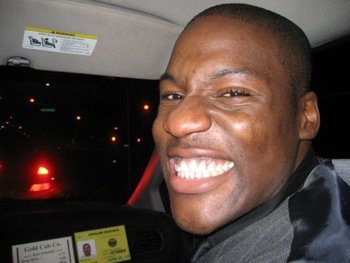 As a lifelong fan, I was too young to even understand the concept of prejudice as a young Hulkamaniac in 1988. However I don't want to believe that is the reason why I've stuck with wrestling for so long.
I look for change. I believe change is good. I believe changes for the better can be made in every aspect of life and pro wrestling is no exception.
I believe that because we live in a world that has seen the first black president after over two centuries, the black wrestler can eventually break through the ever-present glass ceiling, shoot to the moon, and become the first black WWE Champion*.
I want to be a part of that world when it finally happens for the right guy, and thus I remain loyal to pro wrestling.
*For those who want to contest that claim with King Booker's run as a heavyweight champion in WWE, he was actually a World Champion, not a WWE Champion.
Keep Reading