Montreal Canadiens-Carolina Hurricanes: Habs Fail To Clinch in 5-3 Loss To Canes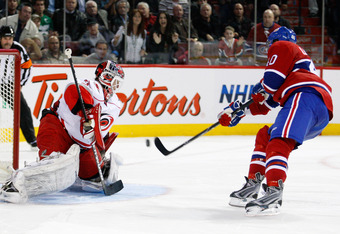 Richard Wolowicz/Getty Images
Deep breath now, Habs addicts. Inhale. Exhale.
Yes, the Habs need one measly point to clinch a playoff spot, and yes they have blown two opportunities to get that point. But this is not over yet.
And not only is it not over yet, but the Habs, despite their worst efforts, might still qualify for the playoffs.
The problem is that there is a big difference between charging, head high, into the playoffs and falling backwards into it, like the Habs seem to be doing this week.
Once again, last night, the Habs came out completely flat against an opponent they were "supposed" to beat.
The Habs gave away too many odd-man rushes, demonstrated fragmented defensive zone coverage, and were generally losing battles all over the ice.
And, yet again, the only reason that Habs were in this game until the third period was Jaroslav Halak.
The pattern repeats and the up and down 2010 Montreal Canadiens continue to frustrate a fan base that is inching towards being fed up.
With all the nail biting and teeth grinding that has been going on for Habs fans, who knows how long their nerves can hold out!
Final score: Habs 2-Canes 5

Game Notes

1. Despite letting in four goals on 32 shots, Halak kept his team in the game.
Tonight was the latest example of the Canadiens inability to score goals, whether five-on-five or on the powerplay. This team has simply become impotent offensively and their goaltenders, who tend to put on stellar performances, are paying the price—no pun intended.
Halak faced 10 shots in the first period and 24 over the first two, and it was not until the third period that the Habs started bringing a little combativity.
Not good enough and a good recipe for an early playoff exit if they qualify.
2. Scott Gomez is back to floating.
While he went through a stretch where he was on fire and helping the team win, Gomez seems to have returned to his soft, carefree ways. By that I mean that he often looks like he doesn't care out on the ice.
Now, don't get me wrong because as a professional athlete, I am sure he does care. However, he tends to have fans scratching their heads more often than not with his seemingly lazy, nonchalant style.
With so much on the line for the Habs, you would think that this was the time he would raise his game. I hate to use the cliché, but he demonstrated no sense of urgency.
For the Habs supposed top line center, Gomez simply is not bringing enough to the table.
3. Speaking of raising your game, Brian Gionta was the best Habs forward all game long.
Night in and night out, Brian Gionta continues to show why he is the true leader of this team on and off the ice.
Gionta simply does not take a shift off, is always skating and always trying to make things happen. I'm still not sure why they didn't give him the 'C' this year.
4. Does Jacques Martin have to go?
Whether they win or lose their next game, the 81 games played so for this season show that Martin is a coach who time has passed by.
Martin's trap-based style worked well in the pre-lockout NHL, where the red line was a huge factor.
Now, however, not only does his trapping system not work as well but he doesn't have the right personnel to play that style. To play a trapping style, you need big strong bodies who can grind it out in the corners and create opportunities off of the cycle.
Looking at the Habs roster, it is filled with small, speedy, and skilled players who are good at creating scoring off of the rush.
This incompatibility between the coach's style and his personnel was created by Bob Gainey. It was Gainey who incorrectly brought in a defensive coach and then acquired a bunch of speedy, attacking-style players.
This, to me, shows that his plan was patchwork and not the typical methodical, thought out process that Gainey uses. I guess that is part of the reason why he stepped down.
As a result of this incompatibility between the coach and his players, Martin is actually cramping their style.
So now, whether they make the playoffs or not, or lose in the first round or not, I think the team has to look at the possibility of getting rid of Martin during the offseason.
Given that the Habs are stuck with Gomez's ridiculous $8 Million contract for another four years, it seems logical that the core of this team will be difficult to change.
So, good or bad, the Habs are likely stuck with this core for four more years at best and they would do well to find a coach who can adapt to his personnel rather than asking them to adapt to him.

Standings and Next Game

By again failing to clinch a playoff spot last night, the Habs are doing their best job of backing into the playoffs.
The loss leaves them with 87 points in 81 games.
Boston's win against the Sabres pushes them into a tie for points with the Habs, but ahead in the standings in virtue of their one game in hand.
Just behind the Habs are the Flyers with 86 points and two games left to play, and the Rangers with 84 points and two games left to play.
The Flyers and Rangers now face off in two head-to-head games to determine who makes the final two playoff spots in the East.
For the Habs to clinch a playoff spot they need one of the following things to happen:
1. Get at least one point against the Leafs on Saturday night.
2. The Rangers win both games against the Flyers in regulation.
3. The Rangers fail to get four points over their remaining two games.
Habs fans will remember that the last time the Habs faced off against the Leafs in the final game of the season to decide which team would make the playoffs. They lost 6-5 and were sent to the golf course.
Let's hope, for the sake of all the nail biters and teeth grinders, that history does not repeat itself!
---
Follow Kamal on Facebook , Twitter , HabsAddict.com , HockeyBuzz.com , and Habs News Links
This article is
What is the duplicate article?
Why is this article offensive?
Where is this article plagiarized from?
Why is this article poorly edited?

Montreal Canadiens: Like this team?