Canadiens-Islanders: Habs Blow Lead Twice Before Losing 4-3 in Shootout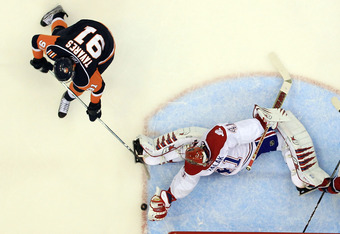 Bruce Bennett/Getty Images
After two back-to-back weekend wins, the Habs were in a good spot to clinch a playoff spot last night. The golden opportunity to clinch presented itself when the Buffalo Sabres beat the New York Rangers, meaning that a win by the Habs would have booked their postseason ticket.
Despite leading the game by a goal on two separate occasions, the Habs ultimately let the Isles tie the game with less than two minutes to play and let it slip away in the shootout.
The Habs started the game relatively flat and were down 1-0 after the first period but were able to come back and make the score 2-1 and then eventually 3-2.
Their lead lasted until Frans Neilson scored on the power play with less than two minutes to play to send the game to overtime.
Overtime solved nothing and it was left to a shootout where Jaroslav Halak didn't look very good on either of the Islanders' goals.
When Michael Cammalleri's shot rung off the goal post on the Habs' second pass, that was all she wrote.
The Canadiens got goals from Tomas Plekanec (25th), Brian Gionta (26th), and a beauty by Maxim Lapierre (seventh). The Isles got goals from Blake Comeau (17th), Sean Bergenheim (10th), and Frans Neilson (12th).
Final Score: Habs 3 - Isles 4 (SO)

Game Notes

1. So Halak is human after all.
After posting back-to-back shutouts over the weekend, Halak had the fans salivating at the thought of him manning the net for the Habs in the playoffs.
While Halak did make many spectacular saves last night and, generally speaking, looked solid in the net, he did let in a bit of a softie on the tying goal by Neilson.
In addition, he didn't look very good in the shootout. As it was pointed out to me last night on Twitter, Halak was at one point 14 for 15 in the shootout but is now 16 for 21.
This basically means that Halak is still good in the shootout, just not lately. But don't worry folks, he'll still be the starter come playoff time.
2. Hello, Maxim Lapierre!
For a third game in a row, Maxim Lapierre played a relatively solid game. He was using his speed and grittiness to cause havoc for opposing defenders all night.
There were two plays in particular that showcased the Lapierre of last season and one of them resulted in a beautiful goal to give the Habs a 3-2 lead.
On one play, he edged out the Islanders defenseman to setup a two-on-one with Mathieu Darche. The Isles' Martin Biron made the save, but it was a great scoring chance.
The other play in which Lapierre stood out led to his seventh goal of the season. Here take a look:
(video does not display on BR.com. Please go to: http://www.habsaddict.com/2010/04/montreal-long-island-habs-blow-lead.html to view video).
As you can see, Lapierre used his considerable speed to split the Islanders D and then demonstrated some great hands in deking Biron and going upstairs.
That's the Lapierre that scored a career-high 15 goals last season.
If he can keep his intensity up and stick to moving his feet rather than his lips, he might be able to make that fourth line productive.
As I have pointed out before, if the Habs are going to have success in the playoffs, they need their bottom two lines to be producing.
3. For all his faults, Gill is a monster on the PK.
Hal Gill has had an up and down season with the Canadiens but now, with two games left to play in the season, it has become apparent that he has his place on the team.
While no one will ever mistake him for a speed skater and his lack of speed sometimes leads to bad turnovers or defensive mistakes, Gill has shown the he is a leader in the locker room and a monster on the penalty kill.
It is on the PK—when a defenseman doesn't have to skate very much—that Gill's 6'7" frame and huge reach become apparent. Gill has such a long reach that the opposition simply cannot get passes by him and often has no choice but to send the puck back to the point.
At certain points, Gill actually comes close to lying down on the ice and as a result, completely neutralizes that flank of the attack.
Having one entire side of the ice shutdown on the power play severely limits the number of set plays that a team can use and make the Habs PK that much more effective.
4. Strength in numbers.
While Michael Cammalleri, Andrei Kostitsyn, and Benoit Pouliot have struggled to score goals over the last few weeks, the Canadiens still boast three 25-plus goal-scorers.
As of this morning, Tomas Plekanec (25), Brian Gionta (26), and Mike Cammalleri (26) each have at least 25 goals.
In addition, the Habs have five more players with 11 or more goals. That is a total of eight players who have scored a minimum of 11 goals this season. The reason I point this out is that scoring depth—along with stellar goaltending—tends to help teams go further in the playoffs.
While the Habs' offense is sputtering right now, you know that it is a matter of time before Cammalleri and Kostitsyn start scoring. If the Canadiens are already getting contributions from their third and fourth lines, and their top two lines start producing, they can become a dangerous team in the playoffs.
Remember that this was exactly how their six-game winning streak was constructed.

Standings and Next Game

The shootout loss gives the Habs 87 points in 80 games. Ahead of the Habs are the Ottawa Senators with 93 points while behind them are the Flyers (86 points), the Bruins (85 points, one game in hand), and the Rangers (82 points, one game in hand).
The Habs now have the day off before taking on the Carolina Hurricanes in Carolina on Thursday.
It's looking more and more like the Habs need one point to clinch a playoff spot. Will Wednesday be the night?
Let's hope they don't leave it to Saturday night versus the Leafs as we all remember how that went last time—if you don't, the Habs lost 6-5 and failed to qualify for the playoffs!

---
Follow Kamal on Facebook , Twitter , HabsAddict.com , HockeyBuzz.com , and Habs News Links
This article is
What is the duplicate article?
Why is this article offensive?
Where is this article plagiarized from?
Why is this article poorly edited?

Montreal Canadiens: Like this team?