The Utah Jazz Must Adopt A Boxer's Mentality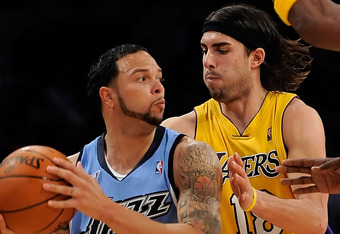 Kevork Djansezian/Getty Images
On a night when Kobe Bryant agreed to a three-year $90 million extension to remain a Laker for life, the Utah Jazz looked like a Mike Tyson punching dummy, absorbing a 106-92 beatdown at Staples Center.
The Jazz didn't just lose a game, it may have lost its postseason mojo.
Even more troubling for Utah's playoff prospects is the fact that they were dominated by LA again, without Kobe performing at his peak.
Against the demure Jazz, the Lakers icon scored just 25 points on 5-of-23 shooting. Kobe forced the action with a parade of Jazz fouls, converting on 15-of-18 from the charity stripe.
Filling the void was Lamar Odom. He was lights out against Utah's charmin defense—pouring in a game-high 26 points on 11-of-14 shooting.
The tortured Jazz have now lost 14 consecutive games to the
Lakers at Staples Center, and fell into a four-way tie with Dallas, Denver, and Phoenix for the No. 2 seed in the West.
Utah stumbled out of the gate—trailing by as many as 19 points in the first quarter— but managed to climb back into the contest, mainly because of the focus and determined play of Deron Williams. His 14 points in the second quarter got the Jazz back in the game, but it was not enough to overcome the team's slow start.
"They just come out and try to blow us away in the first quarter and it's tough to play up hill against a team like this. You can get close but it's tough to come back and win," said Williams, who scored 20 points and 10 assists in the losing effort.
Okay, I get the fact that the Lakers lost three of their last four games prior to Friday's meeting with the Jazz. And its easy to assume that the defending NBA champions were motivated to send Utah a message.
Something along the lines of this: "Hey Utah! The NBA Finals still go through Staples Center and don't you forget it."
For Jazz coach Jerry Sloan, he heard the Lakers message loud and clear. He's not subtle about imploring his team to get off the canvas and respond to the challenge of the upcoming playoffs .
"This time of year you've gotta learn how to compete," said Sloan, who guided the franchise to its 19th playoff berth in 22 seasons as the Jazz's bench leader. "That's their job, I can't think for them.That's why we practice, why we talk about things. It's up to the players to be able to adjust."
Friday's game clearly demonstrated how far the Jazz have to go if they want to be taken seriously as a postseason threat.
Jazz swingman C.J. Miles summed up the Jazz's frustration, as he and most of his teammates laid a giant egg prior to Easter weekend. "[We had a chance] to show that we are one of the best teams in the league and we didn't come out and prove it," said Miles, who scored just six points in 28 minutes of play.
With as much praise as the fans and media have given this team for battling through an early season collapse and mid-season salary dumps, this Jazz team still lacks the mental fortitude to go deep into the playoffs.
Williams' play aside, no Jazz player wanted to compete against the Lakers and that speaks volumes.
Carlos Boozer was bothered by the defense of Pau Gasol. Miles and rookie Wes Mathews were befuddled defensively, as they tried to hang with Bryant on an off shooting night.
The reliable Paul Millsap was also nullified offensively by the length of the Lakers interior defense. And Kyle Korver, the NBA's most accurate three-point shooter, played just seven minutes, going 0-2 from the field.
This Jazz team needs to take a page from the late, great, 49ers coach Bill Walsh. His mantra was to beat the opposition to the punch—strike the first blow and stagger your opponent.
Walsh's 49ers lived by this philosophy and became a dynasty because of it. Never mind the Hall of Famers of Montana, Rice and Young, it was all about executing as a team.
And that's what this Jazz team can do, they can execute better than any team in the NBA. Utah is at its best when they play as a team, not as individuals.
The result of this late-season thud is obvious and real.
The Lakers will have no fear of the Jazz in the post-season. And once again, Utah is facing a recurring question.
"We've had this before, we had it in the playoffs with them the last two years. Boozer said. "The start of the game is crucial, and especially at home they come out and try to blow you out. You've got to maintain your offensive discipline," Boozer said via The Salt Lake Tribune .
Of course, the NBA Playoffs are all about the matchups. And until proven otherwise, a potential Jazz-Lakers series wouldn't even be a fair fight.
This article is
What is the duplicate article?
Why is this article offensive?
Where is this article plagiarized from?
Why is this article poorly edited?

Utah Jazz: Like this team?