2010 MLB Predictions: Not Too Many Surprises This Season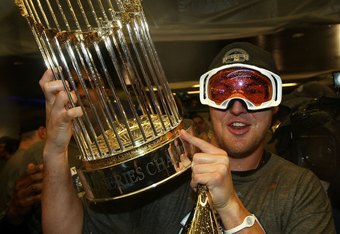 Nick Laham/Getty Images
Opening Day is finally here, and with that comes the hope of a new season, as well as dreams of playing in October.
So let's get to it with my division and playoff picks.


American League

AL East

New York Yankees 99-63
Boston Red Sox 97-65*
Tampa Bay Rays 95-67
Baltimore Orioles 76-86
Toronto Blue Jays 74-88

Bottom Line: While the Red Sox beefed up their pitching staff, I'm not sure they have enough offensive firepower to keep up with the Bronx Bombers, but they have more than enough to win the Wild Card once again. I do see Adrian Beltre having an improved offensive year, and he won't be the only Adrian in the lineup after July 31.
The Rays will draw the short end of the stick because they're in the wrong division. If they were in the Central, it would be a different story.


AL Central

Chicago White Sox 89-73
Minnesota Twins 89-73
Detroit Tigers 83-79
Cleveland Indians 71-91
Kansas City Royals 64-98

Bottom Line: That's right. For the third year in a row, there will be a one-game playoff in MLB—162 games will not be enough. What better way to christen Target Field? However, Joe Nathan's elbow injury will come back to haunt the Twins, as the hard-nosed White Sox will find a way to win on the road in front of a sellout crowd in Minneapolis.


AL West

Texas Rangers 92-70
Los Angeles Angels of Anaheim 89-73
Seattle Mariners 84-78
Oakland Athletics 82-80

Bottom Line: In the weakest division (wink, wink) in the American League, everyone will finish with a winning record. When I did my Angels Forecast last month, I said their reign at the top would end, but it wouldn't surprise me if they did win again for the sixth time in seven years.
So while I'm sticking with the Rangers, Ian Kinsler starting the season on the disabled list could spell trouble, as well as Ron Washington's admission of cocaine use last year. It would behoove Texas to get off to a fast start.


National League

NL East

Philadelphia Phillies 98-64
Atlanta Braves 94-68*
Florida Marlins 83-79
New York Mets 74-88
Washington Nationals 65-97

Bottom Line: The Phillies are the class of the National League. It's not even close. They are the Yankees of the National League because the rich have gotten richer with the acquisition of Roy Halladay.

The Braves will end up winning the Wild Card in Bobby Cox's final season. What a send-off it would be. Oh, and Jason Heyward is the real deal.

The Nationals have only one thing to look forward to: the arrival of Stephen Strasburg in June. However, he won't be enough to get Washington out of the cellar.

NL Central

St. Louis Cardinals 88-74
Chicago Cubs 83-79
Cincinnati Reds 82-80
Milwaukee Brewers 78-84
Houston Astros 68-94
Pittsburgh Pirates 65-97

Bottom Line: The Cardinals have the best manager and the best player in the division.

The Cubs' curse will continue.

Cincinnati will be the surprise team of the division with the debut of Aroldis Chapman in June.

NL West

Colorado Rockies 93-69
Los Angeles Dodgers 87-75
San Francisco Giants 83-79
Arizona Diamondbacks 81-81
San Diego Padres 67-95

Bottom Line: The Rockies have made remarkable runs in two of the last three seasons, reaching the World Series in 2007. Jim Tracy did an outstanding job as the interim manager last year after Clint Hurdle was dismissed.

The Dodgers are no longer the team to beat in the West. Frank McCourt says his divorce will not affect the Dodgers, but come on. Here is all you need to know about the Dodgers' playoff chances this year: Vicente Padilla is the Opening Day starter!

Playoffs

AL Division Series

Yankees over Rangers
Red Sox over White Sox

NL Division Series

Phillies over Cardinals
Braves over Rockies

AL Championship Series

Yankees over Red Sox

NL Championship Series

Phillies over Braves

World Series

Phillies over Yankees
This article is
What is the duplicate article?
Why is this article offensive?
Where is this article plagiarized from?
Why is this article poorly edited?