NCAA Tournament Expansion: Despite What You've Heard, It Makes Sense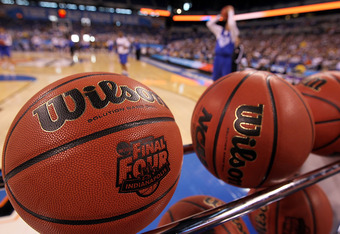 Andy Lyons/Getty Images
In the week leading up to the Final Four, it seems as if more discussion has revolved around future NCAA tournaments than the one we're still currently sorting out this weekend in Indianapolis.
The NCAA wants to expand the NCAA Tournament to include 96 teams, 31 more than it currently supports.
Perhaps it's a general "fear of change" consensus that is propelling such a negative backlash towards the idea. I think if we take a step back and look at the logic behind this from all perspectives, we can actually appreciate the expansion plans.
The most obvious point to me has rarely been stated to my knowledge amongst all the "anti-NCAA" bloggers. As with any sport that has any type of postseason tournament, when the initial field of teams expands, so must the postseason format.
There are currently 347 teams in Division 1 basketball. That's up 21 from just three years ago. At that rate of growth, we'll be looking at potentially over 500 Division 1 teams by 2020. A 96 team tournament then would look like an impossible feat.
This somewhat defeats the notion that the tournament would become "watered down." As if college basketball, a sport that essentially features a plethora of second rate talent that hasn't quite matured athletically to leap into the NBA, isn't already watered down to a certain degree.
For crying out loud, Kentucky featured four dominant freshman this year, and not one of them is expected to return for their sophomore season. The lure of the NBA is killing college basketball.
But before I rant off-subject, let me bring to focus another point expansion detractors are bringing up. They feel expansion will lessen further the relevance of the regular season.
But why? One of the biggest complaints of the current 65 team format is that some mid-majors get screwed out of a berth simply because they don't win their conference tournament.
So for the majority of the 347 teams, their hopes hinge on the final weekend of the season, praying they can manage to roll off three or four wins in a row just to make it to the big dance.
A field of 96 would reduce the risk that conference tournament championships will solely determine fate of many mid-majors.
There are complaints that expansion will create lackluster matchups, essentially NIT games that feature mediocre teams.
To that I would say isn't that what the first two months of the regular season are?
For a small example, take Syracuse. Were the early season matchups against Albany, Colgate, St. Francis, and Maine among others really relevant? No, just filler games, just like Florida football schedules against Charleston Southern. But when those type of games are played in mid-March, they matter.
The last, and without a doubt most obvious, point made by the opposition is that the NCAA is only seeking expansion for the money.
Wait...what? Of course they are. They, like all 347 Division 1 basketball teams, are a business.
They want to make money in the same way that Butler wants to make money with their trip to the Final Four. So many talk about that as if it's exemplifying some corporate greed policy with a bunch of board members simply looking to fatten wallets.
Have any of these mindless drones that are bashing the NCAA thought about the fact that when the NCAA makes money, the schools of the NCAA make money too?
In fact, the NCAA doesn't even keep the profits earned from the television contracts of the tournament.
All that money filters back to the schools that make the tournament in one way or another. With expansion, more mid-majors make the tournament, meaning more mid-majors make money. It's really a simple concept.
Then there are complaints that the NCAA is ignoring the logistics of the fans, clamoring that an extra weekend of travel is just too much for fans to do in this economy.
Sure, they're probably right, but how concerned is the NCAA with traveling fans? Not very I'm sure, when you consider roughly 1.2 million fans total view games in-person, while over 130 million watch games on TV. You can do the math.
So before you get wrapped up in the anti-expansion hype that bloggers and ESPN analysts throw at you, take a moment and look at the reality of the situation.
Put yourself in the NCAA's shoes, and view the gigantic opportunity in front of them the way they do. Then maybe you'll see NCAA tournament expansion as a good thing, not a greed thing.
This article is
What is the duplicate article?
Why is this article offensive?
Where is this article plagiarized from?
Why is this article poorly edited?

UNC Basketball: Like this team?