Montreal Canadiens-New Jersey Devils: Martin Brodeur Stifles Habs in 4-2 Win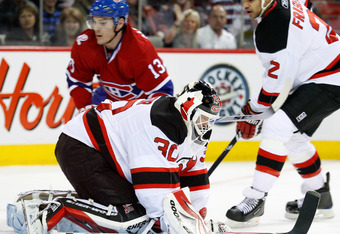 Richard Wolowicz/Getty Images
It's always a big occasion when Martin Brodeur comes to town to play against his hometown Canadiens.

Yesterday, at the Bell Centre, was no different and unfortunately for the Habs the end result was an all too familiar one: Another loss to Brodeur and the stifling Devils trap.

The Canadiens started the game by playing to their strengths: Speed, skill and an aggressive forecheck. As the result, during the first five minutes of so, the ice was clearly tilted towards the Devils zone.

Despite several scoring chances, the Habs couldn't capitalize. The result was a Patrick Elias goal on the powerplay which took the wind right out of the Habs' sails.

For the rest of the game, try as they may, the Habs had a difficult time getting through the New Jersey trap and setting anything up offensively.

The Devils carried a 3-2 lead into the third before closing it out with an empty netter with 9.6 seconds left in the game.

The Canadiens got goals from Andrei Kostitsyn (15th) and Tomas Plekanec (23rd).

Note: The Habs lost Glen Metropolit during the game and it was confirmed this morning that he has a separated shoulder. He will be reevaluated on Monday.

Final Score: Habs 2 - Devils 4


Game Notes
1. Short and simple: Halak continues to play like a No. 1.

Not much to say here except Halak was the solid/consistent player we have come to expect and he made several great saves, including more than a couple of breakaways by Ilya Kovalchuk, to keep his team in the game.

The Habs lost despite Halak's best efforts.

2. God, is New Jersey a boring team to watch!

Now I understand why the Devils seem to average around nine thousand spectators per game: they are simply a boring team to watch. Sure, their stifling, trap-based system wins games, but man is it boring.

Yesterday's game was, for long stretches, like watching paint dry as the Jersey players clogged up the neutral zone and took away the Canadiens speed.

There is a lot of talk the Habs match up well with Jersey and should hope to get them as a first round playoff matchup. That very well might be the case, but I don't know if I can stay awake through a best-of-seven version of what I watched last night.

3. Andrei Kostitsyn is back.

After going 13 games without a goal, AK46 now has three in his last three games--not coincidentally since Michael Cammalleri's return.

Andrei K. has always been known as a streaky scorer who struggles to get the monkey off of his back but who, when he does, tends to score in bunches. He actually came close to scoring two goals last night as his shot banked off of Tomas Plekanec's skate in front, to make it a one goal game in the second period.

The timing for AK46's phoenix-like rise from the ashes could not have come at a better time as with only six games left to play, the Habs need all the offense they can muster.

4. Power outage in Montreal.

Despite having the second best powerplay in the league, operating at a 22.3 percent efficiency, the Habs have struggled mightily to score with the man advantage over since the Olympic break. Over their last 13 games, the Canadiens have scored on six of their 47 powerplay opportunities, good enough for a 12.76 percent efficient.

That is not nearly good enough. While the Habs have cut down on penalties for and are employing a speed-based game that is causing opposition to take penalties, they just do not seem to be able to capitalize.

Despite now have Marc-Andre Bergeron and Michael Cammalleri back in their lineup, the Habs are not only struggling to score, but most of the time struggling to keep the puck in the offensive zone.

If their efficiency rate had been around the 20 percent mark since the Olympic break, they would surely have at least a few more points in the standings.

The Canadiens simply have to get that aspect of their game going if they are going to make the playoffs and have some success.


Standings and Next Game
The Habs again missed a golden opportunity to put some distance between themselves and the teams chasing them in the standings. Last night's loss leaves the team stalled in the standings with 82 points in 76 games for sixth overall in the East.

In winning last night, the Sens put a five point cushion between them and the Habs (87 points in 76 games), but it is behind the Habs were things might be a little treacherous.

Boston (80 points, two games in hand), Philly (80 points, one game in hand) and Atlanta (78 and one game in hand) are all within striking distance of the Canadiens. Behind them are the Rangers (76 points, one game in hand) and the more distant Islanders and Tampa, both with 72 points and one game in hand.

The Canadiens now have three days off before taking on the Carolina Hurricanes on Wednesday, in Montreal.
HabsAddict.com Logo Design Contest! Click to VOTE! http://www.surveymonkey.com/s/39BCR5F
Voting ends MIDNIGHT on March 28, 2010.

http://www.HabsAddict.com - Habs Addict blog
http://www.hockeybuzz.com/blog.php?post_id=26993 - Kamal on HB.com
http://links.HabsAddict.com/ - Daily Habs Links
http://www.facebook.com/pages/Habs-Addict/293450486615 - Facebook
http://twitter.com/HabsAddict - Habs Addict on Twitter
This article is
What is the duplicate article?
Why is this article offensive?
Where is this article plagiarized from?
Why is this article poorly edited?

Montreal Canadiens: Like this team?