NFL Offseason: Ranking the NFL's Owners, 1-32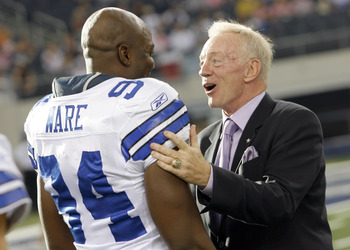 "Players play, coaches coach, and owners own," the phrase quoted perhaps by every disgruntled member of the NFL at one point.
The expression is meant to say that everyone needs to do their own job, and do it well, some just happen to do it a bit more well than others. Often times, the owners of the NFL go uncredited, while some of course are in it simply for the money. A lot of them are successful football fans just following their dreams.
We all may know the Rooney's and Wilson's of the NFL, but here's some names you may not know. From worst to first, the top 32 owners in the National Football league.
32. Arizona Cardinals Owner: Bill Bidwill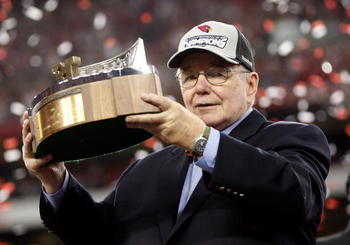 Bill Bidwill has been the sole owner of the Arizona Cardinals since 1972. In his 47 years as part owner, the Cardinals have met little success, only appearing in the playoffs a paltry five times.
Notorious for pinching pennies when it comes to spending on his football team, he has had one of the lowest payrolls in the league for years. Recently, they've started spending more, to much better results. Two seasons don't make up for four decades of failure though.
31. Oakland Raiders Owner: Al Davis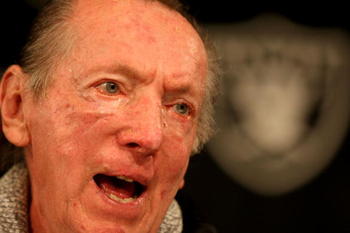 Al Davis took over in 1976, and for someone with such a storied NFL past, he needs to learn when to give up the ship. His first few years with the franchise was very successful, but a good owner needs to learn when to hang it up.
The butt of every joke in the NFL in the last decade, Davis has invested millions into draft busts and has horrible free agent judgment. That, combined with the premature ousting of Jon Gruden, the Marcus Allen feud, and moving the team from city to city, earns Davis the No. 31 spot.
30. Cleveland Browns Owner: Randy Lerner
Randy Lerner stumbled into the role of Browns' owner upon his father's passing in 2002. A New York City lawyer, he has never once showed the slightest interest in the team until the boos and protests at Cleveland Browns Stadium lately.
Preferring to spend most of his time in England with his football team Aston Villa, Lerner has allowed the Cleveland Browns to stew in mediocrity and failure since he came in.
29. Washington Redskins Owner: Dan Snyder
Snyder took over in 1999, becoming one of the more recognizable owners in the NFL due to his high-profile free agent signings and throwing around record salary contracts. Snyder seemingly always gets his man, but to little success.
A savvy businessman, Snyder took over the team after the death of Jack Kent Cooke. Since then, they have not had a winning record. Snyder cares more about the bottom line and making money. As long as the team keeps turning profits, expect nothing to change.
28. Seattle Seahawks Owner: Paul Allen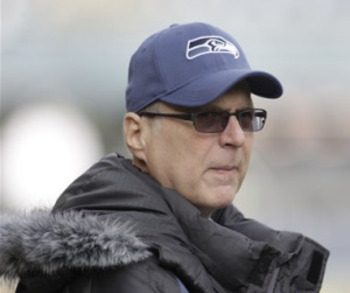 Allen took over the Seahawks in 1997. He is also the owner of the Portland Trail Blazers and the Seattle Sounders. Allen has been ranked the 37th richest man in the world. Since Allen came in, the Seahawks have failed to find a steady hand to guide them, mainly because of a lack of caring from him due to so many other investments.
27. Dallas Cowboys Owner: Jerry Jones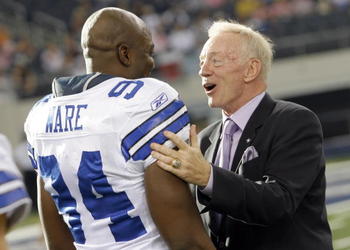 Perhaps the most famous and notorious owner in the NFL, Jones never fails to make his opinions known. In 1989, Jerry Jones bought the team from H.R. "Bum" Bright, and his first act of duty was firing long-time coach Tom Landry. He later forced out his General Manager, assuming all football operations.
While an argument can be made that Jones has brought success to the Cowboys, they were always a great franchise. Jones is always looking at the present however, and never towards the future. Trading away high draft picks for questionable veterans is no way to build a franchise, and they're only recently back on track.
26. Tampa Bay Buccaneers Owner: Malcolm Glazer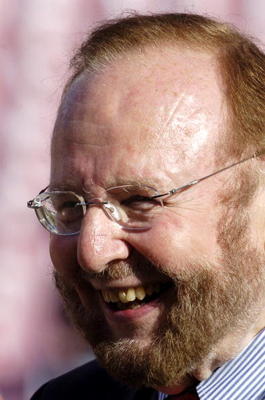 When Grazer initially took over in 1995, he had the Bucs on the right track: a new stadium, increased revenues, and two playoff appearances in 1997 and 1999 under Tony Dungy. In 2002 under new Head Coach Jon Gruden, they even won a Superbowl.
The following year however, Grazer acquired the world famous Manchester United football club, and since then, it has been all downhill. It's been thought that Grazer was diverting funds from the Bucs to the Mancs for years—all at Tampa Bay's expense and failures.
25. Tennessee Titans Owner: Bud Adams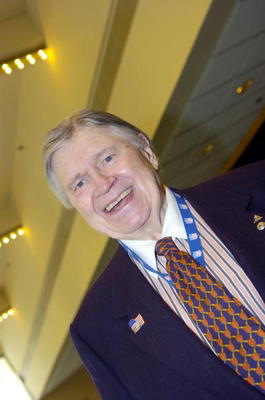 Most recently, Adams made headlines for flipping off the Buffalo Bills' fans during a Titans' blowout game last season. Before that however, Adams has never failed to cause waves. A co-founder of the American Football League, he has been with the team since the beginning, but not without his share of moves and threats. Some shady politics all around, the mark of a true businessman, the move from Houston to Nashville was anything but on the level.
24. New York Jets Owner: Robert Wood Johnson IV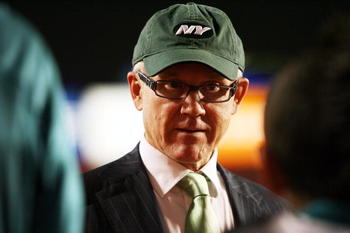 Woody Johnson took over in 2000, and is no stranger to controversy and politics himself. He is one of the largest contributors to the Republican party, once raising $7 million in a fundraiser for John McCain. Johnson has had his battles with taxes and shady business practices, but the battles his team has faced on the field are a much more serene nature.
23. St. Louis Rams Owner: Chip Rosenbloom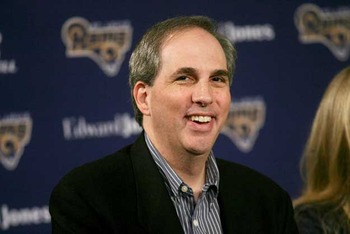 Rosenbloom inherited the franchise in 2008 from his mother, and almost immediately turned around to put it up for sale. While he has really done nothing to harm the team badly, his lack of interest has helped perpetuate the cycle of losing that St. Louis has faced the last two seasons.
22. Cincinnati Bengals Owner: Mike Brown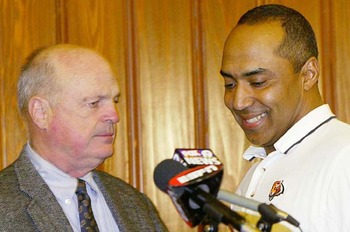 For better or worse, Brown is another owner with General Manager powers. The son of former Browns' owner Paul Brown, the team has faced a .365 winning percentage in his career with the team. He's most known for turning down Saints' coach Mike Ditka's 9-for-1 draft trade offer, and selecting Akili Smith, a bust QB from Oregon.
21. Detroit Lions Owner: William Clay Ford, Sr.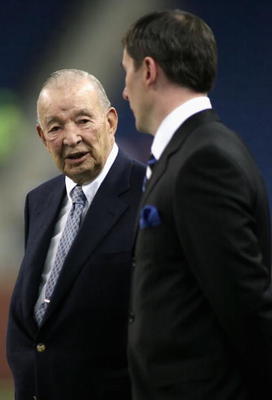 Long-time Lions owner William Clay Ford has had the team since 1964, after purchasing it from Dick Richards for $4.5 million dollars. Under Ford, the Lions reached a bit of success finally three decades later, led mainly by NFL great Barry Sanders through the 1990's. They earned five playoff runs but failed to get a Super Bowl ring.
Perhaps his greatest downfall was declaring Matt Millen the President and CEO of the Lions in 2001. Under Millen, the Lions sported a .277 winning percentage, among the league's worst.
20. Atlanta Falcons Owner: Arthur Blank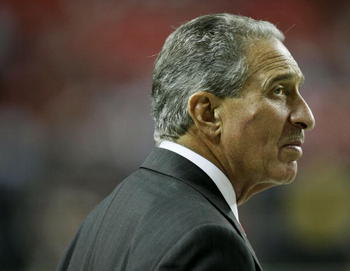 Blank is the co-founder of national hardware store Home Depot; he using this business venture to purchase the Falcons in 2002. Since then, the Falcons have had a revolving door of coaches and minimal success in the postseason with Mike Vick. Typically Blank is a hands-off owner, so he doesn't do much damage, but he also doesn't help out much.
19. Kansas City Chiefs Owner: Clark Hunt
The son of oil tycoon H.L. Hunt, Clark inherited the Chiefs in 2006 along with his three siblings; he acts as Chairman of the Board. Upon coming in, he cleaned house of GM Carl Peterson in 2006 and Herm Edwards in 2009, replacing them with New England's Scott Pioli and Todd Haley. Pioli is a great football mind and a solid hire. Time will tell how the Chiefs bounce back.
18. New Orleans Saints Owner: Tom Benson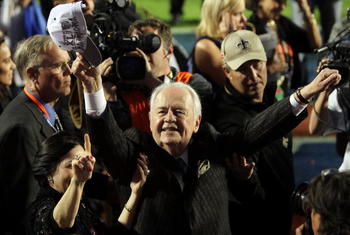 In 1985, Benson was one of the more popular owners in the league when he gained control of the team. A successful businessman in his own right, he realized the implications that the team's rumored move to Jacksonville, Florida would have on the city, and stepped in to save the franchise.
Seems ironic that just two decades later, in the wake of Hurricane Katrina, he tried to move the team again to San Antonio Texas.
17. Carolina Panthers Owner: Jerry Richardson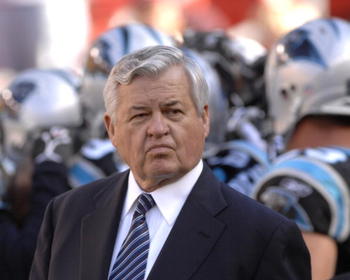 A former Colts receiver, Richardson is a native Carolinian who always wanted to bring a franchise to his hometown. That dream came true in 1993, when they were awarded an expansion team. While a championship hasn't been realized, the Panthers have been led to four playoff appearances, including a conference championship in 2003.
16. Jacksonville Jaguars Owner: Wayne Weaver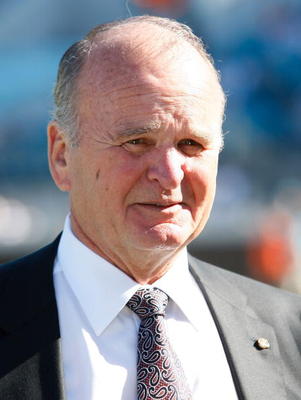 Weaver built his wealth from shoe store chains the Shoe Carnival and Nine West, and bought the expansion rights for his NFL franchise in 1993. The Jaguars have slipped in recent years, but have been pretty successful for an expansion team, finding two early division championships and six playoff appearances. Poor performances in recent years however, have attendance in all-time lows and Weaver struggling to find an answer.
15. San Diego Chargers Owner: Alex Spanos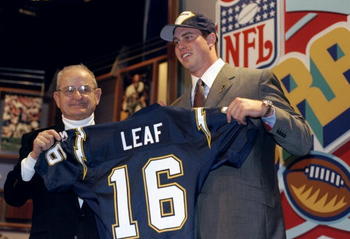 Spanos is a real estate developer and self-made billionaire, who took ownership of the Chargers in 1984. He was one of the single largest donors to the Bush campaign in 2004, and remains one of the top 5 GOP donors. His son Dean now runs the majority of the business operations since 1994, but despite his best efforts, still hasn't brought home a conference championship since.
14. Baltimore Ravens Owner: Steve Bisciotti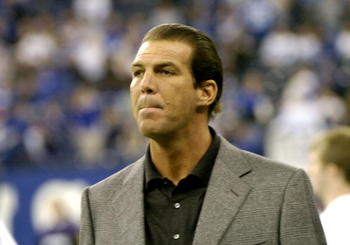 From a working class family, Bisciotti is a self-made man, graduating from Salisbury University in 1982. In 2000, he was approved for 49 percent of the franchise and four years later, purchased the remaining 51 percent from Art Modell for $325 million. The first project he took on was looking after his players by building a new state-of-the-art training and practice facility. He's currently the third youngest owner in the league.
13. San Francisco 49ers Owner: Denise DeBartolo York and John York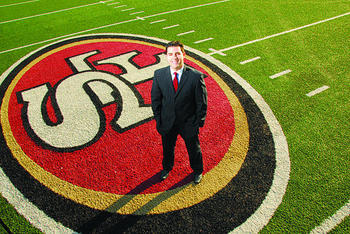 DeBartolo grew up in a family famous for real estate development. In 1981, he took over as president of the Pittsburgh Penguins, leading them to a Stanley Cup championship in 1990. In 1991, the year following the championship, she sold the Penguins to assist the DeBartolo Corporation, which was facing challenges in the aftermath of the real estate collapse of 1987. In 2000, she took ownership of the 49ers and despite a history of her victories, she since has struggled to return them to their former glory.
12. Minnesota Vikings Owner: Zygi Wilf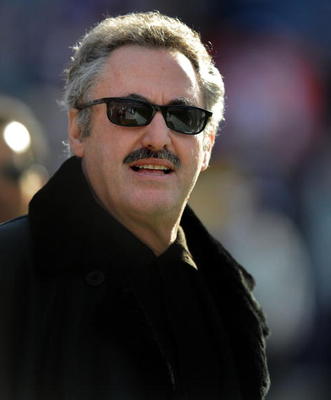 In 2005, former attorney and business mogul, Zygi Wilf and five partners bought the Minnesota Vikings from the owner, Red McCombs for the hefty tag of $600 million. Today's estimates and value of the 2009 the franchise sits at $835 million, 31st in the league.
11. Denver Broncos Owner: Pat Bowlen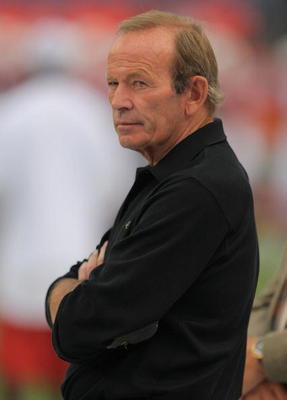 A history of legal battles with the former owner, Bowlen is a Canadian oil tycoon that took control of the storied franchise in 1984. On Dec. 30, 2008 however, legendary Broncos head coach and Vice President of Football Operations Mike Shanahan was fired by Bowlen after a 14-year tenure as the head coach.
Stating that he wanted his team to go in a different direction, he searched high and low before finding the offensive coordinator of the New England Patriots, Josh McDaniels as the new head coach. Firing a legend like Shanahan, seems like a bad decision, but time will tell.
10. Chicago Bears Owner: Virginia Halas McCaskey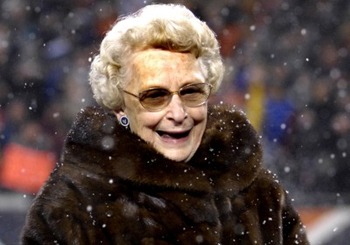 McCaskey herself should not be this high on the list. She's a very hands-off owner, but under her, the Bears have become one of the most recognizable franchises in all of sports. Capitalizing on the popularity and personalities of her '85 Bears championship team, she has helped parlay that into one the largest fanbases in the league, and hoisted an NFC Championship in 2007.
9. Miami Dolphins Owner: Stephen M. Ross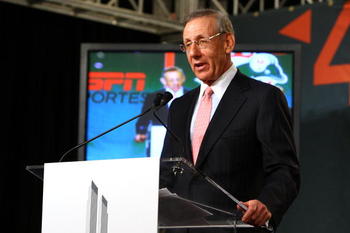 The majority owner of the Miami Dolphins, Ross purchased 50% of the team back in 2008 from owner Wayne Huizenga for $550 million dollars. The next year he bought the remaining 45% for $1 billion more.
His most important decision to date, is leaving Bill Parcells in his position of power, the savior of the Miami Dolphins after a miserable 1-15 season. Most notably, he has opened up ownership rights to local celebrities such as Venus and Serena Williams, Gloria Estefan, and Mark Anthony.
8. Houston Texans Owner: Robert C. McNair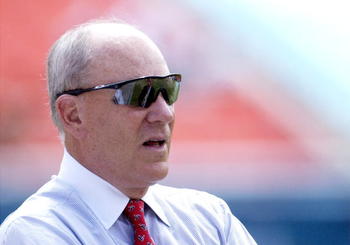 McNair is a class-act owner, whose Texans debuted as an expansion team just eight years ago. A frequent charity contributor, McNair is a power plant mogul, who sold his first company to Enron back in 1999 for a sizable payout.
Bringing another football team to Texas has worked out fantastic for Houston, who while they haven't won a championship yet, have become increasingly competitive year after year. It's hard to rank a young franchise, but Houston is doing everything right.
7. New York Giants Owner: John Mara/Steve Tisch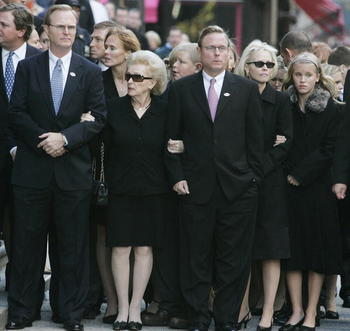 The oldest son of former Giants owner Wellington Mara, John owns 50 percent of the franchise after his father's death in 2005 when he assumed the presidency. Tisch also inherited his share of the franchise, and was named Chairman and Vice President the same year. While this ranking may be more geared towards Wellington Mara, who helped bring the franchise to prominence. Since John and Steve took over the Giants, they have added yet another Superbowl to their resume.
6. Indianapolis Colts Owner: Jim Irsay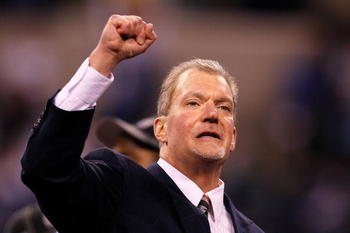 When Irsay was just 12-years-old, his father Robert purchased the Baltimore Colts. He originally started out just working the ticket counter before rising to the ranks of General Manager in 1984—a month after the Colts made a controversial move to Indianapolis. Upon his father's passing in 1997, he took control at the age of 37, since then, the Colts have compiled 10 playoff appearances and a Super Bowl championship.
5. Green Bay Packers Owner: Green Bay Packers, Inc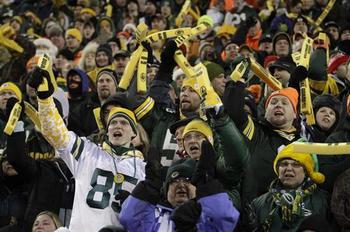 The only publicly-owned team in the NFL, the exemption to the rule that requires one owner to own 1/3 of the franchise. The Packers have been publicly owned, by a non-profit organization since Aug. 18, 1923. The corporation currently has 111,921 stockholders, who collectively own 4,749,925 shares of stock. Mark H. Murphy sits as the president, but it's hard to argue with a city that runs its own team.
4. Philadelphia Eagles Owner: Jeffrey Lurie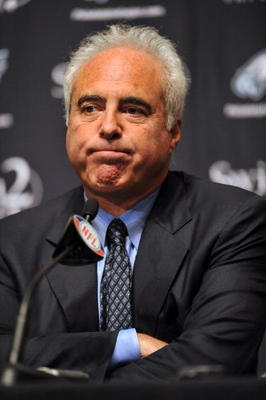 As far as profits and turnaround go, Eagles' owner Jeff Lurie may be among one of the NFL's best. Lurie bought the Eagles in 1994 from owner Norman Braman for a mere $195 million. In 2007, Forbes magazine valued the club at a now estimated worth of $1.054 billion. Lurie has helped turn the Eagles into perennial contenders, only missing the playoffs twice in the last decade.
3. New England Patriots Owner: Robert Kraft
Also the owner of the MLS's New England Revolution, Kraft has turned the Patriots into one of the most popular and marketable brands in the National Football League.
A season ticket holder since 1971, Kraft later outbid several competitors to buy the stadium out of bankruptcy court for $25 million. After then owner James Orthwein threatened to move the team to St. Louis, Kraft finally was able to offer him $175 million for the outright purchase of the NFL's least valuable franchise.
In January 1994, after the NFL announced the sale, Patriots fans showed their appreciation by buying almost 6,000 season tickets and selling out every game for the first time in the team's history. Every home game has been sold out since then. Since Kraft bought the team, they have made the playoffs nine times in 13 years, appeared in five Superbowls, and won three.
2. Buffalo Bills Owner: Ralph Wilson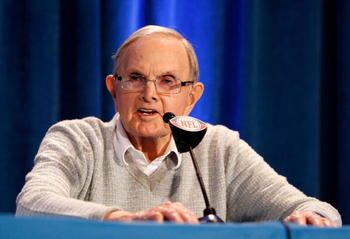 Not enough can be said about Ralph Wilson, a man who has stuck by his guns of running a classy organization, despite terrible playoff luck. The founder, owner, and president of the Bills, he was also one of the founding owners of AFL, the league that the NFL merged with in 1970. He is the oldest owner in the NFL at age 91, and was inducted into Hall of Fame on Aug. 8, 2009. Without Ralph Wilson, the NFL would NOT be where it is today.
1. Pittsburgh Steelers Owner: Dan Rooney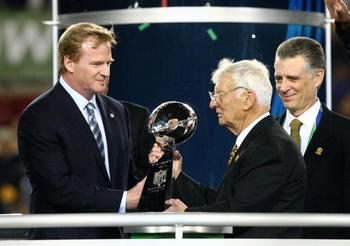 The son of founder and former Art Rooney, Dan was elected to Hall of Fame a decade ago for his great success as an owner. Before that, he took over as President in 1975 and has led the Steelers to be the most decorated NFL franchise in history.
He is also noted for coming up with the "Rooney Rule" which requires NFL teams with head coaching and general manager vacancies to interview at least one minority candidate. Under the Obama administration, Rooney now presides as the U.S. Ambassador to Ireland. He has relinquished control to his son Art.
Keep Reading