West Ham Must Remain United in Scrap for Premier League Survival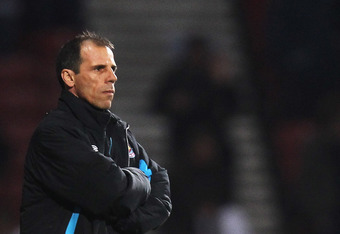 Ian Walton/Getty Images
For most of London's Premier League clubs this has been a season which has more than lived up to expectations, with Arsenal and Chelsea still in the hunt for the title, Tottenham Hotspur sitting tantalisingly in fourth spot, and Fulham still in the Europa League.
The exceptions to the rule remain West Ham United, whose season of uncertainty hit a new low on Tuesday evening as they suffered a thumping 3-1 defeat at Upton Park to Wolves.
As damaging as the defeat was for manager Gianfranco Zola and his team, the unseemly sight of striker Carlton Cole becoming embroiled in a fracas with fans merely exacerbated the issue.
The identity of his team's conquerors will not have been lost on Zola, as it was the Wolves who West Ham comfortably dispatched 2-0 in the reverse fixture on the opening day of the season, when it was not just the long summer days which seemed bright and full of promise.
On the back of a fine debut season as a Premier League manager, Zola will have looked on with hope for the coming campaign as he looked to build on what he achieved last season.
Sadly, since then, little has gone right for the much-respected and admired Italian, as his side now face up to the prospect of a relegation scrap.
In part, the financial realities at West Ham have forced his hand, as he has been forced to rely on cut-price imports and youth team players to cover for the losses of the likes of James Collins to Aston Villa, and Dean Ashton, Kieron Dyer, and Daniel Gabbidon to injury.
The fact that Zola is still saddled with the burdens of the financial misadventures of previous Upton Park regimes is ample reason to sympathise with his predicament.
Yet, on the scale of it, the talent Zola is able to call upon would, on the strength of it, be able to compete with most middle-ranking teams in the Premier League.
It is not beyond the realms of fantasy that the spine of West Ham's team, Robert Green, Matthew Upson, Scott Parker, and the miscreant Carlton Cole could all be representing their countries in the summer.
Meanwhile both Valon Behrami and Julien Faubert, plus the latterly arrived trio of Ilan, Mido, and Benni McCarthy have all represented their respective countries, while the enigmatic Italian Alessandro Diamanti can, when the mood takes him, be a match-winner.
So surely the question must be, why has a team so replete with talented players struggled?
It is this single question, which gave Zola the look of a haunted man on Tuesday, and the one which he strives to answer, as he struggles to gel a tightly knit team unit from what resources he has.
As Benni McCarthy noted on Tuesday night after the match, "The manager tried but everyone's head had dropped.
"We hadn't performed and everyone was hiding their head in their shirts, too shy to show their faces. At least we've reached rock bottom. We can't get any lower than this."
While influential defender Matthew Upson noted, "It just looks like we have lost that ability to work as a team at the moment. We need to go back to basics on that front and realise what we've got to do tactically to get the three points."
For his part, Zola insisted that the defeat was purely his fault, and in doing so, set himself up as the fall-guy for the club's predicament, raising questions over his future.
After Tuesday's match, he said, "The team is not performing very well right now, not playing very well, and I take responsibility for that. So I have to take the criticism."
Such questions have been further provoked by the stance of the club's new owners, David's Gold and Sullivan who arrived billed as the club's white knights, but have turned out to have the sort of luck more associated with black cats.
Their much-publicised proclamations of the chairman have been an attempt to rouse the club's faithful around the team. However, in a sense, using adjectives such as "shambolic" and "appalling" to publicly describe a team's performance is hardly the best way to rebuild either Zola or the team's shattered confidence.
However, if one point was shared in the messages from both the board and dressing rooms was clear, it was that they must stick together.
Upson insisted, "We need to have a long, hard look and change something about what we are doing. It is up to us, the management and the players, to do something."
While Gold said, "On Saturday we have a huge game and we cannot carry that negativity into that game, come Saturday morning I'll be back up for it and I'll be in the dressing room, rooting for the guys, supporting and encouraging them. That's what we do."
The prospect of relegation would be disastrous for the Hammers, both on and off the pitch. When David Gold and Sullivan took over the club, they had debts of around £110m, which is believed to be down to around £95m, and the two have admitted that relegation is "unthinkable."
The message from all parts' of the club is clear: Their fight for Premier League survival begins on Saturday, and if they are to achieve safety, then West Ham must remain United.
This article is
What is the duplicate article?
Why is this article offensive?
Where is this article plagiarized from?
Why is this article poorly edited?