2010 NFL Mock Draft: Must-Read Intersite Mock Draft
This intersite mock draft took place from March 3 to March 14 via e-mail.
It is comprised of numerous experts from many prominent NFL Draft sites. Please take the time to check out some of the writers' Web sites if you like what they have to say.
This should provide great exposure, and they would really appreciate any comments.
I had the honor of picking at No. 18 for the Pittsburgh Steelers. Let me know if you would have gone the same way as me, or if you think I am way off.
1. St. Louis Rams—Sam Bradford, QB, Oklahoma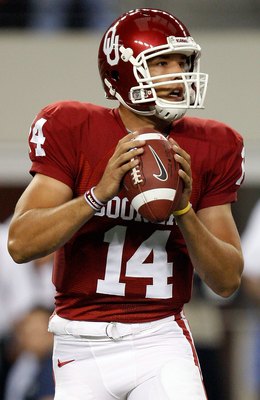 Writer: Denis Krusos, Pro Football Draft Network
St. Louis is basically an expansion team at this point (six wins in three years).
The safe choice would be to select the widely regarded best player in the draft, Ndamukong Suh. The Nebraska defensive tackle would help the Rams' run defense (opponents averaged 4.4 yards per carry and rushed for 2,201 yards last season) and provide a push up the middle.
However, this year's draft is exceptionally deep at defensive tackle. St. Louis will be able to find help at DT in the second and third round.
No position can energize and turn around a franchise faster than quarterback. The Rams were an absolute disaster on offense last year (a league low 175 points scored and only 16 offensive touchdowns).
St. Louis is not going to win many games until they start scoring points, and that begins with the right triggerman. Kyle Boller should be a backup and the Marc Bulger era is over.
The Rams will make Sam Bradford the top pick in the draft and begin the resurrection of their offense. The 2008 Heisman Trophy winner's draft stock will climb when he demonstrates during March and April workouts that his surgically repaired throwing shoulder is 100 percent healthy.
2. Detroit Lions—Ndamukong Suh, DT, Nebraska
Writer: Will Spencer, Draft Breakdown
The Lions draft room erupts with cheering after they hear that St. Louis has passed up the best player in the draft.
This pick is a no-brainer for Detroit, as Suh fills a huge need for the team.
Detroit allowed 126.6 yards a game on the ground last season, and having a guy like Suh anchoring their defensive line will certainly improve that number.
To make matters worse, Detroit recorded only 26 sacks all season, which was 29th in the NFL. Head coach Jim Schwartz made a name for himself in Tennessee as a defensive coordinator with Albert Haynesworth, a premier defensive tackle who was consistently able to rush the passer and collapse the pocket.
Suh will bring the same skill set to the table for the Lions with his disruptive play and ability to dominate an offensive line (see: Big 12 championship against Texas).
3. Tampa Bay Bucs—Gerald McCoy, DT, Oklahoma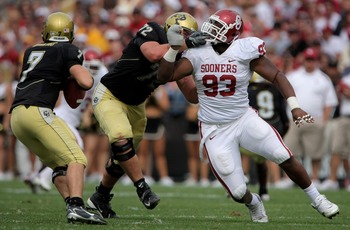 Writer: Matt McGuire, WalterFootball.com
Easiest pick in the draft. The Tampa Bay Buccaneers are absolutely desperate for defensive line help and they are thrilled at the chance to draft Suh or Gerald McCoy.
Toward the latter half of last season, when head coach Raheem Morris took over play-calling duties, Tampa went back to its traditional Tampa-2 zone defense, which requires a highly athletic three-technique to push the pocket, rush the quarterback, and disrupt in the backfield.
McCoy is the prototypical three-technique, and the Bucs defense is in need of elite playmakers.
Many say Dez Bryant should be the pick here to help Josh Freeman out offensively, but the bottom line is this is a very good receiver draft and you can find a talented player in the second round.
This pick was simply a no-brainer.
4. Washington Redskins—Russell Okung, T, Oklahoma State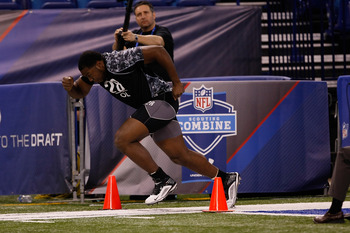 Writer: Bill Viola, Saturdays 2 Sundays
The Redskins could look in two different directions with this selection.
They could either select a franchise quarterback in either Bradford (if available) or Jimmy Clausen, or they could try to shore up the offensive line by taking a tackle.
With Bradford off the board, in my view, this pick becomes easy.
At 6'5", Okung will prove to be a valuable piece to the puzzle in Washington's developing offense. Remember, even the best of quarterbacks can't perform when there is constant pressure.
Eric Berry will also be an option here, but the offensive mastermind, Mike Shananhan, will put offense before defense.
Where the Redskins find their franchise quarterback is a different story.
The team stockpiled at the quarterback position, the Philadelphia Eagles, are in the Redskins' division and probably unlikely to flip one of their quarterbacks to a rival.
5. Kansas City Chiefs—Eric Berry, S, Tennessee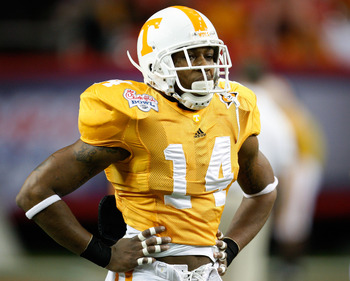 Writer: Mike Bozarth, NFL Draft Bible
Berry has the talent and hype to get the Kansas City Chiefs fans excited about the new direction of the 3-4 defense and the front office. (Scott Pioli, Todd Haley, Romeo Crennel, Charlie Weis).
The Chiefs have several needs.
There is no question the offensive line could use some upgrades. The group did allow Jamaal Charles to rush for 968 yards in the final eight games, but it struggled to give Matt Cassel time to throw.
The Chiefs have the money to overpay in free agency and have two second-round picks. They will be able to address the line without the fifth overall pick.
With Berry the Chiefs have a playmaker that is capable of stuffing the run and creating turnovers. His versatility and ball skills are what separate him from a stacked safety class. His presence will help the Chiefs' young corners, including Brandon Flowers, who is on the verge of becoming a Pro-Bowler.
The Chiefs get a young playmaker that is intelligent enough to take control of the defense. With Berry the Chiefs would immediately have one of the best young secondary groups in the NFL.
6. Seattle Seahawks—Anthony Davis, T, Rutgers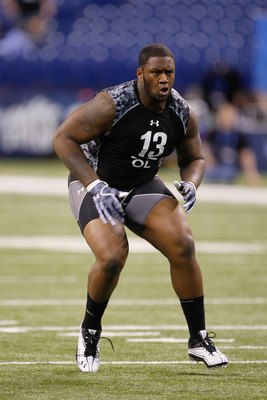 Writer: Joe Arpasi, College Football Geek
The biggest reason for the Seahawks' downturn over the last two seasons is the deterioration of the offensive line.
This will be the first piece of the puzzle for new coach Pete Carroll to address.
Anthony Davis brings the type of talent to Seattle that will help shore up the offensive line, and, more importantly, provide the quarterback with more time in the passing game.
The offensive line issues must be addressed before the Hawks can return to the divisional championship discussion.
7. Cleveland Browns: Rolando McClain, LB, Alabama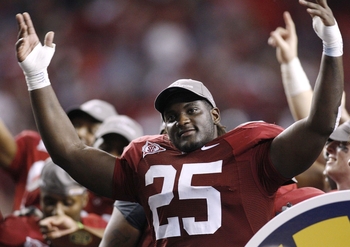 Writer: Aaron Aloysius, Pro Draft Party
The Browns are in a tough position here—Eric Berry's already off the board, and likely target Joe Haden flummoxed everyone in Indy with a slow 40 time, making him a tough projection for this pick.
They could go with Jimmy Clausen, but recent reports indicate the Browns are looking to trade for their new starting quarterback.
And while Dez Bryant would make sense from a talent perspective, he may not meet the team's high character standards.
Instead, the Browns make a bit of a surprise pick and go with Rolando McClain, who would add size, smarts, and instincts to the middle of Cleveland's 3-4 defense.
Though some may consider him a reach here, McClain is the type of intelligent, high-character player Eric Mangini covets.
And with D'Qwell Jackson making noise about his contract situation, the new front office may decide to let another team pay Jackson, bringing in McClain to man his spot instead.
8. Oakland Raiders—Bruce Campbell, T, Maryland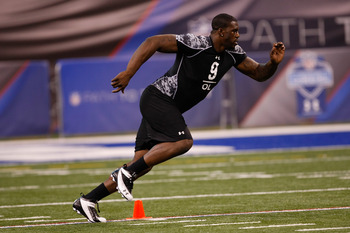 Writer: Mike Harman, Draft Zoo
Everyone knows the Al Davis M.O.—speed, athleticism, nice in tights, handy with a needle when the track suit catches a snag. And after the combine, there's no doubt that Campbell fits at least three of those requirements.
A 4.85 at his size probably had Davis running for a fresh girdle.
But even if he reaches within a position, he usually does a nice job of addressing the Raiders' biggest needs.
Again, Campbell is a fit. It's just hard to imagine this going down another way when someone has to block for JaMarcus Russell and an absolute freak is sitting there at eight.
Maybe Campbell's the one holding onto Darrius Heyward-Bey's mojo. Seems like something Maryland players pass down to each other come combine time every year.
9. Buffalo Bills—Jimmy Clausen, QB, Notre Dame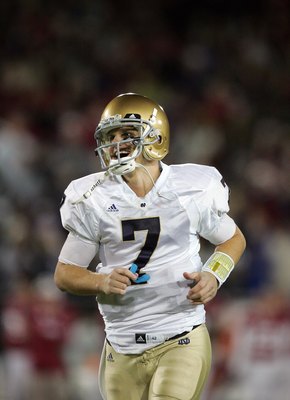 Writer: Scott Wright, Draft Countdown
This couldn't have worked out better for Buffalo, as the Bills are able to land the quarterback they so desperately need.
In 2009 the Bills passing offense ranked 30th in the league, and it became abundantly clear that they didn't have a long-term solution under center on their roster.
In Notre Dame's Jimmy Clausen, the Bills are getting a polished signal-caller with three years of starting experience in a pro-style offense who has been tutored by one of the best quarterback coaches in all of football.
Buffalo would have just been spinning its wheels until it adequately addressed the quarterback situation, but the addition of Clausen finally gives the franchise some legitimate hope for the future.
Plan "B" for the Bills would have been a left tackle, but, with Clausen still on the board, this was an easy decision.
10. Jacksonville Jaguars—Derrick Morgan, DE, Georgia Tech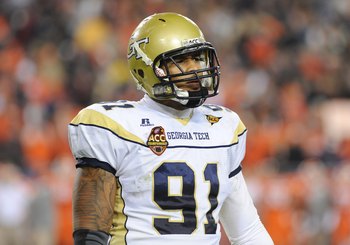 Writer: Sigmund Bloom, Draft Guys
More than anything, the Jaguars need a pass rush, and Morgan is the best-suited player in the 2010 class to provide it.
His long arms, brute strength, wide array of pass-rush moves, explosiveness off the snap, and heady play would give the Jags a bookend for 2008 first-round pick Derrick Harvey, who should blossom now that the Jags have ended their dabbling in the 3-4 defense.
Morgan is durable, intelligent, and a leader on and off the field—all things that make him a safe and worthy top-10 pick and first defensive end off the board in the 2010 draft.
11. Denver Broncos—Joe Haden, CB, Florida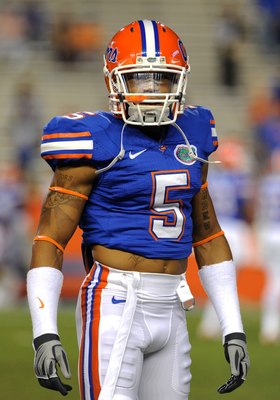 Writer: Hunter Ansley, Draft Zoo
I have to believe that the Broncos want to shore up this awful run defense, but with McClain off the board, there aren't many options. And I think this is too high for Dan Williams.
Although everyone likes to stick Dez Bryant here, I don't see any way Josh McDaniels trades one diva receiver for a guy some believe has the same type of personality.
I'm not as down on Bryant as some, but if there's even a hint of that attitude there, Denver will pass.
That leaves Haden. No, the secondary doesn't need a new corner right this second, but Champ Bailey is getting up there and won't be around forever, and Andre Goodman is, well, Andre Goodman.
Haden's taking some heat because in one weekend of working out he didn't run 40 yards in a straight line fast enough. If he slips to 11, he's an absolute steal in my mind.
He's still the top corner in this class and was pretty much a top-seven lock in most minds before people overreacted to his 40 time.
Denver gets great value here and a definite starter for a long time.
12. Miami Dolphins—Jason Pierre-Paul, DE/OLB, South Florida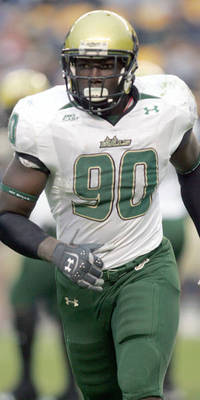 Writer: Walter Cherepinsky, Walter Football
Bill Parcells has spent six first-round selections on linebackers.
Make it seven.
Jason Pierre-Paul is a raw, one-year wonder with a high bust probability, but he also has a ridiculous upside. That, along with his impressive size (6'5", 270) and combine workout (4.64 in the 40) will coax Parcells into drafting the South Florida product.

The bottom line is that the Dolphins need to improve their pass rush.
Joey Porter was cut, while Jason Taylor turns 36 on Sept. 1. Someone besides Cameron Wake needs to get to the quarterback.
With inside linebacker no longer a need in the wake of the Karlos Dansby signing, Parcells will be targeting Pierre-Paul at No. 12.
13. San Francisco 49ers—Bryan Bulaga, OT, Iowa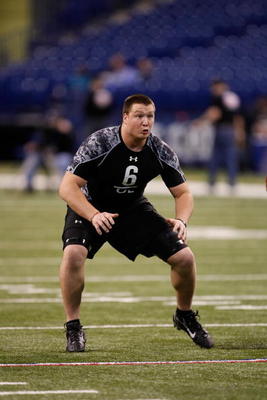 Writer: Dan Wernery, NFL Draft 101
Entering the draft the biggest needs for the Niners are offensive tackle, inside linebacker, and defensive back.
With two first-round picks, San Francisco must read the draft properly. The players San Francisco will target in this situation are offensive tackles Brian Bulaga and Trent Williams and safety Earl Thomas.
In a perfect world, without trades, San Francisco would draft Thomas and get its tackle at No. 17. However, if the Niners remember the last two drafts they will not pass on the offensive tackle at No. 13. The last two drafts saw several teams trade up to the first round to take an offensive tackle.
San Francisco cannot leave this draft without an offensive tackle. You can find adequate linebacker and secondary help in free agency, but offensive tackles are harder to come by.
Right tackle has been a trouble spot for several years in San Francisco. Luckily for them Joe Staley can play both tackle spots.
Bulaga is a better fit at left tackle but can play both sides. Williams was a dominant right tackle through 2008, but struggled after moving to the left side in 2009.
Staley is a better fit at right tackle, which is why they would take Bulaga in this situation.
14. Seattle Seahawks—C.J. Spiller, RB, Clemson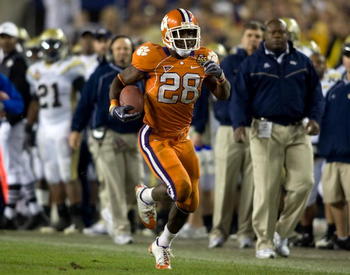 Writer: Colin Lindsay, Great Blue North Draft Report
The Seahawks replaced left tackle Walter Jones with the pick of Anthony Davis at No. 6. However, it might have made as much sense for the Seahawks to have taken Clausen at that spot.
They could have followed that by addressing the offensive tackle need from a deep class at position No. 14. Obviously, the Seahawks are going to have to wait until the later rounds this year, or next year, to find Matt Hasselbeck's ultimate replacement.
However, Pete Carroll and Co. will still have some interesting options with the 14th pick. Along with Davis, enigmatic Oklahoma State wide receiver Dez Bryant might help take a year or two off Hasselbeck's football age.
For now, though, the Seahawks appear to be the front-runner to land free agent diva wideout Brandon Marshall from Denver. If they do land Marshall, the Bryant pick becomes unnecessary.
Carroll might also be tempted to take one of his USC guys as both free safety Taylor Mays and defensive end Everson Griffin would address major needs, though both would be reaches at this point.
Carroll, though, likes to run the ball with speed, and Clemson running back C.J. Spiller would give the Seahawks offense an immediate big-play threat.
15. New York Giants—Brian Price, DT, UCLA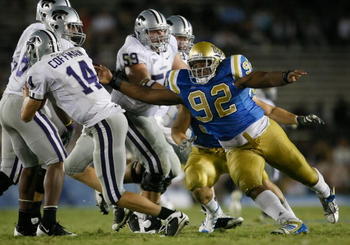 Writer: Ian Kenyon, Sideline Scouting
Fred Robbins just signed with the Rams, and the Giants defense struggled to produce an interior pass rush last season.
Price has an extremely quick first step and is a great fit as a three-technique in the Giants system. Big Blue has continually taken players early to bolster their front seven, and 2010 is no different.
They would have been incredibly tempted by Earl Thomas here had they not just made Antrel Rolle the highest-paid safety in NFL history.
Another player I considered here was Dan Williams, the defensive tackle out of Tennessee. But in the end, Price fits the Giants system much better and is the type of pass rusher they covet.
16. Tennessee Titans—Carlos Dunlap, DE, Florida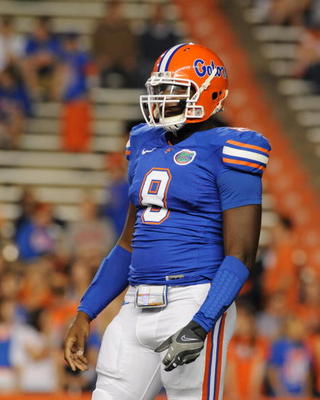 Writer: Justin Onslow, Sideline Scouting
The Titans are in rebuilding mode up front and will be looking to address the defensive end position in the draft.
After losing Albert Haynesworth last year and Kyle Vanden Bosch this year, Tennessee's prominent defense of years past has diminished significantly.
Dunlap is a multi-talented end who can be a consistent pass rusher in the NFL. He also possesses a great mix of size and speed and will be a valuable asset used to stop the run outside the tackles. Tennessee's pass defense will get considerably better by adding a pass-rushing force like Dunlap up front.
The Titans could also consider Bryant with this pick, but Tennessee's identity in recent years has been tied to moving the chains on the ground and stopping the run. Vince Young will need help at receiver, but that can be addressed in later rounds.
For now, Dunlap is the best value for a Titans team looking to rediscover its fearsome defensive identity.
17. San Francisco 49ers—Earl Thomas, FS, Texas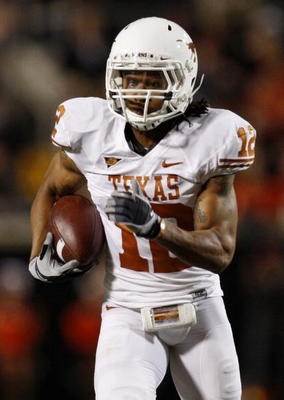 Writer: Ryan McCrystal: Draft Ace
If the 49ers address the offensive line with the 13th pick, then the secondary should be their focus with this selection.
Dashon Goldson saw the majority of the playing time at free safety last season and was exposed in coverage.
No such claim will ever be made against Thomas, who some believe has the coverage skills necessary to transition to cornerback.
Should the vastly overpaid Nate Clements continue to struggle (he was benched briefly in 2009), the 49ers just may decide to give Thomas a shot at corner.
18. Pittsburgh Steelers—Trent Williams, OT, Oklahoma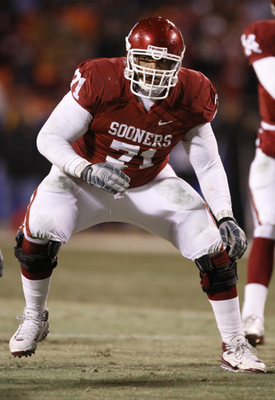 Writer: Kevin Hatfield, NFL Draft Bible
Ben Roethlisberger has become one of the most sacked quarterbacks in the league, and it starts with the poor play of tackles Max Starks and Willie Colon. Though they are young players, they have struggled in pass protection and do not look to have a much higher ceiling.
Trent Williams would solve this problem.
He is a franchise left tackle, one who can step in right away and start. Williams started for almost three years at Oklahoma and has the ability to play both left and right tackle.
He also proved to be quite the athlete at the NFL Combine, running the second fastest 40 time for an offensive lineman while posting solid numbers in the broad jump and vertical jump.
Offensive line is what the Steelers need most, and the balanced game of Williams would be a steal at No. 18 overall.
19. Atlanta Falcons—Sean Weatherspoon, OLB, Missouri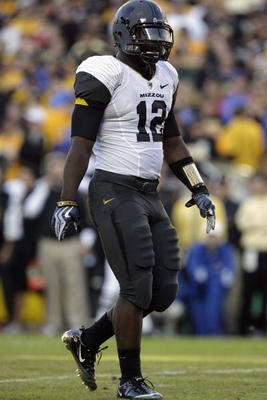 Writer: Shane Hallam, Blogging the Draft
The Atlanta Falcons' front seven can use upgrading with holes at defensive end, offensive linebacker, and youth at defensive tackle.
They were 28th against the pass, and though the team hopes the signing of Dunta Robinson will help, adding a linebacker that can rush the passer and excel in pass coverage would be another huge upgrade.
Sean Weatherspoon fits the bill.
He looks excellent on film, is passionate, and would be an instant defensive leader. By showcasing himself at the combine, Weatherspoon may have become a top-20 pick.
If the Falcons were impressed with him in interviews, he will be near the top of their draft board in terms of need.
With John Abraham, Peria Jerry, Weatherspoon, Curtis Lofton, and Dunta Robinson, the Falcons defense would be primed for resurgence.
If the Falcons do decide to go another way, they could use another end to pair with Abraham—someone like Brandon Graham.
20. Houston Texans—Ryan Mathews, RB, Fresno State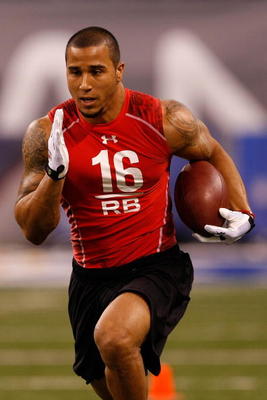 Writer: Mike Band, Draft Ace
Conventional wisdom would say that the Texans would pass on a running back in the first round because it doesn't fit the M.O. of head coach Gary Kubiak.
Expect that trend to change this April.
The team fully believes that they are only a few pieces away from legitimate contention, and their main focus will be on finding a full-time No. 1 back.
Steve Slaton and Arian Foster have failed to show that they can be 20-plus-carry guys. Meanwhile, Mathews fits this selection perfectly. At 218 pounds, Mathews ran a 4.45 official time at the combine. He's a tough, downhill runner who could excel in Houston's zone-blocking scheme.
His production at Fresno State is matched by few and his play certainly warrants first-round consideration.
Mathews is also coming out as a junior, meaning he has taken less of a pounding than most senior backs in this year's class.
His stock ranges from picks No. 18-25 heading into his pro day, which fits perfectly for Houston's No. 20 selection.
21. Cincinnati Bengals—Mike Iupati, OG, Idaho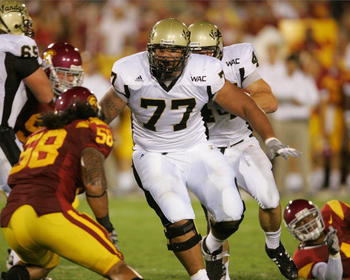 Writer: Chris Maier, NFL Draft 101
After the free-agent signing of Antonio Bryant, the Bengals' focus shifts to tight end (Jermaine Gresham), guard (Mike Iupati), and safety (Taylor Mays) in the first round.
Mays will get strong consideration, as the team has taken a Trojan in the top two rounds in each of the past two drafts, but the offense will likely get more attention early on draft day.
While on the surface one would think a tight end would make the greatest impact, the team has not featured the position under coordinator Bob Bratkowski, and there are likely to be good values at the position in the second and third rounds.
Lastly, one of the biggest reasons the Bengals took the air out of the ball last season was the offensive line's inability to protect Carson Palmer (the Bengals started three former practice squad players on the line for much of 2009).
Iupati is an exceptional talent with Pro Bowl potential. He would immediately improve the pass protection while combining with Andrew Whitworth to open holes for Cedric Benson in the ground game.
22. New England Patriots—Dez Bryant, WR, Oklahoma State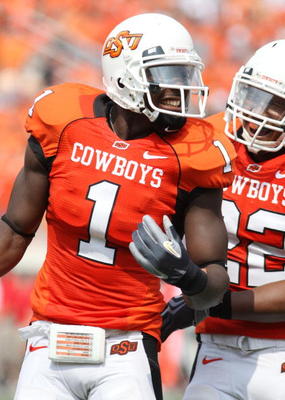 Writer: Paul Swanson, The Draft Matters
Even though I don't see Dez Bryant slipping this far, the Patriots would have to take him if given the opportunity.
Wide receiver is definitely a need with the injured Wes Welker and aging Randy Moss, and Bryant is too much of a talent to pass on.
Bill Belichick has never drafted a wide receiver in the first round and would be reluctant to do so here.
This class of defensive tackles is deep, so the Patriots might wait to land a 3-4 defensive end with one of their three second-round picks. Pass rusher is the Patriot's biggest need, but they can easily grab one later as well.
Simply put, you can't pass up a top-10 talent with pick 22.
23. Green Bay Packers—Kyle Wilson, CB, Boise State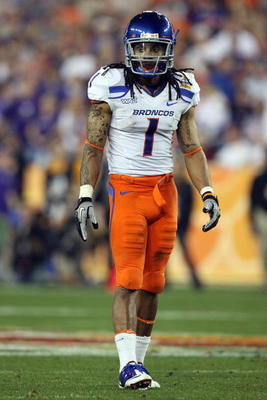 Writer: Cecil Lammey, Draft Guys
The pick would have been Mike Iupati because of the Packers' need on the offensive line, but because he was selected just two picks before, Green Bay will have to go with Plan B.
Both Charles Woodson and Al Harris are no spring chickens, so age is a big concern in the secondary.
Harris went down last year with a season-ending knee injury in November, and the team looked especially poor defending the pass in shootouts against the Steelers and Cardinals (in the playoffs). In those two contests the Packers gave up 882 yards passing, eight passing touchdowns, and had zero interceptions.
Tramon Williams is best suited as a nickel cornerback, so the Packers are thrilled to add a player like Kyle Wilson in the first round.
Wilson is an instinctive player, who stands out on the field because of his tenacity for the game. He looks natural in coverage and has an outstanding work ethic.
Wilson is disciplined when playing zone coverage and does not regularly bite on double moves. His toughness stands out when he comes up to support the run.
Three career touchdowns as a punt returner add to his value.
24. Philadelphia Eagles—Taylor Mays, S, USC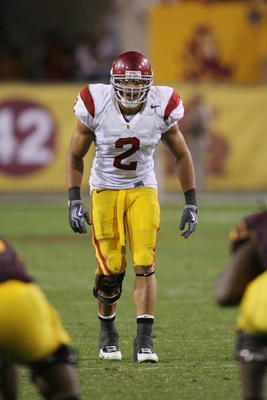 Writer: Todd DeVries, College Football Geek
By selecting Taylor Mays, the Eagles fill a hole at the safety position that has been a problem since they dumped Brian Dawkins last spring. The combination of converted cornerback Macho Harris, Sean Jones, and Quintin Demps proved to be a failed experiment.
The recent signing of Marlin Jackson raises eyebrows due to his two recent ACL injuries.
With the 6'3", 230-pound Mays, the Eagles would be getting one of the more intriguing athletes in this draft. For his size, he displays great range and plays with high intensity.
He has the measurables and the upside, but has lacked in the big play department, with only four interceptions on his resume.
Whether Earl Thomas falls in their lap or they roll with Mays, look for the Eagles to make their first significant draft-day investment in the secondary since the 2002 haul of Lito Sheppard, Michael Lewis, and Sheldon Brown.
25. Baltimore Ravens—Jermaine Gresham, TE, Oklahoma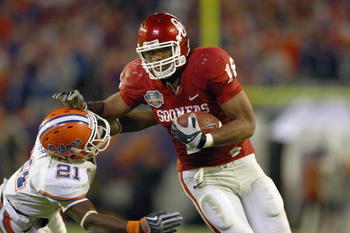 Writer: Rob Engle, Draft Breakdown
If the draft shaped up this way, the Ravens would be ecstatic.
It's no secret that Brandon Graham is one of their favorite players, and other players at need positions are still available (Devin McCourty, Jared Odrick).
It's hard for me to not pick Brandon Graham for the Ravens here because I know how hard it would be for them to pass on him, but Gresham would help provide quarterback Joe Flacco with another big target for the middle of the field.
Plus, the Ravens don't have much behind Todd Heap, as L.J. Smith is unlikely to return.
There is a chance, however, that the Ravens won't be comfortable spending a first-round pick on a player who missed an entire season with a knee injury.
26. Arizona Cardinals—Dan Williams, NT, Tennessee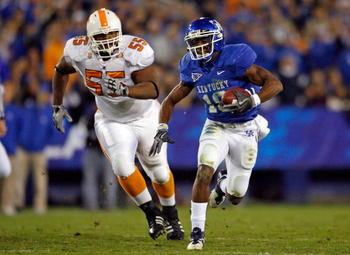 Writer: Jon Dove, Mocking the Draft
This pick is perfect for the Cardinals.
Dan Williams is the best player available and fills a position of need. The Cardinals need a big run stuffer capable of playing the nose tackle position. Bryant Robinson, Alan Branch, and Gabe Watson are not long term solutions at the position.
Some other players I considered were Brandon Graham and Jerry Hughes, but I think the Cardinals will be able to sign a free agent or two to bolster the roster.
They could also use late-round picks to provide depth at the linebacker position.
27. Dallas Cowboys—Maurkice Pouncey, C/G, Florida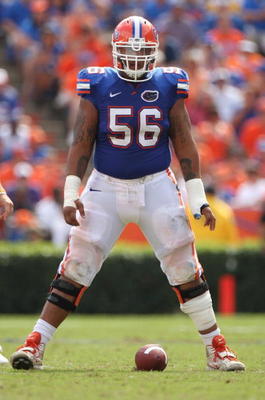 Writer: Robert Bryant, NFL Draft Dog
Pouncey is an excellent value here and fills a huge need.
Since 1991 the Cowboys have drafted 11 offensive guards and have only two starters to show for it: Larry Allen and Andre Gurode. Allen is long gone and Gurode is now their starting center.
The versatile Pouncey (6'5", 314 pounds) can play center or guard and will compete for the starting left guard spot against Kyle Kosier.
Did I mention that the Cowboys' only backup guard, Cory Proctor, probably could not make the roster of any other team in the NFL?
28. San Diego Chargers—Terrence Cody, NT, Alabama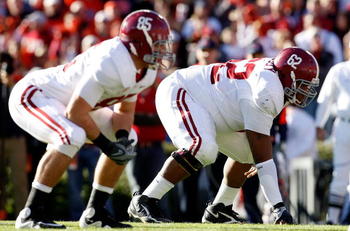 Writer: Vinny Brandonisio, The Draft Matters
The Chargers' two biggest holes are at nose tackle and running back due to the departures of Jamal Williams and LaDainian Tomlinson.
Jahvid Best is the top back available, but I don't see the Chargers using their first-round pick on a player with a history of injury and subpar blocking skills.
Terrence Cody may be a second-round talent due to his conditioning, but with so many teams making the switch to the 3-4, a true nose tackle will be a tough commodity to come by in the NFL.
Cody has the size and strength to be a dominating presence on the interior of the defense. He also showed he's dedicated to getting in shape by dropping from 370 pounds at the Senior Bowl to 348 pounds at Alabama's pro day.
If Cody is available this late in the first round, the Chargers won't be able to pass him up.
29. New York Jets—Brandon Graham, DE, Michigan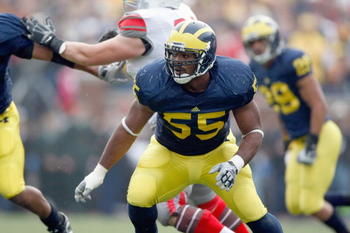 Writer: Matt Bitonti, Draft Daddy
Historically, the New York Jets front office values defensive ends who can rush the passer.
The defense was excellent overall in 2009 but finished a mediocre 18th in sacks. They blitz well, but better quarterbacks (like Brady and Manning) can see the rush coming and avoid it.
The defense isn't getting enough sacks in straight-up three- or four-man fronts. Calvin Pace is decent and Bryan Thomas is underrated, but Thomas is 30 and Pace turns 30 during the coming season.
Vernon Gholston, if he's not already a bust, is in a make-or-break situation this year and certainly hasn't done enough to allow the Jets to pass on Brandon Graham.
With needs at defensive line and wide receiver, they aren't necessarily going into this draft looking for Graham, but if he falls in their laps they can't pass him up.
He was deservedly the defensive MVP of the Senior Bowl and was awesome in practices. Graham has top-notch speed, functional strength, and an arsenal of pass-rush moves, many reportedly learned from current Pittsburgh Steelers outside linebacker LaMarr Woodley.
30. Minnesota Vikings—Devin McCourty, CB, Rutgers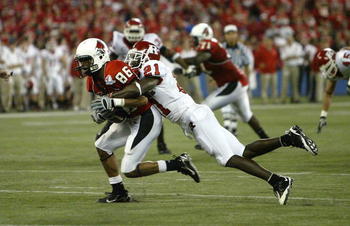 Writer: Kenny Franek, NFL Draft Bible
The Vikings could have chosen a safety with this pick, but since Mays was selected earlier the pick was essentially made for them.
With Cedric Griffin unlikely to be ready for the first few weeks of the season, Antoine Winfield coming off a broken foot and aging, and Benny Sapp playing inconsistently for much of last season, the Vikings get much needed depth and one of the best corners in the draft.
He's not the biggest of corners, and he struggles in man coverage if his opponent is bigger and/or faster, but McCourty possesses great ball skills and leaping ability so he isn't as easily outmatched as one might think.
Luckily for him he landed in a perfect defensive scheme (Cover-2), one he played in at Rutgers.
That means help over the top for him, so he can use his great instincts and play-making ability to take some chances.
With many teams using three-receiver sets, McCourty will likely see the field a lot in his rookie campaign. He also adds depth on special teams, mainly as a punt returner.
31. Indianapolis Colts—Jared Odrick, DT, Penn State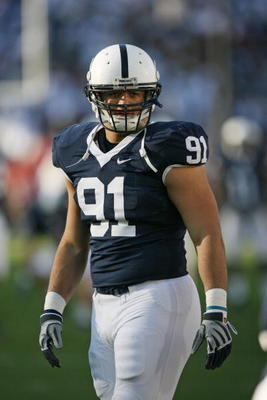 Writer: Doug Lancy, NFL Draft 101
Indianapolis needs to address their offensive and defensive lines. Their current left tackle situation is shaky, but at this slot they'd have to reach for someone like Charles Brown.
On the defensive side, they have the choice of adding a defense end like Jerry Hughes, who would still be behind Dwight Freeney and Robert Mathis this year.
The other option would be to take a defensive tackle who could immediately compete for a starting spot against Daniel Muir and Antonio Johnson.
Jared Odrick is a smart tackle with some great skills.
He provides an excellent inside pass rush, which would help the rest of the pass rushers be more effective. Odrick also has the ability to learn and develop into a solid run stuffer, something the Colts defense could also use.
32. New Orleans Saints—Everson Griffen, DE, USC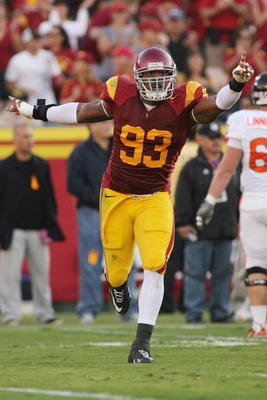 Writer: Steven Lourie, Football Fan Spot
The Saints just cut Charles Grant, his large contract, and his larger gut. While it was the right move, it leaves them even thinner on the left side of their defensive line.
They already needed an upgrade at left defensive tackle opposite Sedrick Ellis, and now they need an upgrade at end opposite Will Smith.
I would be very surprised if two of their first three picks weren't focused on upgrading the left defensive tackle and left defensive end spots. Here they take the left defensive end because of the nature of the draft board, and that means Everson Griffen.
He is a hit-or-miss kind of player, but the Saints can afford to take a risk after winning the Super Bowl, and defensive genius coordinator Gregg Williams will probably think he can get the most out of him (and he'd probably be right).
Keep Reading