2010 NFL Mock Draft: Mid Free Agency Period Edition - Round 1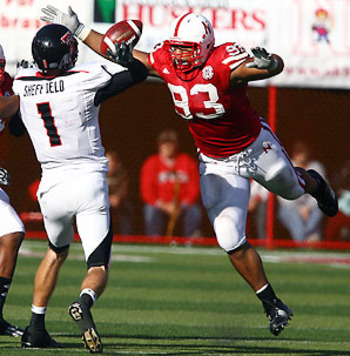 I wasn't going to post another mock draft until just before the draft, but I just couldn't wait.
I've been thinking about a few trades and picks that make sense. There is still about four weeks left of free agency, so there are still a few moves teams can complete.
I'll post another first round and second round mock just before the draft. As always, comments are appreciated.
1. St. Louis Rams— Sam Bradford, QB, Oklahoma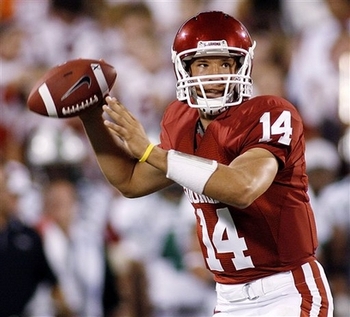 No, Suh isn't the pick here, but the photo looks great.
If you are going to have to pay a player 12 to 13 million dollars a year, the player should be a franchise quarterback. Clausen may be more prepared to start in a NFL offense from day one, but with Bradford's size, arm strength, and accuracy, this should be the pick.
Unless Bradford does not check out medically at his pro day, this will be the pick.
2. Detroit Lions—Russell Okung, OT, Oklahoma State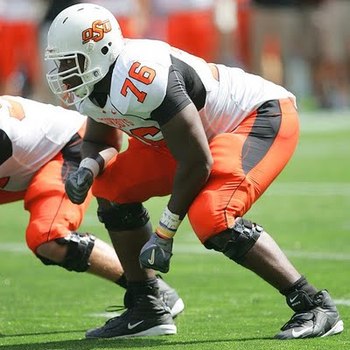 The Lions picked up their franchise quarterback last year.
This year, the Lions pick up their franchise left tackle.
Most people have Suh in this spot, but the Lions should end up picking Okung. They need to keep Stafford healthy.
3. Cleveland Browns (trade with Tampa Bay Buccaneers)—Jimmy Clausen, QB, Notre Dame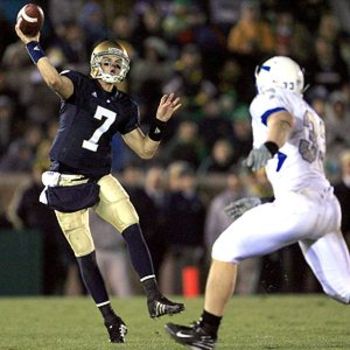 If the Browns want their franchise quarterback this year and if they believe Clausen is the guy, then they would need to trade up for this pick.
With Okung off the board there is a greater possiblity that Washington picks Clausen. Clausen wouldn't have to start right away with Delhome in the mix, but would probably come in as the starter a few games in the season similar to Matt Stafford last year.
The Browns swap first round picks and give the Bucs one of their three third round picks.
4. Washington Redskins—Eric Berry, S, Tennessee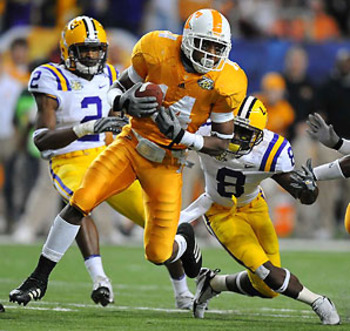 Since Clausen and Okung are off the board, the Redskins go with the best player on their board. Berry would start right away and play free safety and cornerback.
5. Kansas City Chiefs—Ndamukong Suh, DT, Nebraska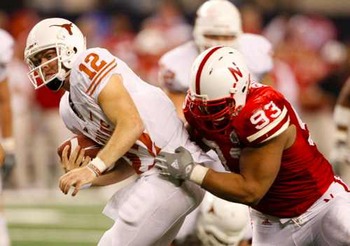 Ndamukong Suh is too hard to pass up at this point. If Okung was to slip, he would go at this point.
Drafting Suh also means the Chiefs might try to trade Glenn Dorsey for additional picks.
6. Seattle Seahawks—Dez Bryant, WR, Oklahoma State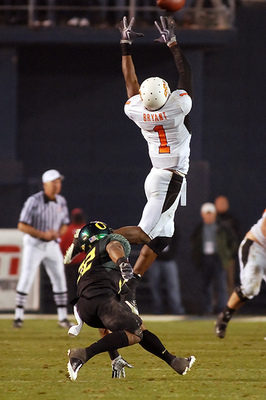 If the Seahawks don't trade this pick or the 14th pick for Brandon Marshall, then Bryant is the pick. The Hawks need another receiver across from TJ.
If they do trade this pick to the Broncos, this pick will still be Bryant.
7. Tampa Bay (Trade with Cleveland Browns)—Gerald McCoy, DT, Oklahoma
The Bucs trade down a few spots and still receive the player that they were probably going to pick at pick three.
McCoy will start from day one and be a force on the defensive line for years to come.
8. Oakland Raiders—Bruce Campbell, OT, Maryland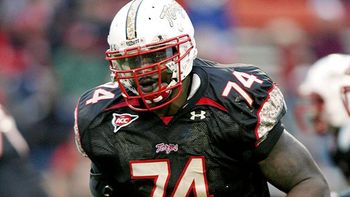 The Raiders pick Campbell to start from day one at left tackle. Al hopes Campbell will protect JaMarcus Russell enough to prove that Russell wasn't a lost pick.
9. Buffalo Bills—Bryan Bulaga, OT, Iowa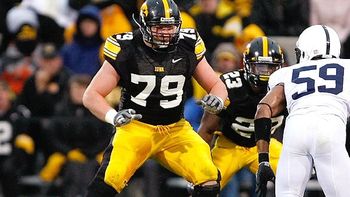 With Clausen off the board the Bills will be looking for offensive line help. Bulaga will start from day one at left tackle.
10. New England (Trade with Jacksonville)—C.J. Spiller, RB, Clemson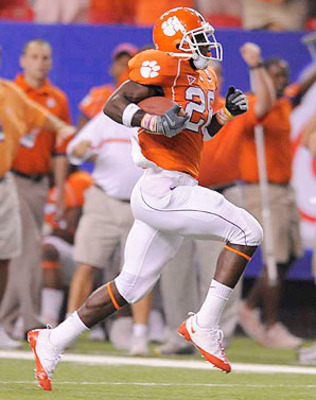 The Jaguars trade with the Patriots because the player they will certainly be looking at drafting in this spot is not ranked high enough for the pick.
The Jaguars also don't have a pick in Round 2, so they swap first round picks with the Patriots and receive one of the Patriots three second round picks.
The Patriots add the dynamic Spiller. They will find many ways to use him in their offense.
11. Denver Broncos—Rolando McClain, ILB, Alabama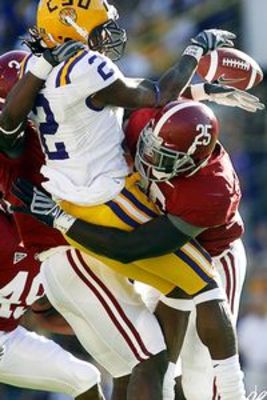 The Broncos find the tackling machine in their 3-4 defense. The Broncos might also think long and hard about a nose tackle, but they could use a second round pick on one.
12. Miami Dolphins—Derrick Morgan, DE, Georgia Tech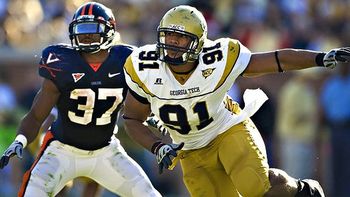 The Dolphins add one of the top-rated pass rushers in Morgan. The Dolphins will be looking for a pass rusher to replace Porter and Taylor.
13. San Francisco—Trent Williams, OT, Oklahoma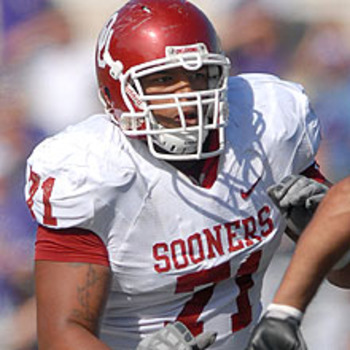 It is highly likely the Seahawks pick an offensive tackle at 14 if two of the top four tackles are still on the board.
If the 49ers have Williams at the top of their board and above Anthony Davis, he has to be the pick. Some might ask about Joe Haden, but I don't know, I just don't think he has the playmaking ability that you would want in your No. 1 corner.
Don't hear me wrong, Haden will be a solid corner, I just don't think he'll be a shutdown, eight-interceptions-a-year corner.
14. Seattle Seahawks—Anthony Davis, OT, Rutgers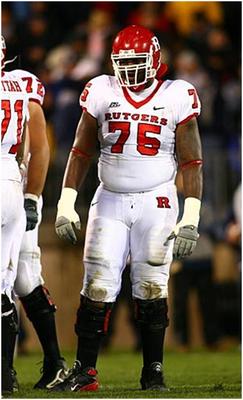 The Seahawks pick up their left tackle to replace Walter Jones.
15. New York Giants—Earl Thomas, S, Texas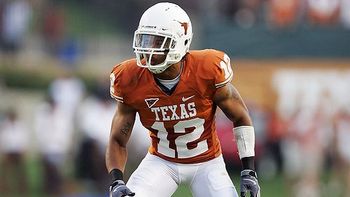 The Giants pick up the playmaking Thomas to pair across from Phillips. They might also look at Haden, but Thomas is more of a ball hawk.
16. Tennessee Titans—Dan Williams, DT, Tennessee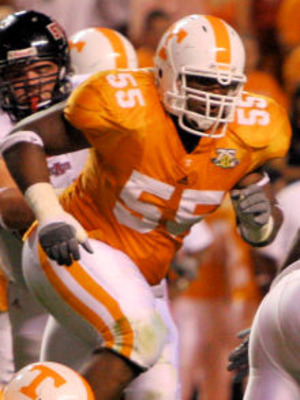 Tennessee drafts Williams to play nose tackle and fill the void of Albert Haynesworth, who was lost in free agency a year ago.
17. Houston Texans (Trade with San Francisco)—Joe Haden, CB, Flordia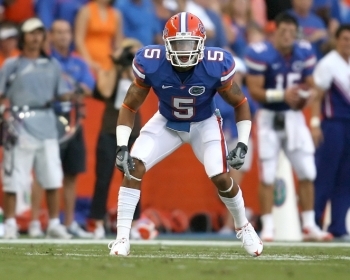 If Haden falls this far, then the 49ers could pick him up; however, there will also be trading opportunities.
The 49ers make a trade with Houston. The 49ers would swap first round picks and pick up a fourth round pick. Houston will be looking for a corner to replace Dunta Robinson.
18. Pittsburgh Steelers—Mike Iupati, OG, Idaho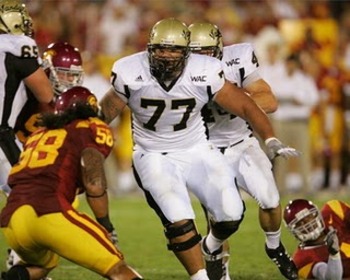 The Steelers add the road grader Iupati to their offensive line to protect Big Ben. Iupati would start right away at right tackle.
19. Atlanta Falcons—Sean Weatherspoon, OLB, Missouri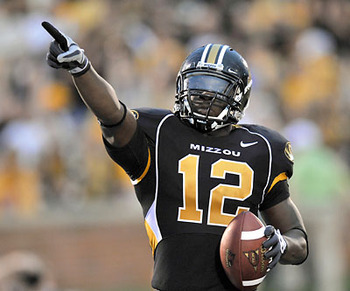 Sean had an excellent combine and made his mark as a first round pick. Sean Weatherspoon is a leader and would help on the defensive side of the ball.
20. San Francisco 49ers (Trade with Houston)—Taylor Mays, S, USC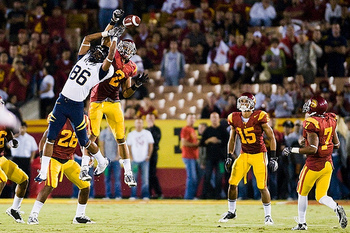 Pick 17 might be a little high for Mays. Pick 20 might also be high for Mays. If the 49ers are high on him, as rumors indicate, they might be looking for a trade partner to move back later in Round 1 and pick up additional picks later in the draft.
Houston would be a potential trade partner especially is Haden is still on the board at pick 17.
21. Cincinnati Bengals—Jermaine Gresham, TE, Oklahoma
The Bengals need help in the passing game. Gresham gives them a big tight end and red zone threat.
22. Jacksonville Jaguars (Trade with New England Patriots)—Tim Tebow, QB, Flordia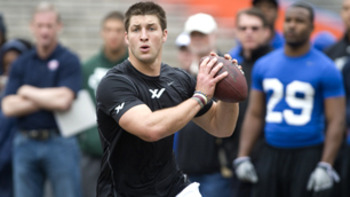 Tebow has the work ethic to eventually become a starting quarterback in the NFL. He'll need a few years to develop.
Unfortunately, Tebow will play situationally to help boost ticket sales and probably be handed the starter keys earlier than he should.
23. Green Bay Packers—Charles Brown, OT, USC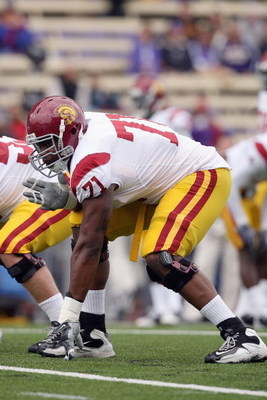 Brown is a player that probably won't start right away at left tackle but is a great athlete and will work his way to eventually become the starter for the Packers at left tackle.
24. Philadelphia Eagles—Everson Griffen, DE, USC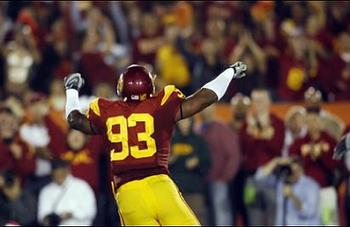 The Eagles like to pressure the quarterback. Griffen would add just that. Pierre-Paul is also an option.
25. Baltimore Ravens—Carlos Dunlap, DE, Flordia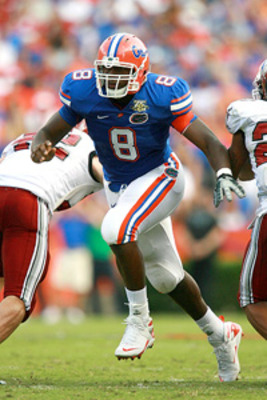 It's amazing that Dunlap would fall this far. If he does, the Ravens or another 3-4 team will snatch him up.
26. Arizona Cardinals—Brandon Graham, OLB, Michigan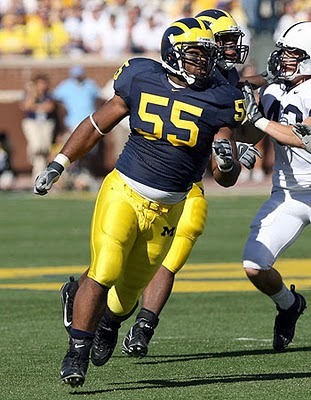 Graham would help the Cardinals rush the quarterback from the outside linebacker position.
27. Dallas Cowboys—Jared Odrick, DE, Penn State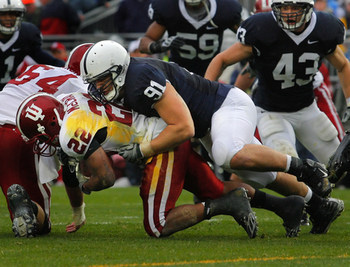 Odrick would play defensive end in the Cowboys 3-4 defense.
28. San Diego Chargers—Ryan Matthews, RB, Fresno State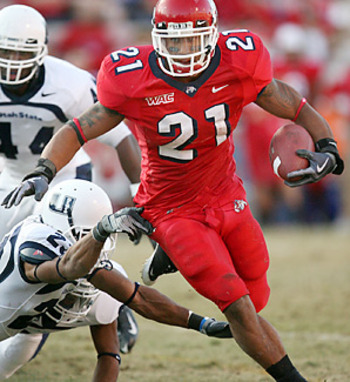 Matthews had an extraordinary combine. He showed speed for a big back. This is an easy pickup for the Chargers with uncertainty in their backfield.
29. New York Jets—Sergio Kindle, OLB, Texas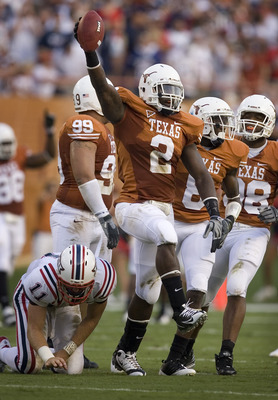 The Jets add the athletic pass rusher to help keep pressure off their secondary and help the secondary make plays.
30. Minnesota Vikings—Kyle Wilson, CB, Boise State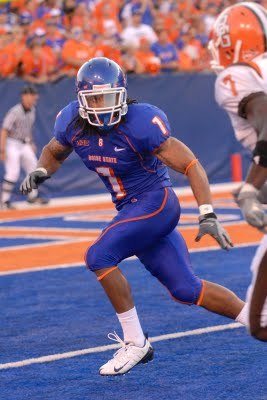 The Vikings add Wilson to start in their secondary. Wilson can also return kicks and punts if Harvin has a migraine.
31. Indianapolis Colts—Maurkice Pouncey, C/G, Florida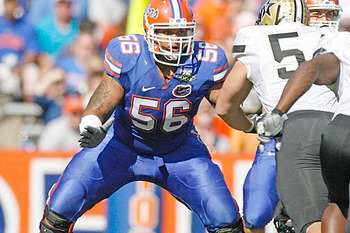 The Colts pick up a starter at guard who would eventually replace Joe Saturday at center.
32. New Orleans Saints—Brian Price, DT, UCLA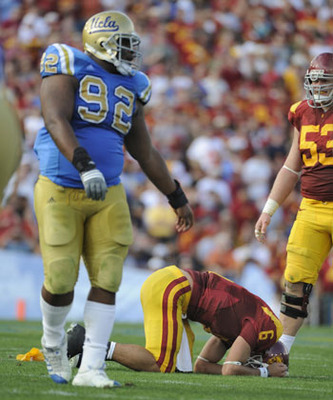 The Saints add Price to start along side Ellis. Price is a value pick at this spot.
Keep Reading