Battle of Ontario: A Breath of Fresh Air During a Tough Leafs Season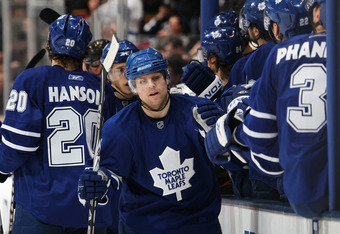 Claus Andersen/Getty Images
If only there were more games against the Ottawa Senators.
This is how the Toronto Maple Leafs and the majority of their fans feel this season; well, this Leaf fan anyways. A season that has been one of the worst in memory as far as their place in the standings goes, and the worst start this city has ever seen.
Yes, it's been a tough season in Leaf Nation, but if there is one thing that gives this young team and their loving fans a breath of fresh air, it's those darn Sens in a classic Battle of Ontario.
It's not just the fact that the Leafs had the Sens number this season, winning the season series 4-2 and outscoring their provincial rivals 17-9; though it's always nice to have bragging rights until the next game.
It's not just the fact that Phil Kessel has learned to love playing against Ottawa, scoring six goals in the five games he suited up against them; though, it's nice to see he enjoys playing against them more than anyone else.
It's not even the fact that, in their four bouts, Colton Orr defeated Matt Carkner three times while making sure everyone knew it; though, it sure was nice to see a Leaf on the less-bloody side of a pounding for a change.
No, it wasn't any of those things that made the Battle of Ontario so great in the midst of a dismal Leafs' season, though they didn't hurt. It simply was the fact that no matter where the teams are in the standings or how many games are left in the season—a game between the Leafs and the Sens always matters.
Always.
That's the beauty of a heated rivalry such as this, especially with the rebirth of the hatred we've missed for so many years. Who would have thought that in the season of the most rebuilding for the Leafs, they could learn to hate their foes with a rage we haven't seen since the early 2000s in their epic playoff series. Only Tomas Kaberle remains on the team from those days, and yet it's almost as if they picked up right where Darcy Tucker and the gang left off.
For those six nights this season, the final one having happened Tuesday night in Ottawa, the Leafs have a meaningful game no matter what. Whether it's in Toronto or Ottawa, an overabundance of Leaf jerseys are worn with pride and the decibel level is raised a bit higher than for any other foe.
When there's a scrum around the net, everyone stands up and you can just feel the energy in the building—even if you're watching on TV, because you're standing up too.
When Daniel Alfredsson gets a hold of the puck you instinctively join in with the chorus of boos. Even if you're on your couch at home.
You swear at Chris Neal when he starts yapping at one of the Leaf players. You feel the need to remind all those in the room of the various times Chris Phillips has made a terrible mistake in a game. You curse the Sens mascot, for no reason at all.
Nobody questions the excitement. Nobody says it's just another game.
The players are always ready for these games, and there's hardly need for any smelling salt prior to stepping on the ice. If you're not jacked up for one of these games, you don't belong out there.
The Battle of Ontario sure does live up to its name, especially this season as a group of kids rejuvenated an entire Nation, if only for six nights.
And as that season winds down towards yet another early ending, it's a shame the Leafs don't get to play their provincial rivals again.
In times like these any other game just doesn't feel the same.
The Battle of Ontario. A breath of fresh air indeed.
This article is
What is the duplicate article?
Why is this article offensive?
Where is this article plagiarized from?
Why is this article poorly edited?

Toronto Maple Leafs: Like this team?