It's Pac-10 Tournament Time: Who Will Win in a Down Year for the Conference?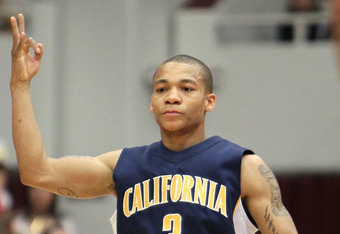 Jed Jacobsohn/Getty Images
It is here at last...and the nation couldn't care less.
The Pac-10 is having a down year, and the results will show up when they announce the invitations to the NCAA Tournament on Sunday and the conference joins the ranks of mid-majors with only one team in the dance.
There will be more debate about Gonzaga deserving to be in the dance, along with conference champ St. Mary's, than Washington and Arizona State.
It has been a long year out west on the hardwood, as most teams were much softer than expected. UCLA had high expectations when the season started, but injuries and poor play did them in. Arizona and the teams with funny nicknames from Oregon were picked to finish ahead of Arizona State in the conference's preseason poll.
When the initial AP poll was released this year, both Washington and Cal were ranked in the top 25. In the most recent Cal had two points. It takes 134 to get in. Washington? They received, well, no votes at all.
So what will the outcome be of the conference tournament being played in the shadow of the major basketball conferences?
Here are some quick thoughts on what you might see. You probably won't though. There is real basketball being played on another channel.
Before the first round
With USC sitting this one out because of their NCAA troubles, the first game of the tournament will be essentially be a play-in game between Washington State and the Oregon Ducks.
The big question: Has Oregon coach Ernie Kent been fired, will he be fired, and when it will be announced? This is a tough recipe to carry into a game like this, but then again, Washington State is not much of a team.
Now for the rest of the field.
Cal
How would you like to have three career 1,000-point players on your team at the same time?
The Bears have just that. Jerome Randle has 1,744 points during his time in Berkeley, while Patrick Christopher has 1,633 and Theo Robertson has 1,234.
Arizona State
1981 was the last time the Sun Devils finished this high in conference play. The key this year has been defense. ASU gives up only 58.1 points per game.
Washington
The Huskies will try to move the ball up and down the floor in a hurry. They lead the conference in scoring with just over 80 points per game.
Arizona
Here is something that is rather unimpressive. The Wildcats are riding a three-game...THREE-GAME...winning streak entering the tournament.
Oh, and they had to rally from behind in all three. Wonder why two bids to the NCAA tourney would be considered a win for the Pac-10?
UCLA
Thought of highly before the season, but injuries and less than stellar play has meant they are not being thought of much at all right now.
Oregon State
They won eight conference games this year. This is considered a big step for the program since they won seven last year. The last time they won seven or more games in consecutive seasons was 1992.
Stanford
Remember when Stanford was a power?
Well, it's not now, as 13-17 means a really bad year for the Cardinal.
So, who will win this tournament?
The NCAA selection committee is pulling for Cal. This means they only have to give the league one bid to the tournament.
We are thinking Washington. They are riding a four-game winning streak! All kidding aside, they have demonstrated an ability to come back, which works well in tournaments.
We will find out in the papers like most of America. The Big East and Big 12 will offer better games, and Kentucky is surely playing too.
This article is
What is the duplicate article?
Why is this article offensive?
Where is this article plagiarized from?
Why is this article poorly edited?